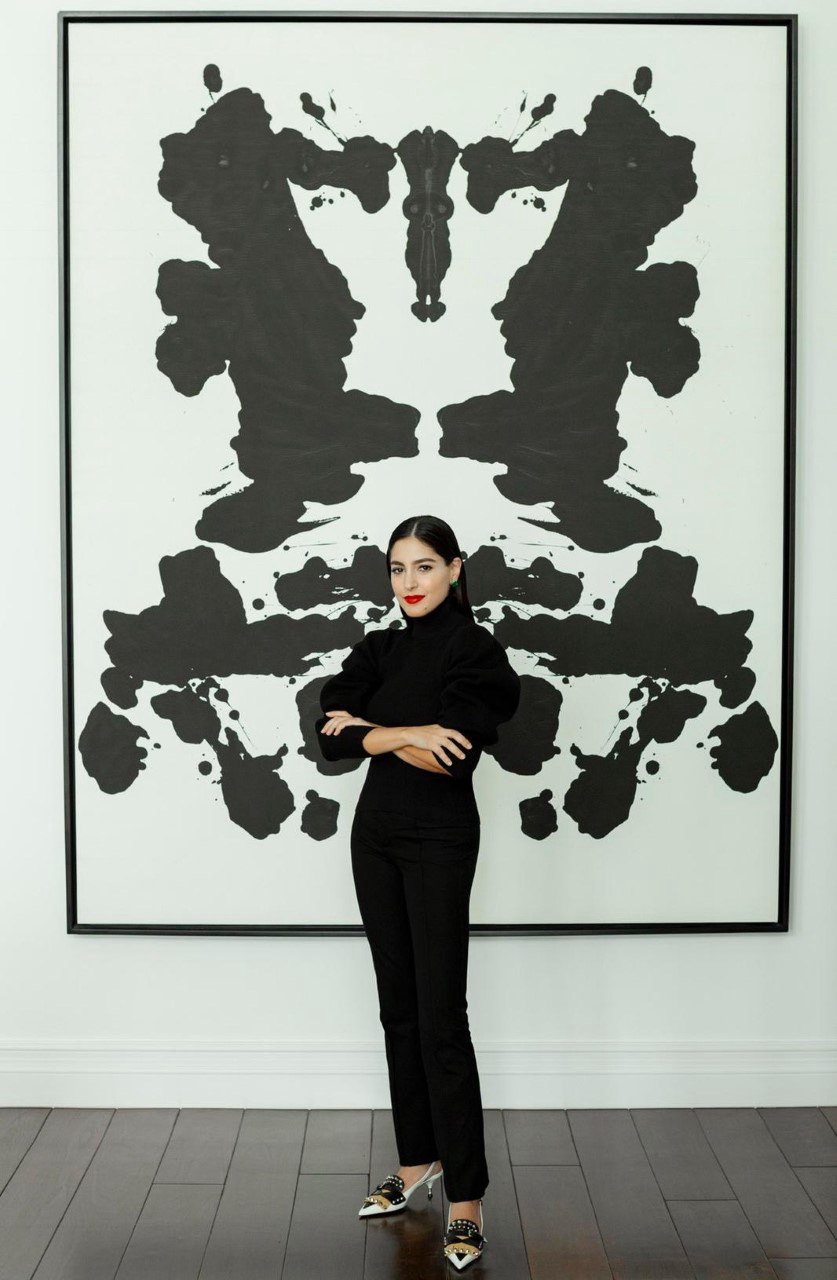 Maky Hinson
Maky Hinson grew up immersed in the art world. Now, she's an avid art collector herself, ensuring that her two sons receive the same early exposure to art and conscious as she did. The Colombia-born jewelry designer is on Miami's Institute of Contemporary Art (ICA) acquisitions board, and is using her education in industrial and interior design to shape her personal sensibilities as an art patron. Here, she tells CULTURED how it all began.
CULTURED: How and when did you begin to build your own collection?
Maky Hinson: When I moved to the U.S. in 2009 I started going to all the art fairs and gallery openings. That exposed me to a lot of emerging art, which I really fell in love with.
C: Are there any artists or shows you remember having a particular influence on you?
MH: Yes, the Pierre Huyghe show at the Pompidou. I think it was in 2012. What he was doing was so different from everything else I'd seen. It really felt like he created something truly new. The pieces in the show were what he called "marine ecosystem aquariums." These were actual fish tanks in which he placed rocks, vegetation, and sea life. The result was a mix of a sculpture and performance art.
C: Were there any specific pieces that stood out?
MH: There were many different aquariums in that show, but I was drawn to one in particular. He placed a large volcanic rock in the aquarium along with three arrow crabs and a school of baby horseshoe crabs. Because the rock was porous, it floated at the top of the aquarium. The arrow crabs lived on the rock and the horseshoe crabs lived on the bottom. Because the arrow crabs are predators of the horseshoe crabs, a tension was always present in the work. The effect of all of this was almost like a mysterious movie taking place in an alien, upside down world. It was so strange, and beautiful yet peaceful at the same time.
C: What was the first piece you purchased?
MH: A work on paper by Yoshitomo Nara.
C: How has your criteria evolved since? What is your collecting practice today?
MH: I'm older now, so I just try to enjoy a moment with the art. I really have to be moved by something now in order to collect it. That tends to be works that capture a feeling or a profound moment in time. A great artist is able to grab these things and make them their own.
C: What was your earliest memory of Art Basel Miami Beach?
MH: Where to start? I remember waiting in line outside the convention center and watching in shock as the crowd sprinted toward the booths—the second the doors opened—to put the hot artist of the moment on hold. I quickly realized that I had worn the wrong shoes.
C: Do you have a memorable ABMB purchase?
MH: A Mike Kelley "Memory Ware" at Patrick Painter Gallery.
C: How has the Miami art scene influenced your collection?
MH: Miami is a destination city for people from all over the world. Living here gives you unique access to a wide diversity of people, ideas, and, of course, art. These things have definitely influenced my collecting in a very positive way.
C: Who or what do you have your eyes sight on for this season of ABMB?
MH: I go into every season with fresh eyes.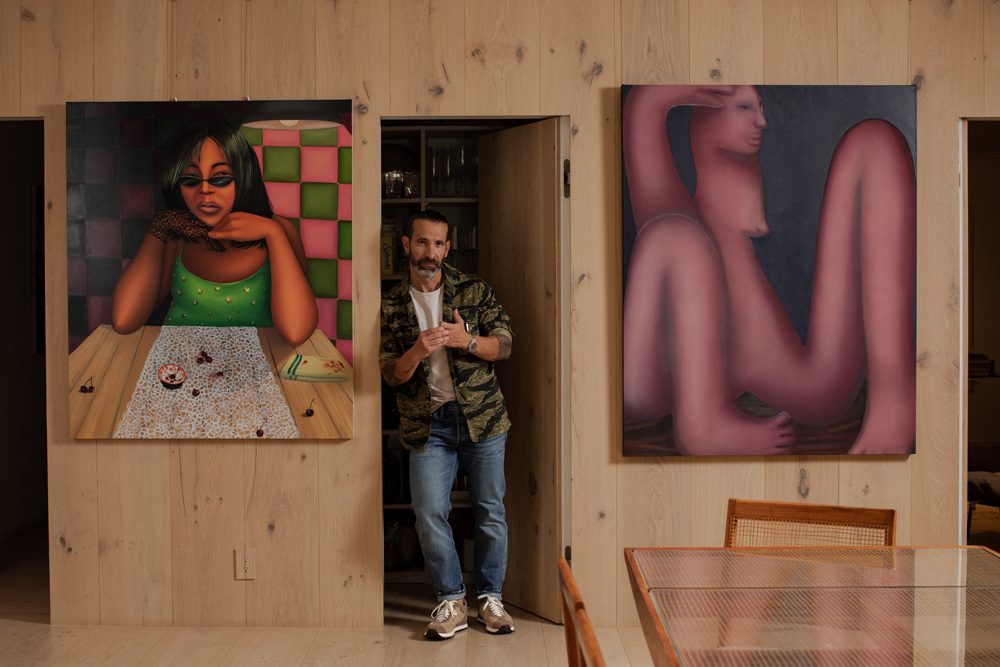 John Marquez
John Marquez wears many hats. The real estate developer, investor, and restauranteur has found success across the board (just ask diners at his Michelin-starred Manhattan restaurant Sushi Noz). In 2010, Marquez took on yet another venture. Over the past decade, the multi-hyphenate has carefully amassed an impressive art collection that features pieces by Banksy, Kaws, George Condo, and Javier Calleja. In that time, Marquez has watched Miami's local art scene grow exponentially—a process he has played no small role in as a philanthropist and the founder of Marquez Art Projects. After hosting Art After Dark at COTE Miami this December, the patron will open a 10,000 square foot warehouse in the city's Allapattah neighborhood in 2023, which will offer public programming and artist residencies. Here, he tells CULTURED about the moment he caught the collecting bug.
CULTURED: How did you begin to build your own collection?
John Marquez: I have always been interested in collecting. As a kid, I collected sports cards and stamps, then vintage jackets and watches. My mother and older sister collect Latin American art, so growing up, I was peripherally aware of the art world. But it wasn't until 2010 that my personal art collecting journey started. At the time, the Wynwood Walls were new in Miami, and street art really started to call my attention. I began collecting artists including Banksy, Kaws, RETNA, and OSGEMEOS. Shortly after, my interests expanded and I started to focus on broader contemporary art.
C: What was the first piece you purchased?
JM: I bought my first two artworks around the same time. A sculpture of an insect by a Mexican artist named Pablo Castillo and a smoke ring photograph by Donald Sultan. To be honest, I had not fully immersed myself in collecting, and I needed some art for my new condo. A short while later, the collecting bug kicked in.
C: Do you have a defining theme to your collection?
JM: I have spent the last several years focusing on collecting emerging contemporary artists from across the globe. It's very exciting and rewarding to collect art by living artists. The work they produce is a reflection of our changing culture and society—and in many cases, I have had the opportunity to establish relationships with them and share a dialogue about their practice. Earlier this year, I established a non-profit foundation, Marquez Art Projects, with a mission to support the careers of rising artists and offer a platform to exhibit their works.
C: How has the Miami art world evolved over the last decade, and has that informed any of your collecting decisions?
JM: The Miami art scene has exploded over the past decade. It also magnified further during the pandemic as several collectors moved to Miami, galleries expanded to the area, and artists relocated here.
C: What current collecting trends are on your radar, if any?
JM: Figurative art has dominated the art market the past few years, but the pendulum is slowly moving toward abstraction. I find my eye and focus is heading in that direction as well. A few recent acquisitions by abstract artists include Jadé Fadojutimi, Marina Perez Simão, Lauren Quin, Leelee Kimmel, Sarah Cunningham, Clinton King, and Michaela Yearwood-Dan.
C: What is the one piece that got away?
JM: More than a specific piece, I would say there are certain artists that I would love to have in my collection that, hopefully, one day, I will have an opportunity to acquire. Artists such as Jonas Wood and Yoshitomo Nara immediately come to mind.
C: What is your most memorable Art Basel Miami Beach purchase?
JM: A George Condo I bought from Hauser & Wirth last year and a Tomoo Gokita I bought from Mary Boone in 2015. I usually buy emerging artists, so it was a huge dollar amount for me. It also meant a lot that Hauser offered it to me. I was competing with some of the biggest names out there for it—everyone wanted it. I purchased the Tomoo in 2015 when I was still working my way into the art world. You know how hard it is to get in—even if you have all the money in the world, the galleries have to know and like you. At the time, Tomoo wasn't known, I purely liked the piece. Two years later, he blew up. That's not why I bought it, but it makes it even more special.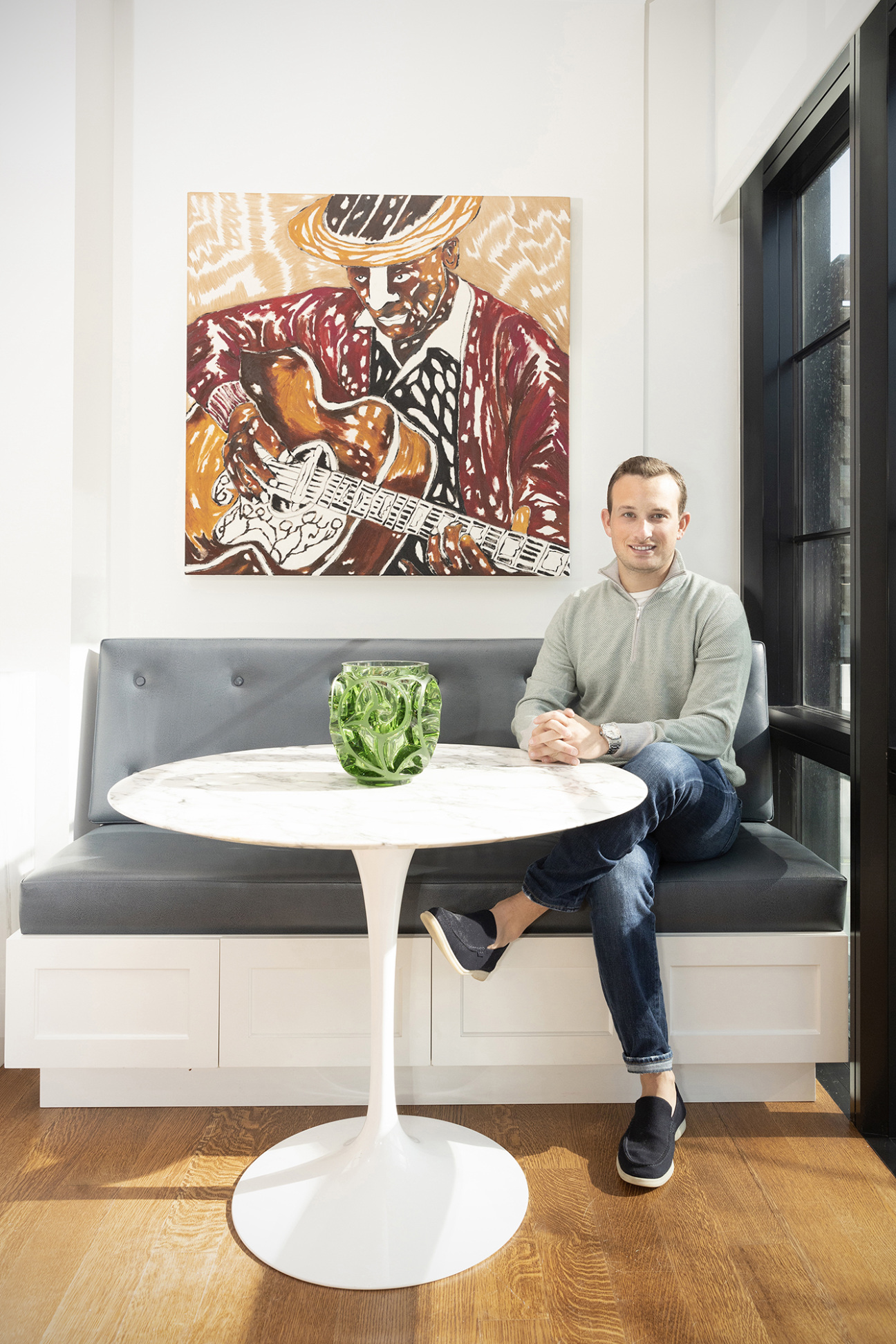 Alex Witkoff
Alex Witkoff's appreciation for art first stemmed from his business savvy. As the Executive Vice President at family-founded New York real estate investment firm Witkoff, he began making art acquisitions based on market value on behalf of the company. Somewhere down the line, the spark was lit—Witkoff has built up a sustainable collection with meticulous care, and joined the board of trustees at the ICA in Miami. Splitting his time between New York and Miami, Witkoff has become familiar with the art scene in each major hub. Here, he explains the evolution of his artistic tastes.
CULTURED: How and when did you begin to build your own collection?
Alex Witkoff: My foray into the art world began with public art we commissioned for our real estate developments. We commissioned Sterling Ruby to do a large scale mobile inspired by Alexander Calder for the lobby of the West Hollywood Edition hotel. Additionally, we commissioned Sarah Sze, one of the most exciting sculptors, to do her iconic "Split Stones" for our residential development, the Park Santa Monica. I acquired works from both artists and from there my collection grew.
C: What was the first piece you purchased?
AW: The first work I ever purchased was a Sterling Ruby "WIDW" painting from Gagosian on the Upper East Side. I spent time with Ruby in his studio in Vernon, California and was mesmerized by his ingenuity. He is a boundary breaking artist known for both sculpture and painting.
C: How has your criteria evolved since? What is your collecting practice today?
AW: I have always been intrigued by buying artists whose work I love and by watching their careers grow. I am proud that my collection is quite diversified with artists such as Sarah Sze, Katharina Grosse, Andrea Marie Breiling, Genesis Tramaine, Tau Lewis, and Chase Hall.
C: What is your earliest memory of Art Basel Miami Beach?
AW: I have attended Art Basel since its first opening in Miami Beach 20 years ago. It has become the most important contemporary art fair in the U.S. and helped spur the cultural vibrancy of Miami. In addition, prominent museums and art galleries have now planted permanent flags in the area. One of my favorite moments was in 2019 when the ICA Miami brought Yayoi Kusama's "Infinity Mirror Rooms" to Miami for the very first time.
C: Do you have a memorable ABMB purchase?
AW: One of my favorite artists I learned more about during ABMB a few years ago is Alicja Kwade. I was familiar with her "Roof Garden Commission" at the Metropolitan Museum in New York, but saw the broader array of her work at the Jeffrey Deitch and Larry Gagosian show at the Moore Building. I acquired an hourglass sculpture, as well as a work from her "Rain" series, which reflects measurements of rainfall through clock hands and measuring sticks.
C: Who or what do you have your eyes sight on for this season of ABMB?
AW: I am fascinated by Avery Singer. The ICA Miami acquired Side Quest, one of the best examples of her work.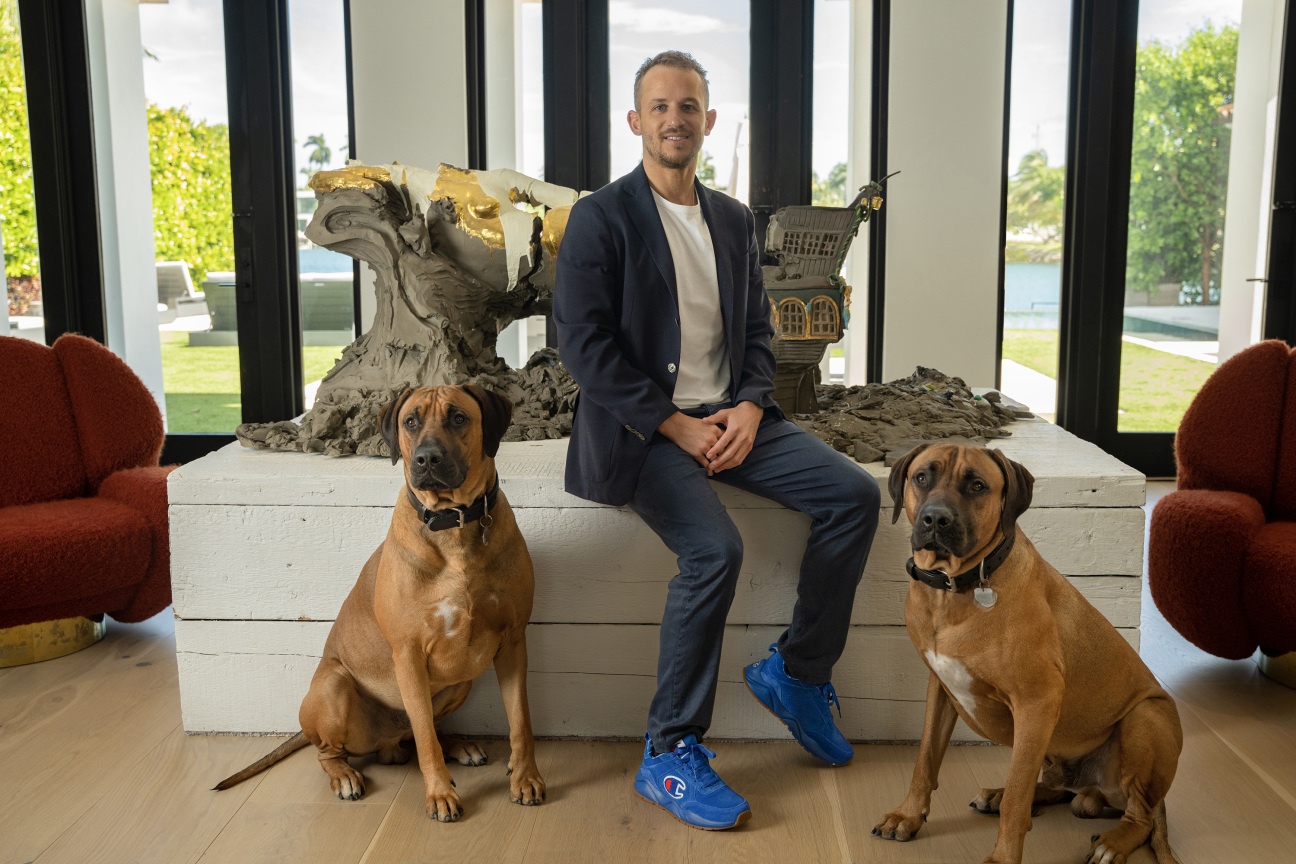 Seth Campbell
Seth Campbell has been collecting art since his teenage years when he started off with an Alexander Calder. Campbell is now the president of BBC International, a footwear conglomerate founded by his father, and represents brands like Feiyue, Champion, and Tommy Hilfiger. Though he's originally from New York, Campbell has made a home for himself in the Miami scene. Here, he tells CULTURED what makes a piece most memorable.
CULTURED: How and when did you begin to build your own collection?
Seth Campbell: I started collecting art when I was 18 years old. A friend gave me the opportunity to do so. He was working with a gallery on a large purchase and was looking for a few people to join in. It was random, but prompted me to do the research and sparked my interest.
C: How has your criteria evolved since your first purchase? What is your collecting practice today?
SC: I bought my first painting as an investment, but now I collect because I love to live with the art. I need to have a relationship with what I buy.
C: What catches your eye in a particular work, and makes you want to invest?
SC: Every piece is different. I'm drawn to anything from the subject matter, to sheer uniqueness, to the way that an artist explains their work to me. I don't look at it as investing; I look at it as developing a relationship.
C: What was your earliest memory of Art Basel Miami Beach?
SC: I don't know if its my earliest, but one of my fondest was seeing Terence Koh display his amazing "Children of the Corn" sculptures on the beach in collaboration with Vito Schnabel. I really like how they looked like these ancient but modern totem poles coming out of the sand.
C: Do you have a memorable ABMB purchase?
SC: I actually have never bought anything at Miami Art Basel. There's no reason specifically, I have lots of great memories with friends at various dinners and events. This year, I am doing a private event at my home, so I guess my sights are set on making sure it is a success. It's a dinner celebrating ICA Miami and our artists, and is hosted by Christian Louboutin.

Fairchain is a title management, authentication, and transaction platform in service of a more equitable, sustainable, and secure art market. Built to support the creative professionals who enrich our lives, Fairchain's blockchain-backed certificates of title and authenticity help collectors protect the value of cultural investments, while allowing artists and galleries to benefit from the secondary markets they create.