Eli Diner: The work in this show was made in quarantine and, you say, examines the experience of isolation. Can you tell us a bit about that? Where were you quarantining? Who were you with? What was your process like and how do these experiences come out in the paintings?
George Condo: I was essentially at home by myself for a number of months. From March onwards, one friend was staying with me and the two of us never got to see any of our family members. It was like being shipwrecked on a raft, drifting further out into the ocean. It was a time of lots of news, mostly bad news, all pertaining to the pandemic and the whole question of why it was not handled properly. So in the course of those months the Distanced Figures were created and many of the fractured portraits.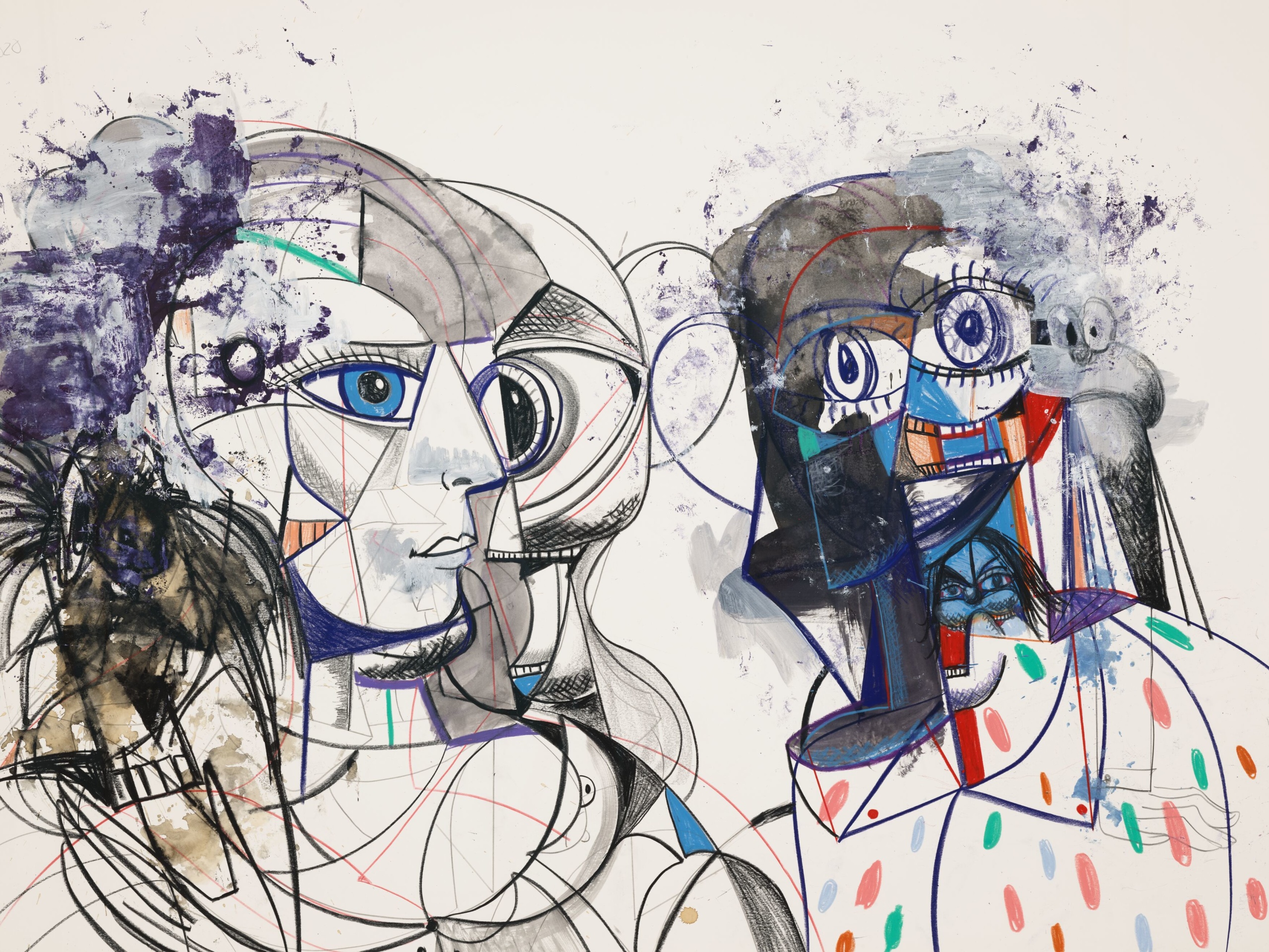 ED: In spring you had an online exhibition called Drawings for Distanced Figures of work made at in the early months of the pandemic. Does this body of work grow out of the earlier one?
GC: To some degree it does. In 2014 I did a series of paintings I called Double Head Compositions, one of which is in the Broad. Those also had to do with a personal experience I was living through and the separation of figures. However, these newer ones are different. They reflect one figure longing to be together with the other and trying desperately to become whole again, not remaining in separate realities.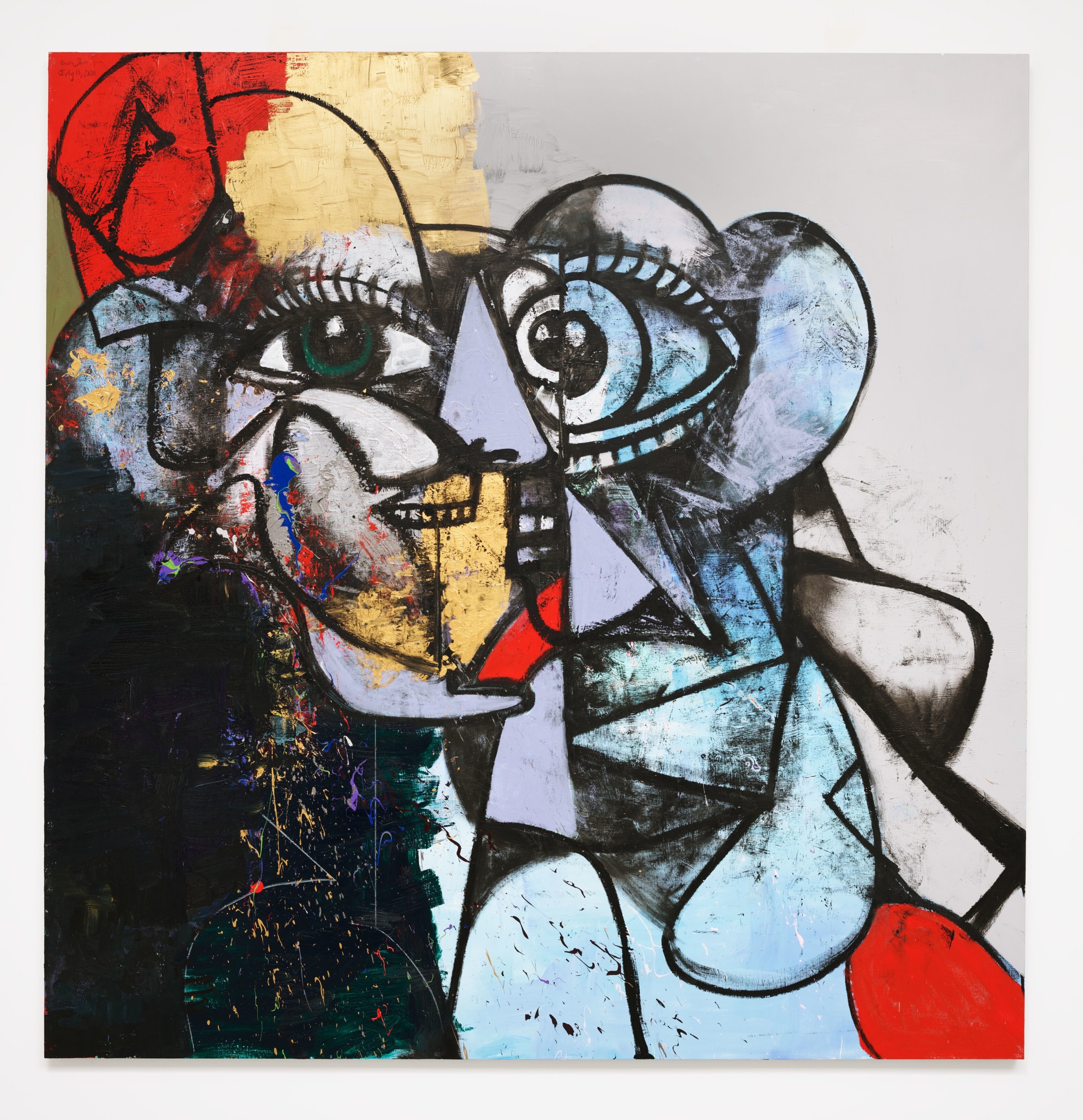 ED: Much of the work in this show evinces intensities and uncertainties, for example in a painting like Human Rage. The title of the exhibition, Internal Riot, suggests a sense of being stuck inside—and inside ourselves—while the word riot also evokes the political turmoil of recent months and the demonization of the Black Lives Matter protests. Were both of these things on your mind? A relationship between psychology and history?
GC: BLM politics, the riots, racial inequality, injustice to various genders, all played into the internalization and a disdain for the way things have been for far too many years. People have had enough. They want real changes made. They are upset, and they are serious. Like during the Rodney King incident or the Vietnam protest, riots broke out across the country to express the disgust in the system and the need for new regulation, new laws and certainly above all a new president. At least so far we got that one.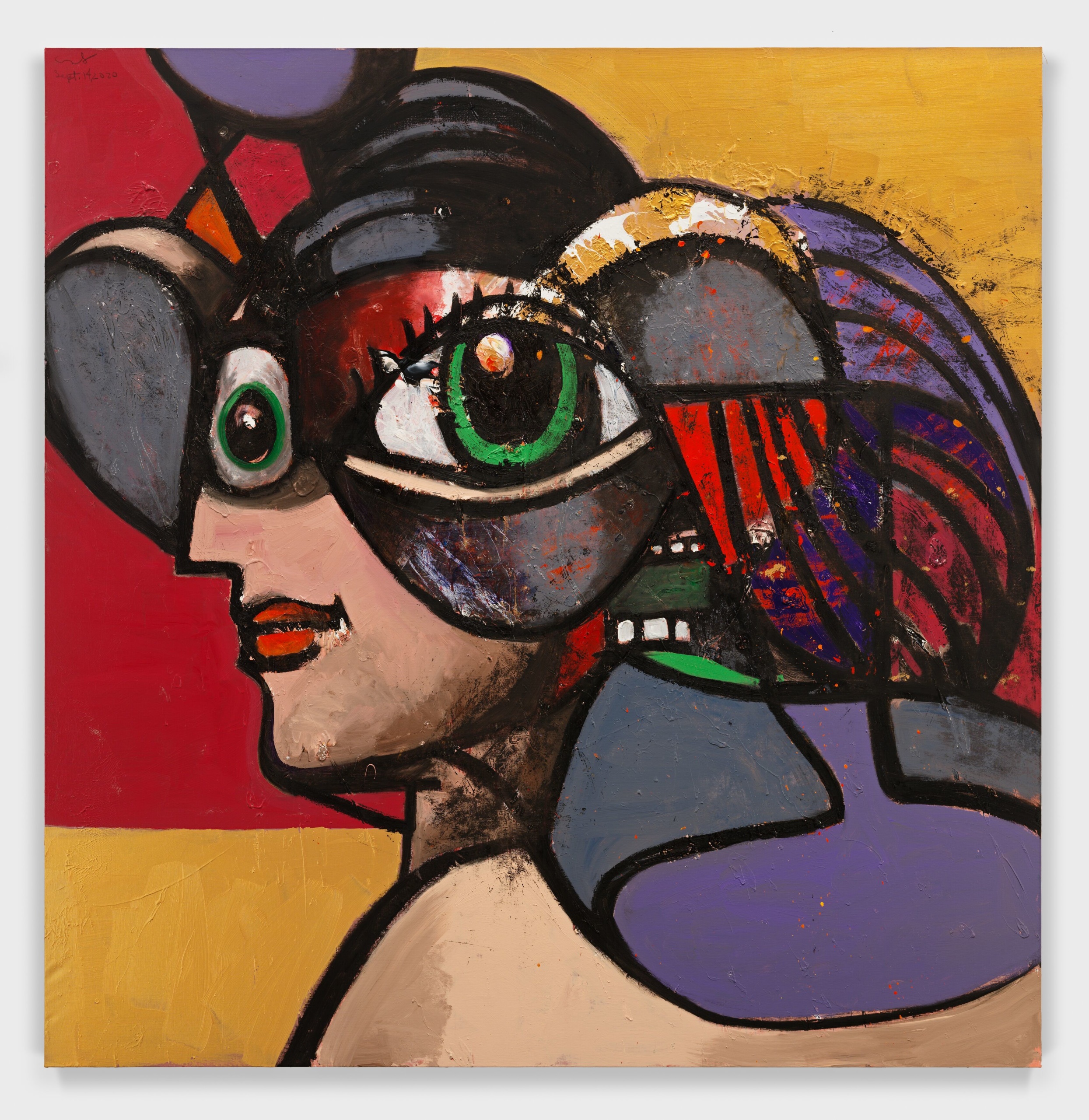 ED: There are, of course, many other notes you hit the show, quieter passages, and moments of reprieve—particularly in works on paper, such as Appearances, Sunrise on Earth, and the drawing dedicated to composer Matthias Pintscher and violinist Leila Josefowicz. How do these works relate to the others? Is this a counterbalancing optimism?
GC: All the works express hope, no matter how tormented they may appear. As do the faces in the crowds of protesters. They protest because they hope for better.
The drawing I dedicated to Leila and Matthias inspired a new composition written by him for her and commissioned by me. And he then dedicated this new work for solo violin to Leila and me. It was in the summer, when composers of his stature and performers of her caliber were looking at a bleak shutdown of all live performances across the globe, most likely not to return until 2022. It was a terrible reckoning. Not only had the virus killed many people across the world but it had also killed so many cultural experiences that were meant to lift people up. So I commissioned it and Pintscher agreed, and a new work for solo violin was born in the darkness.
During this time I also made Sunrise on Planet Earth to somehow imagine that there was going to be a metaphorical sunrise on this planet that would bring to light all of what has been held in quarantine and darkness and open the world back up again… someday.
Matthias Pintscher's "la linea evocativa. un disegno per violino solo," commissioned by George Condo, will have its premiere, performed by Leila Josefowicz, on November 20 at Hauser & Wirth. Register to view the performance here.