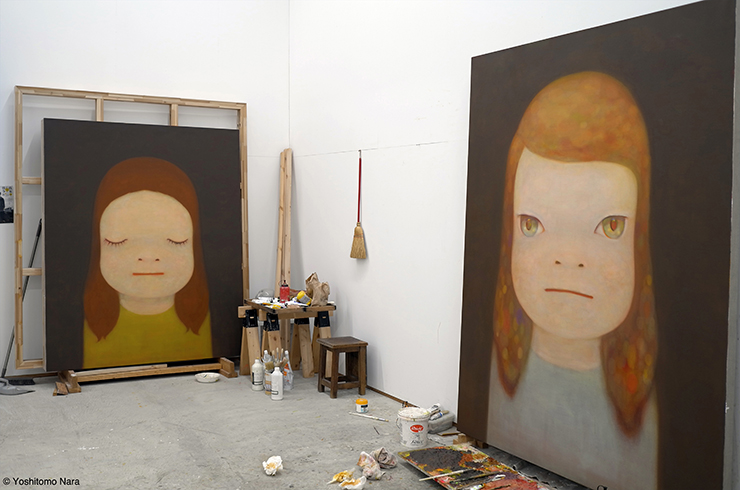 It's easy to take the work of artist Yoshitomo Nara on surface experience alone. The emotional faces of his subjects have a way of resonating with viewers over a broad spectrum, but certainly there is a depth that goes beyond the "simple" images. This weekend, Pace opens a solo show by the Japanese artist—his first in New York since 2013—that will feature historical paintings selected by Nara, as well as new works on paper, bronze sculpture, paintings and ceramics. Though Nara wanted to keep most details of the show under wraps, we were happy to steal some time with the artist to talk about the making of "Thinker," commercial merchandise and the music that moves him.
What is the process of putting together a new show like for you? For viewers who just see "what is drawn," they may feel there is not much different in this show compared to my past work. But for those viewers who are interested in "how it is drawn," they should notice a significant change. In the past few years, I have been pursuing ways of diversifying the layers beneath the surface, dropping them into the canvas, and creating pictures that may appear simple but also possess a fertile richness. In this show, I will be showing several pieces from a new series with dark backgrounds. A painting shouldn't be just about the people in the image. The life philosophy of the viewer might be what determines the content of the painting.
When did you first begin to develop the visual language you are known for? Around 1990.
Is the commercial merchandising side of your practice ever challenging for you? It is challenging. I personally do not want to make commercial merchandise, but for fans who can't buy the actual artwork and for young people, there are no other options. The income from these types of products (including books) is the equivalent of just a few drawings; however, the amount of energy it takes for me to undertake this production process that I'm not used to, is even greater than the energy it takes for me to create a large scale painting, not to mention the immeasurable stress. Despite this, I still create merchandise for the simple reason that I believe there are many people who truly understand my work, beyond the small percentage who have the financial means to purchase them.
Tell us about your work that has frequently appeared in relation to music—album covers, posters, etc. I rarely do collaborations that take the form of commissions. Generally my process for collaborative projects is that I go through artwork I created in the past, select the piece that resonates with my partner's work, and provide its usage. I love collaborating with musicians and continue to do so, yes. Famous or not, whatever the genre; doesn't matter if I like the music.
Have you had any collaborations that you particularly enjoyed? I provided artwork for a German indie band, The Birdy Num Nums. I did a commission for the Japanese girl band, Shonen Knife. For R.E.M., who I've loved for a long time, I provided artwork for the album, as well as character art for the music video for the single, "I will take the rain." All of these are great memories of my favorite collaborations.
Who or what has been some of the greatest influences on your work? All of my life experiences, jumbled together in deep and shallow ways, equally continue to influence me. Music and literature, as well as my travel experiences in many places, have had a greater affect on me than things that fall into the category of professional art. By travel, I don't mean to just popular European destinations, but also Pakistan, which I visited at 20 years old, China when I was 23, Afghanistan in 2002, also a bicycle tour through Eastern Europe, as well as nearby Asian countries. More recently, my travels to Sakhalin and to the indigenous villages of the mountains of Taiwan have enriched my sensibilities. Sakhalin, where my grandfather used to work, was especially impactful. Currently it is Russian territory, but visiting the remnants of the Japanese era and interacting with the local minority tribes, have little by little provided my paintings with more richness.
Which young artists are you collecting, or are drawn to? I like the works of Alexander Tovborg of Denmark.
Courtesy of Pace Gallery