Since establishing the Calder Foundation in New York in 1987, Alexander S. C. Rower has turned down countless offers for a center dedicated to his grandfather Alexander Calder, the legendary American artist whose wire and metal sculpture changed the course of modern art. With the goal of connecting audiences to Calder's work, the foundation has found great success collaborating with international institutions and staging pre-pandemic exhibitions, drawing an impressive 2.5 million visitors annually. Four years ago, however, when a group of open-minded Philadelphia philanthropists approached Rower with a proposal for a permanent Calder destination in the artist's birth city, the stars finally aligned.
"I was not interested in creating a museum, but rather a purpose-built space for personal introspection—a place that's small scale where people can sit and just be with the art," Rower, Calder Foundation President, tells Cultured. While Calder never stipulated plans for an eponymous foundation or center, Rower has made it his personal mission to preserve and communicate his grandfather's legacy as authentically as possible. "Although Calder is quite famous, his work is widely misunderstood as being happy-go-lucky. People don't realize he had a much deeper agenda, which was about introspection and getting closer to yourself."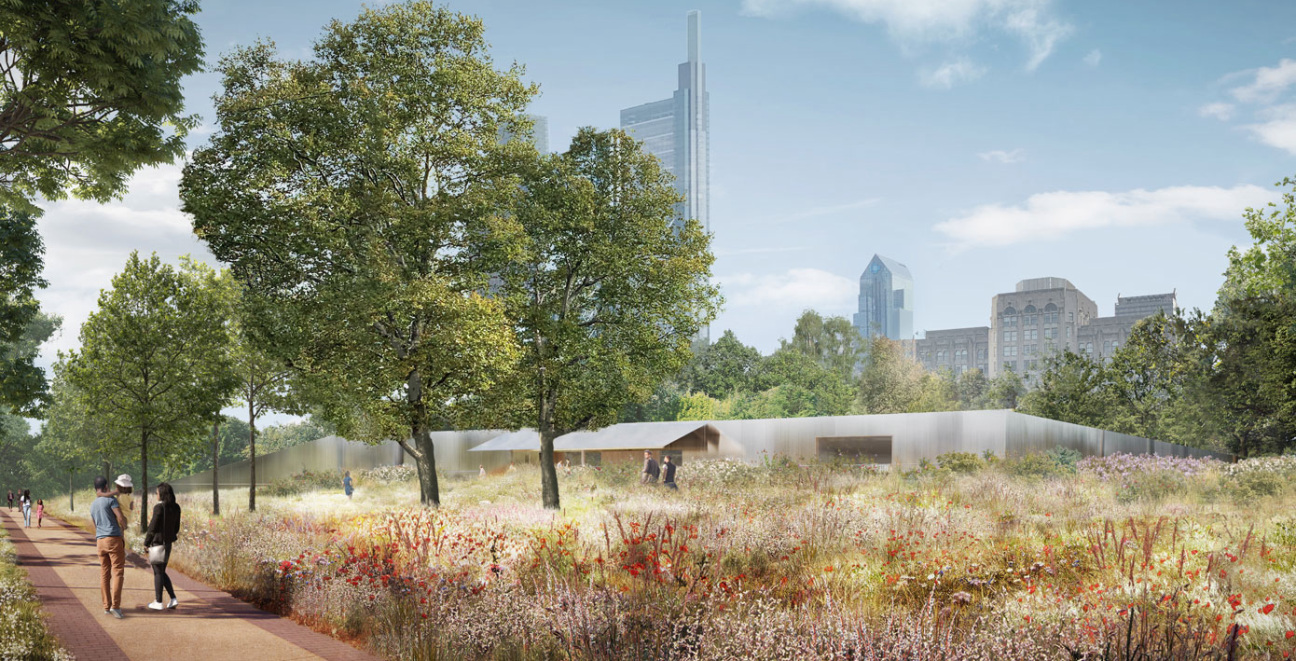 Adamant that the foundation's holdings do not end up like artifacts in a museum, Rower desired an unconventional setting where visitors could safely interact with Calder's art but with little barriers or curatorial mitigation. Thus, Calder Gardens, designed by Herzog & de Meuron and Piet Oudolf, whose ambitious designs have been unveiled today, was born. Supported by local philanthropists, including lead funder Joe Neubauer, founder of the Neubauer Family Foundation, the nonprofit works in collaboration with the Calder Foundation and in partnership with the City of Philadelphia and the Commonwealth of Pennsylvania. In 2020, the Calder Gardens board of trustees selected Pritzker Prize-winning, Basel, Switzerland-based practice Herzog & de Meuron as its Design Consultants. In 2021, Dutch landscape designer Piet Oudolf, the force behind New York City's High Line perennial plantings, was brought on to conceive the gardens. The site will open to the public in 2024.
In the heart of downtown Philadelphia, Calder Gardens is located across from the pre-eminent Barnes Foundation, which will provide administrative, operational, and educational programming support to the new site. Situated on 1.8 acres, Calder Gardens combines an 18,000-square-foot metal structure with sanctuary-like grounds for both indoor and open-air viewings of the artist's work. To access the site, visitors journey from the Benjamin Franklin Parkway (a busy boulevard where installations by three generations of Calders can be found) through a winding path of trees into the magical manicured gardens. Rower calls this scenic transformation his favorite part of the project: "By the time you get to the main building, you're much more ready to receive the work and Calder's intention," says Rower. "It's a sequence of unfolding experiences with the spaces that are quite beautifully married to the art."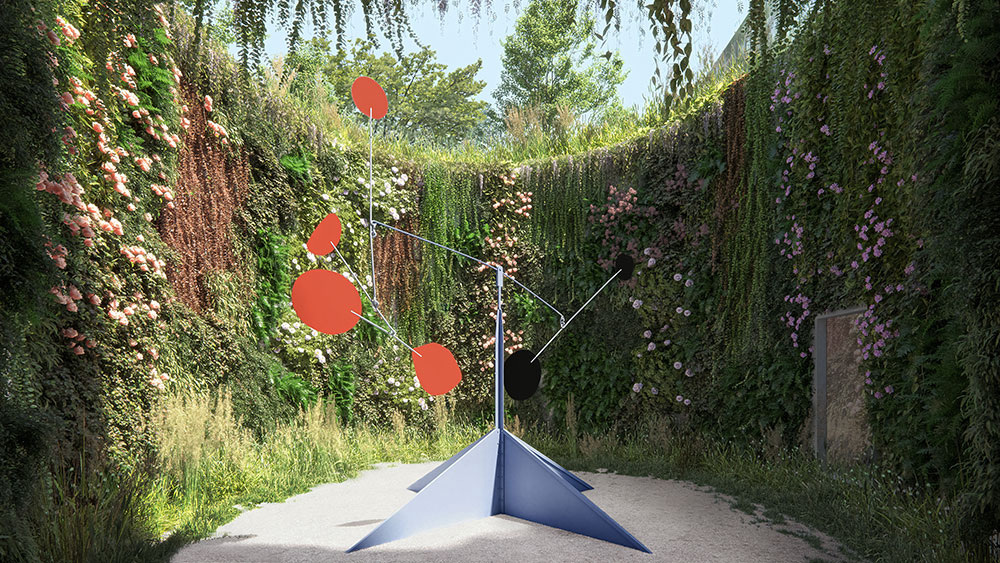 Fundamental to Calder's œuvre, the merging of nature and art was considered in every aspect of Calder Gardens. The two-story building's galleries are illuminated by natural light with many outdoor vantage points, and the four-season gardens are designed to evolve and look striking throughout the year. Indoors and out, hidden niches, such as a sunken garden, allow for contemplative moments between the viewer and a rotating mix of mobiles, stabiles, monumental sculptures, paintings, and more masterworks from the Calder Foundation.
Rather than providing an art-history-101 lesson, Calder Gardens aspires to deliver a grander sensation of experiencing the art. "Calder's works are not just some pretty shapes that move poetically. They move in real time in relationship to your body and space. They are affected by humidity, light, and many unseen forces," explains Rower, emphasizing the importance of sitting with and feeling his grandfather's art. "Calder is so viscerally part of our vernacular at this point that he's almost invisible in some ways. Building a home where his art can speak for itself and connect with you—without any other kind of communication—that's the goal, experiment, and challenge."