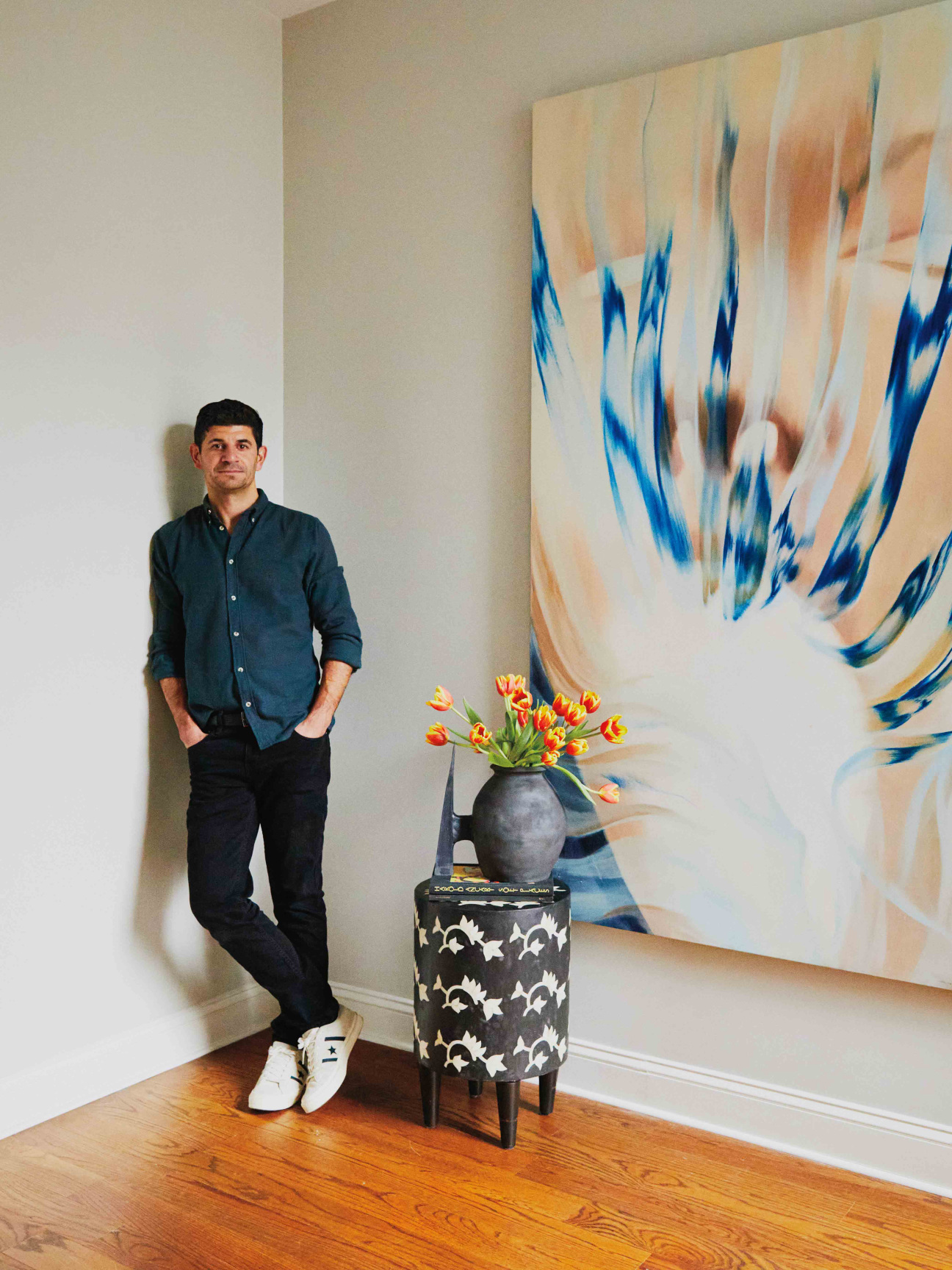 This profile is part of CULTURED's 2023 Young Collectors issue!
So much foliage and art populate Adam Mashaal's longtime East Village, New York, apartment that it is hard to distinguish one from the other. It is a jungle teeming with beauty both real and imagined. Moments after entering, the eyes adjust and individual species leap out: a new 112-color Jonas Wood kitchen print, an iceberg by Harold Ancart, a gloppy Allison Schulnik painting of flowers and kittens, a Calvin Marcus photograph of fallen palms disguised as asparagus on a large ceramic plate, and a wall-swallowing Liang Fu portrait with a tentacle-like light effect. The verdant tableau continues onto the floor with large flower pots punctuated by spiky ceramic booby traps, a medium that Mashaal found himself experimenting with at Greenwich House, a West Village ceramics institution where amateurs and professionals—such as Trisha Baga and Betty Woodman—gather around the kiln.
Mashaal falls somewhere in between those two designations: He has been making music since he was 12 and designing products since 2005. For the founder, anything worth hiring for is worth trying yourself; after launching his own mobile app development company, Pressto, in 2010, he found himself doing everything from graphic design to UX and coding. When Mashaal decided to start collecting back in 2015, he also picked up a couple of canvases and some oil paints at the suggestion of artist Brendan Fagan aka Judith Supine, who became his gateway into the wormhole of contemporary art. "Making art is a good exercise for anyone thinking of collecting," says Mashaal.
This DIY attitude has informed the evolution of Mashaal's collection, too. He bought one work through an advisor, an early call on Toyin Ojih Odutola, which he loves, but soon decided to do his own legwork. The beginning was rocky, but with time Mashaal found his own way of doing things. He spent years chasing down his latest conquest, a Nathaniel Mary Quinn face, before finally acquiring it. "If you miss something, always continue to express interest. Bring it up again and again with the gallery," he says. Persistence is key, as is keeping a healthy distance from what Mashaal calls the "checklist collector." "There's a lot of FOMO that goes into art collecting. If you get too close to the social dynamics, you run the risk of doing it for validation rather than out of genuine passion," he says. "A lot of people go on Instagram and see a collector and say, 'Oh wow, look at this really popular collector. If I build a collection like theirs, I might be popular too.' To me, the best part of building a collection is making it uniquely your own."
Want to meet more young collectors? Read our profiles of Reilly Opelka, Hannah Bronfman, and Seth Stolbun.