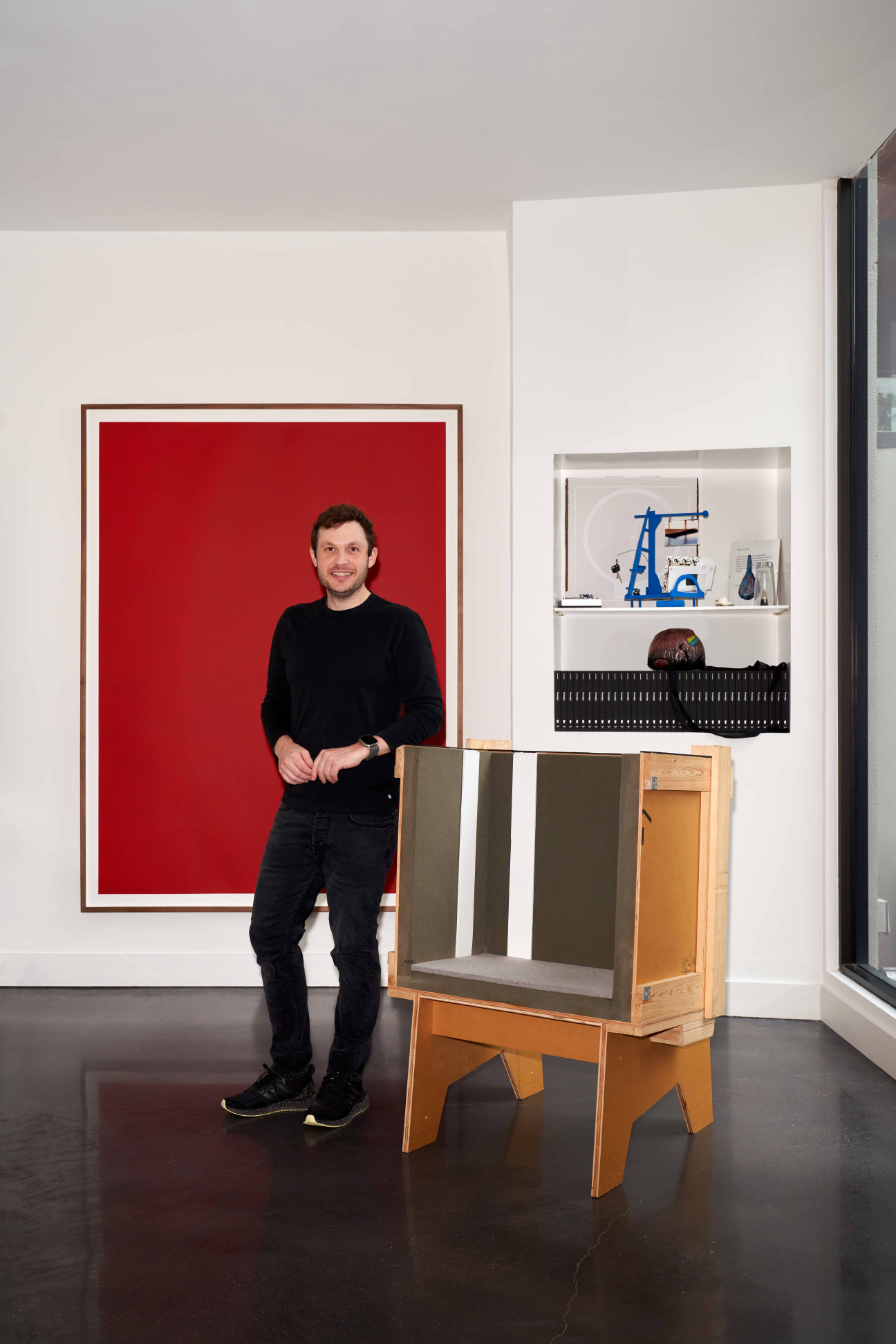 This profile is part of CULTURED's 2023 Young Collectors list.
Seth Stolbun is a third-generation Houstonian, and one of those rare individuals who has played almost all the roles that the art world has to offer. A School of the Art Institute of Chicago graduate, Stolbun is the former owner of an erstwhile apartment gallery, an active producer, and—when the moment calls for it—a curator. Stolbun's resume gives him a bird's-eye view of an industry famous for its opacity, and it shapes his collecting habits.
This broader perspective also informs his other ventures in the art world, whether as an active member of organizations such as Artadia and Triple Canopy, or as an executive producer behind a new DIS video, DKP is Market Socialism. Stolbun credits the pandemic's imposed time-out for forcing him to crystallize his philosophy into a plan of action. Sequestered in Houston and unable to stroll New York's Lower East Side, where he once kept a pied-à-terre (he was forced to abandon it during the lockdowns of March 2020), Stolbun began interrogating the art communities that he once inhabited. "At SAIC, I saw friends graduate to relatively major success, and others that began to question if they should continue making art," Stolbun explains. "I've been getting involved with artists who question the precarity of the art world, and figuring out what I can do to disrupt those narratives."
Since then, Stolbun has championed the work of painters like Hyegyeong Choi (a former classmate), and multidisciplinary artist Thomas Huston—but the majority of the work he helps to produce is video-based. Superlative examples include an ambitious Andrew Norman Wilson work from 2011, Workers Leaving the Googleplex, that now lives at the Museum of Modern Art in New York. A piece by Julia Weist that Stolbun facilitated, From The Future, 2020, is now on view at his alma mater. "I try to support nascent practices holistically, getting involved in projects before they have a gallery exhibition or a home," the collector says.
Though he brims with insider knowledge, Stolbun's advice for newcomers is more or less the same as the mantra he follows himself: Act local. Identify small but dedicated causes. Make incremental, real steps. Right now, this means Stolbun is supporting homegrown nonprofits like the Rivers Institute for Contemporary Art & Thought out of New Orleans, and is a regular patron of F Magazine, an experimental outfit—not quite a publication, not quite a gallery—run by Adam Marnie in Houston. "It's something that Houston hasn't had," Stolbun says. "What Adam is bringing down here is really important to support."