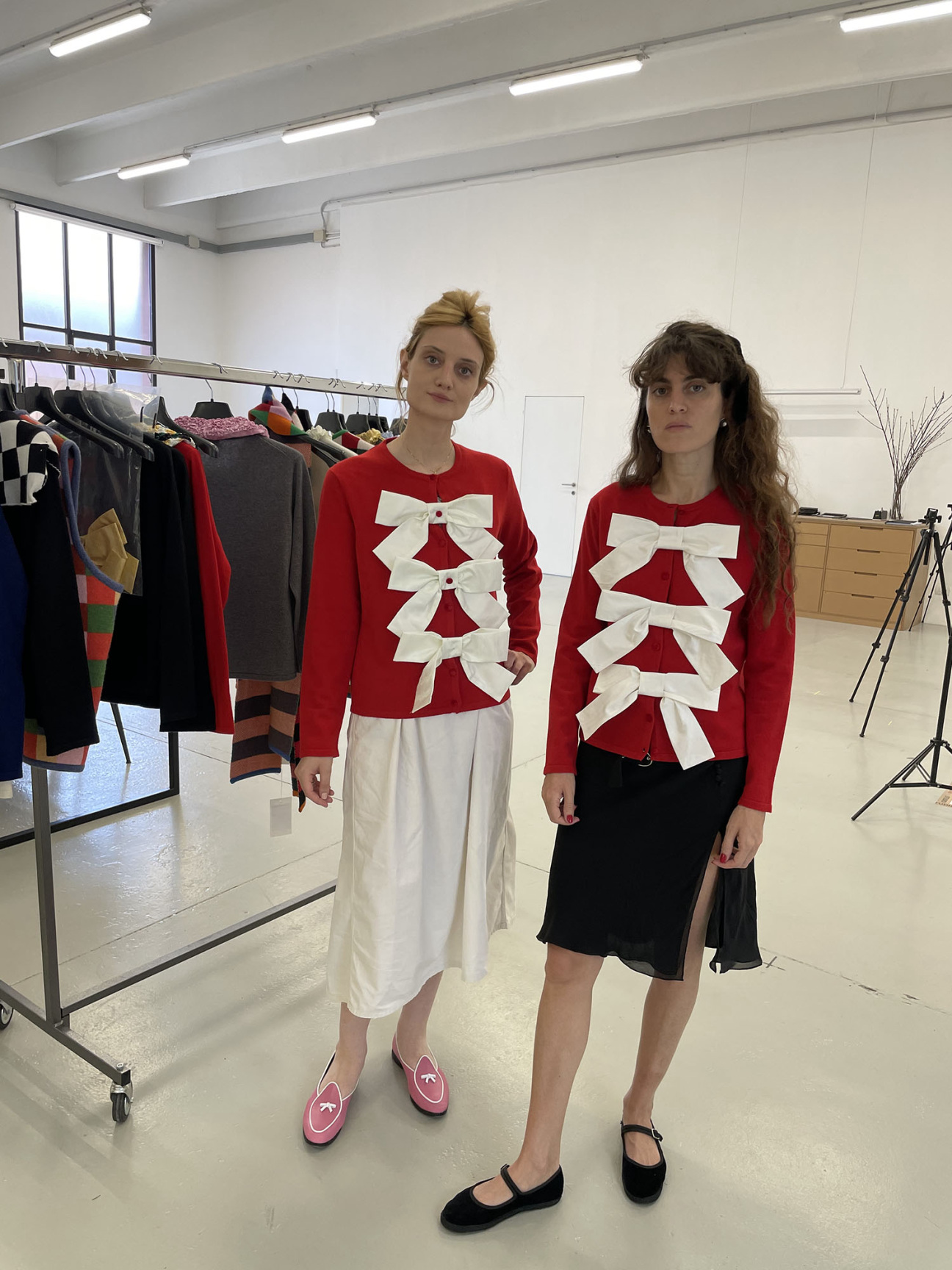 Since Super Yaya's founding in 2015, the independent fashion brand has enjoyed several eras, but none have suited their creator—the Lebanese-born, Côte d'Ivoire–raised creative Rym Beydoun—in content nor in business quite like its current iteration. After a pandemic hiatus, Super Yaya returns wiser with a new collection, but also a new business model, one that combines the designer's favorite parts of her first made-to-order atelier era with the good bits of her big break, working with wholesale bellwethers like Opening Ceremony and Ssense. This means regular (not necessarily on calendar) collections, a substantial webshop, a beefed up internal staff, and a conscious openness to commissions, which is, actually, what incited the brand's reincarnation.
Beydoun had put Super Yaya to sleep at the start of COVID-19, but an out-of-the-blue wedding request woke her up. The process of creating for her customer directly was so stimulating to her that not only did the designer decide to restart the line, she decided to add bridal Super Yaya, too. "I struggled to find simple, elegant, and easy clothes that you could wear during the day and at night," Beydoun recalls of the absences she felt during her hiatus from design. "There's a gap today, for people who want to look special without a crazy budget."
This is the origin for Super Yaya's spring collection, Recovery. Launching this month, the line consists of jubilant party dresses and candy-colored sets that are as appropriate for afternoon tea rooms as they are opulent nights on the dance floor. And the title is just as evocative as the clothes. Most literally, Recovery is a description of Beydoun's journey after sustaining a serious injury in the 2020 Beirut Explosion, but there are other reasons as well. "I had created an album of images taken during the months I was bedridden, and the title was Recovery. Then, I stumbled upon an artwork from Louise Bourgeois that illustrated the word. It made sense to connect the dots," Beydoun says, adding: "For me, recovery is a process of going from horizontal to vertical, a healing and scarring process during which time isn't so relevant anymore." It is this timelessness captured by Beydoun's garments that ultimately make them so appropriate for crossing milestones.
"Wearing Rym's designs makes me feel like Lady Diana 2.0," says knitwear designer Paolina Leccese—whose cultish brand Leorosa recently collaborated with Super Yaya on a capsule of sweaters with an abundance of bows, ruching, ruffles, and basket weaves. "Or my 6 year-old-self getting dressed up by my mother with a big bow in my hair: nostalgic and old fashioned yet humorous and modern. I can't attend a party without wearing one of her designs." For her birthday, Leccese chose a black sheer blouse with three big yellow, pink, and red bows. To a friend's wedding? A puffy pink off shoulder dress, also with bows.
Demand is not the focal point for Beydoun. Instead, she strives to be the kind of brand she'd liked to see proliferate. Sustainability in Beydoun's world doesn't just apply to environmentalism, but culture and mental health as well; it is an individual responsibility that she brings into her every day with the goal to make beautiful clothes that are respectful to their makers and their materials. Consequently, fabrication is king. And in Recovery, the techniques and materials she was praised for in the past—the use of traditional African Bazin and wax prints, etc—are still at the forefront, but their purpose is mutating.
For Super Yaya's next chapter, Beydoun is plotting brick-and-mortar—first in Abidjan and then Beirut. She wants to sell her designs in those spaces, but also eventually bolts of fabric—the artisan materials she and her team are already producing—in a Liberty London-esque outfit. "I want people to have a place where they can buy fabrics that feel the different from the industrial spray wax fabrics," says the designer. "Things made by hand."
Beydoun has a running list of women she admires. They are the muses of Super Yaya, the patron saints. The list is an ever-evolving project like the brand itself–currently it includes Beydoun's grandmother, the Gohar sisters, Senegalese choreographer Germaine Acogny, artists Amalia Ulman and Cassi Namoda, alongside friends like Leccese and architect Meitha Al Mazrooei. It sounds like a good party.