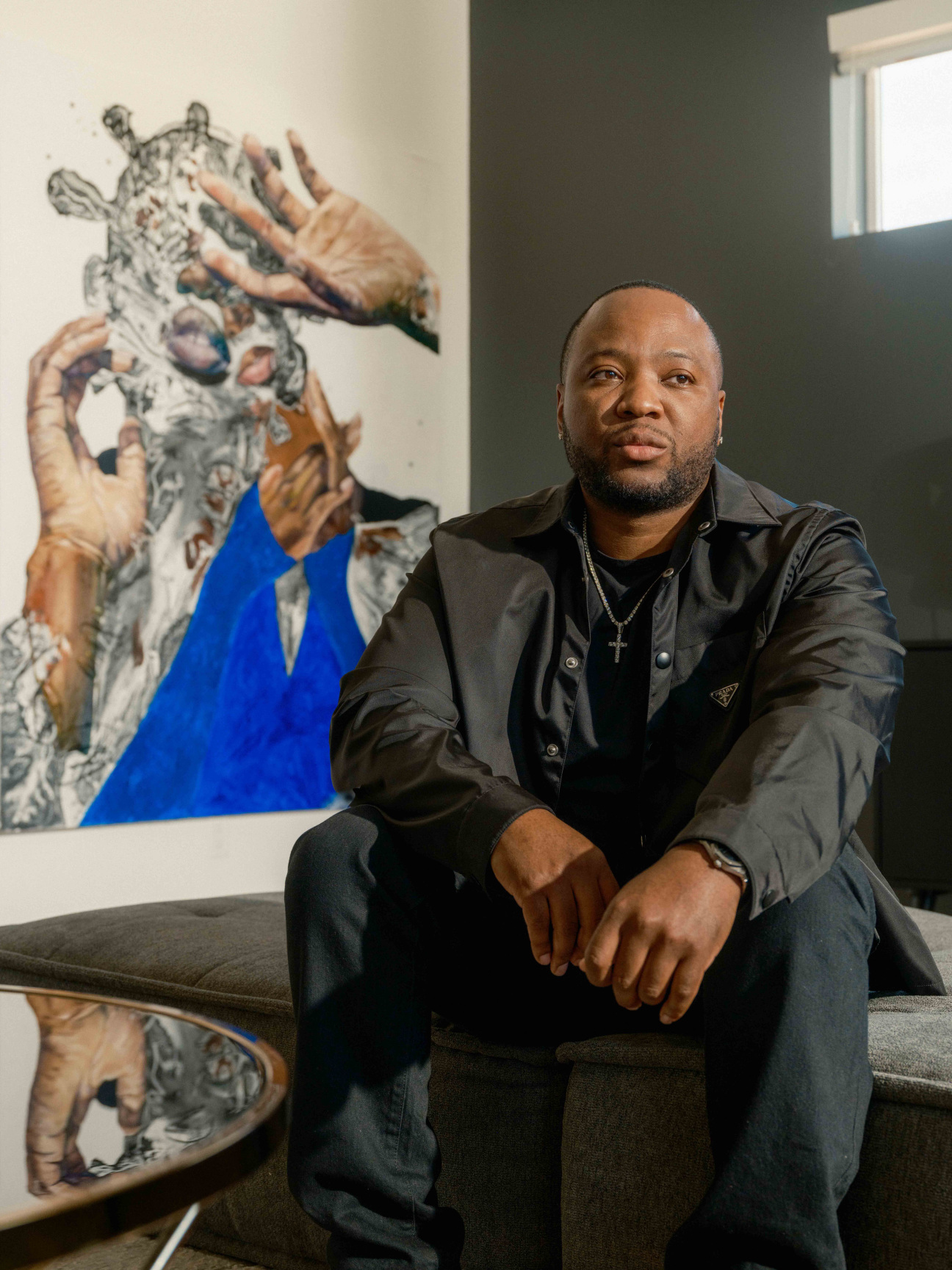 This profile is part of CULTURED's 2023 Young Collectors list.
Frederick Hutson didn't set out to become a collector. He became one when his interior designer, Daniella Villamil, tasked him with filling a couple of blank walls in his home with works that resonated with him. Unsure where to begin, the founder and CEO of Pigeonly—a platform that makes it easy for people to search, find, and communicate with incarcerated loved ones—stumbled upon a different kind of search engine: Saatchi Art, which became both a portal of discovery and an art world shopping cart.
When his inaugural purchase arrived—a huge abstract painting of Jesus by the South Korean artist GyoBeom An—its monstrous wooden crate took Hutson by surprise. What does 210 centimeters look like anyway? Hutson found himself drawing out his decorating assignment—buying works that would not necessarily fit, but that spoke to him. A Nathaniel Mary Quinn work was a milestone in this DIY education. Hutson had been following Quinn online and reached out to inquire about a possible purchase, having recently discovered that many artists' works aren't necessarily available for just anyone to buy. To Hutson's delight, Quinn and his gallerist, Rhona Hoffman, made a work available, citing the ethos of Pigeonly, which fosters connection in spite of physical or economic boundaries.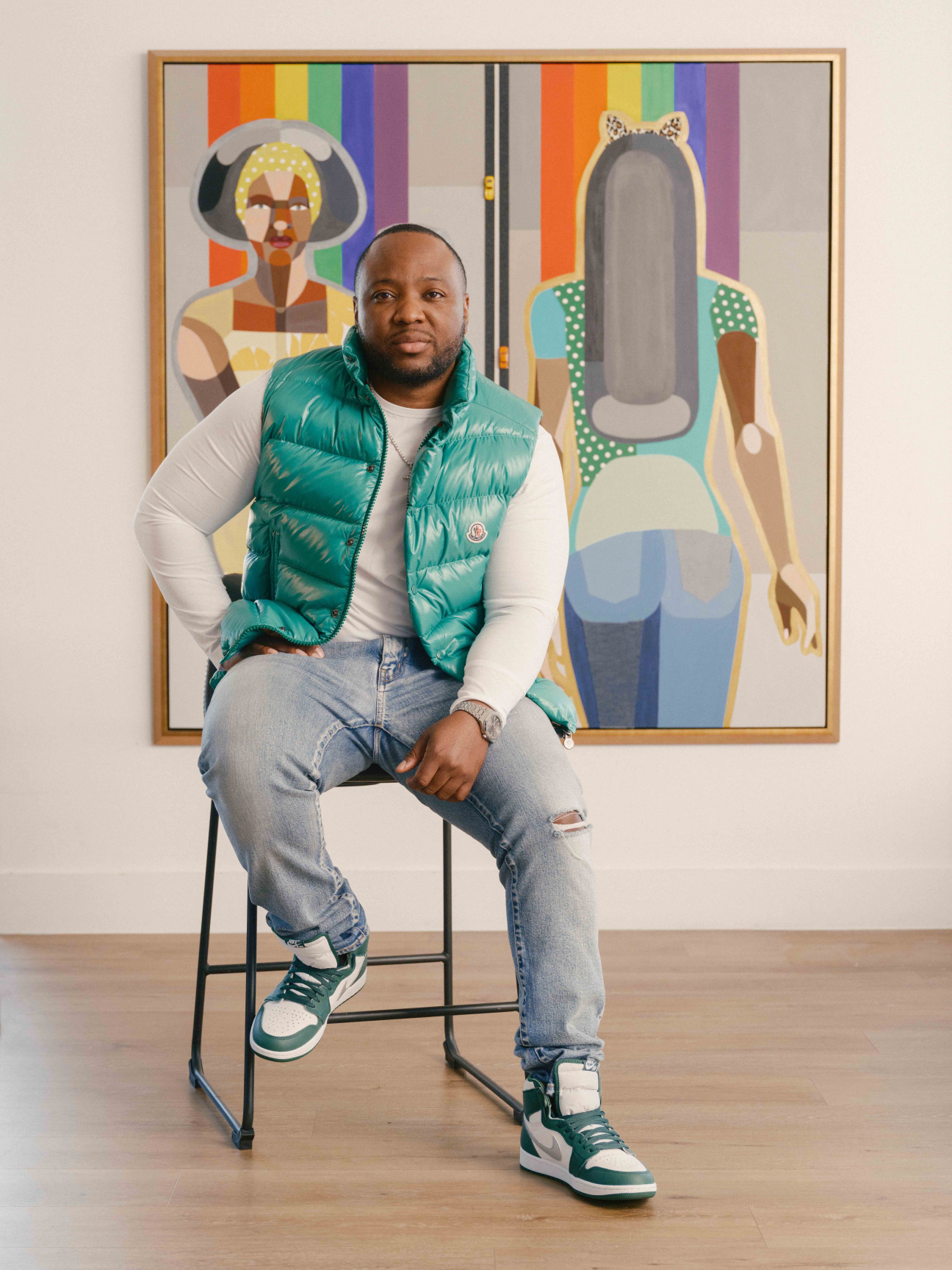 Over the next couple of years, Hutson watched in awe as the value of Quinn's work skyrocketed during a flood of exhibitions and critical affirmation. With his assignment long since completed, the thrill of the hunt is what keeps Hutson coming back—not to mention the community he has built over nearly a decade of collecting. Hoffman continues to be an informal mentor for the collector, while his art advisor, Anwarii Musa, introduces him to new names and young practices. Ethan Buchsbaum of Almine Rech Gallery consults on the work Hutson buys from the gallery and on his journey as a young collector. Everette Taylor, a fellow collector and the CEO of Kickstarter, occasionally offers another sounding board. This elite group of advisors reflects Hutson's dedication to thoughtful consumption while never abandoning his own taste.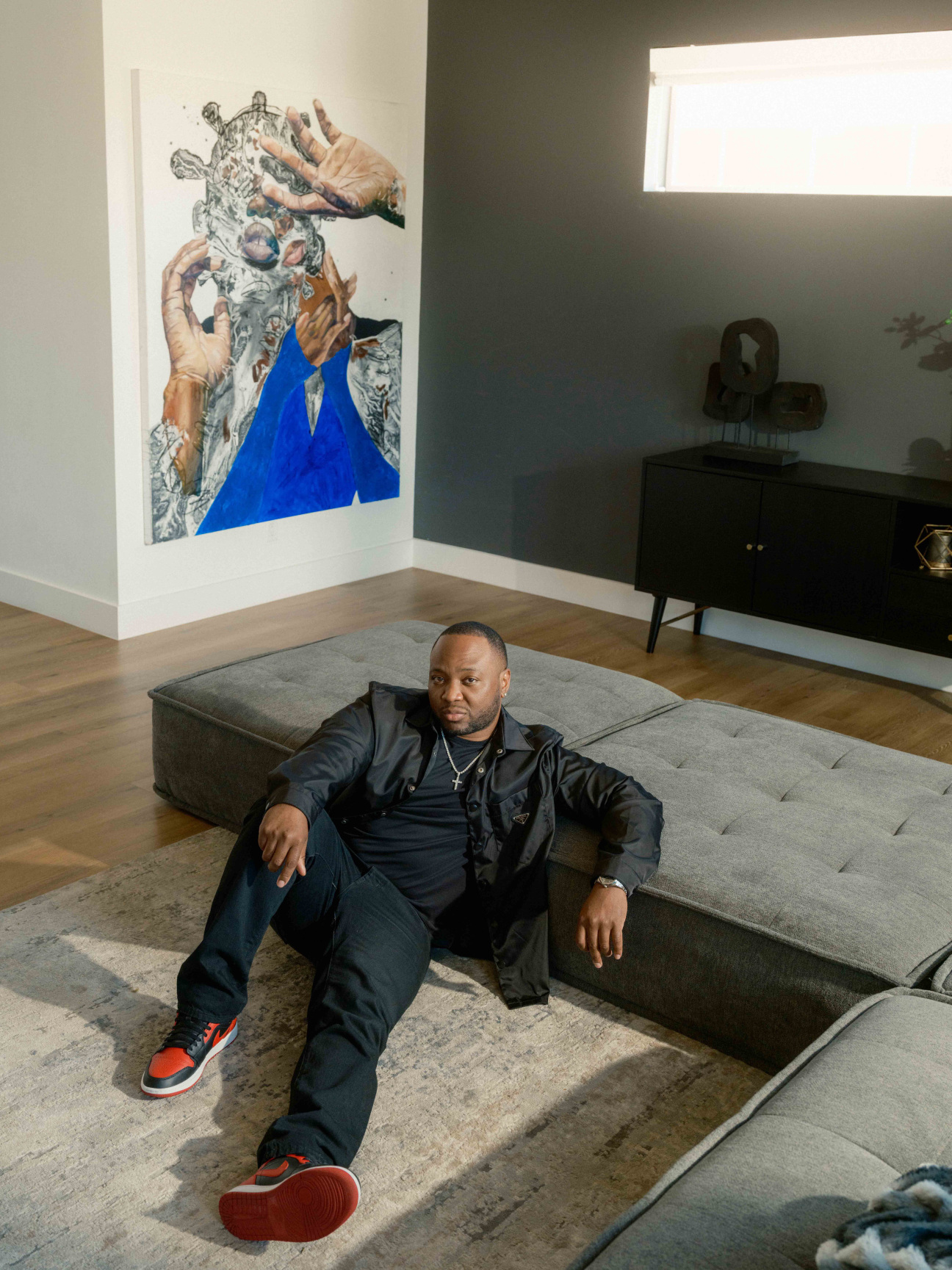 "Even though the style has changed over time, I tend to be attracted to works that challenge our perception of things we find comfort in—whether that's religion, money, relationships, success," says Hutson. "Often, I'm a walking contradiction. Sometimes we don't want to embrace that, and we want to push that under the rug. I'm happy and comfortable owning it." He cites Derrick Adams and Janiva Ellis as artists that challenge comfortability and transform the familiar into something illuminating, alien, and sometimes sinister.
Hutson's strengths as an entrepreneur have served him well in the art world. He credits the growth of his collection to the effort he puts into relationships, and stands by the age-old adage: go to them. When Vaughn Spann had one of his first shows in Tokyo, Hutson traveled across the globe to put in face time with the rising painter's gallery and express his interest. "If you're a collector and you're serious about it, you have to show people that you care," Hutson emphasizes. "I've been offered works that celebrities and high-net-worth people wanted access to—it's because of these relationships."
Want to meet more young collectors? Read our profiles of Reilly Opelka, Hannah Bronfman, and Seth Stolbun.