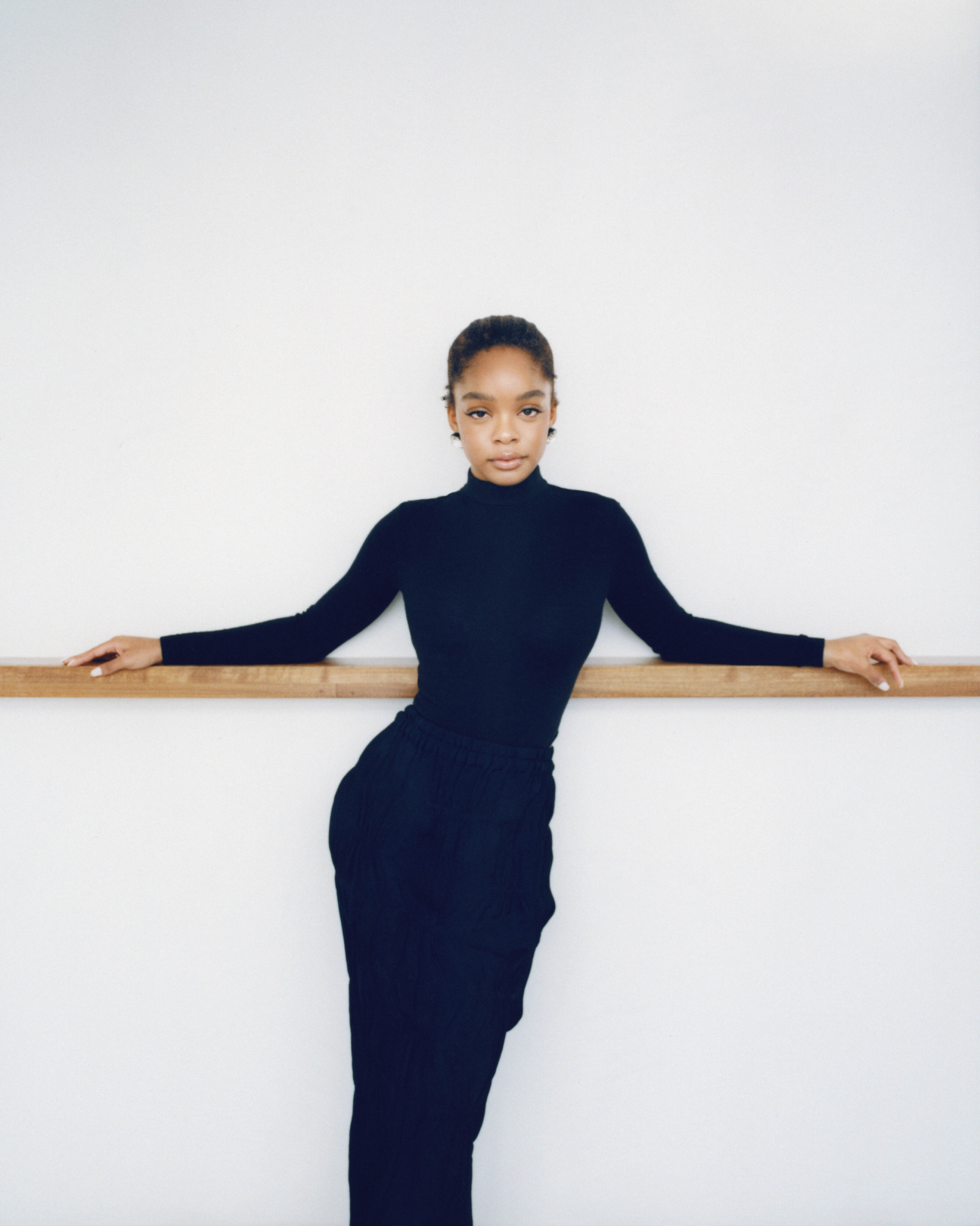 Lifetime achievement awards commemorate the kind of milestones that Marsai Martin is breezing through. In 2019, the Black-ish actor made history as the youngest executive producer on a major Hollywood production with the film Little, and was featured on the celebrated Time 100 Next list. At just 18 years old, she has been awarded a total of 11 NAACP Image Awards and nominated for two Screen Actors Guild Awards. Last November, Fantasy Football—a film she not only starred in but also produced—was released on Paramount+. But Martin is not simply knocking down barriers for her own fulfillment—she is building a legacy to inspire young women around the world.
Martin joined me on a very dreary afternoon in New York over Zoom from what appeared to be a much more vibrant locale. Her face was fresh—an unexpected vessel for the clear and considered sophistication that pours from her—and her spirit light. It must have been this same prodigious energy that inspired Michelle Obama to tap Martin to work on the Obama Foundation's Get Her There, an initiative that ensures adolescent girls have access to education. The former First Lady asked the young actor to produce and co-direct the campaign's launch video, and Martin delivered, taking the project as an opportunity to braid together her burgeoning craft and her desire to enact change.
"For her to trust me and to be able to co-direct it as well was amazing," Martin tells me. The video is a gorgeous montage of young girls filmed in their various home countries. Each repeats the prompt "Dear 25-year-old me, I hope you are..." before relaying her dreams and aspirations: becoming a tattoo artist, saving lives as a cardiologist, making movies, or being the best optician in Uganda.
"I wanted to make sure we heard stories from girls all around the world—to show that we all want the same thing, and that's to have the chance to strive for what we love and the dreams that we can accomplish," says Martin. "Every day we walk down the street passing strangers or meeting new people, and each of us is uniquely the same. I wanted everybody's stories to feel relatable and impactful at the same time."
Such is a recurring theme throughout Martin's work, from her role as the erudite but unfiltered Diane Johnson on Black-ish to her performance as the competitive Callie Coleman in Fantasy Football: an insistence not just on seeing but celebrating the complexities of girlhood. Nowhere, though, is that drive more prevalent than in Saturdays, her most recent project for Disney Channel. The forthcoming show centers on Paris, a young Black girl played by Danielle Jalade, and the eclectic ecosystem that is her local roller-skating rink. Martin, who is producing the show, explains to me that it is a nostalgic nod to the era of Disney that she and her cousins grew up loving—series like That's So Raven and The Suite Life of Zack & Cody—but with an added layer. Paris navigates the social scene and indulges her passion for skating all while managing her sickle cell disease, an aspect of the real world Martin felt was missing in young adult entertainment. "Even though it's a story about family and the beauty of friendship and community, there are different layers to it," she says. "We wanted to highlight that having a sickness isn't gonna bring you down. It doesn't stop you from living your best life and doing what you love, especially as a young girl."
Saturdays sees Martin move from where we all met her—in front of the camera, charming audiences—to a role behind the scenes, a shift that requires new skills from the young creative. "It has allowed me to use my voice in a new way," she says. "It feels good to see your vision come to life in a space that you're not in." The process wasn't always easy, though—Martin often struggled with the challenges of production. "You're not only pleasing your own needs, but also making sure Disney and the cast and crew get what they want. It's how I imagine it feels to be a new mom: you're learning your way through it while trying to take care of this thing, making sure it grows up, and then you just let it go. You let it live, you let it dream, and you let people see what you've created."
Throughout our conversation, I can't help but see a connection between the message of the Get Her There campaign and the actor's own success after being seen, supported, and celebrated. What is it that "got you here?" I ask. Martin got her start at five years old while posing for family portraits at a mall kiosk. The photographer, impressed by how well she took direction, offered her parents a discount if they promised to enroll her in acting classes. "You would be truly shocked at how the smallest decisions might make a difference," Martin says. "How far each one could take you. That's what I've learned from considering all the what-ifs."
When I ask Martin what advice she'd give her own future self, she squirms in her chair through the computer screen. "Oh no, girl, this is tough. I really don't allow myself to think that far ahead," she exhales. Martin thinks for a moment, before offering: "I hope you're happy and that your family is healthy. I hope your shows and films have impacted people and helped them open up about their own stories, hopefully creating little chain reactions around the world."
Makeup by Joanna Simkin at The Wall Group using NARS
Hair by Rachel Lee at MA+ Group
Location Redcar Properties Ltd.