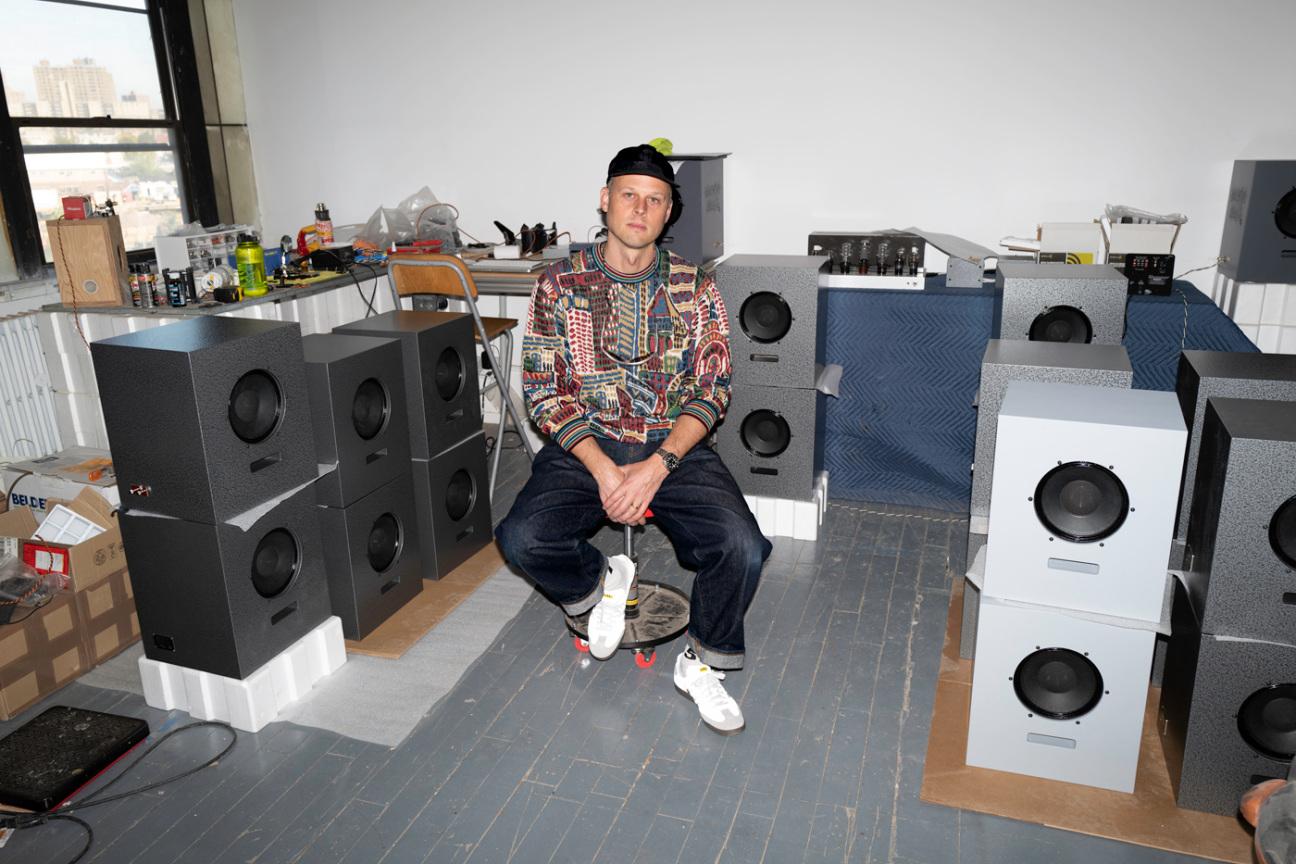 Those lucky enough to visit Devon Turnbull's Brooklyn Navy Yard studio—which, in all honesty, is more of an assembly site than a creative space to meditate—are usually surprised. "Half of the time people think we're a much larger operation than we are," he laughs. "The other half much smaller." The warehouse is actually medium-sized, and comprises multiple areas for millwork, metal shaping, carpentry, and technical engineering—a welcome expansion when Turnbull relocated his headquarters from the top floor of his Clinton Hill, Brooklyn townhouse two years ago. In many ways the move was eye-opening: Turnbull's on-and-off hobby, Ojas, was becoming something much bigger.
Turnbull's parents, both Transcendental Meditation teachers, moved the family out of New York and to rural Iowa when he was 11. He grew up in what he calls a "culturally secluded community," finding not only an escape but also a love of music. After dropping out of high school, he got his GED at the age of 17 in order to attend the Art Institute of Seattle, where he studied sound engineering. It was there that Turnbull took on the name Ojas—a Sanskrit word that comes from his TM upbringing and roughly translates to "essence of vitality"—which he used not only as his DJ moniker, but also as an overall umbrella for creative projects ranging from creative direction to graphic design. When he moved to New York in 1999, Ojas was leaning much more towards the latter, and in addition to branding the T-shirts and stickers Turnbull sold at hip Lower East Side boutiques, it became his graffiti tag, too.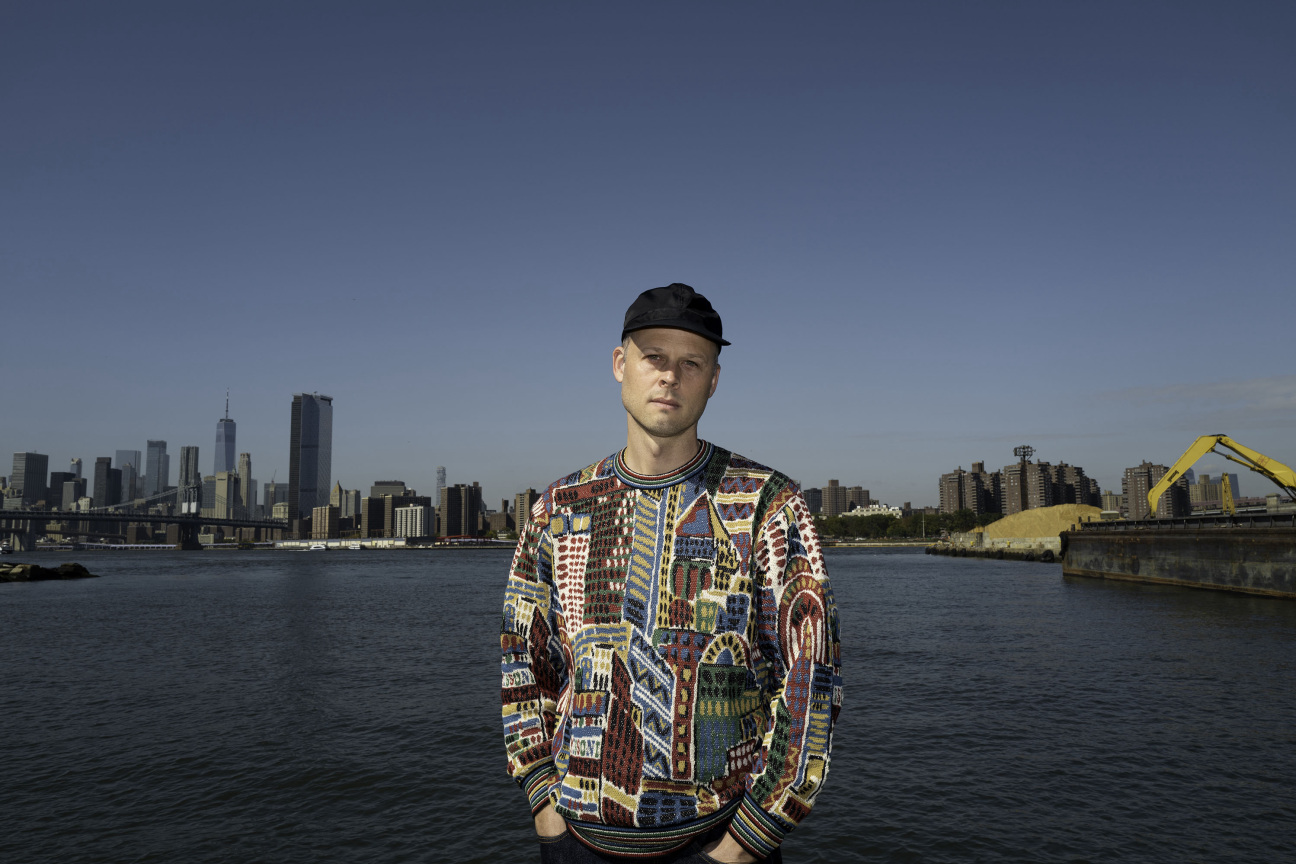 Ahead of fashion's streetwear boom, Turnbull co-founded Nom de Guerre in 2003 with Holly Harnsongkram, Wil Whitney, and Isa Saalabi. Insisting it was a "social science project" rather than a fashion company, the now-defunct collective has been heralded by Hypebeasts as the one that got away, and continues to have a cult following for its pioneering, militant fabrication, skate-rat aesthetic, and mysterious approach to men's style. "Nom de Guerre anticipated many of the most tiresome aspects of contemporary menswear culture," Rob Nowill wrote in 2018 about the brand's influence. "There are legions of menswear obsessives who still talk about it as a seminal label, bringing credibility and fashion authority to the world of streetwear." At the same time, Ojas became Turnbull's personal audio experiment, in which he designed one-off "sound sculptures" for himself and enthusiasts he'd meet around the world. When NDG folded in 2010, Turnbull kept the hobby as his creative outlet, taking on a slew of advertising jobs across fashion. A decade and some change later, all of that has changed.
"It's become way more successful than I ever thought it could be," says Turnbull, who established Ojas as an official entity three years ago. Instantly recognizable for their brutalist designs and cartoon-like audiphone toppers, Turnbull's bespoke speakers can be seen everywhere from Supreme stores to New York's Lisson Gallery—where he staged an installation this summer—and require at least four months to be crafted. Comprising of hand-made carpentry and vintage hi-fi components sourced from all around the world, the devices utilize Ojas's signature horn-loaded compression drivers for what the founder calls an "uncompromising sound." Indeed the quality is much more important than look or feel for Turnbull, who admits he experienced bouts of hesitation as his venture began to formalize. "I didn't want people to think I was a poser," he explains, referencing perhaps his long design portfolio. "My primary interest in audio is acoustics, not aesthetics. Everything I do is for the quality of sound. Everything has a reason."