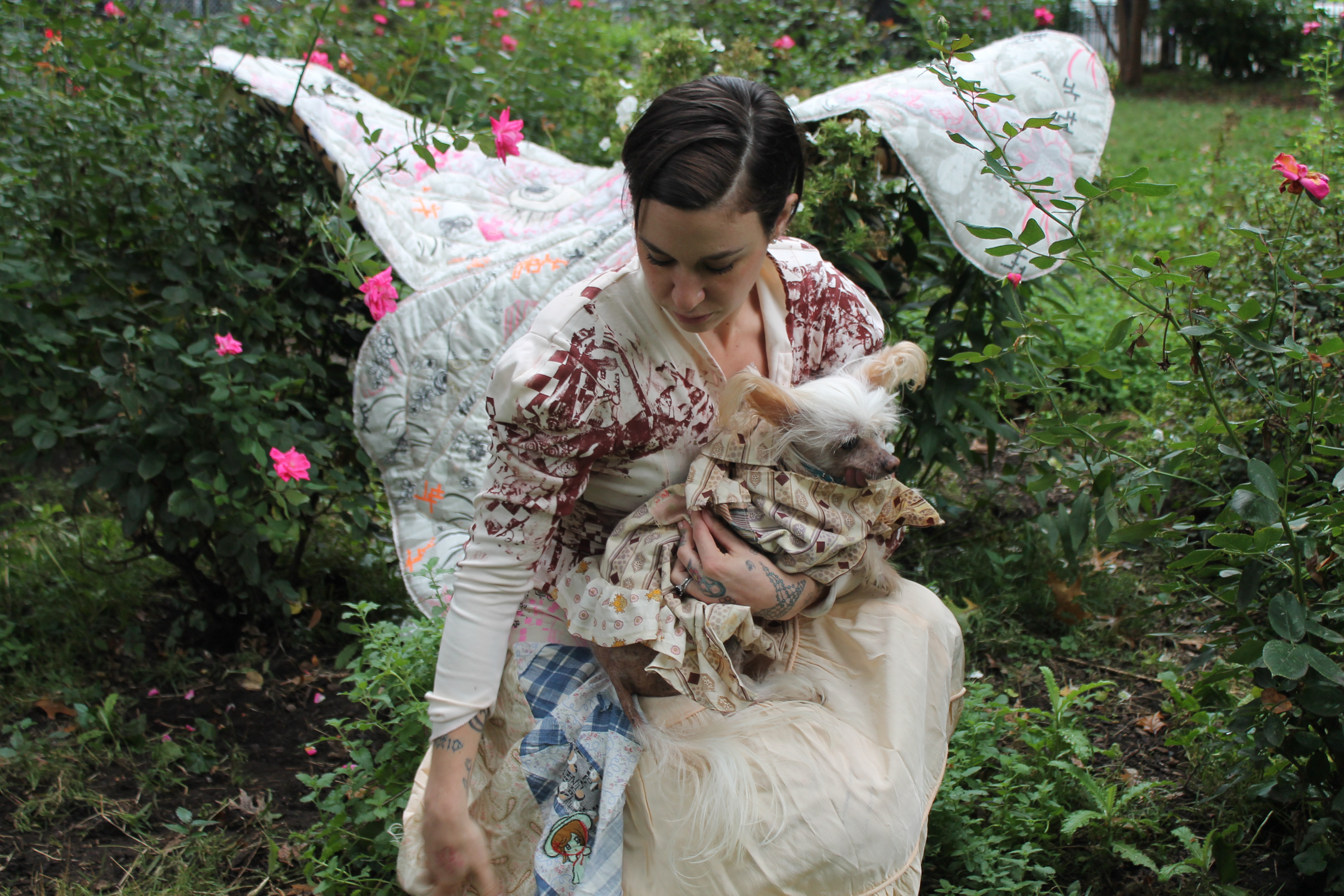 New York's downtown art scene, with its burgeoning galleries and anything-goes attitude, is an incubator for the city's creative hivemind, and of the curators mounting exhibitions in the gritty gaits below Chelsea, none have as sharp an eye for what's cool and up- and-coming as Taylor Trabulus. As associate director for Gavin Brown's Enterprise and director of the gallery's Lower East Side satellite, the 30-year-old East Village transplant represents artists of historical heft, like performance art pioneer Joan Jonas, and also stages shows with lesser-known makers mined from Brooklyn's underground. True to the experimental ethos set forth by Gavin Brown when he founded his eponymous London space in the 1990s, exhibitions by Trabulus frequently exist at the intersection of art, fashion and music, leaving visitors excitedly uncertain whether they're inside a gallery, club, boutique, or some sinister combination thereunder.
"The artists I'm drawn toward always offer different sets of reality," explains Trabulus. Like Jacolby Satterwhite, whose critically beloved solo exhibition "Blessed Avenue"— which comprised a ceiling-high video installation that transported viewers to a dystopian dreamscape of machine-tethered, leather-clad bodies voguing to the remixed beat of Satterwhite's late mother's acapella vocals—was produced by Trabulus; and Women's History Museum, the conceptual fashion collective whose anachronistic, deconstructed garments and sculptures had their first major showcase at Gavin Brown Enterprise's Grand Street outpost. And DJ and digital artist Juliana Huxtable; educator and performance artist Annie Sprinkle, the first porn star to bridge the world of art; poet and sculptor Ser Serpas; and photographer Elle Pérez, whose work deals with coded queer desire, who were brought in by Trabulus, working in collaboration with editor and dominatrix Reba Maybury, for "Putting Out," a group show making the case that we're all sexually repressed. "You're either being taken out of your everyday, the banality of your everyday world, or you're being made to question it or look at it in a different way, to find the beauty in the subtleties," says Trabulus, noting that this suspension of reality becomes especially crucial in moments of social and political turmoil. "There's insanity in the world right now," she adds. "It's just fabulous to walk into something and be transformed."
Hailing from Los Angeles, Trabulus moved to New York in 2010 after graduating from Bard College. Following a stint at the Whitney Museum, she found a mentor in dealer Nicole Klagsbrun. "She was one of the first people to show these West Coast artists like Bruce Conner and Marjorie Cameron Parsons Kimmel and Wallace Berman, who are all artists I really love." When Klagsbrun shuttered her space, Trabulus, then just 24, became Director of Martos Gallery. Three years later, at 27, she was brought on by Gavin Brown, and eventually began to oversee programming at their downtown space. "I love that someone can have an idea that seems so radical and abstract on paper, and then help them from start to finish," she says. "From the idea to the production to the exhibition." This winter, that includes a collaboration with colleague Tom Brewer for an exhibition with Alex Bag, an artist known for her low-tech, deadpan video monologues.
Art scene mainstays will recognize Trabulus flitting between openings in a pair of off-white, tabi-toed Margiela boots, arms speckled with tattoos from her husband, painter and tattoo artist Will Sheldon, and often touting a nearly hairless, pint-sized Chinese crested dog named Misty, who has her own Instagram account. She can also be caught typing away below the gallery's window, where she's happy to sit and discuss the current show. (On a recent day, it's a display of photos and a video by renowned photojournalist Danny Lyon.) "I'm a Gemini," she says, laughing, and she identifies with the sign's proclivity for socializing. "I love working down here because the office is in the gallery, so I get to talk to people all day long." For Trabulus, fostering a community around the space is one of the most important aspects of her role, and by bringing in buzzy outside artists, she's extended its reach to new audiences.
As for Trabulus's contribution to the art world at large? She ponders, then quips, "I don't know...A sense of humor."