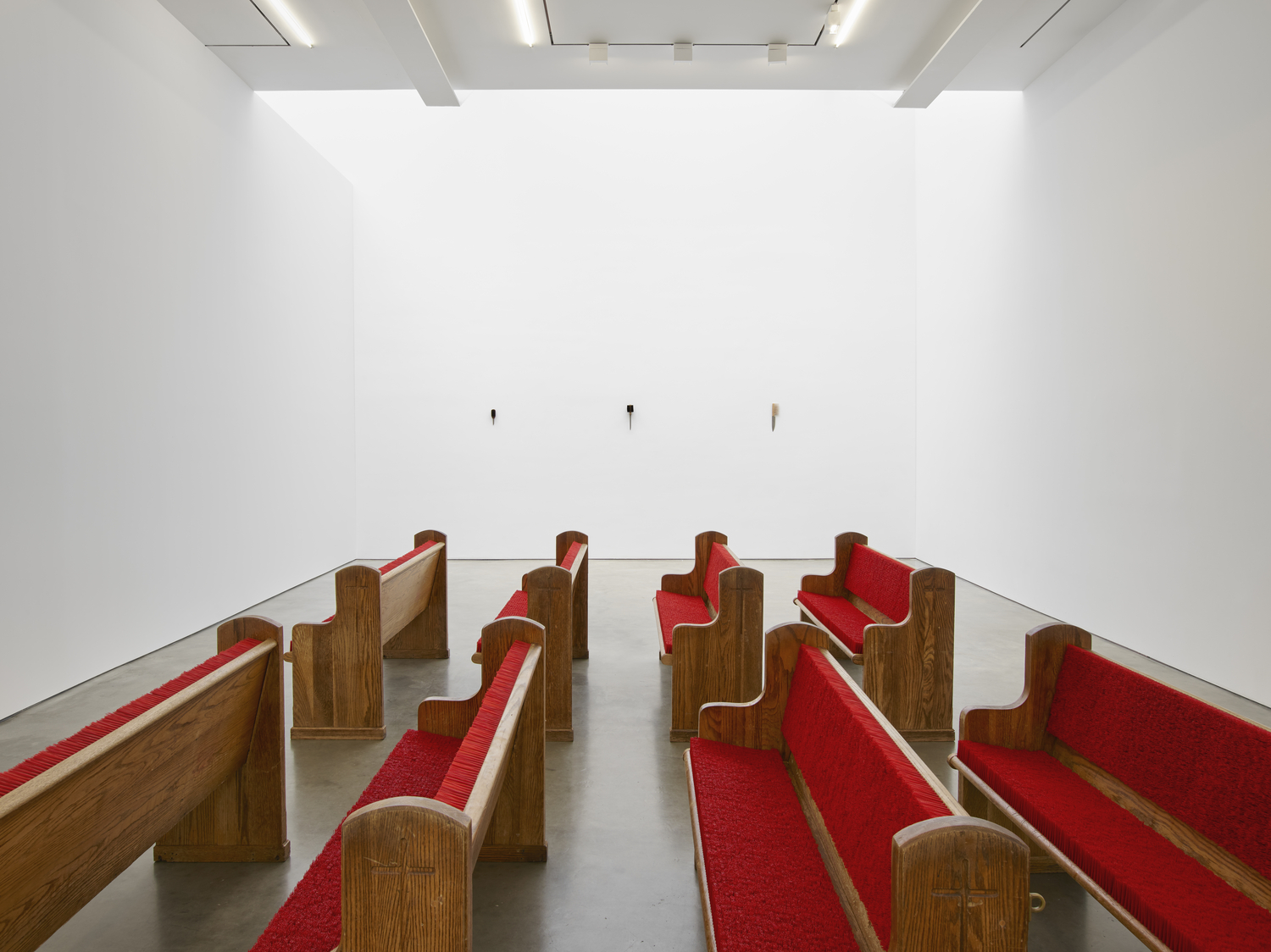 "Nine Lives" at Fortnight Institute
Through August 21
Whether you identify as a dog or cat person, this summer has had something for you. Earlier in the season, Jack Hanley Gallery hosted "Best in Show," a group exhibition centered around man's best friend. Last week, Fortnight Institute piped up for our feline friends with "Nine Lives." At first blush, the smattering of cat-related paintings feels charming and lighthearted. Taking a closer look, however, the viewer is reminded that cats are used as symbols of mysticism, domesticity, regality and femininity. Standout works include Sean-Kierre Lyons's vibrant and lurid 2021 piece, Can I Helppp you !? (the artist, coincidentally, also had a dog painting on view at Jack Hanley); Minyoung Kim's eerie and irreverent canvas-noir Cat Apartment (2021); Thaleia Karpouzi's Alex Katz-esque self-portrait cum selfie Devilish… (2020), and Tao Siqi's winsome and occult Strange Night (2021), depicting a black cat-bat hybrid creature sticking its tongue out under a crescent moon. Viewing these depictions of cats as harbingers of both good and evil reminds viewers of the poignant expression, "Every time God creates a cat, he flips a coin."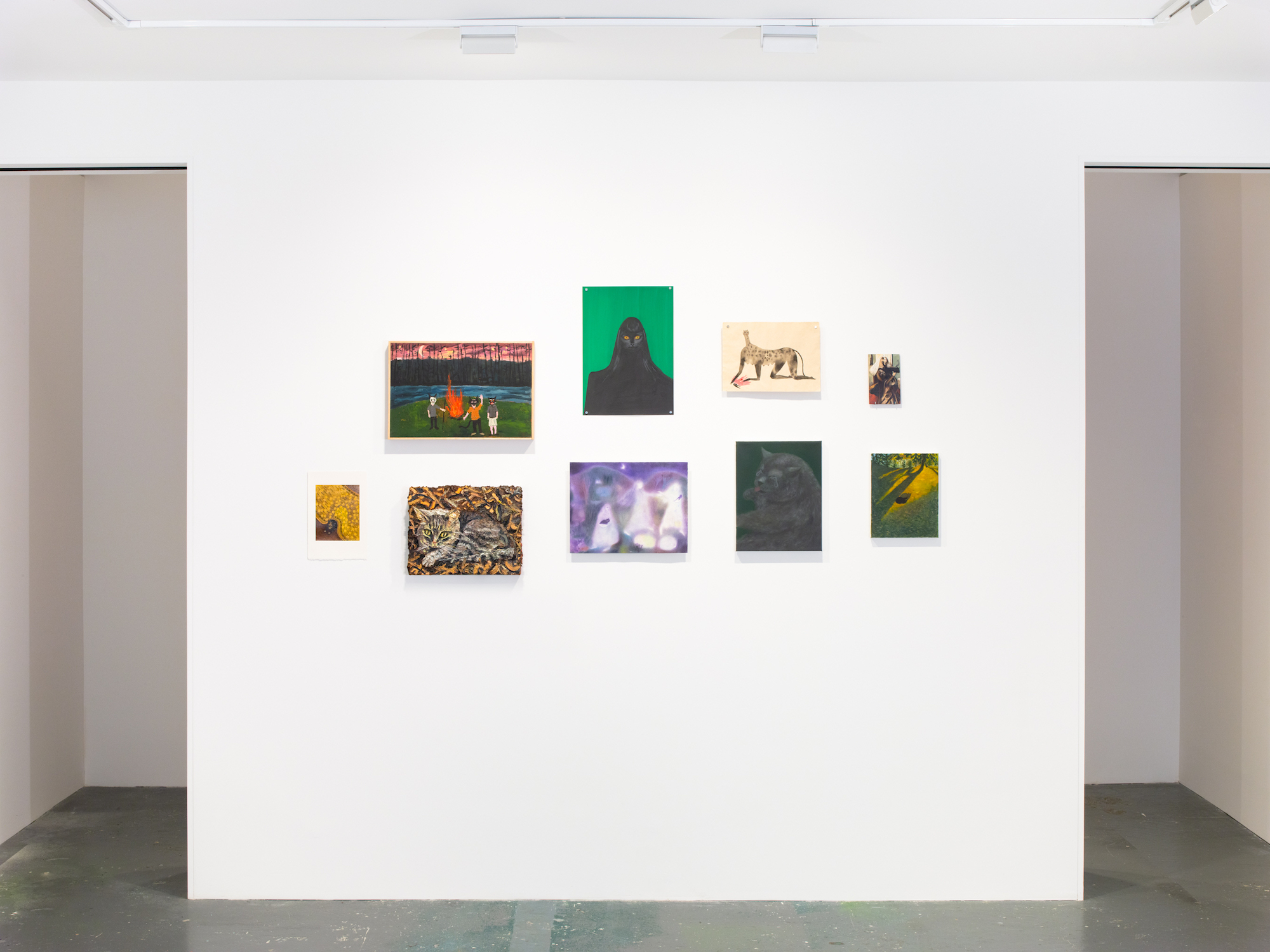 "Diedrick Brackens: Rhyming Positions" at Jack Shainman
Through August 20
The human silhouettes of Diedrick Brackens's woven tapestries have become a signature part of the artist's visual language. At his current show at Jack Shainman, only one tapestry bares a human image that isn't woven with black cotton yarn—a man sitting with legs crossed, holding a chair above his head effortlessly with one hand as a white rabbit perches atop it. These works come from time Brackens spent in lockdown, where his imagination started to run totally free, and his world became magical realist. The one with the rabbits, titled each their own (2020), suggests that the creatures may be a function of his own dreamworld, and not really there. Brackens decided on rabbits due to their symbolic use in African American folklore, where they're typically seen as impish couriers: there to deliver a message and then disappear without any explanation. Other tableaus present moments of domesticity, such as a couple in the bathroom together, then bending over against a yellow backdrop as if practicing yoga.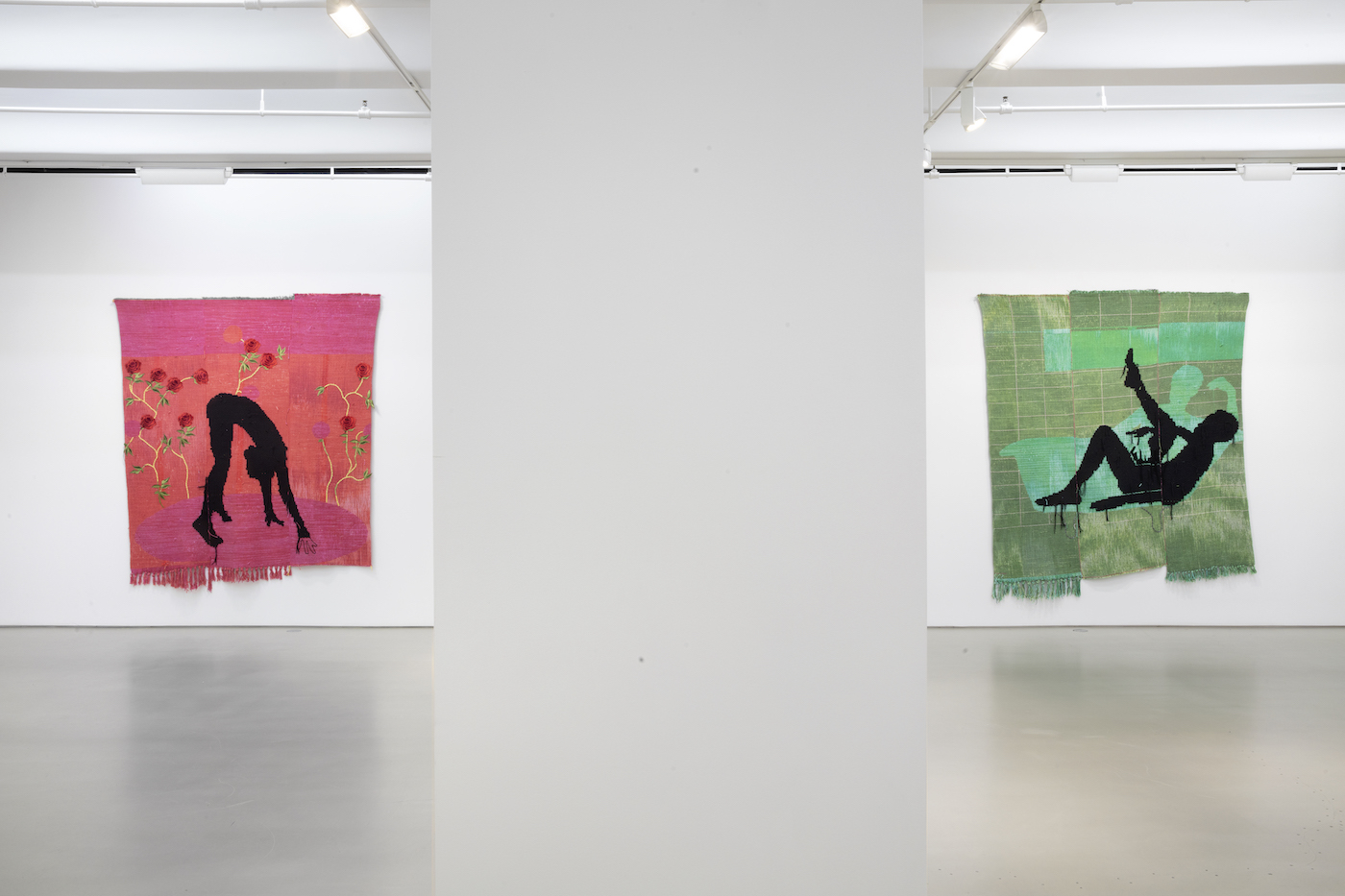 "Hugh Hayden: Huey" at Lisson Gallery
Through August 13
Suspended in fervid tension in the back room of Lisson Gallery are two school desks, one in raw wood and another painted black. The gallery is teeming with this feeling of tensity at Hugh Hayden's solo show, "Huey." Just inside the door, the viewer is confronted by imposing rows of church pews, their seats cut out and replaced by sharp red bristles, rendering them unusable and therefore meaningless, stripped of their utility. Most of the objects in "Huey" are commonly used and references to the cultural experiences of the artist's upbringing yet recreated in a material that makes them nonfunctional: a comb with a knife as its handle; a Lindt chocolate bar, that, upon closer inspection, is made of dark wood, and four basketball hoops cheekily redesigned to be completely impractical, whether it be from an amusingly long net (aptly titled Rapunzel, 2021), or because it's made of spidery, fragile hair and Gatorade-soaked rattan. In symphony, these objects all point to the futility of the American Dream, especially for Black Americans.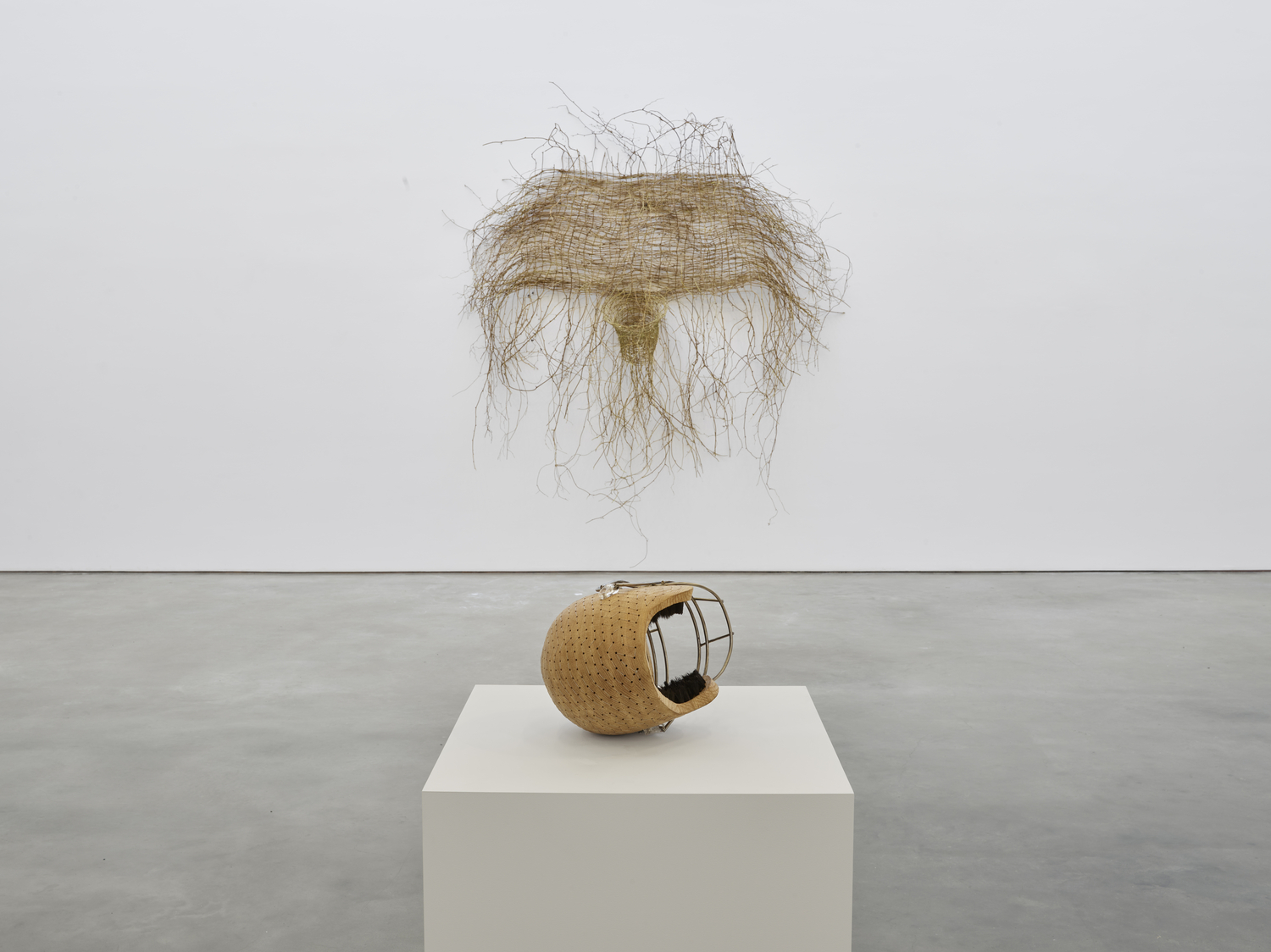 "Martine Syms: Loot Sweets" at Bridget Donahue
Through September 25
The meat of Martine Syms's new show at Bridget Donahue comprises four video works, which only play one at a time, so the viewer is forced to watch them in a narrative. The longest one clocks in at 15 minutes, a portrait of a woman in white Air Force 1s and a T-shirt that reads "TO HELL WITH MY SUFFERING." A song plays over the video, as you watch the woman killed in a variety of ways: stabbing, beheading and suicide. When she draws a gun to her own head, the song sings, "The only God is change," a nod to Octavia E. Butler's dystopic Parable of the Sower, which was set in the year 2020. The other videos include a meditation, a soliloquy and a short film projected onto a dry cleaning bag, the eponymous "Loot Sweets."
Aside from the video works, there are treasures to behold. A pastel portrait of Lil Nas X in his orange cowboy suit pays homage to one of the great boundary-pushing pop stars, We luh da kids. Please! Not the Baby! (2021) juxtaposes a photo of a Girl Scout with the banner image from a film reading "BASED ON THE UNTOLD TRUE STORY" and a large-scale collage of textiles blends fashion brands like Telfar and Eckhaus Latta with kente cloth, deconstructed pants and Egyptian hieroglyphs.
"Often Vary Never Change" at Clearing
Through August 27
Not all the fun is to be had in Manhattan, though. In Bushwick, Brooklyn, Clearing hosts 16 different artists for a group show where the underlying theme is far less clear than those previously mentioned over the East River. Perhaps it's in the works' cheekiness, though, as Meriem Bennani's viral sensation from the early days of the COVID-19 lockdown, 2 Lizards (2020) can be viewed in its entirety, spanning eight chapters that chronicle the tumult of the year 2020 through the anthropomorphic, magical realist perspective of a group of animals living in New York and watching their city rapidly change before their eyes. Calvin Marcus, who is currently having a solo show at the gallery's Los Angeles location, foisted a ceramic chicken carcass smack-dab in the middle of an electric green canvas for his absurdist self-portrait Green Calvin (2015). Another desk work by Hugh Hayden is also featured, as well as work by Korakrit Arunanondchai.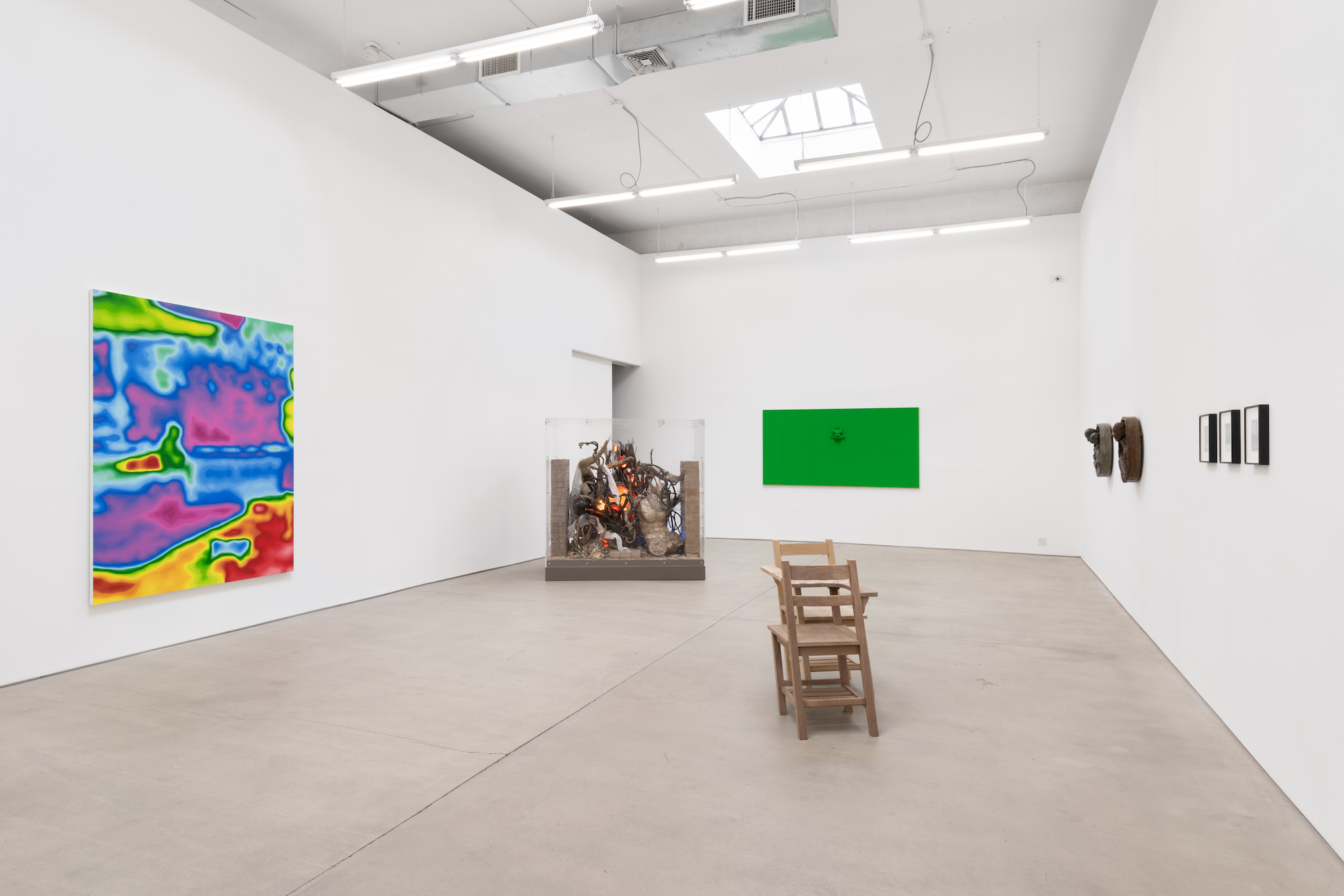 Craving more culture? Sign up to receive the Cultured newsletter, a biweekly guide to what's new and what's next in art, architecture, design and more.