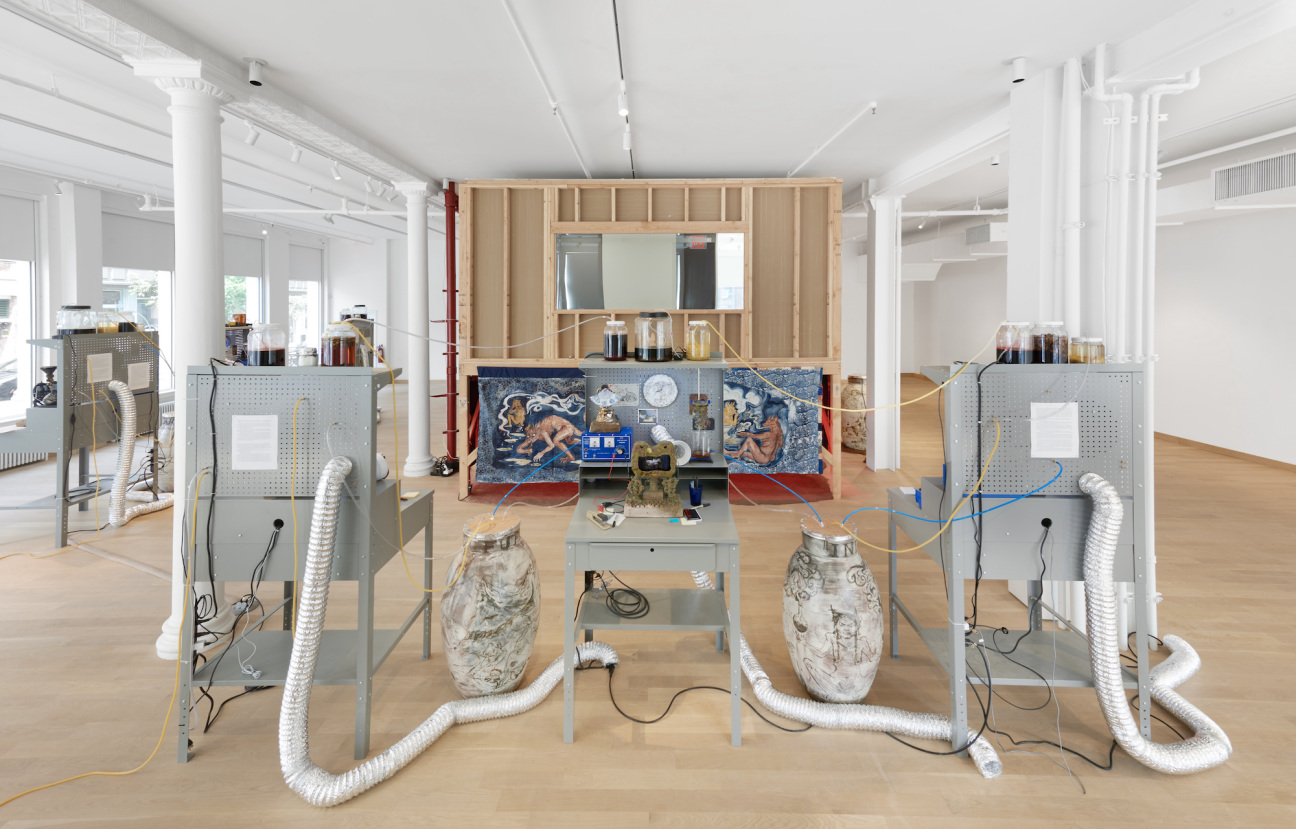 On a crisp, sunny Saturday morning in Regent's Park, visitors to Frieze London gathered for a kite-making workshop led by the LA-based artist Candice Lin and her collaborator Yaeun Stevie Choi. The dozen or so participants learned to assemble Korean stingrays, a simple rhombus kite traditionally made of mulberry paper and bamboo. The workshop paid homage to Lin's new work, hanging in the nearby Frieze tent, called Feline Messages to the Human World, 2023, a series of large-scale indigo-dyed kites that explore the theme of castration with slogans like "Ball Juice" and "Castration is Still Possible" rendered in bright watercolors.
Part of a larger body of work that will open at the Talbot Rice Gallery in Edinburgh next February, the kites consider "our relationship to animals, their sexuality, our desire for them, and how we project and think about their desire," says Lin. In a way, the project emerges out of the artist's own sense of guilt after reluctantly sterilizing her feral cat, Roger, which prompted her to wrestle with the dark history of racialized sterilization and the way animals have historically been entangled with queerness.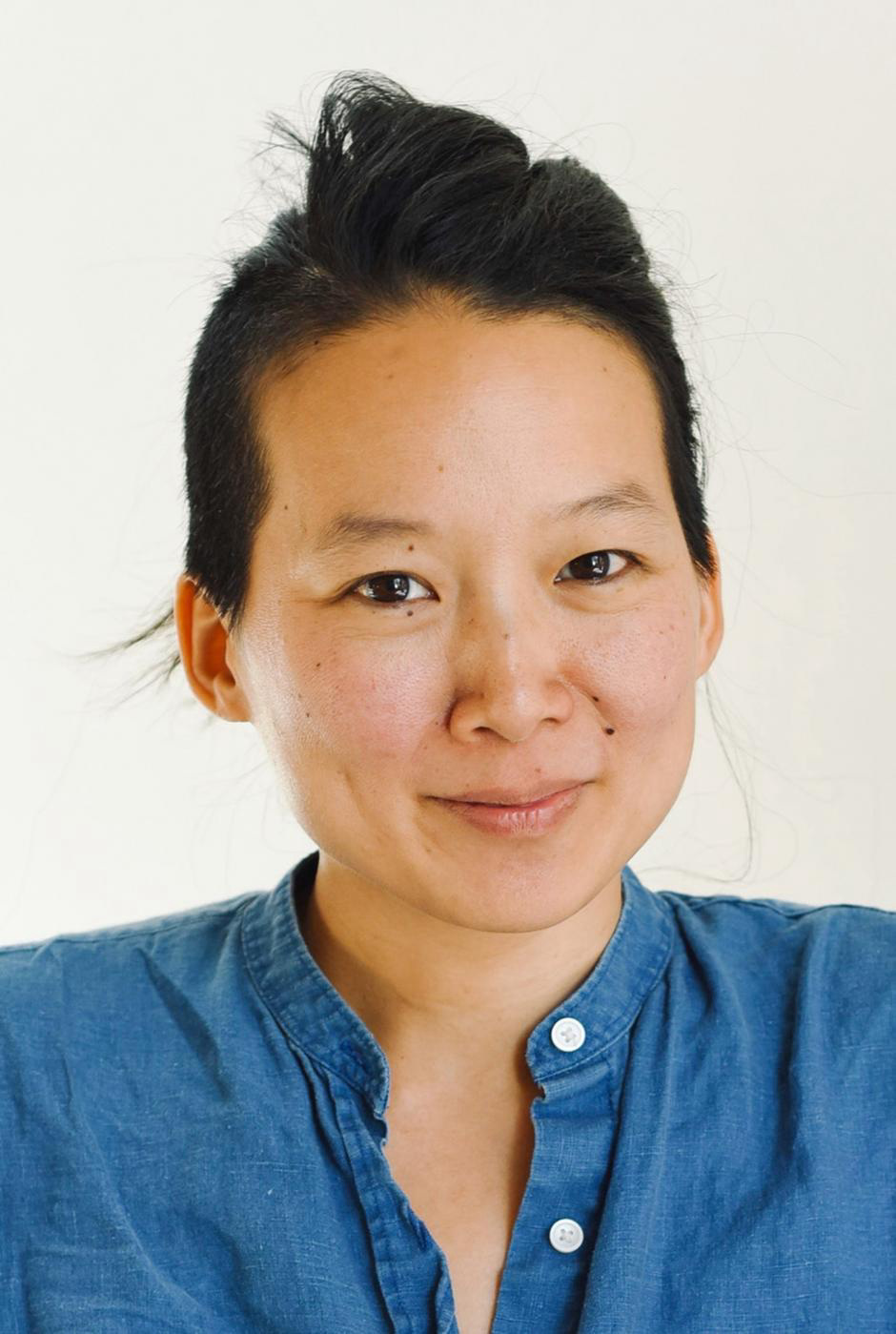 Lin's work often makes sense of the world by looking at things from a non-human perspective—whether cat, plant, or mineral. Take, for instance, the natural inks and watercolors she brought to share with the workshop participants: purple ochre from Armenia, a red ink made from cochineal insects and deep blue fermented indigo, among others. In previous works, Lin traced each material's complex historical trajectory, using it as a prism for uncovering the legacies of extraction, colonialism, labor, and capital that accompany its transformation into commodity.
Born in Concord, Massachusetts in 1979 to parents who immigrated from Taiwan, Lin has long been interested in art as an interface for exploring big, messy ideas. She studied art and semiotics at Brown University and got her MFA in "new genres" from the San Francisco Art Institute in 2004. Her work resonates with an audience that has spent its formative years going down Wikipedia wormholes and learning just how interconnected commerce, climate, and craft can be—while at the same time having little to no idea what kind of rare earth minerals it took to produce the machine they used to perform their research.
For her current solo show at Canal Projects in New York, "Lithium Sex Demons in the Factory" (on view until Dec. 16), Lin created a replica of a lithium battery factory. Her interest in lithium comes from working in ceramics, where it is often used in enamels and glazes. Over the last few years, the price of this alkali metal has skyrocketed thanks to increased demand from companies like Tesla that use it to produce lithium-ion batteries. Lin began looking into lithium's presence in traditional crafts, medicine, and electronics, as well as the politics of its extraction and trade.
"I was thinking about these technologies that get developed in crafts, like Jacquard weaving becoming punchcards for the time management of workers in factories and different chemicals used in ceramics being streamlined for electronic production," says Lin.
In her factory replica, traditional Korean fermentation vessels are connected by tubes to industrial workstations stacked with boiling flasks, jars filled with mysterious liquids, various laboratory equipment, clocks and ceramic statues—looking like something between a workspace and a shrine. In the center of the room, visitors can step inside the "manager's office," an elevated platform with a one-way mirror, which provides a vantage point from which to survey the workers.
But Lin's factory is no ordinary factory; it's haunted. At each one of the six workstations, ceramic sculptures contain video animations that tell the tale of a lithium sex demon who has returned from the dead to find their past lover. The story, though fictional, is inspired by real accounts of female factory workers in Asia who reportedly became possessed while working on semiconductors and other electronics, as documented by anthropologist Aihwa Ong. A commentary on labor conditions and the kind of irrational, all-consuming desire produced by capitalism, Lin's inquiry into lithium, like all her work, charts an unexpected course through surprising terrain as it alchemically fuses seemingly disparate histories and perspectives.
"In all my work, I look at these loaded materials and the way that they've been used," says the artist. "There's a lot of thinking about the porosity of the body and the way they come into the body and affect us, through obsession or through toxicity."
"Lithium Sex Demons in the Factory" is on view through December 16, 2023 at Canal Projects in New York.