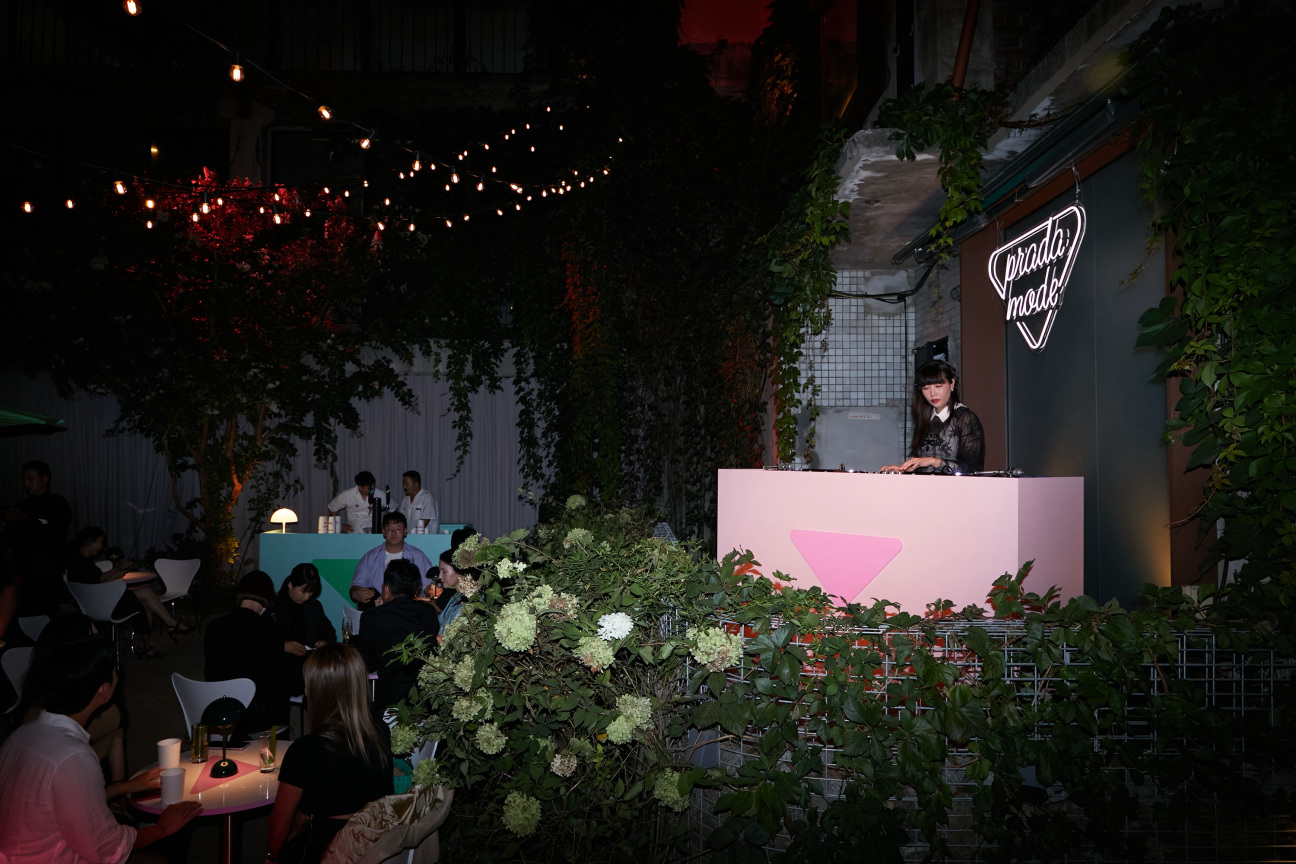 Seoul Art Week and Seoul Fashion Week started flirting last year when Frieze Seoul came to town. Now, they are a full-blown couple, as evidenced by the arrival of Prada Mode, the Italian house's art-centered, nomadic project loosely inspired by Carsten Höller's "The Double Club," 2007.
Like its immersive reference, Prada Mode is a nightlife-licked clubhouse run by artists. Each edition gets a new author. Past collaborators have included Theaster Gates, Martine Syms, and Damien Hirst, but this version focuses on a trio of South Korean filmmakers (Kim Jee-Woon, Jeong Dahee, and Yeon Sang-Ho) brought together by curator Lee Sook-Kyung. All part of the country's cinephile boom, the directors were asked to step outside of their usual format to create installations that brought their worlds into the third dimension.
The resulting exhibition, "Plural and Parallel," is a psychological funhouse that makes use of every nook and cranny of Kote, a historical complex off of Seoul's most famous shopping street, Insadong. Haunted by all the ghosts of urban nostalgia, the Brutalist-inflected buildings served as fertile ground for all three projects.
For instance, Jeong, an animator and the youngest of the group, embraced the old library—turning it into a study of her own. She inserted small screens in the stacks that looped little twitching landscapes and interiors, and then hung four screens to form a makeshift room in the center. In her animations, furniture, windows, and curtains become characters and figures become spirits.
The paranormal activity continues upstairs where Yeon has staged a typical Korean boarding house with an entryway bearing a violence warning. The life-sized set is based on his now famous Netflix series, Hellbound. The piece throws the viewer into a mystery that winds down a long dorm-style corridor and ends with an otherworldly crime scene inside a Douglas Gordon-like infinity room where a burnt corpse bleeds out on the floor.
The smell of recently burnt toast wafts throughout the space, completing the feeling of recently passed eeriness. Those familiar with Sang Ho's celebrated features Train to Busan and Peninsula will understand the sensation. It is not the fictional monsters (zombies and demons) that are frightening real in Sang-Ho's work; it is the everydayness of violence.
Across the courtyard of diners drinking under Prada Mode-branded umbrellas, one finds another meditation on the present. Kim's contribution is a sea of blue mosquito curtains with traditional Korean family tables, Pyouny-Sang, floating in it like little islands. Now disappearing from city life, these multipurpose surfaces were once where people gathered to play and eat communally. Kim wanted to bring attention to their rapid extinction in Seoul by putting them back in conversation with the roaring now—at one of the most sought after events during the city's largest cultural weeks.
Kim's preset tables were where guests winded down after an all-day program of workshops, screenings, and conversation—all of which were packed until standing room. During one, Yeon was brought out of his shell by his longtime friends and collaborators Yang Ik-Joon and Young-kag Cho, who helped rake out anecdotes only intimates can. Prominent film critic Kim Haery had a similar effect on Jeong, who opened up about how her own vulnerabilities in going to Paris for studies helped crack open the story of her first major success.
The night of the opening, VIPs like Enhypen and Lee Jong Suk made their way through this maze of sensations and adoring fans, all armed with champagne coupes and a steady stream of BBQ. The evening's score was a rotating assortment of live music, both traditional and contemporary, the only combination besides Prada Mode that could cut through the throngs and unite all these distinct worlds into one.