"You can embrace a term like 'queer' and not be defined by it," Res says as I leave their studio. This idea is a throughline between the practices of five emerging photographers—Elliott Jerome Brown Jr., Lia Clay, Naima Green, Matthew Morrocco and Res—who represent the vanguard of the medium. Their recent work probes concerns shared by many young artists: How can the intersections of identity be expressed through an art practice? How should we navigate visually-driven social media platforms? How can artists communicate queerness differently in personal versus commercial and commissioned work? And what are the possibilities of expressing oneself as an individual while identifying with a larger community?
Attempting to fit these five young artists into a box would be impossible. Queerness refuses form in contemporary photography, and that very mutability injects images with a newfound energy.
Elliott Jerome Brown Jr. "Most of my photographs aren't staged, but I do strive to make something that is theatrical," Elliott Jerome Brown Jr. tells me at his kitchen table on a stagnant summer night. The dichotomy between natural and theatrical seems irreconcilable, but Brown proves otherwise. The photographer shoots candid moments, often of close friends, family and fellow artists. This could make for a straightforward narrative of personal intimacy—yet Brown finds a way to move beyond conventional portraits.
His collaborators are found with their backs turned, eyes scrunched in laughter and bodies contorted away from the lens. They shift our point of view, asking us to leave the literal behind. "There's a reason why I insist the biographical information not be the most important reading of the image. I don't want my relationship with the person I'm photographing to end the conversation." Rather, Brown says, "I'm interested in the residue of presence or activity, which encourages a slower, more ambiguous reading, versus an image that explicitly shows that action."
In repurposing biography, Brown's work requires a reckoning with the broad words associated with identity politics. "At the beginning of college," Brown remembers, "my artist statement literally said, 'I am looking at the intersection of blackness and queer identity.' I was being confronted with all these terms, and it took time to make them my own." This process was helped along by the artist's taking a series of self-portraits—an introspective process that solidified Brown's interest in framing narratives, rather than playing a starring role.
In September, Brown braces for a new act: journeying to New Orleans, where he begins a nine- month residency program through the St. Roch Community Church in the 8th Ward.
Though this residency marks the first time Elliott Brown will live outside New York, he expresses a gravitational pull to the region. "I have a deep relationship with the South, though it feels internal rather than physical," he says. Emanating an unmistakable warmth himself, Brown will have no trouble drawing from his new life and cast of collaborators.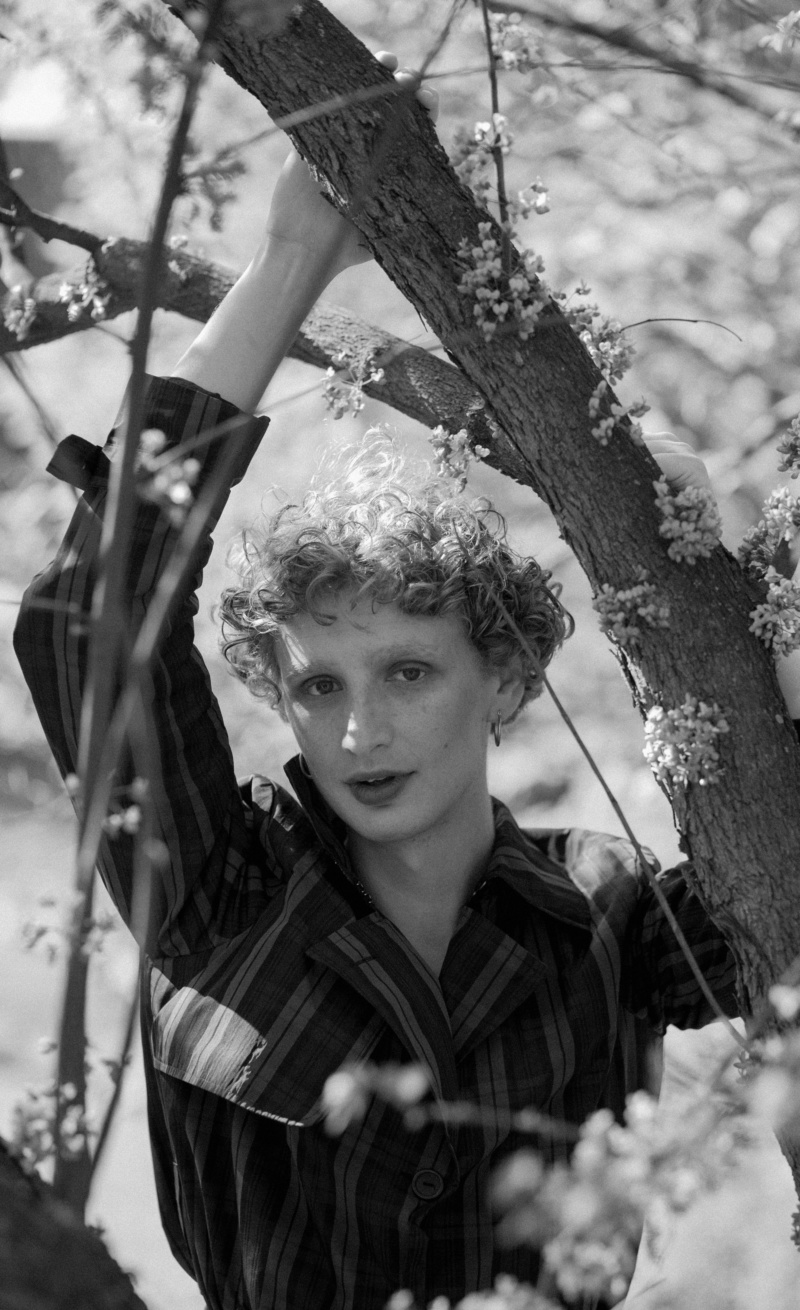 Lia Clay "I've always wanted to be a fashion photographer," Lia Clay says with childlike conviction. True to form, she was only a kid when photographs of her grandmother's cross-country travels captivated the young ingénue. "She had an old Olympus camera, and I was this stubborn eight-year-old interested in the new toy. She said I was too young to figure it out, so of course I picked it up and started taking pictures." Now, Clay is perhaps the most commercially successful trans photographer working in fashion.
Like most pioneers, Clay must be clever: carrying the weight of representation while evading the box people want to put her in. "Being a trans photographer, I'm always having to preface my work with being a trans woman first and a photographer second." Clay puts her practice first, delivering portraits that exude empowerment and ease from her queer and trans subjects. One such example is a recent cover story for The Cut, where she shot High Maintenance co-creator Katja Blichfeld. In the image, the showrunner's brazen, direct gaze penetrates Clay's empathetic lens.
For Clay, empowerment must extend behind the lens as well. "I'm really adamant about creating a more inclusive set environment. My first assistant is another trans woman, and I want to use her until the day I die." Growing serious, Clay adds, "When I walk through doors in this industry, I have to be aware that I'm not only walking through doors for myself, but for other trans photographers. It's not just a personal endeavor."
Currently, Clay is focusing on personal projects outside of her fashion commissions. It is deeply important that this body of work can exist outside the instrumentalization of trans bodies by the fashion industry and the media outlets that she regularly shoots for. "Every photographer goes through the need to separate their personal from their commercial work. My personal work is about being entirely in control. I'm a Taurus—I have to control things."
Matthew Morrocco I often think about the writer Maggie Nelson describing a Q&A she held during a book tour, in which an audience member asked the then- pregnant Nelson if her "condition" inhibited her writing practice. In a comic internal dialogue, Nelson laments: "Leave it to the old patrician white guy to call the lady speaker back to her body." Here she is responding of course, to the implied oxymoron—"the woman who thinks."
Matthew Morrocco's forthcoming project, Orchid: Seasons, seeks to reckon with another implied oxymoron—"the queer who thinks." Morrocco takes umbrage with the body-over- mind paradigm as the default mode of expression in feminist and queer art. "The emphasis on how marginalized people use, care for and struggle with our bodies is another way we are trapped in a system that keeps us down," says Morrocco.
Orchid: Seasons is year-long investigation spanning photography, installation and video, unfolding over quarterly 10-day exhibitions. Aesthetically, the Orchid series harkens to abstract Color Field painting, mixed with the ritual elements of Ana Mendieta's landscape performances. In these experimental portraits, Morrocco wears a zentai suit, effectively embedding himself into color gradient fields of the photographs. Morrocco likens this bodily slip to the practice of minimalist painter Ellsworth Kelly, who was allowed to engage with concepts beyond his homosexuality, because his work did not directly implicate the body.
Orchid seeks to locate a queer narrative apart from representing the carnal body—Morrocco seeks not to bury one's experience, but to expand the way one's experience can be expressed. "I think it's really important to stake a claim in the world of ideas with this work," Morrocco says of Orchid: Seasons. "Ellsworth Kelly represents that in many ways. By reflecting on his work, I'm making a point about how queer people are only given access to these realms if they cover their identities up, but we shouldn't have to do that. This work is really about breaking free and letting myself think about difficult contemporary concepts of economy, communication and history in public."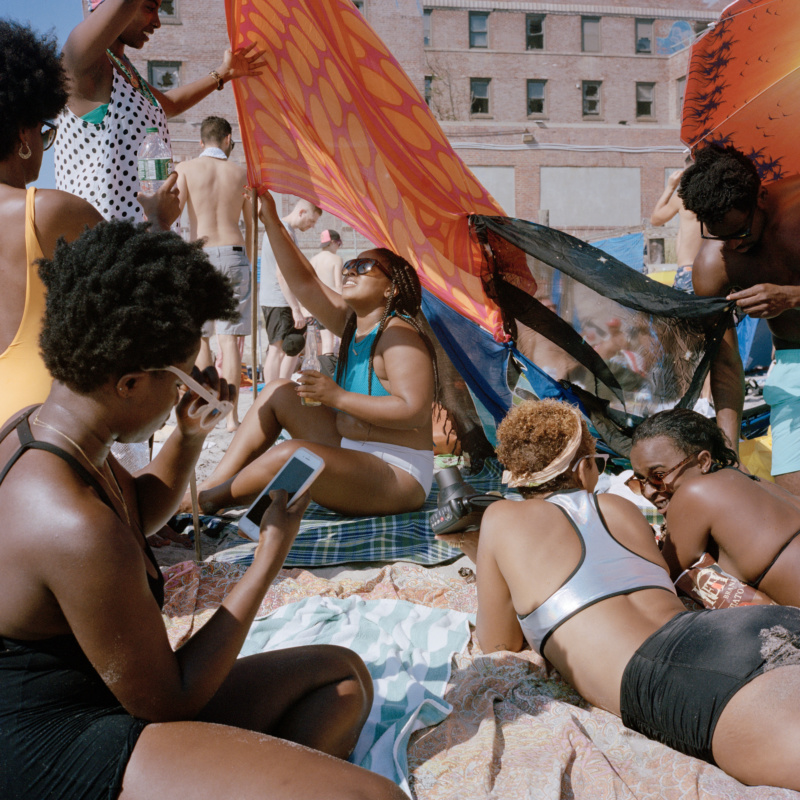 Naima Green Naima Green is not afraid to give her subjects power. "The photographer has so much control over their image making process," Green says, "but a lot of the work I made last year was about submission." In this spirit, last spring the Brooklyn-based artist, writer and educator sent an email to a list of friends, lovers and loose acquaintances with the following vague invitation: "I'd like to take a portrait with you," it read. "You will have the opportunity to direct me through a brief experience."
For the subjects that consented, the appropriately titled Attraction Experiment became an experiential portrait series taken in one of the last old-school photo booths in Brooklyn. In the grainy, black-and-white film strips, the photographer executed instructions provided by her collaborators. Some requests were as simple as asking Green to exhale as the camera snapped, while other demands were more complex. One sitter asked the photographer to participate in a Meisner technique activity—an intimacy-building, observation-based acting exercise—with her in the booth. In the portrait series, Green appears beside her many-gendered subjects in various states of play, surrender and—yes—palpable mutual attraction.
Green's portraits often cultivate community, queer and otherwise. Attraction Experiment exists alongside longer-term projects like Jewels from the Hinterland (2013–present), in which Green responds to the limited representation of people of color in urban green spaces, utilizing spaces like Brooklyn's Prospect Park to frame and foster an expansive community of black artists.
Located somewhere between Attraction Experiment and Jewels is the recent portrait Untitled (Riis), which reveals emergent concepts that the artist plans to further develop. This beach scene depicts the forged community that Green's practice celebrates, but also hones in on her nascent interest in visualizing and making space for femme-identified queer women.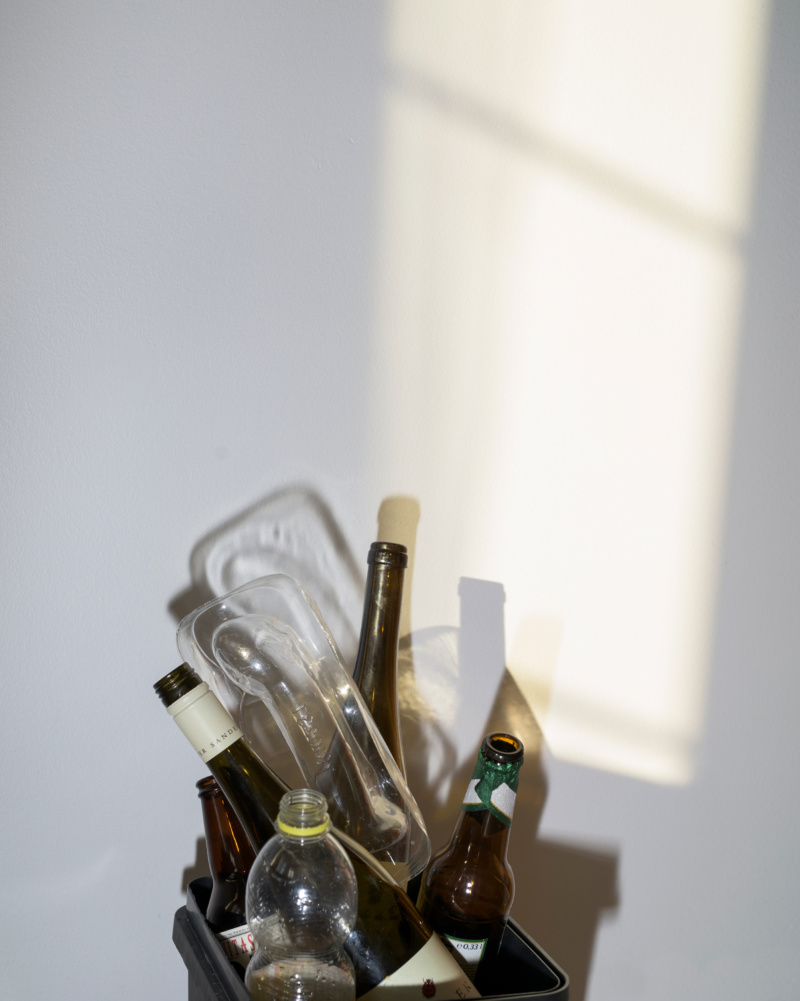 Res On Res's studio wall is a photoshopped collage of Catherine Opie portraits with the people removed, leaving behind backgrounds with only the faintest traces of life. "I don't know why I did it," the photographer admits. "It's not conscious yet." If the motivation isn't conscious, the act of appropriating the work of Opie—a photographer who depicted her queer and BDSM communities from the '90s onward—certainly feels relevant. Res, who recently received their MFA in photography from Yale, plans to utilize their new, generously lit studio space in Bushwick to embark on a series of free-form portraits this fall—a genre the photographer has a productively taut relationship with.
"I've always felt resistant to portraiture, formally," Res says. "I think it partly has to do with being queer and the experience of being labeled and reduced." This resistance functions as a site of tension: How does one communicate something as multifaceted as identity when the portraiture game has been historically so rigged against marginalized communities? It is a question that suspends Res's practice in a state of constant investigation. "With the context removed, you are relying on the body alone to communicate an individual's identity. I don't know if it's possible to see somebody in their complexity in the portrait itself. And what about the presence of the photographer? In formal portraiture it's not something we're supposed to think about." As an artist of the new queer vanguard, Res recognizes the strategic positioning of identity in front of and behind the camera.
"In my work, I am most interested in the 'me' of my queerness, rather than the 'we' of my queerness. The work seen here explores queerness in the way that most of my work does, in that it is taken directly from my life, and filtered through me. I believe the queer in the work is subtle, but if you are looking for it you can find it—I love leaving things in my work for the people who know to look for them."
Craving more culture? Sign up to receive the Cultured newsletter, a biweekly guide to what's new and what's next in art, architecture, design and more