On the third floor of a SoHo cast iron building in New York, a full-floor loft opens into a pristine common area. Off to one side is a separate, no-calls-allowed library stocked with Grecian classics and contemporary indie zines, facilitating focused study, while private areas decorated with sleek, yet practical furniture flank the quiet space. In the center of it all is an open area, filled with glamorous, contemporary furnishings in pastel stones and jewel-toned velvets, at which creatives and young entrepreneurs work side by side. A far cry from the traditional office, the novel Mercer Street workspace proposes an elevated, design-led take on a communal work environment, which actively offers different modes of working in a luxurious setting. Welcome to The Malin.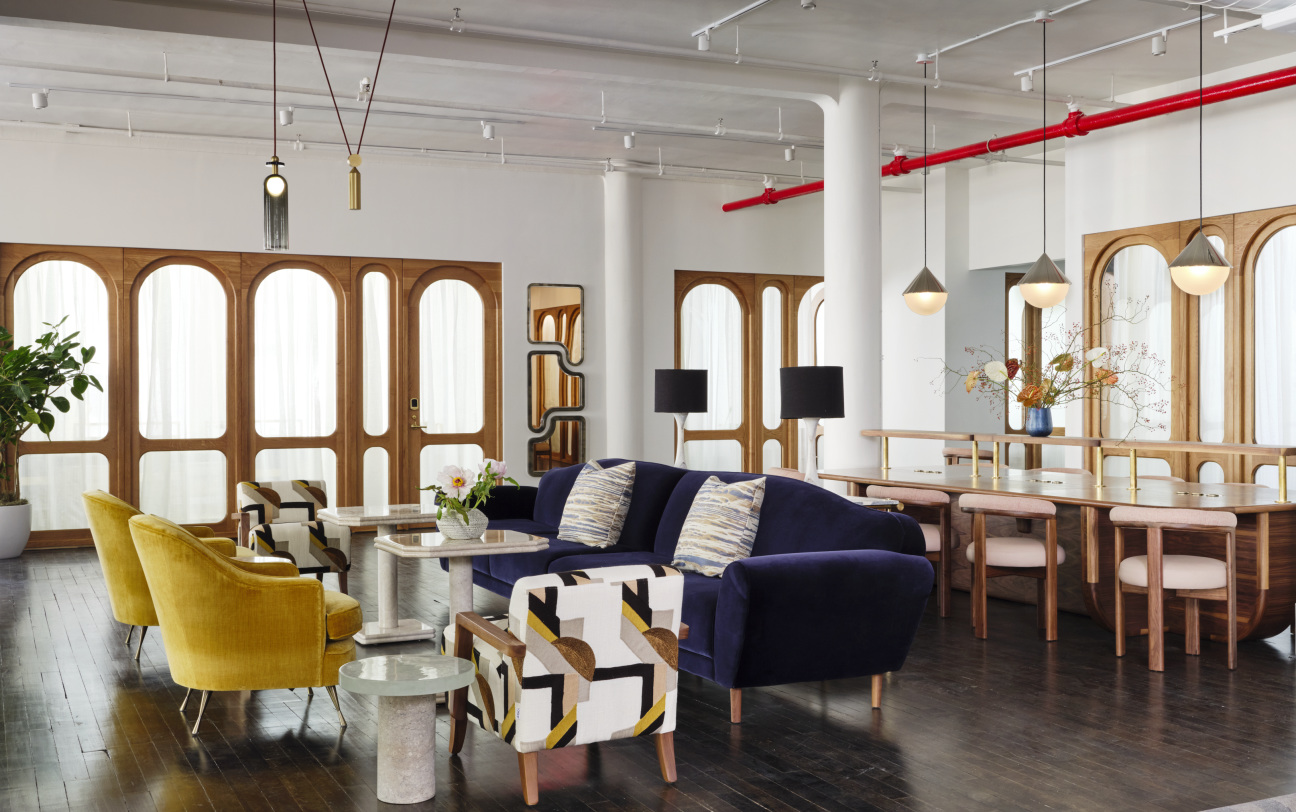 In order to produce such an innovative workplace, which first opened doors last November, founder Ciaran McGuigan consulted with a network of seasoned executives from Soho House to lead marketing and operations to ensure scalability. "We wanted it to be a beautiful yet functional space that exists as the ideal place to work," explains McGuigan, who is also creative director of Orior, the lavish furniture brand that has outfitted much of the space and whose showroom lives on the building's ground floor. "During the pandemic I imagined what it would take to inspire folks to want to return to a workplace and knew that it would have to be in an exciting neighborhood, with various zones that promoted different modes of working, with a design that was comfortable and inviting, yet elevated."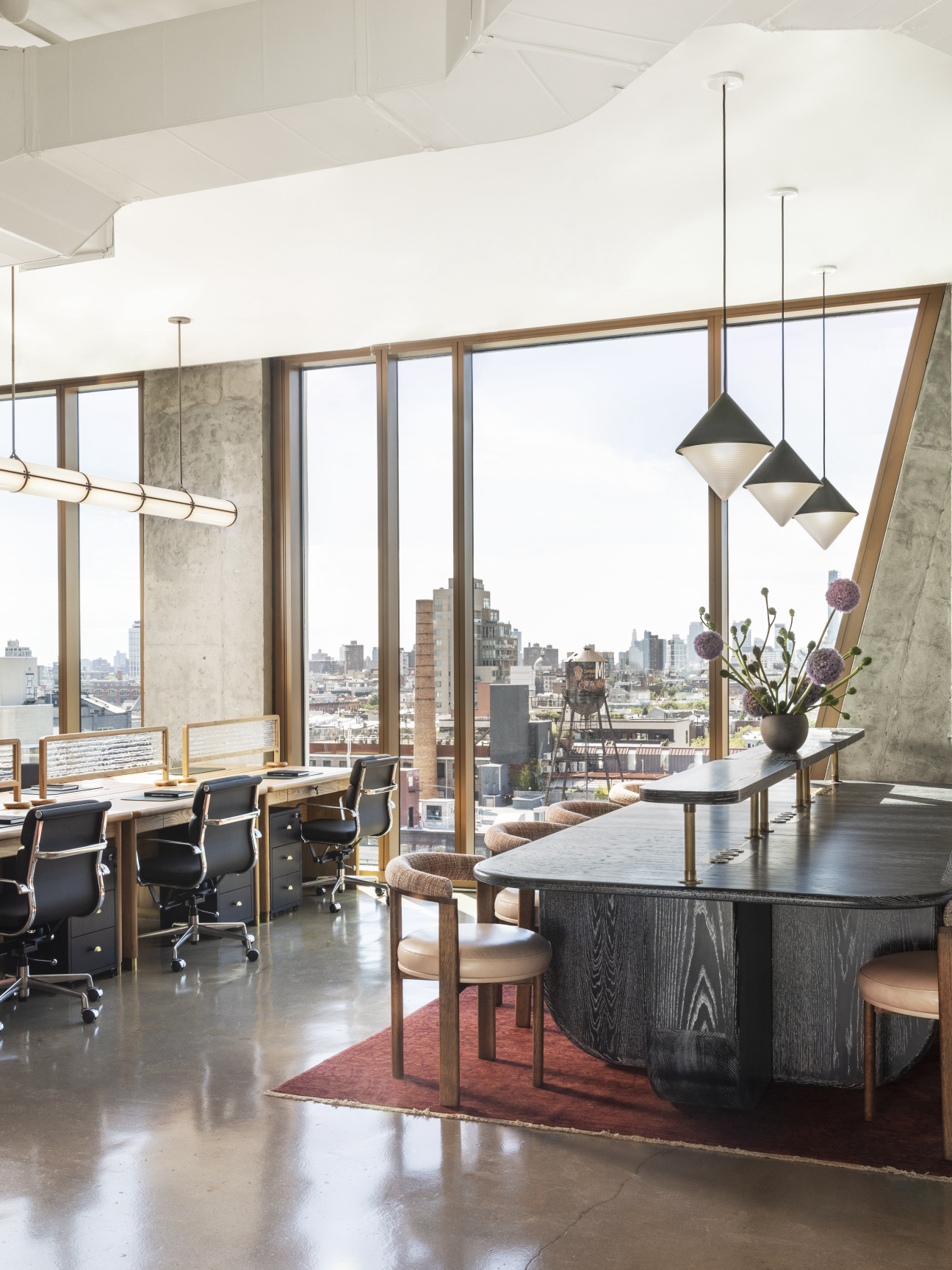 Now building on the success of its SoHo outpost, The Malin has officially opened its sophomore location across the East River in the heart of Williamsburg, Brooklyn. The 10,000-square-foot space is situated on the ninth floor of the William Vale hotel and features a magnificent panoramic view of the surrounding neighborhood. Among the various and similar amenities it offers, the new Malin also boasts a chic, quaint library designated for silent work, 40 dedicated desks, seven private offices for small teams, four meeting rooms, and several phone booths for video conferencing. It's an optimal space for flexible working in an intimate setting for Brooklynites no longer wanting to commute into the city.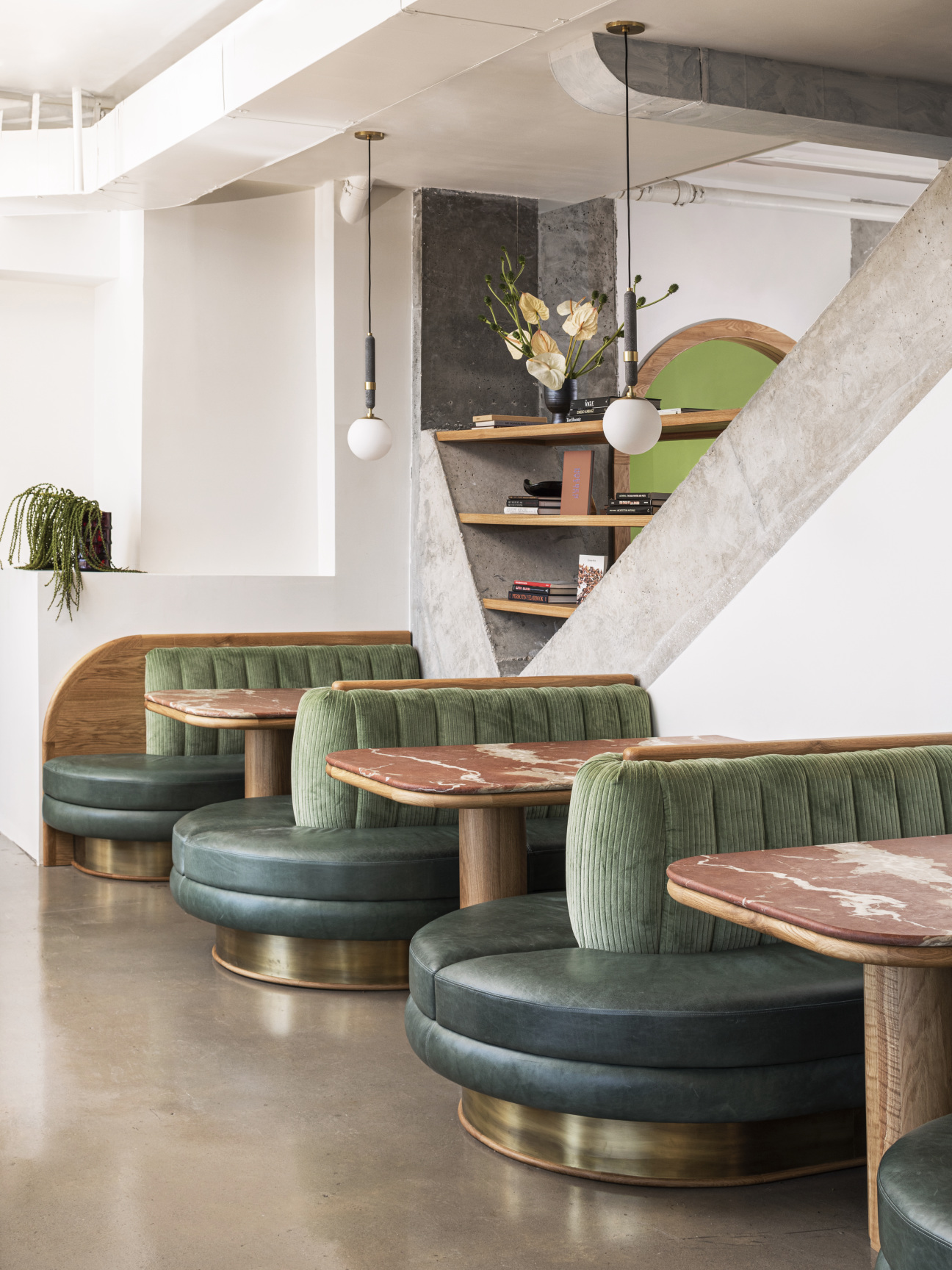 Beyond the new venue's convenience, however, its aesthetic appeal is unparalleled. Upon first entering, workers are welcomed into a warm open space—the nucleus of the operation. At the center of the main room sit a row of elegant pink marble tables placed snugly between green and teal booth seats, which are surrounded by simple wooden desks for those seeking a more formal work station. At the corners of the room are casual setups, which see custom couches and armchairs upholstered in rich velvets, boulces, and leathers placed around geometric stone coffee tables. Lighting by Roll & Hill, Kelly Wearstler, and Thomas O'Brien adds a sculptural element, while illuminating the marble and stone surfaces throughout. Altogether, the warm hues and textured materials of the main room play off the Brooklyn cityscape, and make visitors feel as though they are one with the urban environment.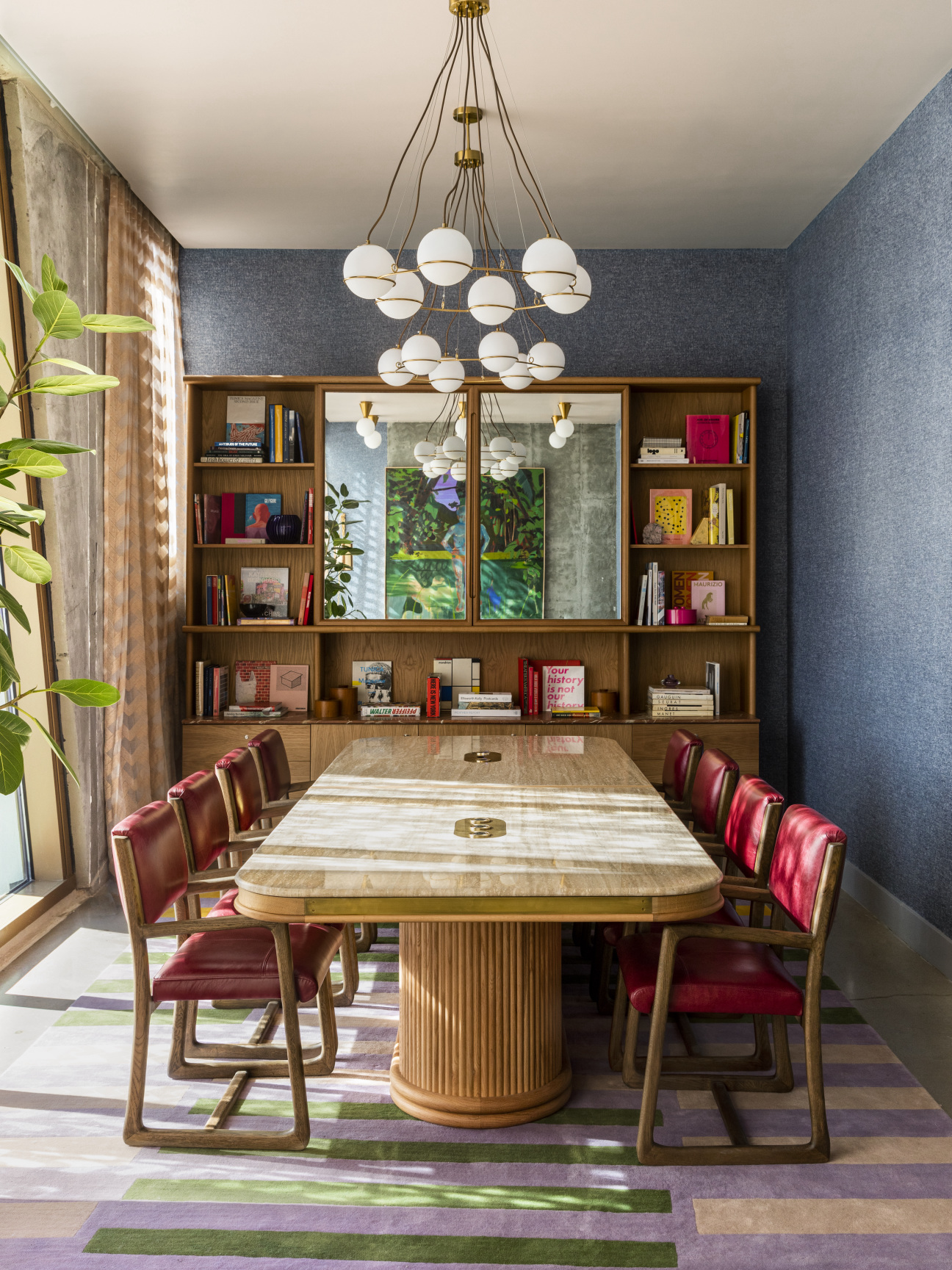 The large reeded glass walls that line the central space usher workers out, through the side hallways, to the private workrooms, the genderless bathrooms, and a kitchen, conveniently stocked with a coffee maker and eclectic appliances. Off one such hallway sits the quaint library space, which sees cherry red leather chairs placed around a large contemporary table, next to a sitting area featuring a sumptuous green velvet couch, pink armchairs, and two glass coffee tables. Further down the hall is a space dedicated to those who prefer to work standing. High marble tables line tall windows, which allow members to not only conduct their business in the manner that they feel most comfortable in, but also take in a stunning view of Brooklyn.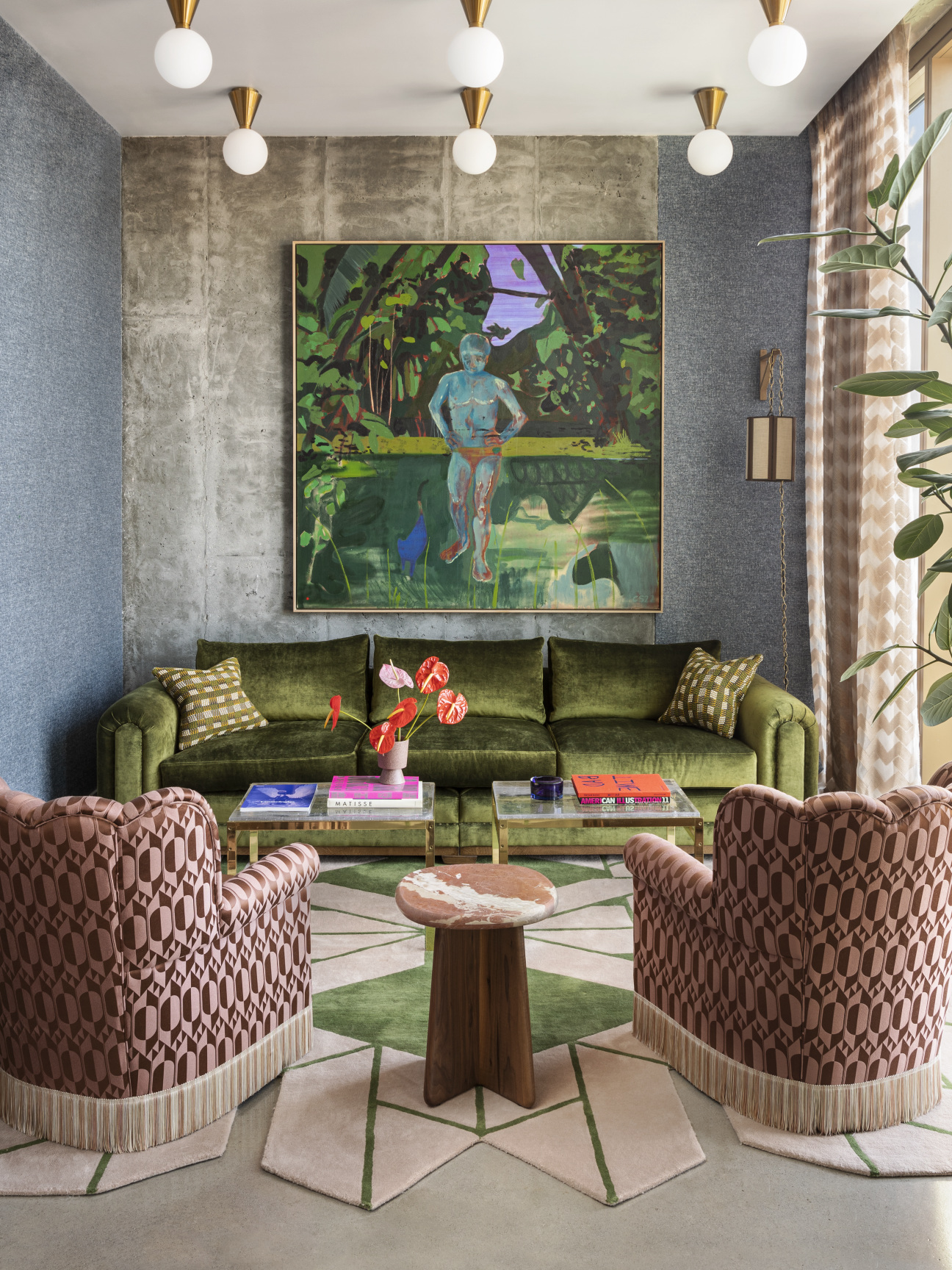 Like its SoHo sister, The Malin Williamsburg also features an on-site executive assistant to support both administrative duties and day-to-day lifestyle needs, such as running errands, booking travel, reservations, and personal shopping. With the addition of such services and the intimate nature of its membership cap, The Malin Williamsburg is not only committed to allowing its members to focus on their work, but also operating in a comfortable environment.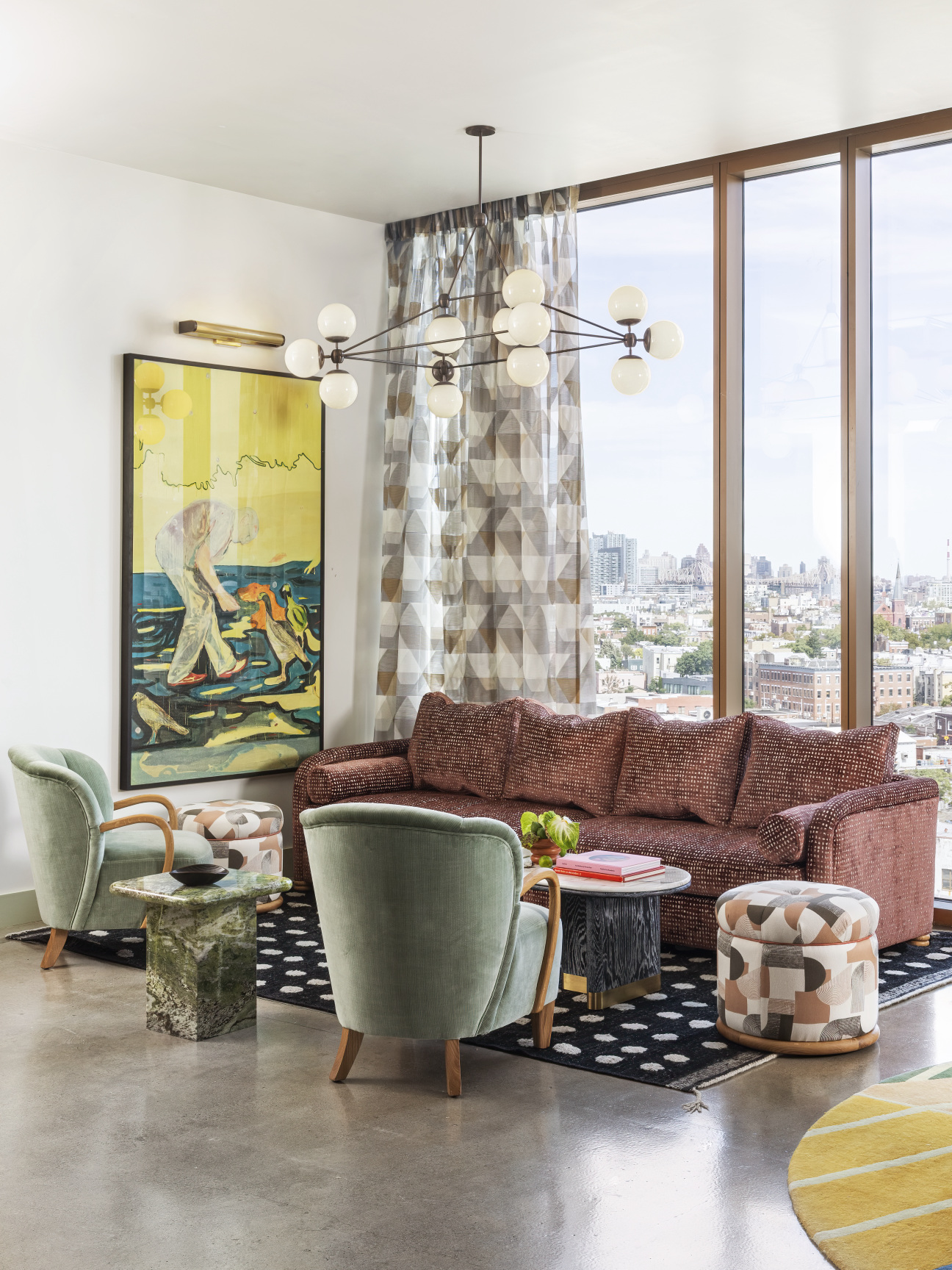 However, McGuigan is not planning on stopping after Williamsburg. In the coming weeks, The Malin plans to open the doors of yet another new outpost in the West Village. Housed on dreamy Charles Street in another 10,000-square-foot space, the upcoming location formerly served as the studio of beloved American artist Jennifer Bartlett. "It needed to be inspiring and functional, where someone can complete a quick task or long-term project with similar ease," adds McGuigan. "We're also right in the cultural heart of downtown New York, where members can pop out afterwards to the galleries, restaurants and shops and make the most of the City."
The Malin Williamsburg is now open at The William Vale, 109 N. 12th Street with its West Village opening at 134 Charles Street later this year.