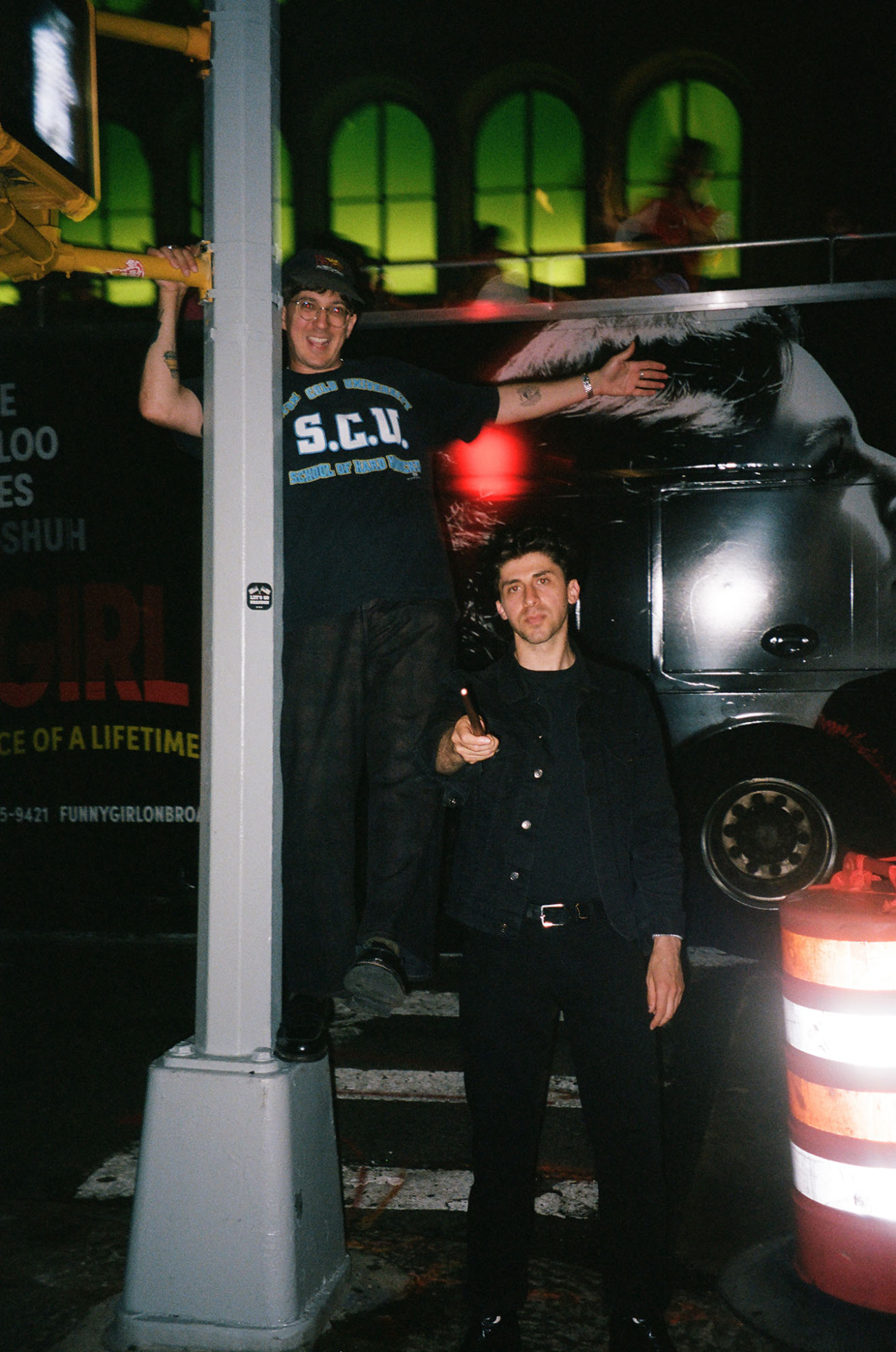 On a hot, rainy evening last month, dozens of New Yorkers piled out of a tiny elevator into a room lined with folding chairs. Tara Downs Gallery was hosting a marathon reading of erotic fan fiction. A giant painting of a pastel hot dog by Ivy Haldeman provided the backdrop. Its title, Double Figure, Back to Back, Head Tilts Left, Hand Along Thigh, could have been lifted from the night's material.
The evening's organizer, Dream Baby Press, has taken New York's literary scene by storm with a wave of steamy readings at unconventional locations throughout the city. With plans to release their first books later this year and a full calendar of upcoming events, founders Matt Starr and Zack Roif are just getting started.
Dream Baby's ethos is simple. "We love fan fic. We love erotic books. We love pulp books. And we love hearing people read them," says Starr. "It's not the art world. It's not the literary world. It's not really any world. It's kind of becoming our own world."
Starr and Roif have managed to make a splash in New York nightlife while creating a very un-nightlife atmosphere: unpretentious, not too noisy, and unserious. Dream Baby, founded when Starr and Roif were both living on the Upper West Side at the tail end of the pandemic, was born from a desire to put out writing by people they wanted to read. "We spent a year figuring out what Dream Baby Press is and what it can be," says Starr. "Now we're interested in continuing to figure out how that translates to the type of books we want to put out."
This week, the duo will unveil Peep Show, a window installation featuring curated vintage erotica at Left Bank Books (a used and rare bookstore in the West Village) that opens with a reading tomorrow. The event sold out 15 minutes after it was announced.
Starr and Roif met eight years ago and immediately bonded over their desire to challenge the status quo. Starr is a gallery director and poet, who first made a buzz in 2017 when he remade Annie Hall starring all senior citizens. Roif is an artist and creative director who grew up in the DIY scene and once ran his own warehouse venue in Colorado. They soon realized they shared many of the same interests: film, punk music, counter culture, erotic literature, and vintage book covers.
Back in the crowded, white-walled Tara Downs Gallery, guests heard from readers including Brock Colyar of New York magazine, the sculptor Maayan Zilberman, choreographer Angela Trimbur, and poet and curator Peter BD. Readers recounted imagined scenarios involving the cast from Law & Order: Special Victims Unit and The Sopranos. There was blushing, kissing, fondling, sucking, fucking, massaging thighs, playing with nipples, and cumming: a flow of X-rated hypotheticals punctured by the audience's laughter.
"Fan fiction is like porn: if you can think of it, it probably exists," began Colyar, a features writer at New York and the author of The Cut's nightlife column Are U Coming? "When I found this one about JFK and Marilyn Monroe, I was so delighted that it existed that I kind of overlooked the fact that it was deeply depressing," they continued. "It was published to a Hunger Games forum, so all of the characters' names have been replaced with Katniss and Peeta."
"I didn't know that this was a joke; I thought that this was serious, and we were getting really horny," deadpanned Zilberman toward the end of the night. "I only ever practiced this in a faint whisper in my bathroom. I have a 4-year-old."
"It feels very different from being in the New York scene because there's usually a lot of pomp and circumstance that comes with it," said Enya Hennings, a first-time attendee and the founder of armscye, a collective of BIPOC creatives. "Here it just feels like theater kids fucking around, finding stuff on the Internet, and reading in a space where people love it."
Dream Baby's first event series, Perverted Book Club, kicked off last winter at Blue Door Video, a sex shop in the East Village. A wall of dildos framed a sea of eyeballs looking up at readers from the checkered linoleum floor. Next, Dream Baby took over a pizzeria beneath Penn Station, followed by their infamous Royal Rumble at Church St. Boxing. Then came a spinoff series, A Night of Fan Fic.
Readings have included Beauty and the Beast fan fiction, A.I.-generated text, Ghostface Killah lyrics, Anaïs Nin excerpts, medieval smut, Amazon sex toy reviews, old letters, the Medicare for All Act, queer choose-your-own-adventure erotica, and Wikipedia entries—mostly non-original works scoured from the vast corners of the Internet and read aloud for laughs. Someone once read in full Harry Potter garb; another reader stripped down to their underwear.
"Fan fic is very siloed off from the rest of culture," says Roif. "Erotica, up until maybe very recently, and fan fiction, up until maybe our event, has never been really given a platform to exist in any sort of truly public setting."
This freewheeling approach extends to the duo's Instagram account, where they regularly highlight tastemakers and artists from all backgrounds. "We're treating our Instagram feed like a magazine from the '70s," says Roif, as he scrolls their regular "Love/Hate" list, which has featured Tony Hawk, Jemima Kirke, Brontez Purnell, Michael Imperioli, and Bobbi Salvör Menuez.
So what's next for Dream Baby? The founders are planning more events with an emphasis on performance, as well as the release of Starr's first book of poetry. They are also working on books with non-traditional writers. "I know that despite the name, it could be more than a press," says Starr. "I think we're gonna go bigger."