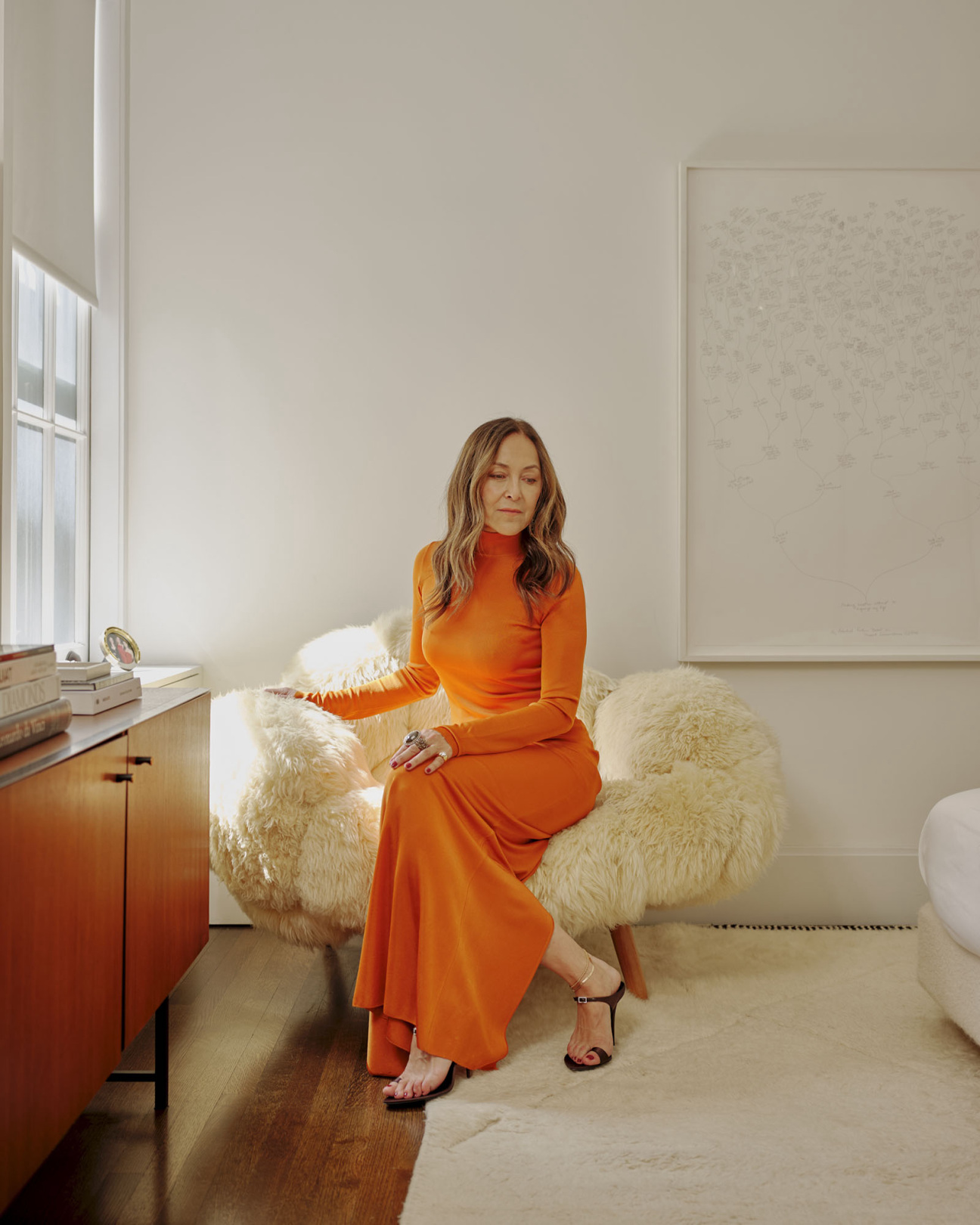 CULTURED: Where does the story of your personal collection begin?
Nina Runsdorf: I grew up with parents that fully embraced art and architecture and were understanding of all different types of talents, beliefs, and cultures. My mother's best friends were a potter and this Italian sculptor, so there were always people around our home who were willing to share their craft with us. I would say the piece that truly started my personal collection was a bronze by Robert Kipniss, an old family friend. I always saw his pieces that my parents had, and I adored them—the bronze was always my favorite. On my 21st birthday, my parents gave me one of his sculptures they had in our home, and that, I would say, is the piece that started it all. It sits in my dining room to this day.
CULTURED: How has your collection evolved over time?
Runsdorf: My collection is super contemporary, and though it really started with paintings, it evolved into furniture, lighting, more lifestyle pieces. Sometimes, a part of my collection is a large sculpture or light fixture; sometimes it's a candlestick. I have definitely learned to lean more into the pieces that can exist within my space rather than fill an entire room.
CULTURED: What was the first piece you ever bought?
Runsdorf: A Richard Prince "Joke Painting." He has been a friend of my parents since my childhood. He and his wife have since stayed a part of my family's lives. It's really special to have a piece from a dear family friend in my collection.
CULTURED: Which work provokes the most conversation from visitors?
Runsdorf: I have a Georges Jouve standing ashtray from 1964 sitting in my living room, which I think is the first piece people comment on when they come to my home. Something about it feels playful and inviting while still being a piece that enhances the rest of the space. I really love that ashtray.
CULTURED: Which artist are you currently most excited about and why?
Runsdorf: I just acquired a John Chamberlain wall sculpture that I am obsessed with. His work is so beautiful and timeless. He is having a huge retrospective and I can't wait to see how people respond to it and if they love his pieces as much as I do. I can't imagine anyone not being drawn to it!
CULTURED: What was the most challenging piece in your personal collection to acquire?
Runsdorf: This is a tough one to pinpoint—but I'd say the Felix Agostini Rifle, a beautiful vintage bronze floor lamp from the late '50s. When I was a teenager, I saw the lamp in the home of one of my parents' dear friends, and it stuck with me. I've wanted one since. When I was decorating my home, I knew I wanted to incorporate that lamp, and it took years to find. I was finally able to locate one to buy in 2004, and it's been a cherished part of my collection since. I love Agostini's work; it's sculptural yet functional. I ended up buying sconces of his as well.
CULTURED: Is there one piece that got away, or that you still think about?
Runsdorf: There are many—Jeff Koons, Roni Horn, Elizabeth Peyton, Mark Rothko—these are all artists that I adore and will always want a piece from. Of all the artists who have gotten away, I would say the ultimate is Claude Lalanne, especially the rhino bar. I think that is the most incredible piece.
CULTURED: Do you think working as a designer gives you a different perspective on collecting?
Runsdorf: I buy what I love. If you love the work, and you believe in the work, that's what matters. I buy to live with it, and if they have a career, great. But I don't buy art to sell. I also really value knowing the artists that I own pieces from, and that's what I always think about in creating my own work. I really want people to see me in the work and feel connected to its creation and where it was made.