When you think about Tribeca, a few things may come to mind: cobblestone streets, luxury clothing stores, and the eponymous film festival. If you know the neighborhood well, you've probably heard of, or dined at, mainstays like Tiny's & the Bar Upstairs, Yves, and Smith & Mills. And if you're a Tribeca expert, you just might know Matt Abramcyk, the serial restaurateur behind those culinary landmarks. This May, the New York native added a West Village location to his brood, opening the Golden Swan in a three-story townhouse alongside Daniel Boulud-trained chef Doug Brixton.
The iconic building, perched on the corner of West 11th and Greenwich, is the former home of the infamous Spotted Pig. The restaurant's new name pays homage to a legendary watering hole, which was demolished to make room for the West 4th subway station. Its new incarnation promises to fill those mythical shoes, with heartwarming service, cozy interiors, and refined yet uncomplicated dishes. A month into the restaurant's tenure, Abramcyk called up CULTURED to talk about rejuvenating a storied legacy, the people that make the restaurant industry tick, and the New York sandwich he swears by.
CULTURED: The Golden Swan sits in a building with major history. What was your first impression of it? What drew you to that space and that legacy?
Matt Abramcyk: I grew up in New York, and the West Village was the first place I lived when I moved out of my house. I'm extremely inspired by the parts of New York that seem the least New York, but are somehow the most New York. When I think about what makes a restaurant, it begins with the ability to think about where you go when you enter a space.
I believe the [Golden Swan's] building dates back to the middle of the 1700s. I was always fascinated by it because of the way it presents itself as one corner building. It's actually two buildings that were built at separate times and then connected. There's this parabolic shape to them, where the [dining] room is wrapped in windows, giving this kind of exposure that is often found in a SoHo loft building. I fell in love with the idea of taking the most interesting restaurant building I've ever seen on the planet and accepting that it would become the most ambitious project I could possibly engage in.
CULTURED: The building was associated with The Spotted Pig and its associated scandals. How did you give the space a new flavor?
Abramcyk: We took the building down to the bone. We left the exterior walls and replaced everything else. I think the staircases are the only two items that remain [original]. It is no different than any sort of plan where you have to change something entirely because what was there did not represent the idea we thought made sense. We tried to create the most textured, loving, interesting environment, which the building teaches you how to do because it's so nook-y and has so much personality.
CULTURED: The West Village has a storybook quality to it. What kind of nostalgia were you trying to tap into with the restaurant?
Abramcyk: We were inspired by what was happening in New York and in the world during the pandemic. It became a necessity for me to remind the community what it was like to live in the city. One of the things that I suffered from most was being away from the community. And all the places that I've done have a reverence for New York's architecture. Creating a sense of place to me has always been about combining high and low elements that create a personality because that's the thing that people grab onto. In a space that's successful, your brain is working to connect the dots. As a native New Yorker that's just the way I've been raised and the way my mind works. It probably comes from sitting on Fifth Avenue and watching buses go by for too long.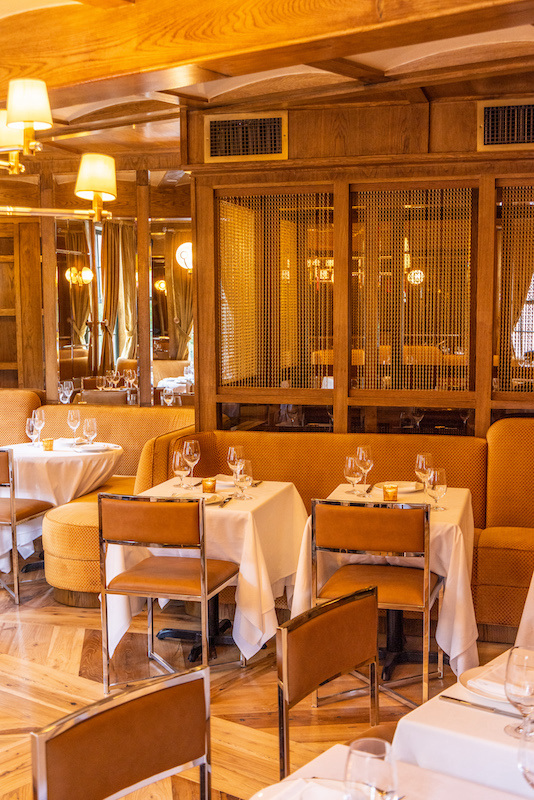 CULTURED: Community is so essential to a restaurant. People—the servers, bartenders, cooks, bussers, and the clientele—are what make it.
Abramcyk: For me, everything, even the food, is secondary to the personalities and the energies that are exchanged. Since we've opened, there's this tremendous fullness of human energy. I'm able to meet new people every night, see old friends, and take people back into a place that they thought of—whether they might have liked it or loved it or hated it before.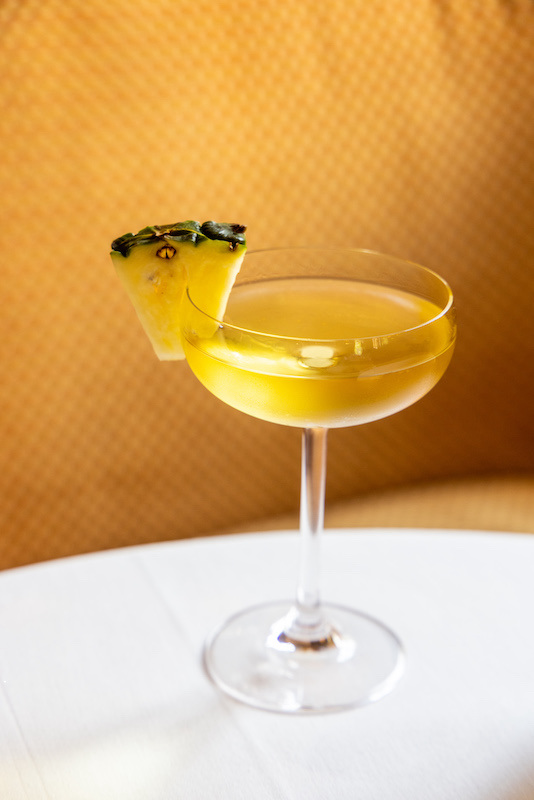 CULTURED: The restaurant has two floors, the more formal Dining Room on the second, and the Wallace Room, which serves small plates and cocktails on the ground floor. What's your favorite cocktail on the menu?
Abramcyk: The Golden Swan Martini is just kind of sexy and eye-catching. It's got the classic build but has some really nice sipping mezcal with poblano pepper and chili liqueur. It's a strong, fun, and chic drink.
CULTURED: What dish do you order the most on the menu?
Abramcyk: Probably the Crescent Duck, with beets, caramelized shallot, tarragon, and duck jus. Our chef, Doug Brixton, is fantastic. He was trained by Daniel Boulud for almost a decade and worked with him in many of his restaurants. He has the technique and the passion to do things in an old-school, classical way; it's not normal how much work he puts into the duck before it gets to your plate. It's not a dish that I order frequently in other places, but it is mind-blowingly different than anything I had ever tasted before.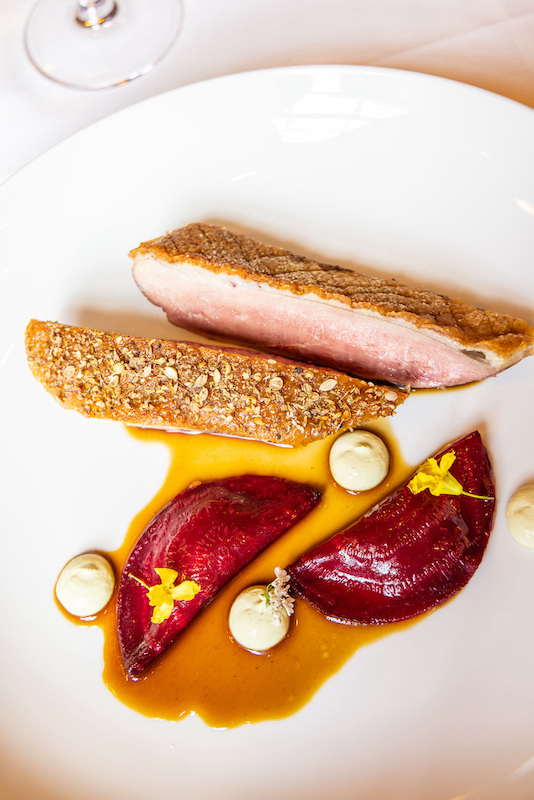 CULTURED: As a native New Yorker, what are, in your opinion, the most overrated and underrated New York specialties?
Abramcyk: You can't overrate New York pizza. I guess people have been underrating New York sandwiches for a while.
CULTURED: Do you have a favorite New York sandwich?
Abramcyk: I have so many favorite sandwiches, but I can always go for a Di Palo's Italian sub.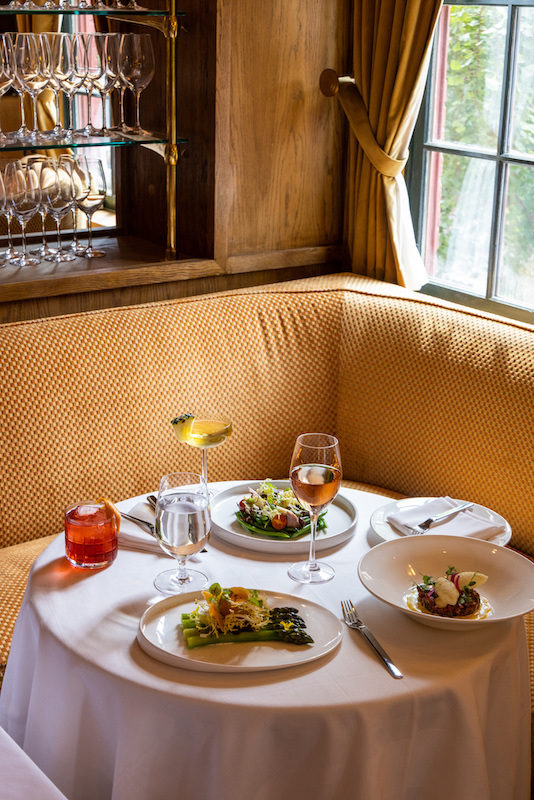 CULTURED: Do you have any visual artists or designers who you look to for inspiration when opening a new space?
Abramcyk: When I first started, everything began with Adolf Loos and the Viennese café era. There are so many great architects or interior people like John Lautner or Alfredo de Vito. But it's not only the famous artists or architects, it's really more about what I see every day and knowing the people that make the art, being involved in the process, and having it personalized. My friend Aaron Stern is a great photographer and West Village resident; his work has always been in all my spaces. It's about figuring out how you make art come alive in a space.