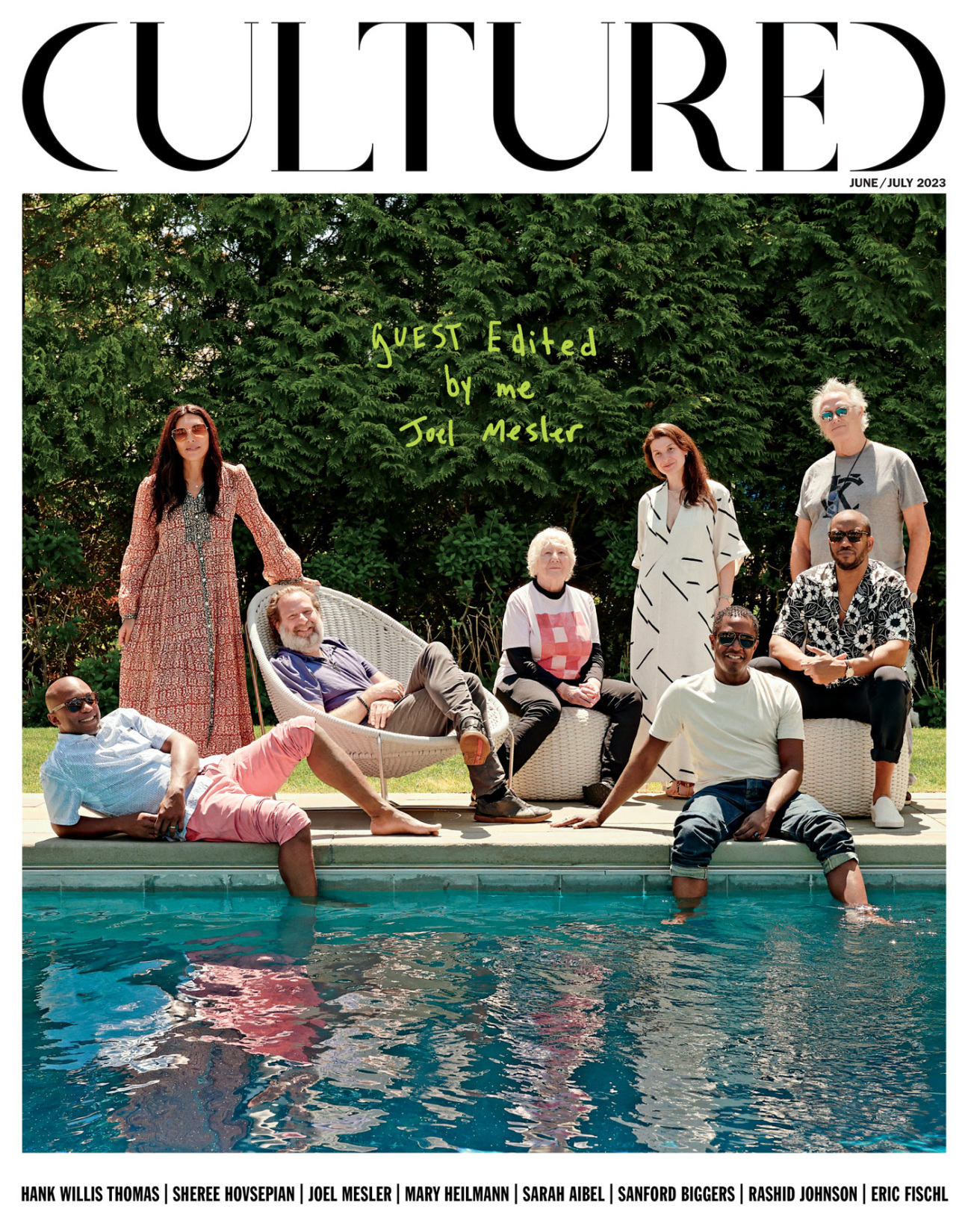 Multigenerational, multidisciplinary, and multifaceted in every way, this group of era-defining artists is the embodiment of this moment in time in the East End's great artistic legacy. Below, read the cover story from CULTURED's first of two summer Hamptons issues, this one guest edited by beloved dealer-turned-painter Joel Mesler.
ERIC FISCHL
Based in Sag Harbor, where he lives with his wife, the artist April Gornik; paints his neo-expressionist takes on Americana; and runs The Church, a community arts center in a former Methodist church from the 1800s
CULTURED: What keeps you here?
Eric Fischl: We're heavily invested in the Sag Harbor community. We not only have our dream house that we built, that we've been in for almost 25 years, but I'm heavily invested in terms of the commitment to bringing culture to Sag Harbor and making that the reason other people come to the town. We had this fantasy—or I did, April [Gornik] is not as foolish as I am—I had this fantasy that artists could gentrify their own town and control the way it was developed. It's dominated by the artists.
CULTURED: Is there a particular landscape in the East End that touches you the most or brings back the most memories?
Fischl: I prefer the bay side of the island to the ocean. The ocean is an existential kind of nightmare for me. [On the bay side], you have beautiful water, light, dots of land around. It feels like you possess it in a very different way. Plus, there is something very exciting about areas that are so flat. In relation to the water, it's kind of compelling and beautiful.
SHEREE HOVSEPIAN
Born in Iran, and based in between East Hampton and New York, where she lives with her husband, Rashid Johnson, and their son, and integrates photography, natural materials, and ceramics in her geometrical and totemic art practice
CULTURED: How would you describe the communities that you are a part of here?
Sheree Hovsepian: Familial. Our kids are often together in the same group, and we're cooking, dining, and hanging out together by the pool. There is this sense of family, and it's just more relaxed. It's nice to be in proximity to people you might not necessarily be close to in the city. Mary [Heilmann] has been coming to our Thanksgiving every year for the past six or seven years. There's a different mix of people, and meeting people in a different setting is nice, too.
HANK WILLIS THOMAS
Based in Brooklyn and the East End, where the conceptual artist produces gestural monuments that bridge history, identity, and pop culture
CULTURED: What does this community mean to you?
Hank Willis Thomas: I'm new to this place, and I came here largely because I have friends like Rashid [Johnson] and Edward Neyham, whom I've always loved visiting out here. And then during the pandemic, I ended up renting Joel's house, which I eventually bought. These are people I love to see and don't normally see enough of in New York. Now, fortunately, I can spend time with them and their families, summers and holidays. It's not exactly what I expected, in a good way. It's just chill.
SANFORD BIGGERS
Born in Los Angeles and based between New York and the Hamptons, where he stitches together Black history and traditions, Americana, contemporary art and symbolism from urban culture, the body, and geometry
CULTURED: What brought you to the East End?
Sanford Biggers: The pandemic. My parents-in-law have been out here for 25 years, so we were coming out frequently, and then during the pandemic we did an extended stay with them and started looking for a place. Then we got something in Sag Harbor.
CULTURED: What keeps you here?
Biggers: It's the tranquility, the community. I have a lot of friends who have been moving out here in the past few years. Just the right amount, so when you need to be social, you can be social. I have two young kids, so they have a place to run and play.
CULTURED: How would you describe the artist community here?
Biggers: I feel like, out here, people's guards are down. When you run into someone, you have way more casual conversations. Sometimes it's just, "Do you know somebody who could clean my gutters," as opposed to all the heady stuff that we talk about in town. It is a good reprieve from it all.
CULTURED: And how do you think spending time here has impacted your work?
Biggers: It has made me appreciate taking time, and it has given me a clearer headspace—and [the resources to] work at my own pace.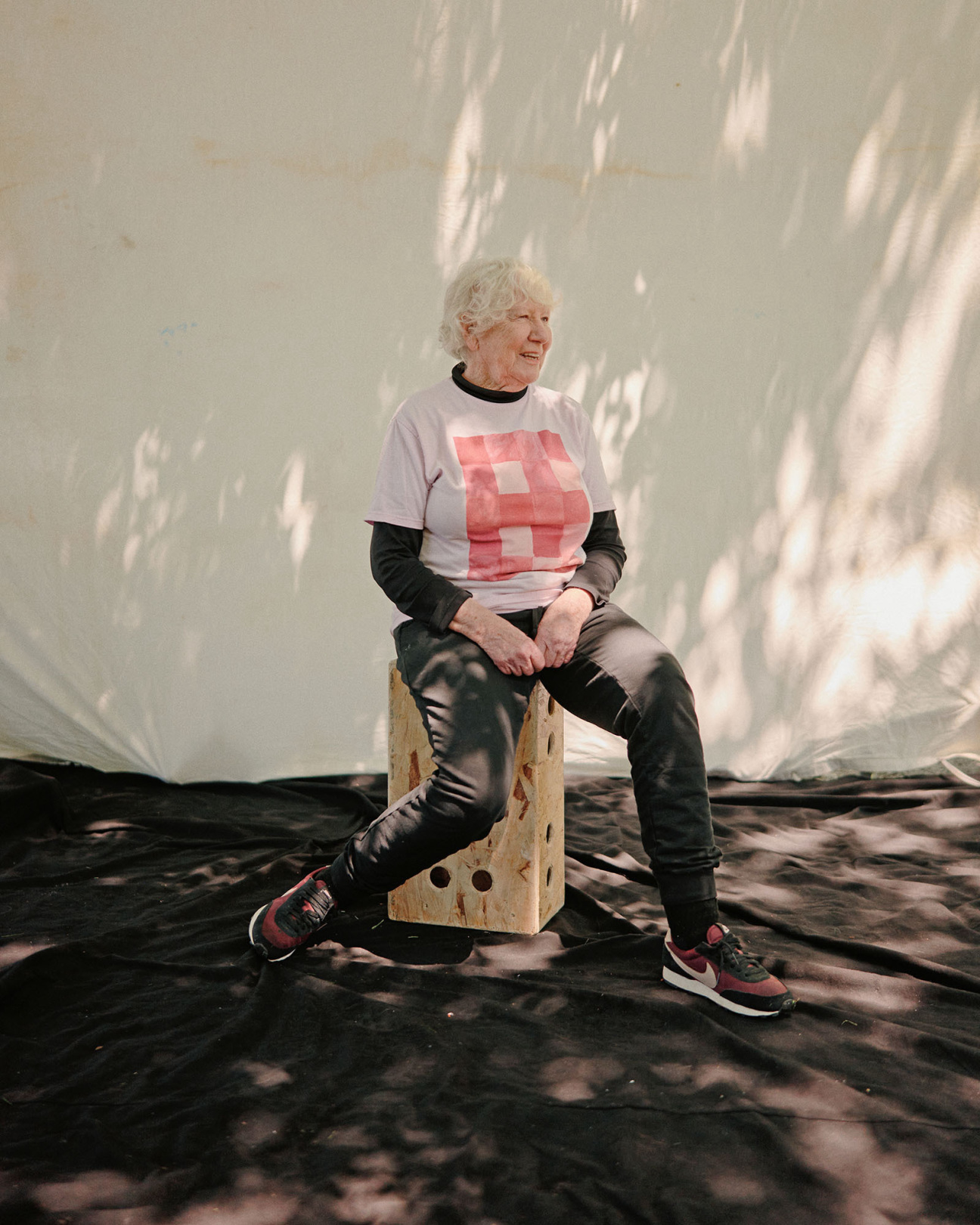 MARY HEILMANN
Based in Bridgehampton and New York, where the California native and independent spirit has forged a career of painting abstraction in its liveliest and most eccentric states
CULTURED: What brought you to this area in the first place?
Mary Heilmann: Well, I first moved here right out of graduate school. I liked the scene because of [Jackson] Pollock and [Willem] de Kooning and all that. Then I spent more time here and loved the beach and everything else about it. I kept coming back and forth here until around the '90s, when I bought my little house in Bridgehampton.
CULTURED: What about the East End feeds your practice?
Heilmann: The ocean is big into my thinking and my work. I'm right up from the beach, and I like painting the waves. The gardens and the trees and everything like that ... It's about the nature. And then the energy—the social energy—of this place is a real turn on, too. We've got a great art scene out here. You don't really have to go to Basel or Berlin.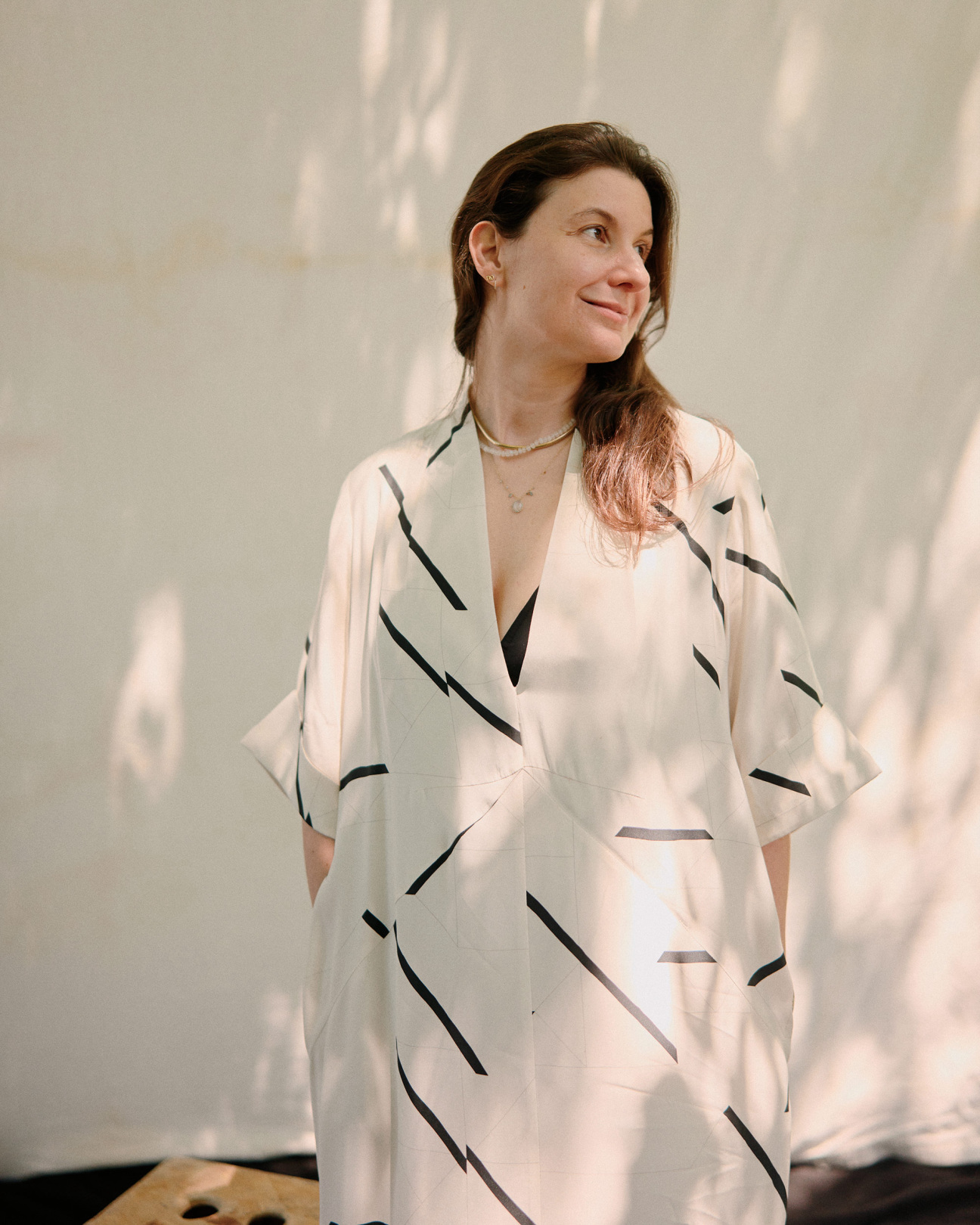 SARAH AIBEL
Based in East Hampton, where the former Sender Collection curator produces playful glazed ceramics that interrogate gendered signifiers and experiences, and lives with her husband Joel Mesler and their children
CULTURED: What about the East End feeds your practice?
Sarah Aibel: When we moved out to the East End, I was immediately affected by the spaciousness, the nature, and of course the light. The visual and auditory chaos that comprised my every moment of living in New York City had morphed into a peaceful quiet. Wind, birds, ocean waves crashing—this was my new soundtrack. Being in such an open, green space soothed my strung-out city nerves. I found myself feeling truly inspired and bubbling with creativity.
CULTURED: What does the community mean to you?
Aibel: Considering how small it is, the artistic community runs deep. I've met many talented artists of all ages, all levels, and working in all mediums. That's kind of the magic of it—it's everything, everywhere, all at once, without a hierarchy blocking access. I'm not sure whether the Hamptons attracts artists and art lovers or the space and the light put people in touch with their creativity, motivating them to make and appreciate. But either way, the East End has an invigorating creative energy unlike anywhere else, as though it emanates from the sands, the soils, the sky. Also, having the beach be a five-minute drive from my studio is a cure-all! I've found a quick walk on the beach fixes most things.
JOEL MESLER
Based in East Hampton, where the CULTURED Hamptons issue guest editor runs Rental Gallery, makes deceivingly simple and self-deprecating work that comments on contemporary slogans and iconography, and lives with his wife Sarah Aibel and their three children
CULTURED: How do you think spending time here and living here has impacted the way you work?
Mesler: Time has changed. I see time differently, like it's not really linear anymore. So now I get time to be with other people and not just get time to think about me and my situation. And to actually be present with other people, too. Because I'm allocating more time, I've actually gained time.
RASHID JOHNSON
Based in East Hampton and New York, where the artist weaves materials and references to reflect and respond to the contemporary Black experience and the structural and interior worlds that inform it, and lives with his wife Sheree Hovsepian and their son Julius
CULTURED: What initially brought you to the East End?
Rashid Johnson: I originally came out here because I just wanted to find a place to go get out of the city, and it was the only place that I knew people went to ... get out of the city. So I came to the place from a pretty naive position.
CULTURED: What keeps you here?
Johnson: The light, as a lot of people say. It has a really positive impact on my thinking and my work, my sense of clarity. My relationships have really grown here. I have lots of friends, and I get the opportunity to spend time with them in a more intimate setting and for a longer period of time. That's really important to me. And just the opportunity for a kind of peace, being near the water. There's a bunch of different elements, but all of them come together to make me feel very comfortable here.
CULTURED: How would you describe the artist community here?
Johnson: Expansive. A lot of different kinds of artist communities are here. There are the folks who are here more or less full-time, who have put together a kind of network of galleries and opportunities to exhibit their work and have really built community. There are the folks who are here more in the summer, like myself. It's a pretty diverse group of approaches to an artist's life or an artist's career—there's not just one way to be an artist.