Window shopping rears its ugly, addictive head each April in Milan, when the most stylish set of thinkers and makers descends upon the city to unveil everything you never knew you needed for your home. Design is everywhere you turn in the Italian metropolis, where colossal maisons, upstart galleries, overwhelmed boutiques, and public spaces transform the commonplace into captivating showrooms that excite, question, and, of course, generate envy. The world's largest furniture trade show, Salone Del Mobile is the Milan design world's headliner.
For its 61st edition, the fair presented 1,962 exhibitors across a single exhibition level for the first time. But Salone is only one planet in the galaxy of taste-defining experiences. There's also Euroluce, the lighting biennial, which was held this season at the Zaha Hadid and Daniel Libeskind-designed Fiera Milano, and Alcova, the radical research-design experiment staged in abandoned locales across the city. (This year the initiative chose a former slaughterhouse.) Add to that the unofficial neighborhood design weeks, pop-up exhibitions, and private showcases that occur under the broad title of Fuorisalone, and there was no lack of things to see—or lustfully dream about later. Here are the most memorable highlights.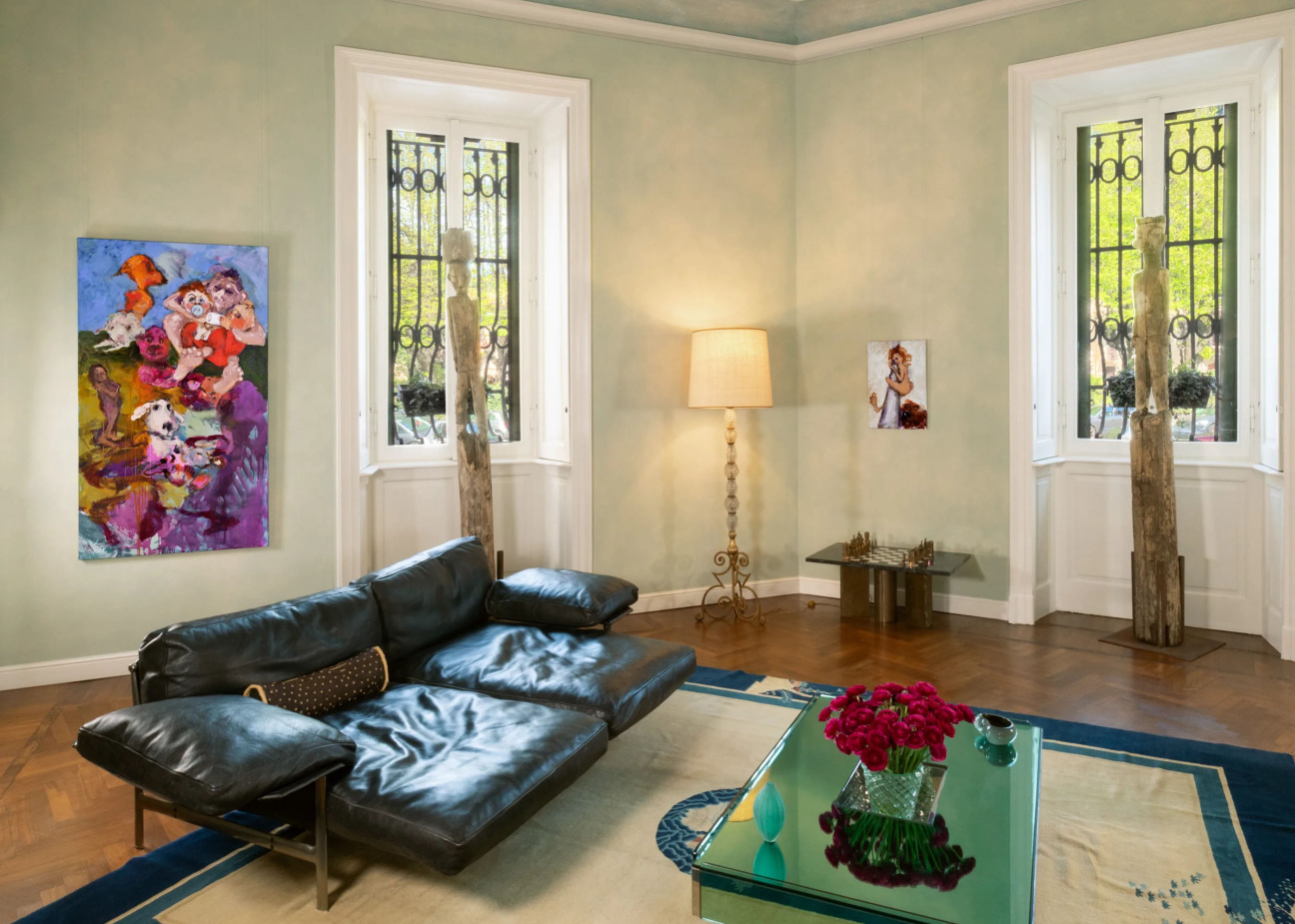 1. Casa MB
French-born Benjamin Trigano's first European art gallery is not a gallery. The M+B founder's third outpost, Casa MB toes the line between showspace and private residence, and that's intentional. Trigano wanted it to feel like a traditional Milanese apartment with room for personality, and indeed large, Expressionist paintings by Vienna-based Eva Beresin feel quite at home beside a lived-in Bauhaus couch and dimly lit gilded chandeliers. For its opening week, the appointment-only gallery had nearly 10 times the amount of guests Trigano expected, but the space rose to the occasion with additional presentations of work by Eiko Groeschl and Devin Farrand.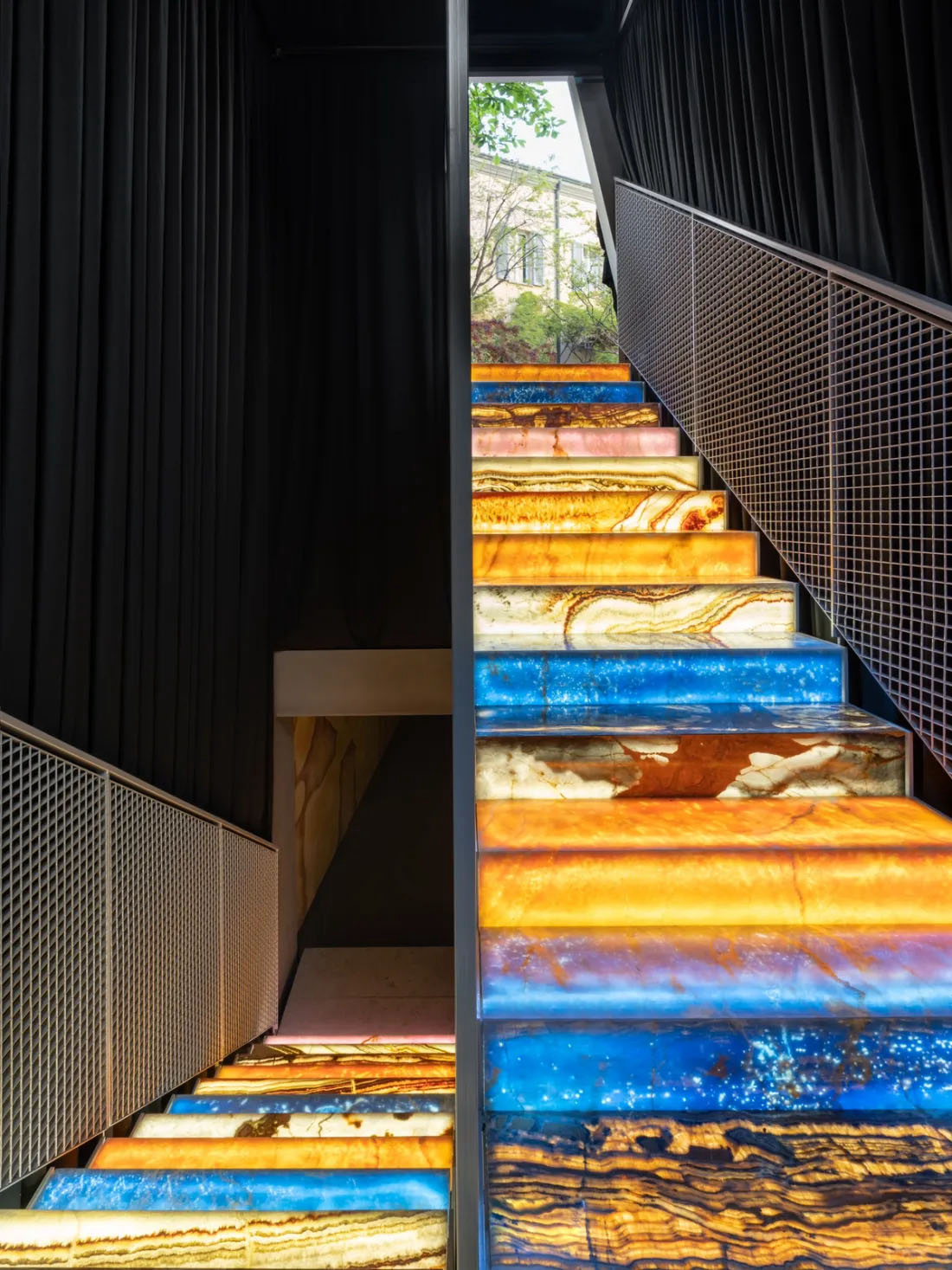 2. "Beyond the Surface" by OMA
After debuting at Alcova last year, SolidNature and OMA returned to Milan this April for their second collaboration. Staged in the basement of the neo-Romanesque Casa Maveri, "Beyond the Surface" was easily the most Instagrammed occurrence of the week. Developed by OMA architects Ellen van Loon and Giulio Margheri using SolidNature's stone, the experimental exhibition followed the journey of the material from geological formation to glossy, finished product. Descending from a multi-colored marble stairwell, visitors moved through a fun house of seven sensorial environments, each one more extreme—and confined—than the room prior. In addition to the built facade, the designers utilized movable structures, sound design, and thematic lighting direction to visualize dreams, the power of nature, and the relentlessness of time.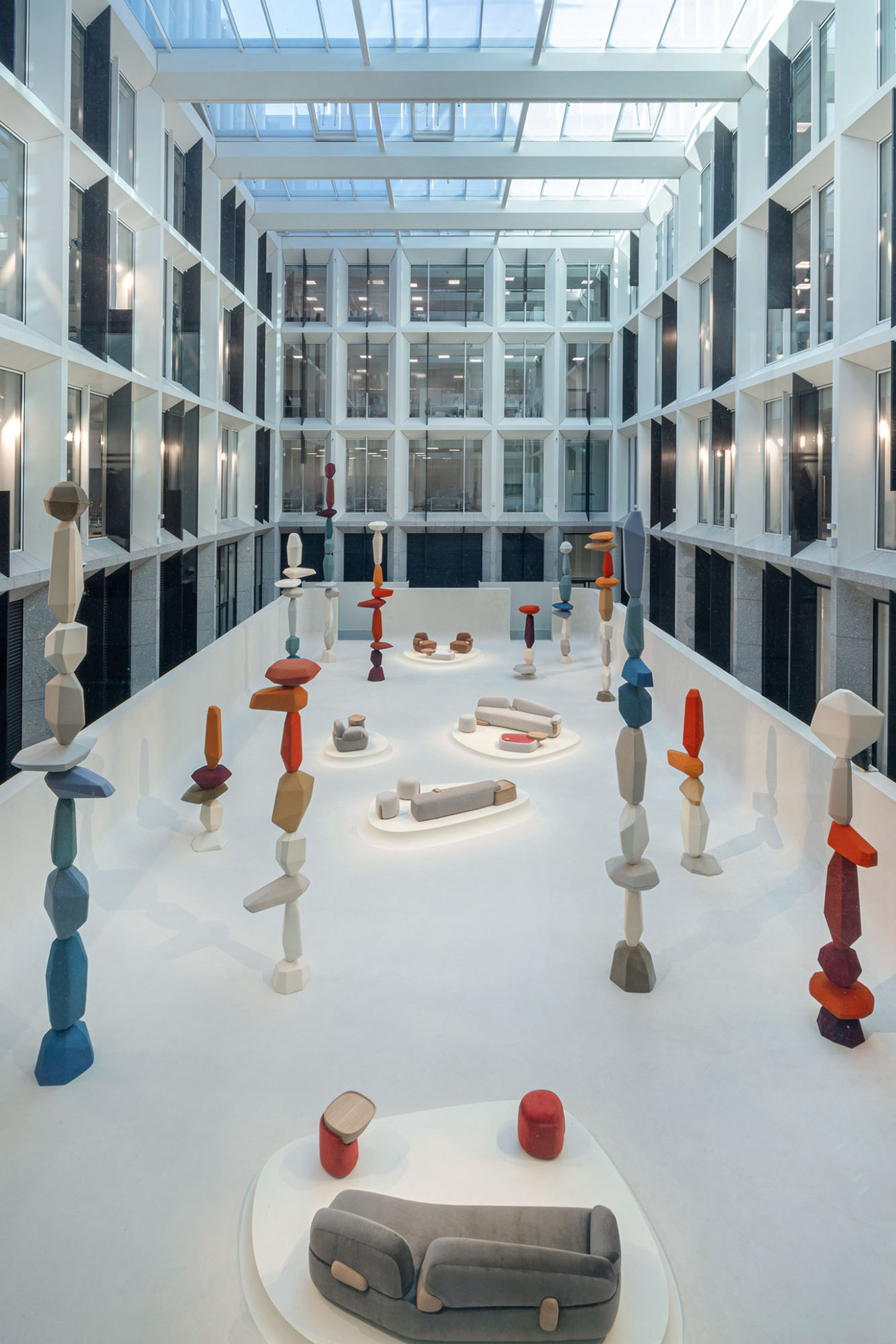 3. "Apacheta" by Cristián Mohaded
Loro Piana debuted its new interiors project with Cristián Mohaded inside the glass-covered courtyard of its 19th century-era headquarters, Cortile della Seta. Inspired by the landscape of the artist's native Argentina, "Apacheta" refers to the piles of stones travelers use to mark their paths while journeying across the Andean mountains. To debut the limited-edition furniture collection he designed with Loro Piana Interiors's Francesco Pergamo—luxe, pebble-shaped sofas with hand-carved wooden elements and elongated stools—Mohaded created 12 monumental apachetas. These irregularly-shaped stones wore cases made from the Italian fashion house's upcycled textiles, their colors reminiscent of the earthy neutrals and stunning reds of Argentinian lagoons.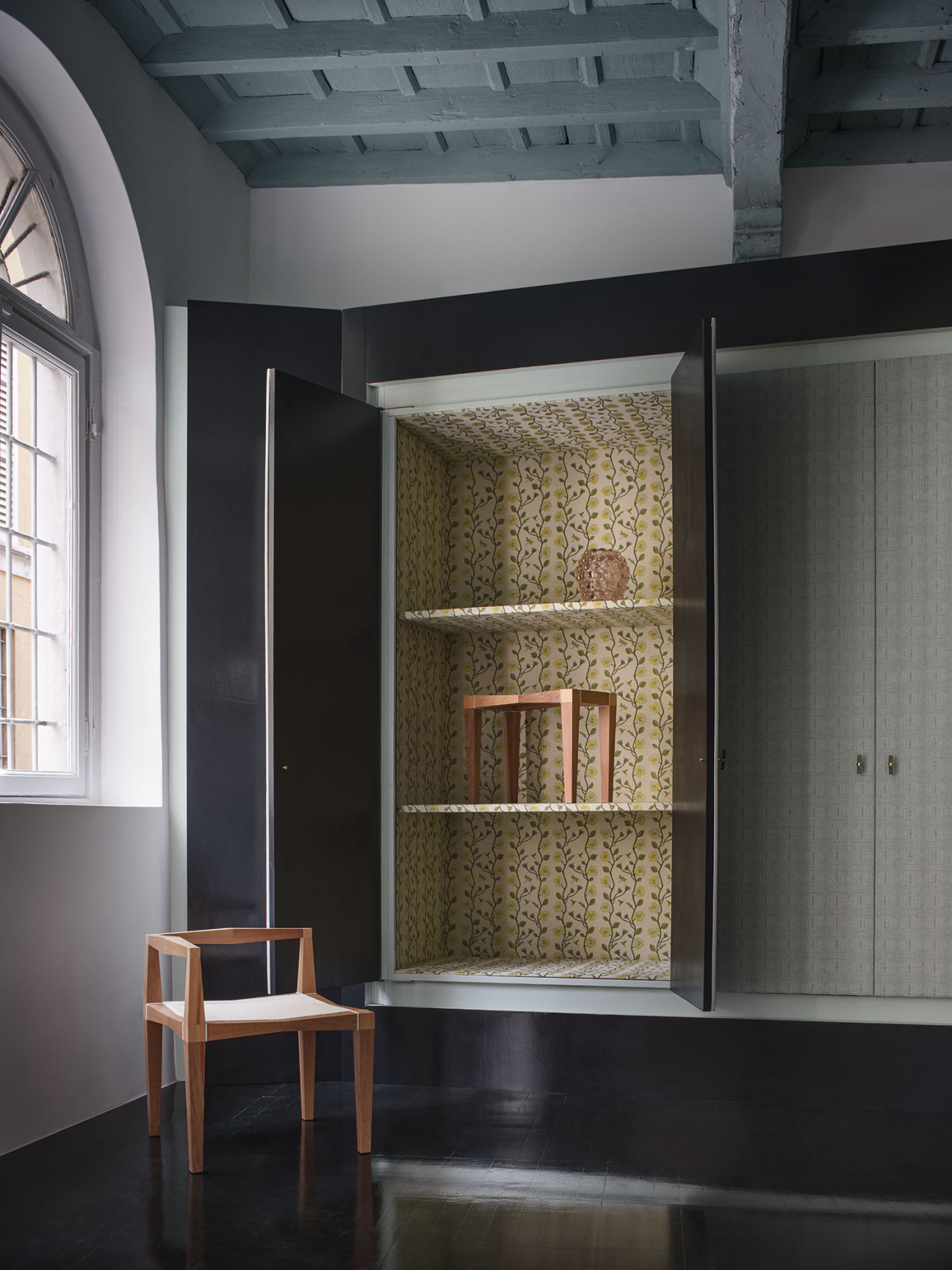 4. "Una Stanza" by Sofia Zevi Gallery
After earning her stripes working under Phoebe Philo at Céline and graduating from MIT with a Master's in Integrated Design, Sofia Zevi has a new space to call her own. The name of her eponymous gallery's first exhibition translates to "a room" in Italian, and its ornate offering of vintage, contemporary, and hybrid design objects certainly created the feeling of being in a high-concept home. Entering from Via Ciovasso, one was immediately drawn to the graphic textiles of Chiarastella Cattana, whose bright flat weaves and rich jacquards enlivened the delicate space and complemented the more neutral upholstery Cattana made in collaboration with Edgar Jayet for a small line of furniture. Most impressive were Akira Hara's 10 geometric vases, revealed behind fabric-covered built-ins. A longtime collaborator of Zevi's, the artist works with painstaking attention to detail to render glass with a remarkable likeness to ceramics.
5. Louis Vuitton Objets Nomades 2023
What do Marc Newson, Raw Edges, the Campana Brothers, Atelier Biagetti, Marcel Wanders, and Marc Fornes all have in common? Other than revolutionizing the worlds of architecture and interiors, the varied designers collaborated with Louis Vuitton for its 2023 Objets Nomades collection. In addition to 11 new items on its Objets roster and a site-specific, immersive installation by Fornes, Louis Vuitton's Cabinet of Curiosities with Newson was a particular highlight. The Australian creative has been working with the luxury house for over a decade, and his latest design contains 19 leather-covered cubes that can be arranged in over 1,000 configurations inside LV's signature trunk. It's also the first of its kind to open at 180 degrees.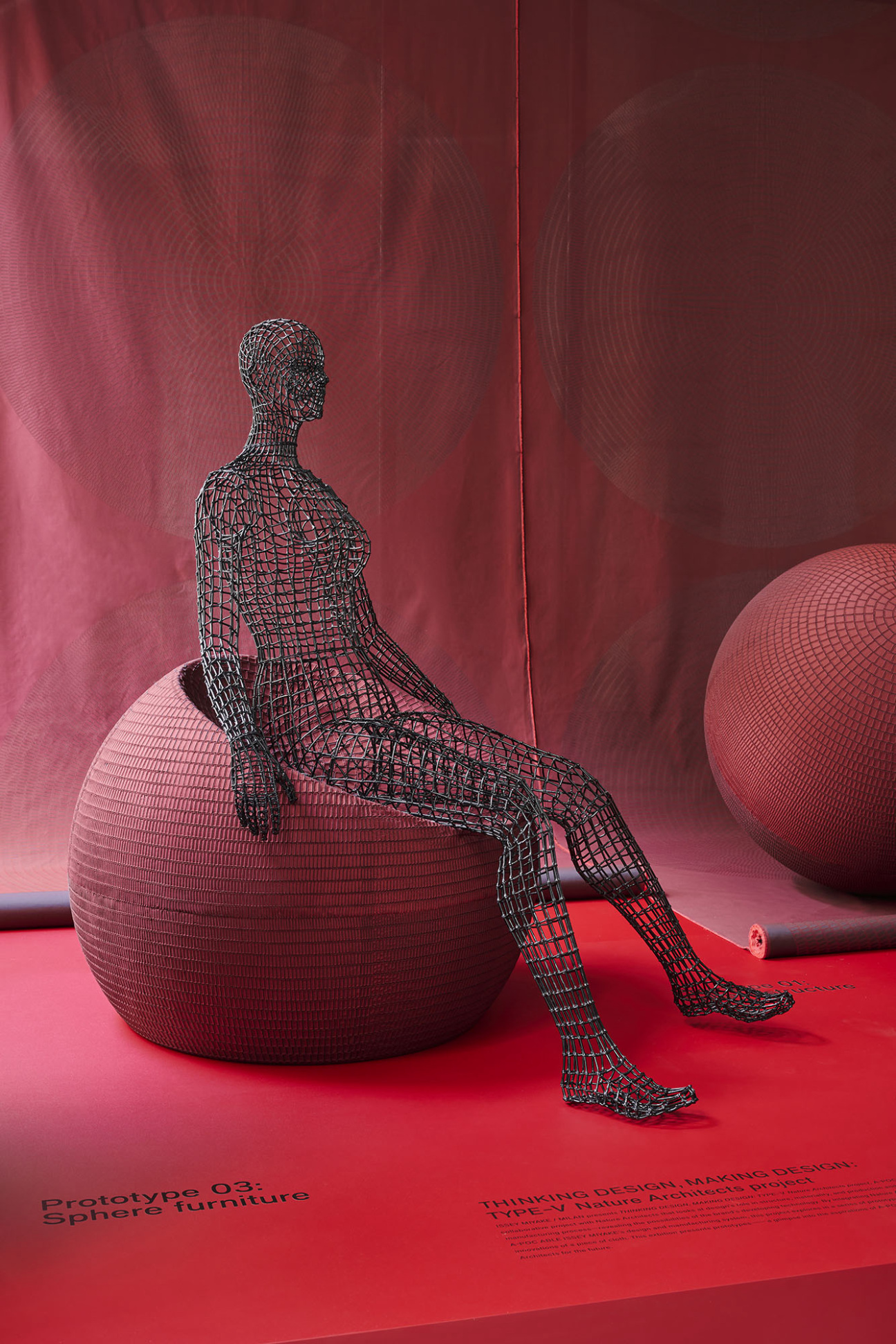 6. "Thinking Design, Making Design: Type-V Nature Architects" by A-POC ABLE
In 1998, Issey Miyake envisioned the future. The late designer debuted clothing made without cutting and sewing, what he termed A-POC ("A Piece of Cloth"). Now, 25 years later, the brand's innovation arm, A-POC ABLE, is leading the way to reconceptualize the entire notion of creation. Last week in Milan, it debuted its ongoing research project with Nature Architects, which experiments with design's role in structure, materiality, and production. Through a variety of prototypes, such as a flat fabric that can be transformed into a 3-D form with high-temperature steam, the series demonstrated how the production process—in this case sewing—can be streamlined. Exhibited as silhouettes scattered throughout Issey Miyake's Via Bagutta flagship, the installation offered a wondrous peek into the future of design at large.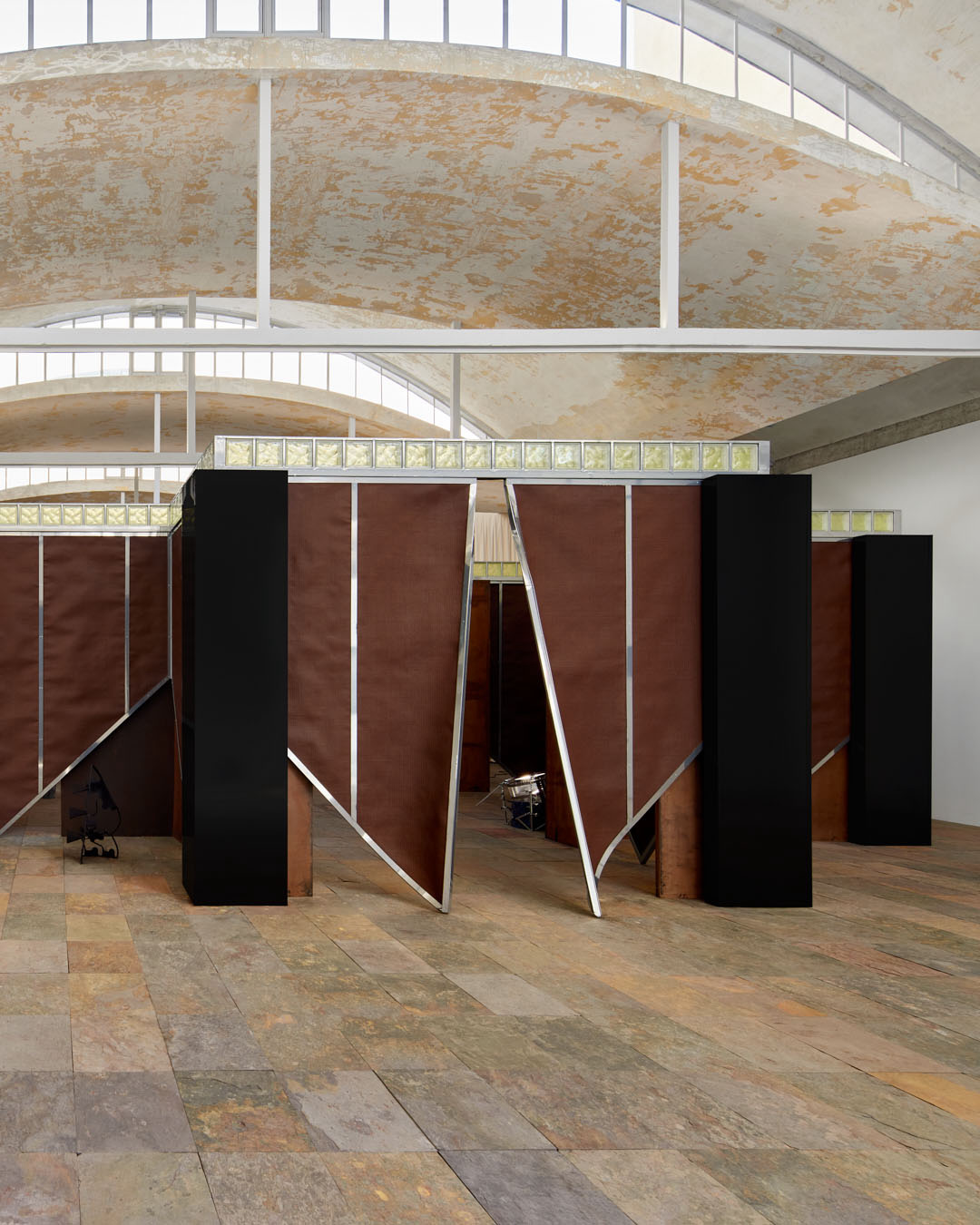 7. "Bal d'Afrique" by Dozie Kanu
Raised by Nigerian parents in a Texan suburb, Dozie Kanu always felt out of place. In "Bal d'Afrique"—the artist's collaboration with Byredo at Spazio Maiocchi—Kanu erected a pavilion that attempted to unpack his relationship with the African Diaspora. Combining repurposed objects with distressed materials and traditional Senegalese building practices, his first architectural design was paired with a photographic narrative of community artifacts and memories lost and found.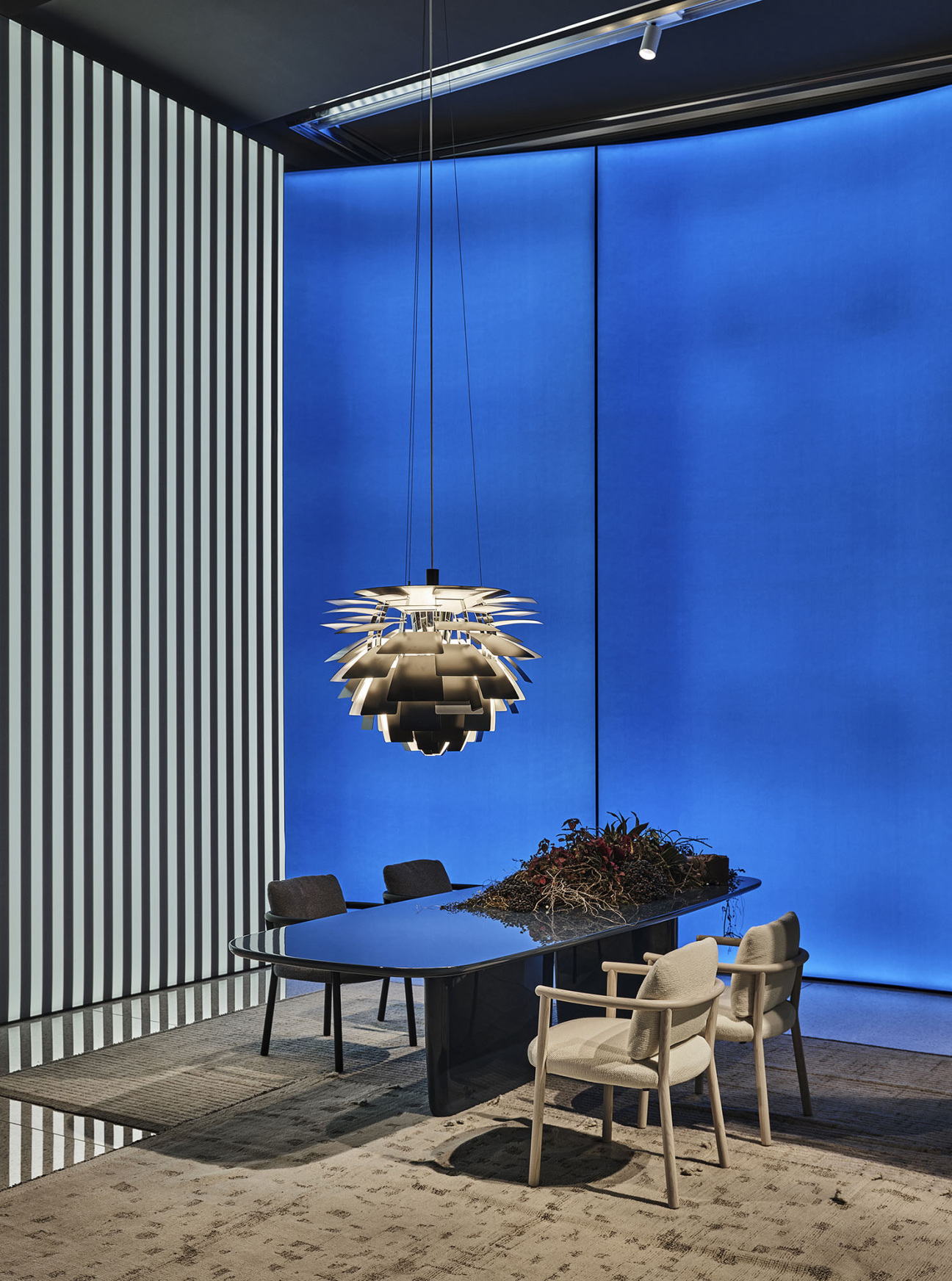 8. B&B Italia
Piero Lissoni—the architect, designer, and artistic director of B&B Italia—transformed primary colors into three-dimensional geometric solids at the historic brand's Via Durini showroom presentation. "We wanted to respect B&B Italia's creative DNA and its multiple languages, a tribute to its ability to keep paradoxes under control," stated Lissoni. He kept his promise. Among the highlights presented for 2023 were a tortelloni-shaped sofa from British designers Edward Barber and Jay Osgerby, the Tortello, and Lissoni's own Dambo, a modular couch with bendable armrests.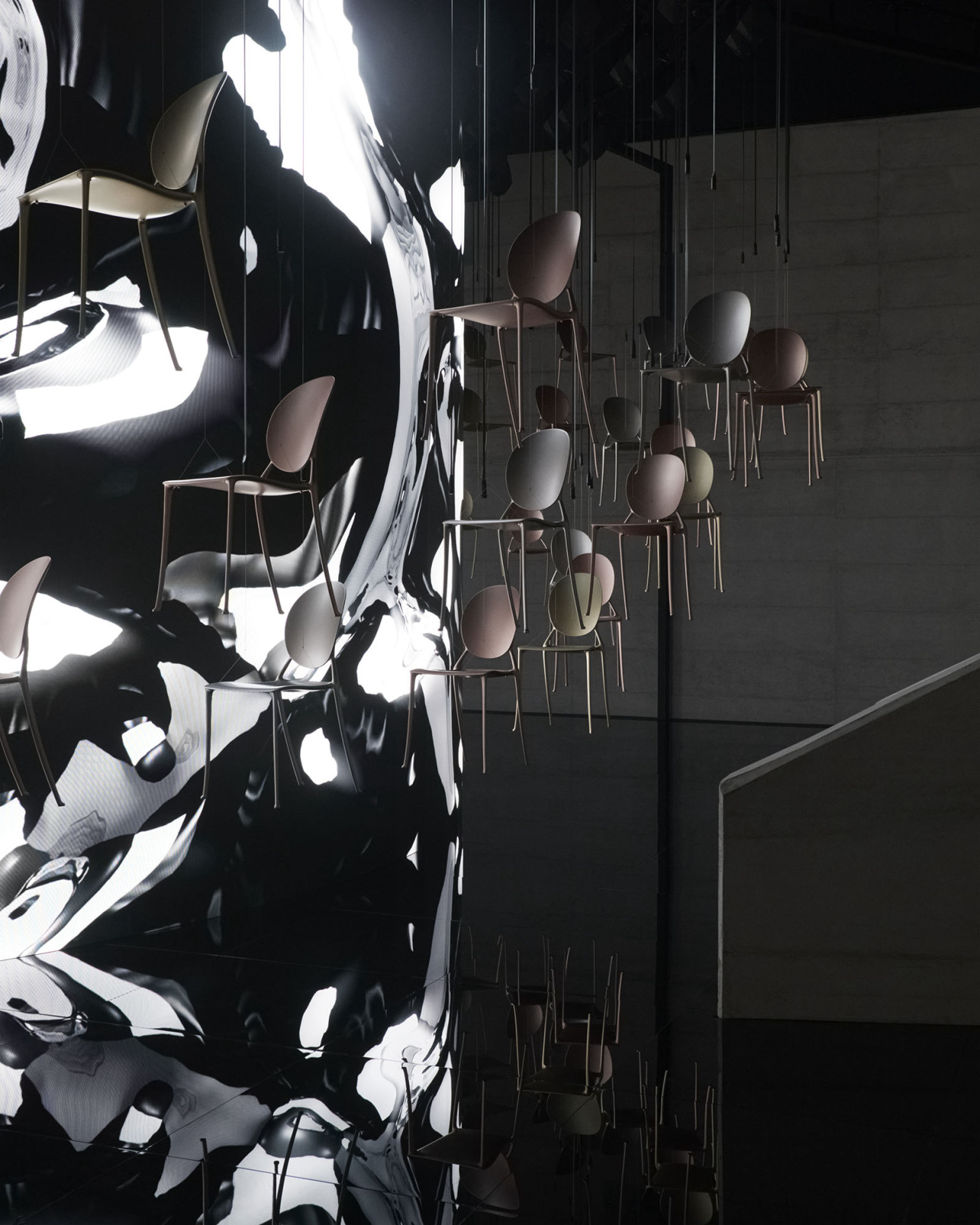 9. Dior by Philippe Starck
Philippe Starck oscillates between the over-the-top and the everyday, though many of the celebrity designer's objects have managed to jump through both hoops. (His best-selling Louis Ghost for Kartell immediately comes to mind.) To inaugurate his second collection for Dior, the French multi-hyphenate hosted an avant-garde fête at the 18th century Palazzo Citterio for Salone, where a performance of dancing seats brought the whimsical game of musical chairs to life. For his collaborative collection, Starck built off his 2022 interpretation of the house's Medallion Chair, presented his Miss Dior chair and Monsieur Dior armchair in a new range of materials and colors, and introduced a fresh array of tables and stools.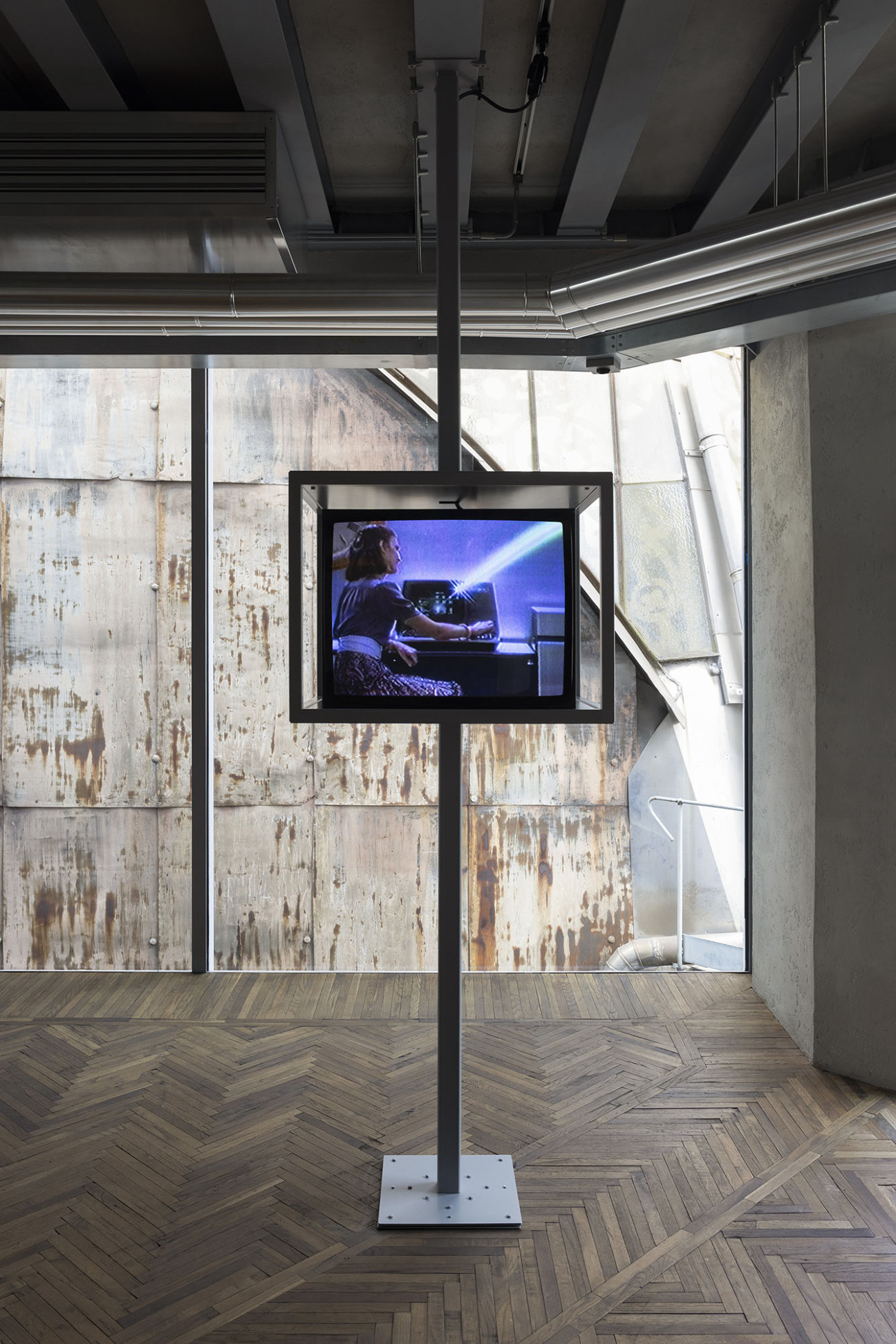 10. "Dara Birnbaum" at Osservatorio Fondazione Prada
The Fondazione Prada's new survey of the visionary Dara Birnbaum's work was a must-see. On view at the institution's Duomo-adjacent Osservatorio, the non-chronological show presented a selection of single-channel videos, sound works, multi-channel installations, and 3-D specialized prints on Plexiglas from the New York-born video artist set against the picturesque background of the city's famed Galleria shopping center. Curated by Barbara London, with Valentino Catricalà and Eva Fabbris, the retrospective was the perfect pairing for those able to make the trip to the Fondazione's main campus, where the intersection of video and art continued in works such as David Cronenberg's Cere anatomiche: La Specola di Firenze and a recreation of Jean-Luc Godard's studio.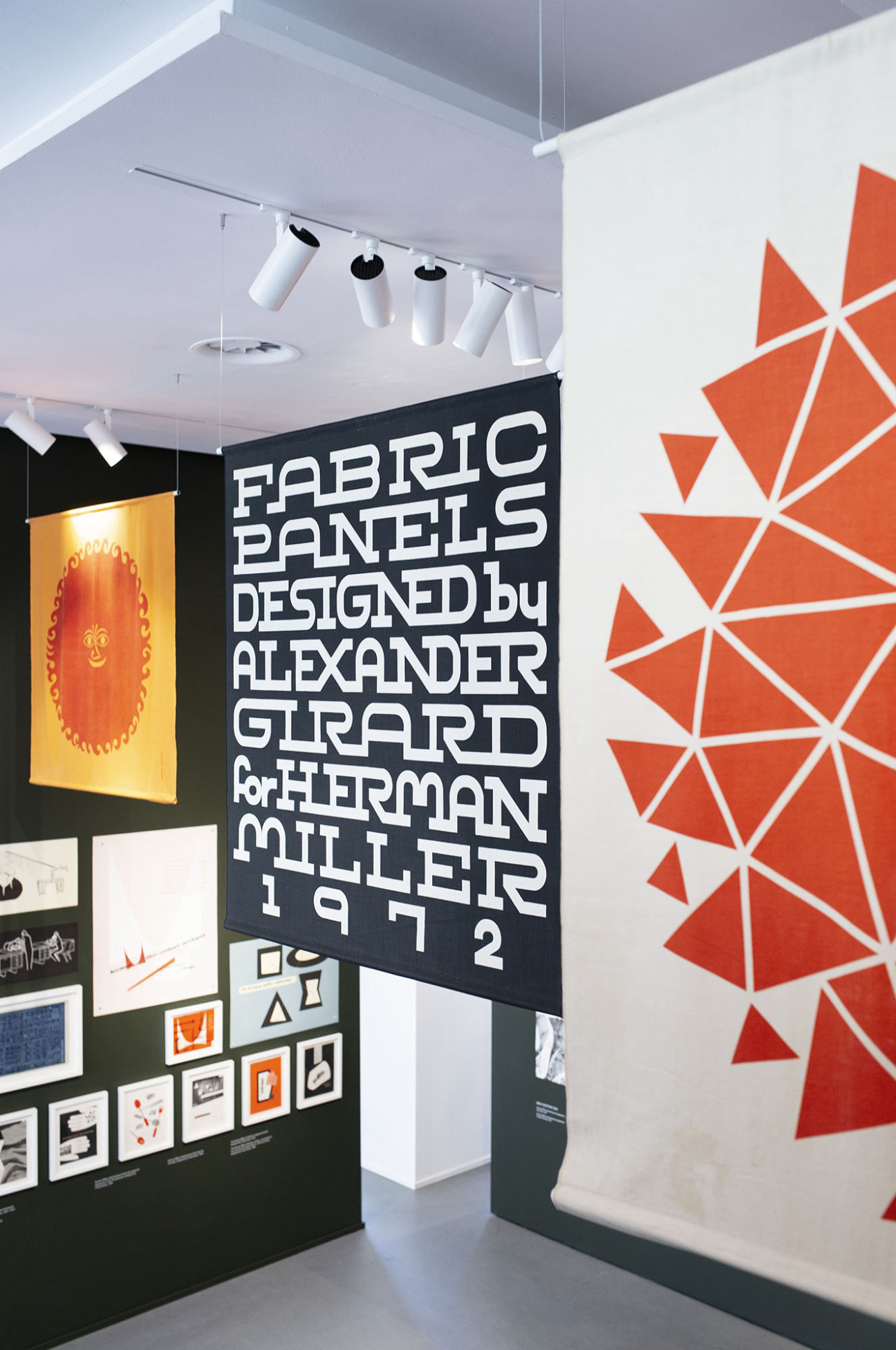 11. 100 Years of Herman Miller
This year marks Herman Miller's centennial. To celebrate, the iconic American design brand hosted an archival exhibition at its Brera Design boutique. Beginning with D.J. De Pree, Herman Miller's founder, and spanning design directors since—including George Nelson, the founder of American Modernist design; John Massey; Steve Frykholm; Barbara Loveland and Linda Powell; and Alexander Girard aka Sandro—the exhibition highlighted the brand's rich history of graphic design, and those that shaped it.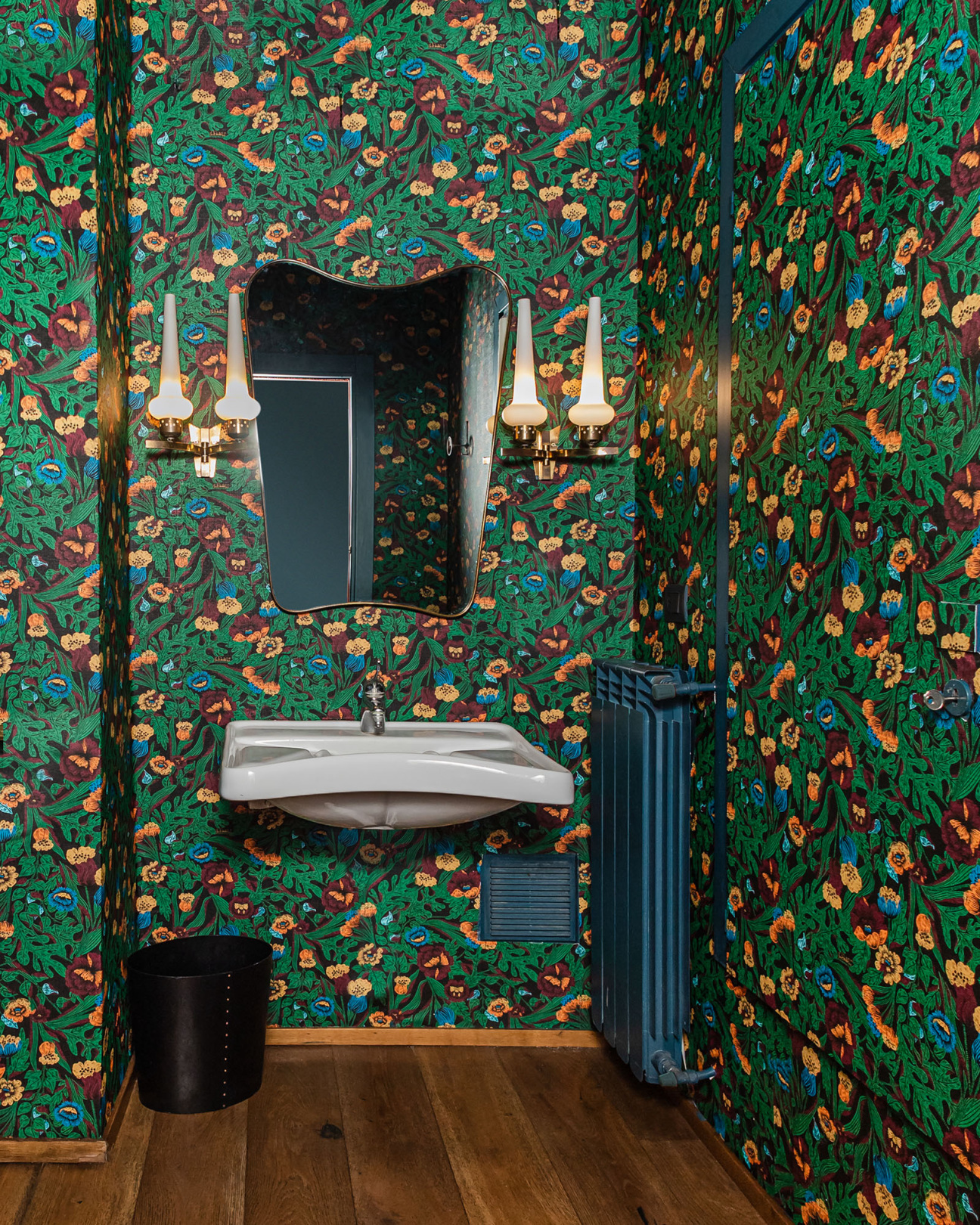 12. "Wallpapered in Wonder" by La DoubleJ
The respite of finding a washroom after a long series of crosstown appointments was heightened this season thanks to a special project by La DoubleJ. The Milanese brand—founded by fashion and design journalist JJ Martin—commemorated its home city by wrapping the bathrooms of some of its favorite locales in its most recognizable prints. From its Grove print in the rustic Fioraio Bianchi Caffè to the peppy Can Can in the Apophis Club, the pairings provided an after-hours treasure hunt worth the wait.