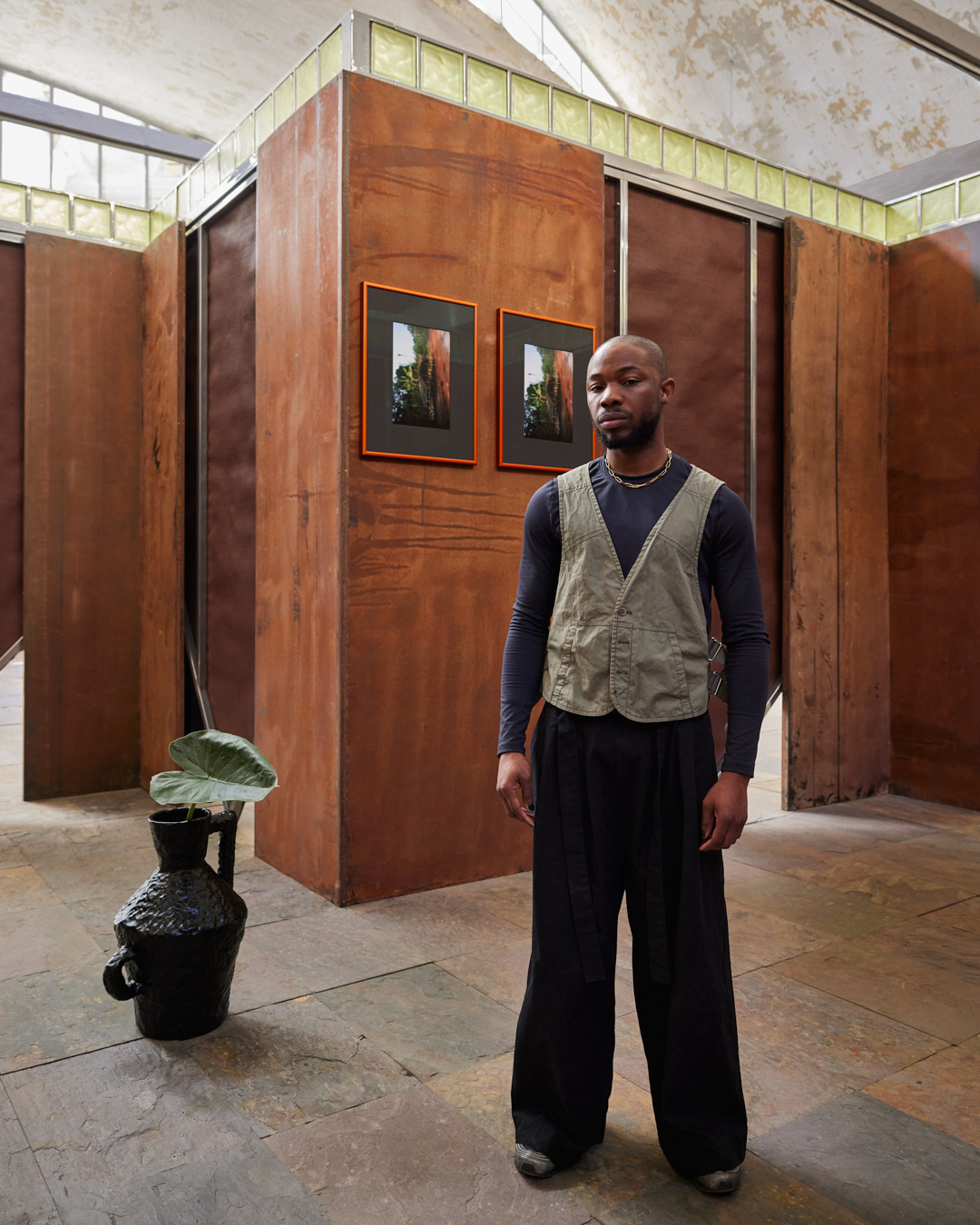 Dozie Kanu, whose work dances between art and design, has an annual check-in at the top of each year. But instead of consulting a doctor or a trusted confidante, he asks himself to define his goals. "This year, I made a resolution to focus on architecture," the 30-year-old artist says as he walks under the first pavilion he's ever designed. It is the centerpiece of "Bal d'Afrique," his just-opened exhibition in Milan. "I've been thinking about it for a long time—foundations specifically. Things are built on foundations. How do you change a system if the building is fucked up?"
Born in a Houston, Texas, suburb to Nigerian immigrants, Kanu was raised in a traditional African home. But his parents never called the house that; their real "home" was an African village that Kanu had never seen. Growing up as an African in America, he never felt distinctly African or African American. "There's a feeling of displacement when you're not blending into the kids that look like you in the country that you're in," the artist says. By the time Kanu hit middle school, he had begun introducing himself by his middle name, Joshua. He just wanted to fit in.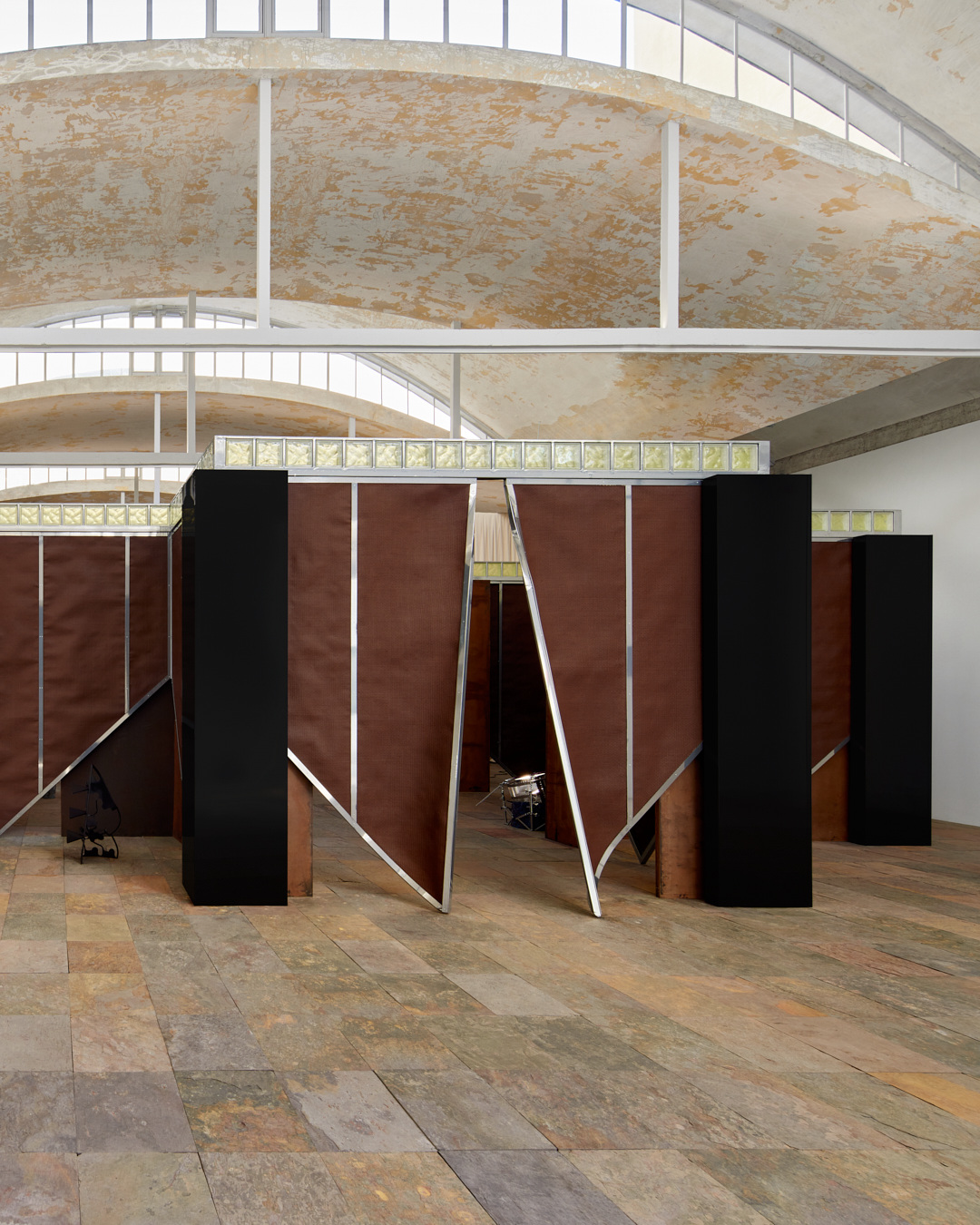 After graduating from the School of Visual Arts in 2016 and working in New York, Kanu picked up everything in 2018 and moved to Santarém, a fertile town 40 miles northeast of Lisbon known for its cattle breeding and bullfighting. "Now, I'm in the middle of Portugal and I stick out like a sore thumb," he says with a smile. "I love it." (Soon after that, he secured his greatest professional recognition yet: a solo exhibition at the Studio Museum in Harlem in 2019.)
Kanu's new collaborator Ben Gorham has a similar comfort with conspicuousness. "I'm in the North Pole [Sweden]," says the basketballer-sized Swedish creative of Indian and Canadian heritage. "I think we've always felt like outsiders. That's part of what makes our voices different."
Gorham is the founder of Byredo, an olfactive-turned-lifestyle brand that uses sense memory as its inspiration. He met Kanu years ago at Art Basel. Gorham was intrigued by Kanu's sculptural works about hegemonic politics created with found materials. They hit it off, and become friends.
This week, the pair premieres their first project together at Milan's Design Week: "Bal d'Afrique," a two-part exhibition that explores the intimacies that have shaped Kanu's relationship with the African continent and Afro-Diasporic culture. Supported by Byredo, the show takes its name from its 2009 scent that Gorham has called his "love letter to Africa." In the decade and a half since its debut, the brand has invited a mix of artists and creatives to reinterpret Bal d'Afrique's spirit in any medium of their choosing. Kanu's iteration is the first to happen during such a high-profile affair.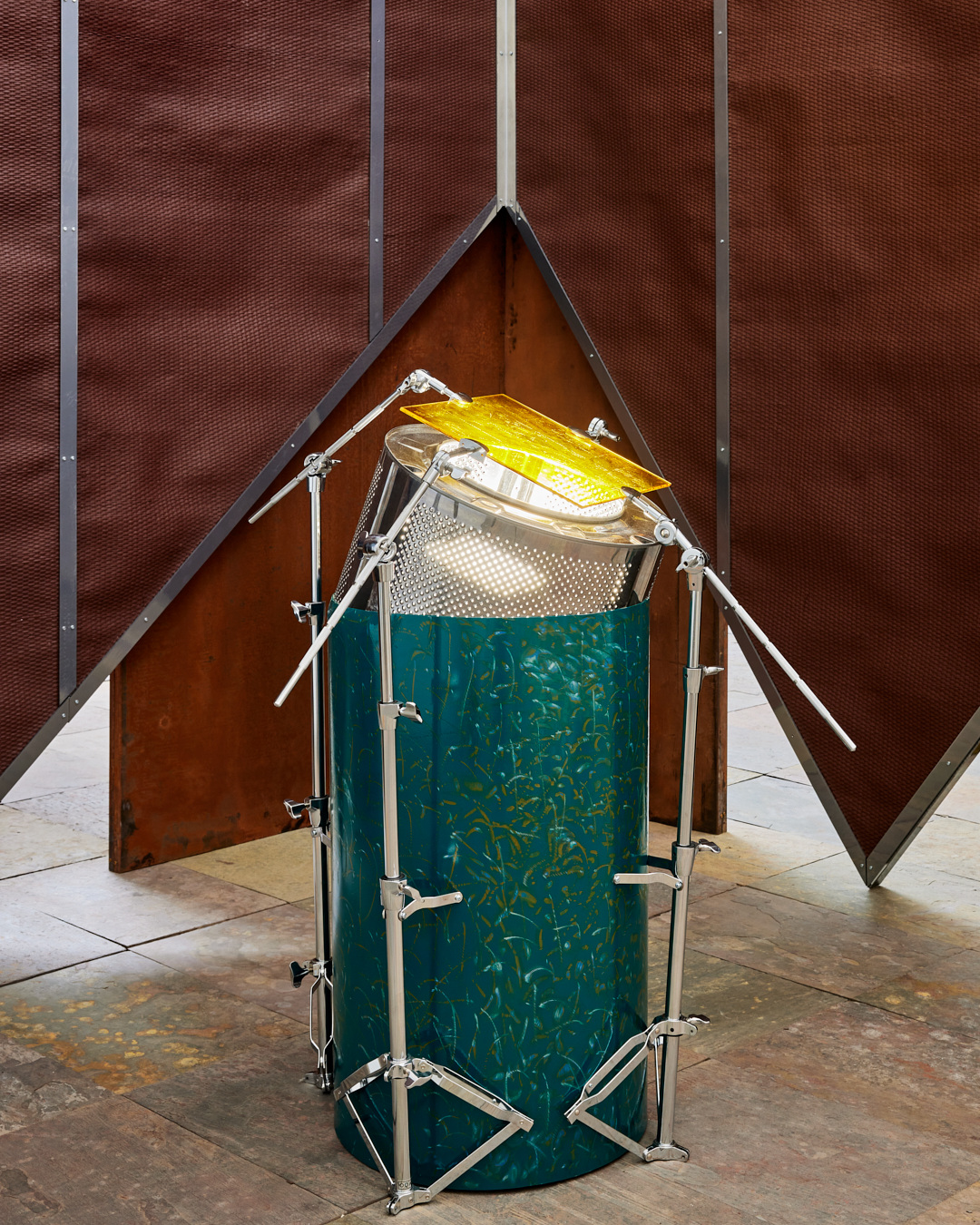 Viewers are greeted by a field of laminate photographs of Ghanaian life hung along a narrow hallway. The prints were collected by the archivist and artist Adjoa Armah, founder of Saman Archive, who has amassed over 100,000 images from her home country. Originating from both professional and amateur photographers, the prints—ranging from snapshots of nightclubs to family portraits—are marked by light spills, chemical stains, and the wear of time. "The archive is an insight into the life that could have been had I not experienced home through the memories of others and the limited photographs in my own family's archives," Armah explains. Directly across from the presentation is an image Kanu photographed himself: a monument captured on his first trip to Nigeria. "It's this weird mashup of something futuristic, but it's on the way to this nothingness village in Igboland," he explains, referring to where his grandfather grew up.
In the next room, the structural manifestation of "Bal d'Afrique" is an ambitious sight. Flaps of wicker dangle between slabs of aluminum and stone to form a massive pavilion in the shape of the Red Cross logo. The process of aging and wearing is a staple of Kanu's work, and the steel skeleton that binds the design bears bruises of life and destruction. It's topped by the kind of glass blocks that were commonly used by European colonizers across Sub-Saharan Africa. The architecture of Dakar, Senegal, the last place Kanu visited on the continent, was particularly impactful, and traditional Senegalese building techniques are woven throughout the structure.
Inside, a combination of new and existing works span material, genre, and intention. Kanu is no stranger to dutiful research, but often finds himself identifying the meaning in his works after they're complete. Here, a pendulum engineered with junkyard materials and Gabonian artifacts, Foremothers, 2019, finds itself in quiet, powerful harmony with drum beam energy, 2023. For this piece, Kanu reconfigured scrapped laundry machine parts into hued lamps that echo the sounds of African drums. It may not be a homecoming in the Odyssean sense, but underneath Kanu's assemblage in Milan, the respite is wonderful, even meditative.
"Bal d'Afrique" is on view through April 23, 2023 at Via Achille Maiocchi 10 in Milan.