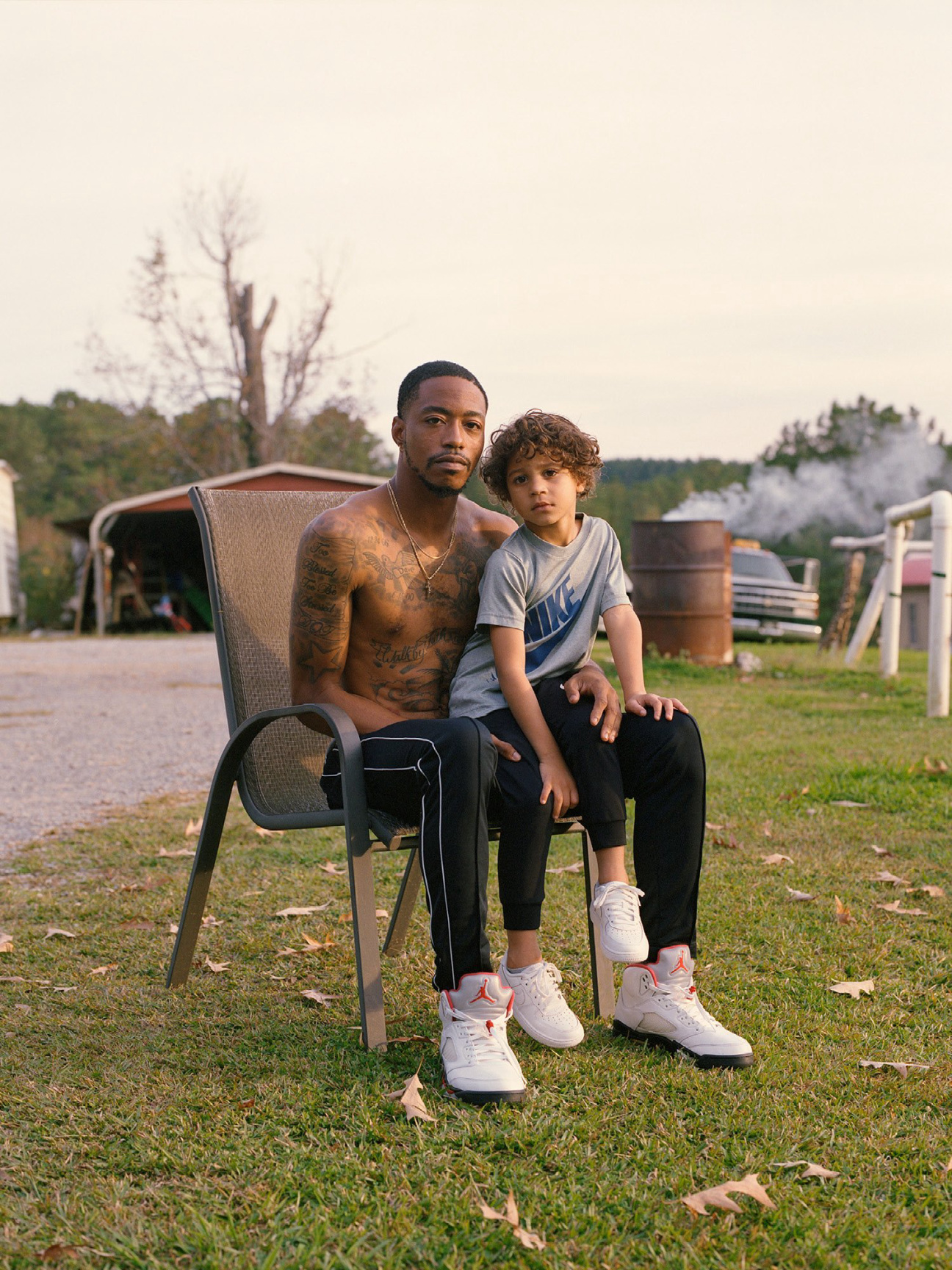 Welcome to This Week in Culture, a weekly agenda of show openings and events in major cities across the globe. From galleries to institutions and one-of-a-kind happenings, our ongoing survey highlights the best of contemporary culture, for those willing to make the journey.
"IN AMERICA" by Fumi Nagasaka
NowHere New York
Born in Nagoya, Japan, Fumi Nagasaka moved to New York in 2002, and has been documenting the American way of life ever since. After cutting her teeth as a street photographer, the artist focused her lens on the South, particularly New Orleans and rural Alabama. There, Nagasaka paints a vivid portrait of a region often caricatured, instead filling her pictures with warm tones, empathetic characters, and the momentary stillness of small towns. "IN AMERICA" will be on view from April 13 through May 21, 2023 at NowHere in New York.
"You Don't Have to Tell Me Twice" by Mark Bradford
Hauser & Wirth New York
Mark Bradford's latest offering, his first in New York since 2015, is primarily about displacement. On the first floor of Hauser & Wirth New York 22nd Street, a series of paintings mimic the aesthetic sensibilities of historical European tapestries, long viewed as a material representation of opulence and power. The pieces are placed alongside new works featuring plants and animals native to Blackdom, a 20th century African American settlement in the New Mexico desert. The titular character in these works is a jaguar, a predator who lurks amidst the tension between these opposing communities. On the second floor, Bradford tackles the Great Migration as he continues to investigate Black Americans's place in history, and by extension, his own. "You Don't Have to Tell Me Twice" will be on view from April 13 through July 28, 2023 at Hauser & Wirth's 22nd Street location in New York.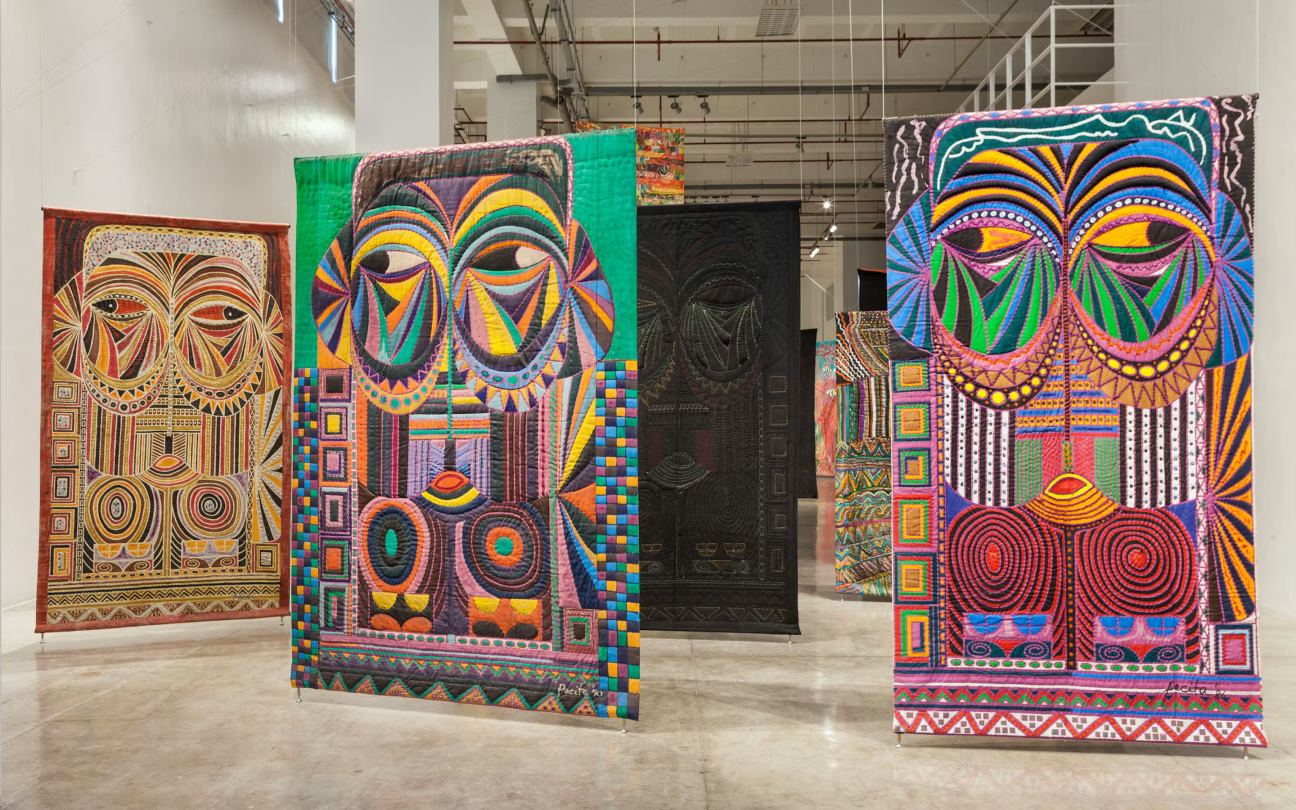 "Pacita Abad"
Walker Art Center Minneapolis
Filipino artist Pacita Abad came to the U.S. in the 1970s as a political refugee after leading a student demonstration against the Ferdinand Marcos regime in her home country. Throughout the 32-year artistic career that followed, Abad's activist spirit could be spotted in many pieces, like L.A. Liberty, which casts New York's famed, green statue as an immigrant woman of color. The artist was most well known for her trapuntos: quilted paintings depicting masks, abstract landscapes, and underwater scenes. The Walker Art Center is hosting the first-ever retrospective of Abad's work, which will include her textile pieces, works on paper, costumes, and ceramics. "Pacita Abad" will be on view from April 15 through September 3, 2023 at Walker Art Center in Minneapolis.
"Yakety Yak" by John Armleder
Musée régional d'art contemporain Sérignan, France
John Armleder's paintings and furniture work in tandem in this latest offering from the Swiss Fluxus artist. The show examines Armleder's enduring theory that art is a product of its own circumstances: time, place, and sociopolitical context. Indeed, the work on display often appears incidental to its surroundings, calmly blending into the industrial build of the museum. Perhaps that chair was simply placed there, rather than carefully arranged by some divine or artistic intervention. In other rooms, Armleder's own influence betrays him, as enormous disco balls and canvases dominate the space. "Yakety Yak" will be on view from April 15 through September 24, 2023 at the Musée régional d'art contemporain in Sérignan, France.
"A Making of Ghosts" by Kudzanai-Violet Hwami
Victoria Miro London
Kudzanai-Violet Hwami's work moves through artistic temporalities with ease, blending motifs and styles of the past and present to create something with an indefinite sense of place. In her second solo exhibition with Victoria Miro, she applies this unique approach to the process of navigating grief. Her paintings, placed alongside large-scale, suspended photography, question her subjects' own memories, and reveal their ongoing narrative as visitors make their way through the gallery. "A Making of Ghosts" will be on view from April 14 through May 13, 2023 at Victoria Miro in London.
"Barkley L. Hendricks: Myself When I Am Real"
Jack Shainman Gallery New York
In this exhibition, viewers are offered the chance to see the world through the eyes and lens of Barkley L. Hendricks, who was known for his contributions to Black portraiture. The pieces on display, many of which are being exhibited for the first time, are snapshots of Hendricks's day-to-day life. The artist was inspired by his Yale mentor, Walker Evans, to carry a camera with him as he watched small and momentous moments alike unfold: a tryst in the bedroom, Ronald Regan's presidency, rewatching The Wizard of Oz. "Myself When I Am Real" will be on view from April 13 through May 26, 2023 at Jack Shainman Gallery in New York.
"Dara Birnbaum"
Fondazione Prada Milan
Mass media's influence on art may now appear obvious, but back in the mid-70s, Dara Birnbaum was one of the first to introduce video to galleries' white walls. The installation artist blended television's rapidly-increasing reach with the iconography and attitude of the feminist art movement. This exhibition spans from that early period to the present, as Birnbaum continues to produce work from her home base in New York. It features a selection of single-channel videos, sound works, multi-channel installations, photographs, and 3-D specialized prints on Plexiglas, a breadth that thoroughly encompasses the artist's pioneering multimedia creations. "Dara Birnbaum" will be on view from April 13 through September 25, 2023 at Fondazione Prada's Osservatorio location in Milan.
EXPO CHICAGO
Navy Pier Chicago
This month, 170 international exhibitors are descending on Chicago's Navy Pier for the city's 10th iteration of The International Exposition of Contemporary & Modern Art. The Midwest mecca is home to a growing arts community, bolstered by its position as an alternative space for young and innovative talent. Throughout the fair's run, the city will be hosting a full slate of exhibitions and events, ready to welcome guests both new and returning. EXPO CHICAGO will run from April 13-16, 2023 at Navy Pier Festival Hall in Chicago.