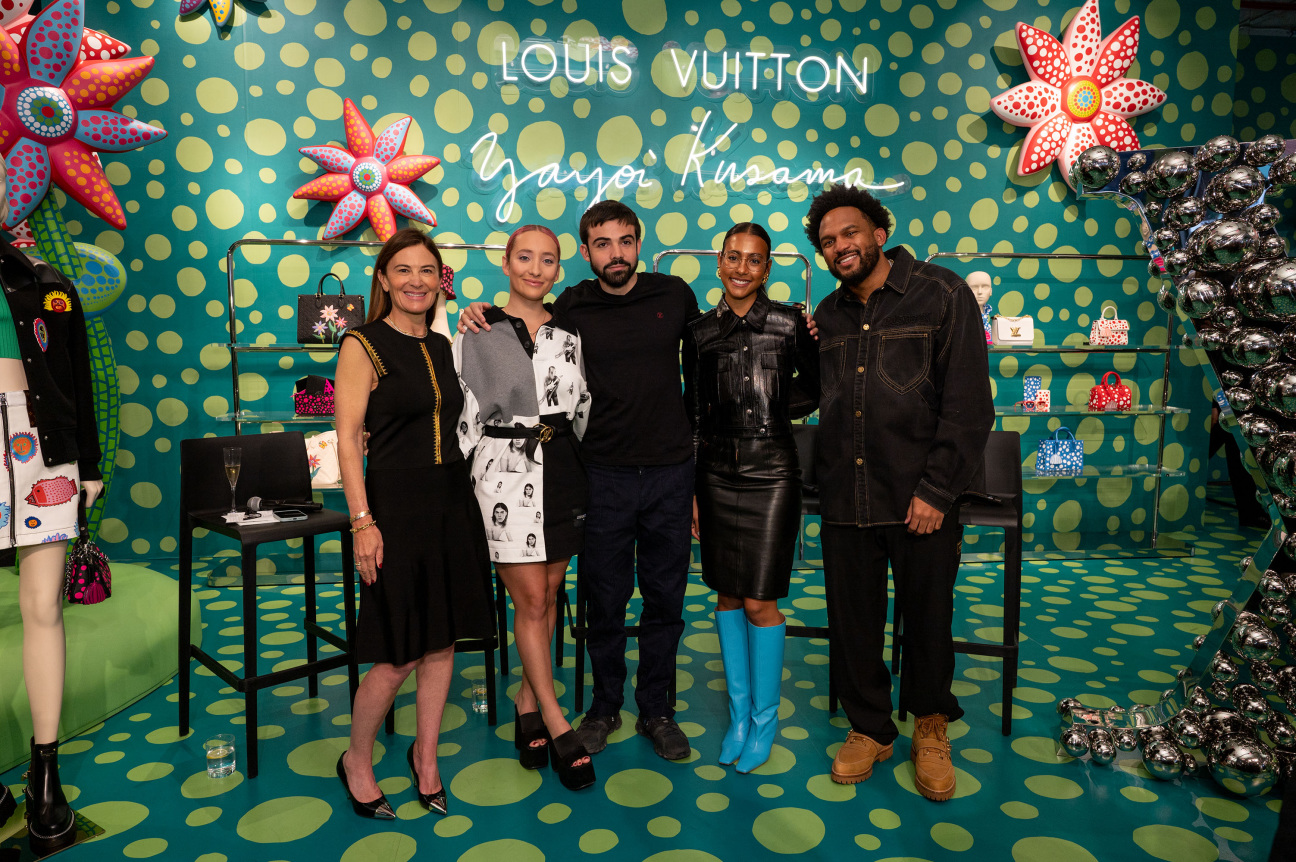 Yesterday, CULTURED took over Louis Vuitton's Meatpacking District pop-up in New York to present a panel on the "Art of Collecting," featuring esteemed friends of the magazine. The location was dressed to the nines with an installation celebrating the brand's ongoing collaboration with legendary Japanese artist Yayoi Kusama. The latest joint release has Louis Vuitton's iconic pieces adorned with Kusama's drawn faces, flowers, pumpkins, and dots. At the store, towering, sculpted flowers sprouted from the bespeckled floor and walls, a nod to the artist's signature motif.
Guests, including Anna Weyant, Jasmine Wahi, Nina Runsdorf, Sharon Coplan Hurowitz, and Dana Farouki, arrived to trays of champagne before making their way to the center of the floor for the marquee event. Sarah Harrelson, CULTURED's editor-in-chief, moderated the panel, asking her subjects about their early purchases, collecting habits, and art world ethos. In the hot seats sat Hannah Traore, founder and director of Hannah Traore Gallery; Everette Taylor, CEO of Kickstarter; Sophia Cohen, a sales and artist liaison at Gagosian; and Caio Twombly, co-founder and co-director of Amanita Gallery.
The panelists, all clothed in Louis Vuitton's latest styles, walked the audience through the conception and expansion of their personal collections, as well as the principles that guided them through their work. Cohen professed her love of female artists. Traore admitted she collected a piece from every show at her gallery. Twombly focused on Italian artists, while Taylor spotlighted artists of color. "I don't see myself as a collector," explained Taylor. "I see myself as a caretaker of this work and have a responsibility to the artist of that work."