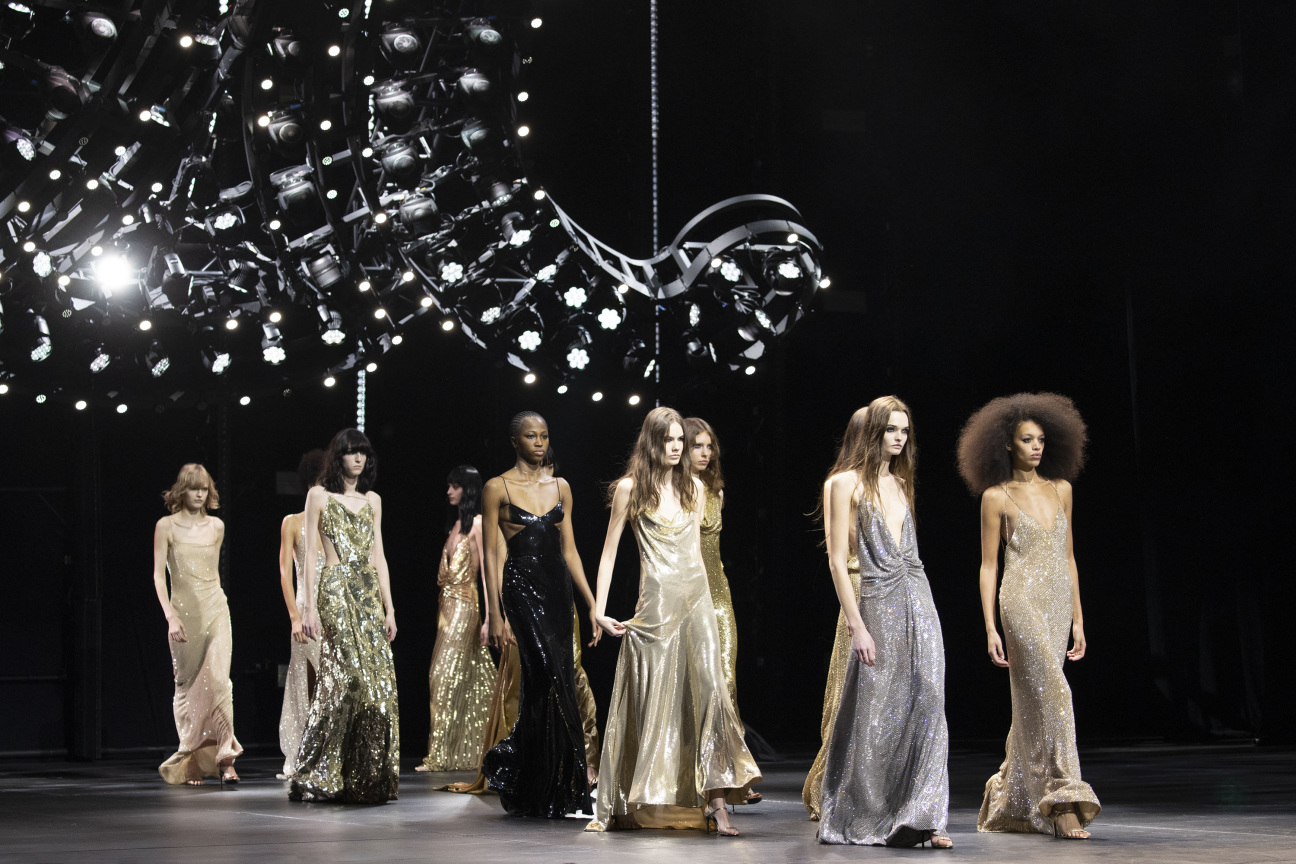 Last night, the fashion cognoscenti converged at The Wiltern Theater in Hollywood for a night of gritty late-aughts glamour with Celine. For the brand's first live presentation since the pandemic, Hedi Slimane made a nostalgic pilgrimage to the recent past—and to Los Angeles, the city that ushered him deep into the alt rock music world just over a decade ago, and his longtime respite from the fashion scene. Slimane was fascinated by the glitzed-up indie sleazers and ragged surf rats, overlooked in high fashion circles at the time, that prowled the city—so fascinated that he's built a creative legacy by mining the city's particular vein of seedy awk-rock grunge.
Celine at The Wiltern, as the Fall/Winter 2023 presentation was branded, leaned thoroughly into this legacy. The Parisian brand's name appeared in a patchwork of letters on the venue's Wilshire Boulevard marquee, and logo-laden patches, guitar picks, and matchbooks were heaped on the art deco venue's long bars. Guests—Dustin Hoffman, Miles Teller, Brie Larson, and Paris Hilton among them—crowded into the 1930s theater, sipping mini bottles of Moet and making quick work of the pizza slices passed around in gilded Celine boxes before taking their seats. The collection, aptly titled "Age of Indieness," featured a nod to every late-aughts archetype you thought you'd never see again.
As Jack White's "Hello Operator" thumped on a loop through the high-ceilinged theater and a mammoth Celine logo pulsed onstage, shag-sporting models stalked the runway in low-rise skinny jeans, pinch-toed and baggy knee-high boots, cropped blazers, pencil-thin silk ties, tight rock n' roll suiting, and heavy-duty satchels (the once-quintessential accessory of the female executive, now set adrift in our remote work era). The presentation culminated in sleek, sequined evening wear and a cameo from Kaia Gerber, an LA native and a close friend of Slimane's, who stayed around for the night's raucous afterparty—a lineup that featured the 75-year-old ever-shirtless Iggy Pop rolling around on stage, a DJ set from The Kills, and an appearance by The Strokes. For guests of other musical persuasions, a gold balloon-and-tinsel-laden downstairs hideaway offered more relaxed fare: two guitars plugged into amps left on the couch for anyone to strum.
The festivities ended, as most rock shows do, with a mass exodus to the outdoor smoking area where models joined guests for a cigarette and a final drink before making their way back to Wilshire Boulevard and the year 2022. The Wiltern, which has hosted the likes of Prince, The Rolling Stones, and Patti Smith can now add Hedi Slimane to its roster of icons.