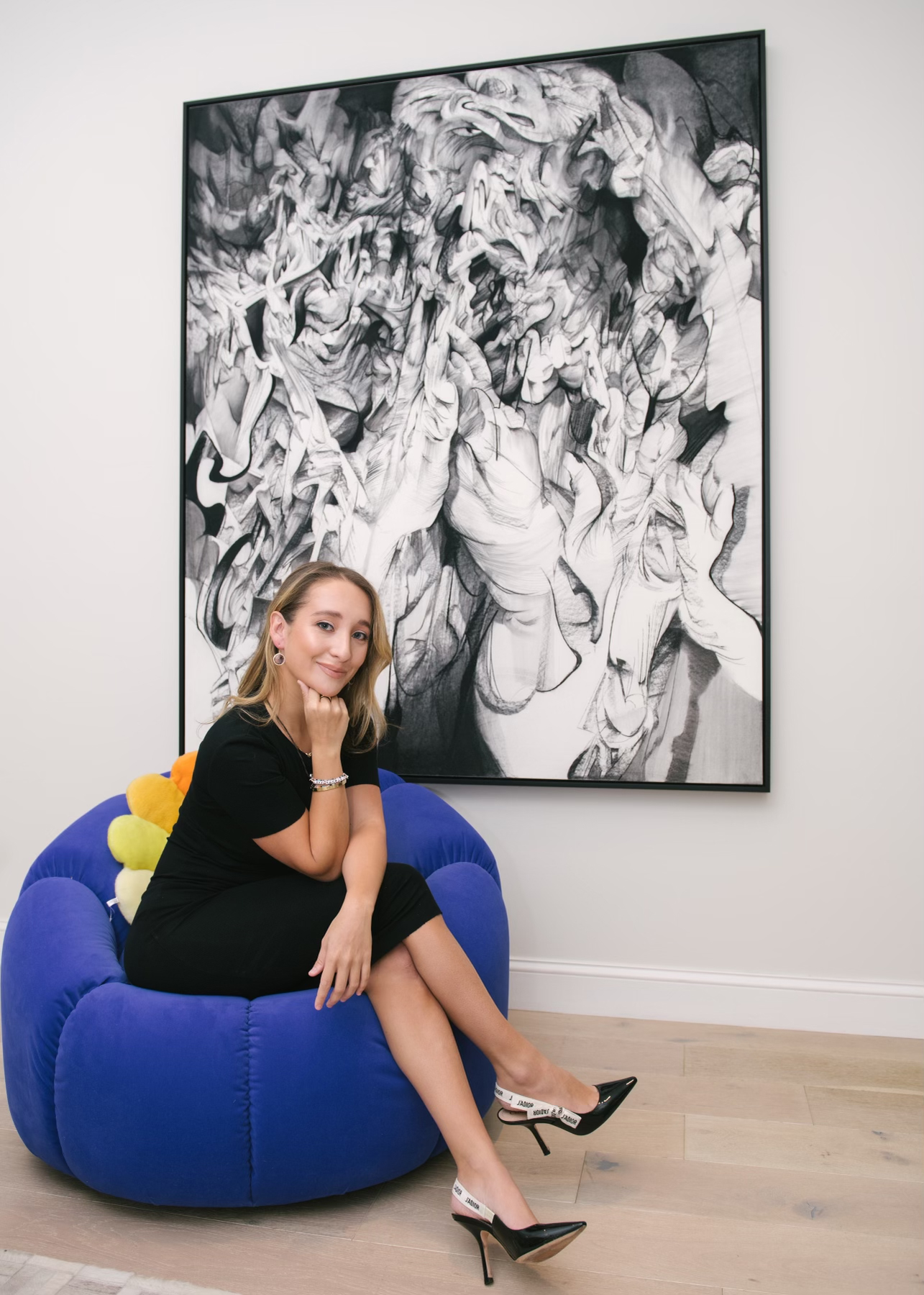 Sophia Cohen
Despite being raised by one of the most prominent US collectors, Steve Cohen, Sophia was the only one of seven siblings to find their way to art. It wasn't a straight shot either. She started her studies in archeology, relaxing into the idea that "humans and what they make was going to be a lifelong obsession" over dusty toothbrushes in Turkish excavation sites.
However, a masters at Christie's reoriented her course, placing her on the contemporary gallery track and toward her true calling to "connect people with objects that inspire them." Her entry point, the now-defunct Gavin Brown's Enterprise in Harlem, supersized her fantasies about what working with living artists and their archives could look like. A move to Gagosian, where she's now a sales associate, pushed out whatever doubt was left. Her appetite for collecting grew alongside the discoveries and relationships she forged at work like ivy tendrils channeling up a spire. Her Union Square apartment stocks the evidence: a mix of young artists I don't recognize with stars like Jonas Wood and Takashi Murakami.
Looking closely is a huge source of pleasure for Cohen, who views the studio-visit ritual as the ultimate industry perk. On the phone, she animatedly recounts a recent one with painter Loie Hollowell, whom she greatly admires. Early trips into artists' private spaces with her father, who is still her favorite art-viewing partner, remain formative and inspire her annual trip to the open studios of the New York School of the Arts, where she always picks up a work. A small painted landscape by recent graduate Taissia Basaria is hanging in her bedroom when I visit. Another drawing, by a Gagosian art handler, that feels somewhere between Ken Price and George Herriman's Krazy Kat, also catches my eye. "You have to look everywhere," she smiles.
Now 27, Cohen radiates an infectious enthusiasm for art. She's happy for it to take over every corner. In her spare time, she is the co-chair of the Guggenheim's Young Collectors Council, where she channels some of this energy and warmth into expanding the museum's Generation Z and Millennial base. "At the moment, I like the bleed between everyday life and my job," Cohen says. "My clients, the artists I work with—that's just another way to say my friends. These are people I'd invite to my wedding, the people I want to see at dinner."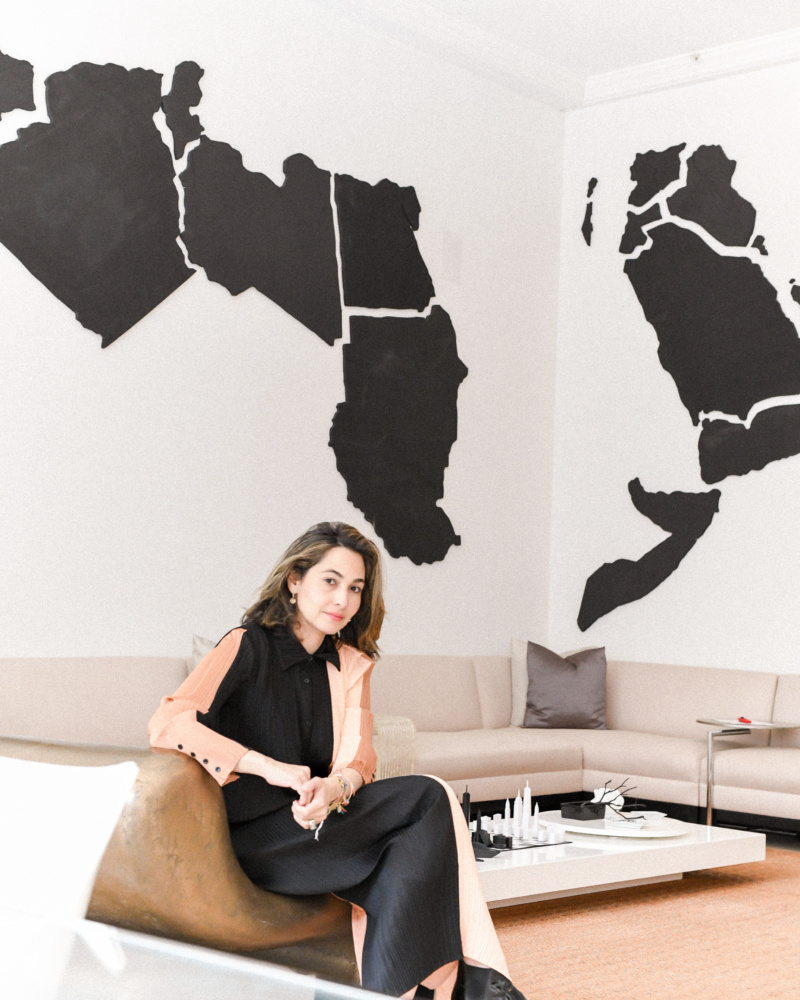 Dana Farouki
One of Dana Farouki and her husband's first dates was at a performance by Walid Raad at The Kitchen. He had read about it in The New Yorker and was looking to impress. It was her first introduction to the work. When she looks at the pieces of Raad they've since collected together she still gets "butterflies." Today Lebanese artists are well represented in their joint collection, and many of them are friends. The couple's romance, kids and many years later, continues to intertwine with art. "I think that first experience was a moment when we realized we were on the same wavelength," Farouki says. "We rarely—actually, I don't think we ever have—disagree upon an artwork. I think it's a good sign."
Farouki sees life and art layered like a mille-feuille—deliciously inseparable and crackling with excitement. In her professional life, she is the founding chair of the Guggenheim's Middle Eastern Circle and sits on the boards of both Creative Time and MoMA PS1, where she is often leaned on as a Middle Eastern cross-cultural expert thanks to her impressive résumé in the region, which includes consulting roles with Art Dubai and the Guggenheim Abu Dhabi project. The role of interlocutor also plays out in her collection, which has only one guiding mandate: living artists full stop. Farouki feels strongly that buying the art of your time allows for you to engage with it more dynamically. To this end, her collection focuses on peers and those a little bit older, who she sees as mentors. She looks for a sense of humor and a dedication to the queries they posit. She cites artists who span all mediums: Basim Magdy, Matt Connors and Olafur Eliasson for instance. "Middle Eastern storytelling often has this surreal element that I look for in an artwork regardless of its maker," Farouki says. "Sometimes fiction gets closer to the truth."
Getting outside of the bubble comes as second nature to Farouki, who grew up as the daughter of a pioneering curator—her mother ran a nonprofit exhibition space dedicated to Middle Eastern artists in the 1980s. For those who don't share Farouki's eclectic pedigree, however, the peripatetic curator and collector recommends using biennials as an entry point.
"Besides the opportunity to explore a new city and see how different art scenes function, biennials like Sharjah are a great way to discover artists," she says. "Kochi is next on my list." To find the right one, she recommends paying close attention to curator announcements and following favorites. "Curators can be resources for discovery and sometimes bellwethers too," she smiles. Molly Gochman
Collecting snuck up on Molly Gochman, who, as a practicing artist with institutional chops, never envisioned herself in the role of patron, but rather as a manic participant. Today, however, Gochman takes collecting more seriously than most. When we speak she places stress on things like the messiness of stewardship and "the responsibility and work of taking care of art." Mierle Laderman Ukeles, an artist who in the 1970s penned a seminal manifesto about the labor and creativity that goes into acts of maintenance, surfaces as a mutual idol of ours. To be a custodian or caretaker, in Gochman's world, carries weight and value; perhaps not surprisingly given that she's an ambitious installation artist and the mother of two small children, but a refreshing break from the narrative in which art objects are traded like baseball cards, without much regard given to the real needs of their sometimes physical bodies.
Right now, Gochman is almost whispering. She explains she's admiring a Joseph Cornell drawing she keeps in a closet to protect it from damaging UV rays. She laments that it also needs some time in the sun—in front of more eyes. These are the paradoxical complications and needs of art that both torment and inspire her to be more mindful and innovative. This distinct sense of gravity informs the type of work Gochman collects, which began mostly as prints of favorites like Agnes Martin, but has since evolved. Overall, there is an emphasis on female practitioners, as well as those who engage with issues surrounding social justice, which Gochman herself wrestles with in the studio. Laderman, Mary Helena Clark, Adrian Piper, Simone Leigh all glimmer in the vortex of her eye, but we speak specifically about Lygia Clark. When she was first dipping her toe in the water, Gochman remembers running into an early Bicho work (a tabletop geometric beastie) at an art fair and crying. "It was a piece she made for her son and it stopped me cold," Gochman says. "It felt like I was speaking across time and space, having this extremely intimate connection with someone who I've never met and passed away years ago." These are the kinds of experiences that motivate her purchases.
Early on she bought a lot from charity auctions, where she'd pick up beloved foundlings, but as she's grown older her acquisitions and commitments to causes have become more precise, to everyone's benefit. She is, after all, the author of Give-away Project, a recurring social-practice performance in which the artist releases material goods back into the general population. She's also on the boards of Creative Time and the Wassaic Project, and is growing more comfortable with the expertise she brings to these meetings as an informed interrogator and hands-on maker. "My aims have always been towards public art," Gochman says. "To be honest, Creative Time was always the pinnacle for me. It's an institution dedicated to bringing an artist's dream project to life."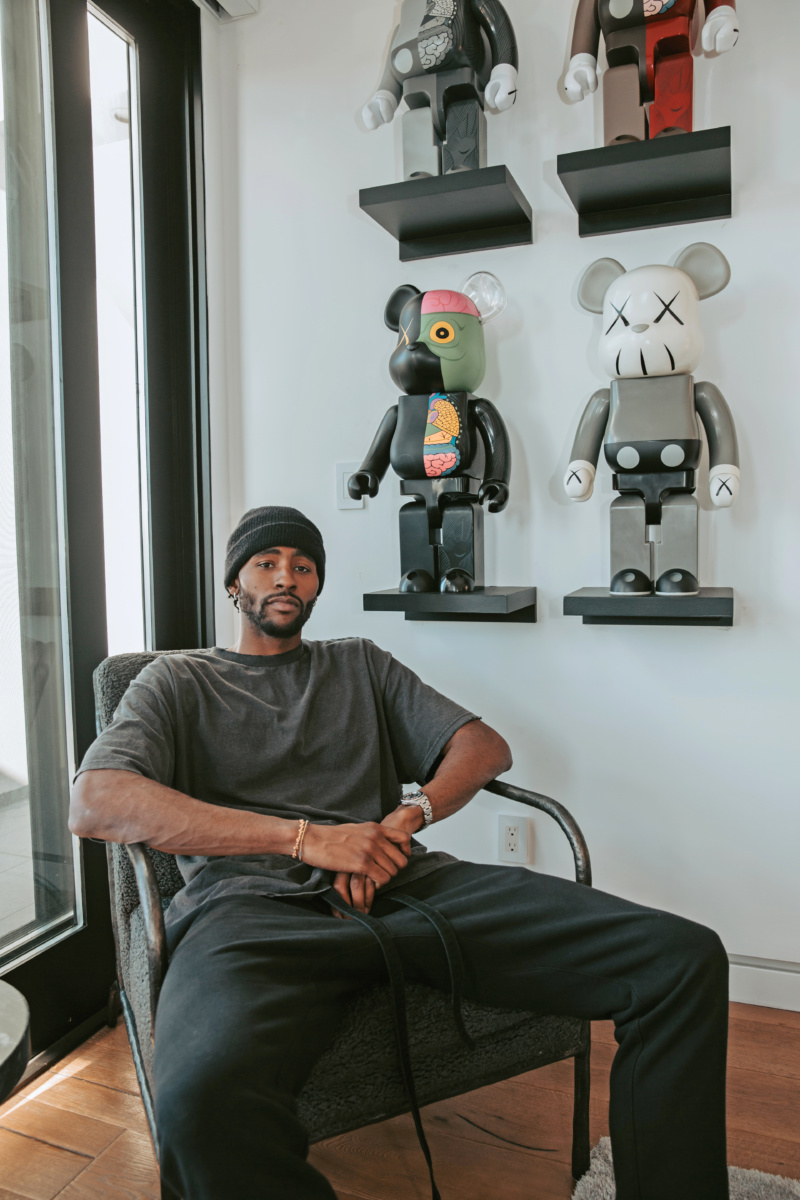 "Moe" Harkless
It's probably cliché to begin by citing the well-worn truth that even, if not especially, across wildly different fields, the characteristics and constraints of virtuosity remain remarkably constant. Just 3 years shy of 30, and 3 inches shy of 7 feet, Maurice "Moe" Harkless has already spent 9 years in the NBA, and is currently playing with the Sacramento Kings. At the same time, the charming athlete began to earn a reputation in the art world. Unlike many of the last decade's newly minted collectors, who operate on spectacle and hype, Harkless has cultivated a nearly extinct level of connoisseurship, marked by careful listening. Before acquiring a piece, he likes to talk to the dealer about the strategies the artist used, both material and conceptual, to make the work great. How a painter gets in and out of an image, for example, or maybe how a figurine has been specifically configured to both collide with and circulate within culture—some might call this the artist's game plan. When asked what's come up on his radar in the last year, Harkless says he's had his eye on Amoako Boafo's portraits since he learned that the improbably masterful renderings were finger-painted. In Boafo's work, self-imposed restraint is acrobatically transformed into the artist's exuberant signature. Often aesthetic achievement is measured by cultural influence, but Harkless instead narrows in on something else entirely: process and execution. He sometimes even draws on his own experience making art while taking a cartooning class in high school when talking about his collecting.
The athlete's attraction to challenging limitations isn't confined to the basketball court or the picture plane. His commitment to moving culture forward is mirrored in his desire to affect real political change. On his website, Harkless has collated resources on Black-owned business, mental-health resources for the Black community and voting guides, alongside lists of Black contemporary artists and musicians. These interests inspire each other, converging to form a unified platform anchored in excellence and equity.
One of the standout works in his budding collection shows a basketball player suspended at his summit and about to shoot. Aptly titled Two Years and Counting (2018), the relief print by Nina Chanel Abney represents a moment of perpetual striving and strife. It's an image of enduring intensity that visually stands in for everything Harkless represents.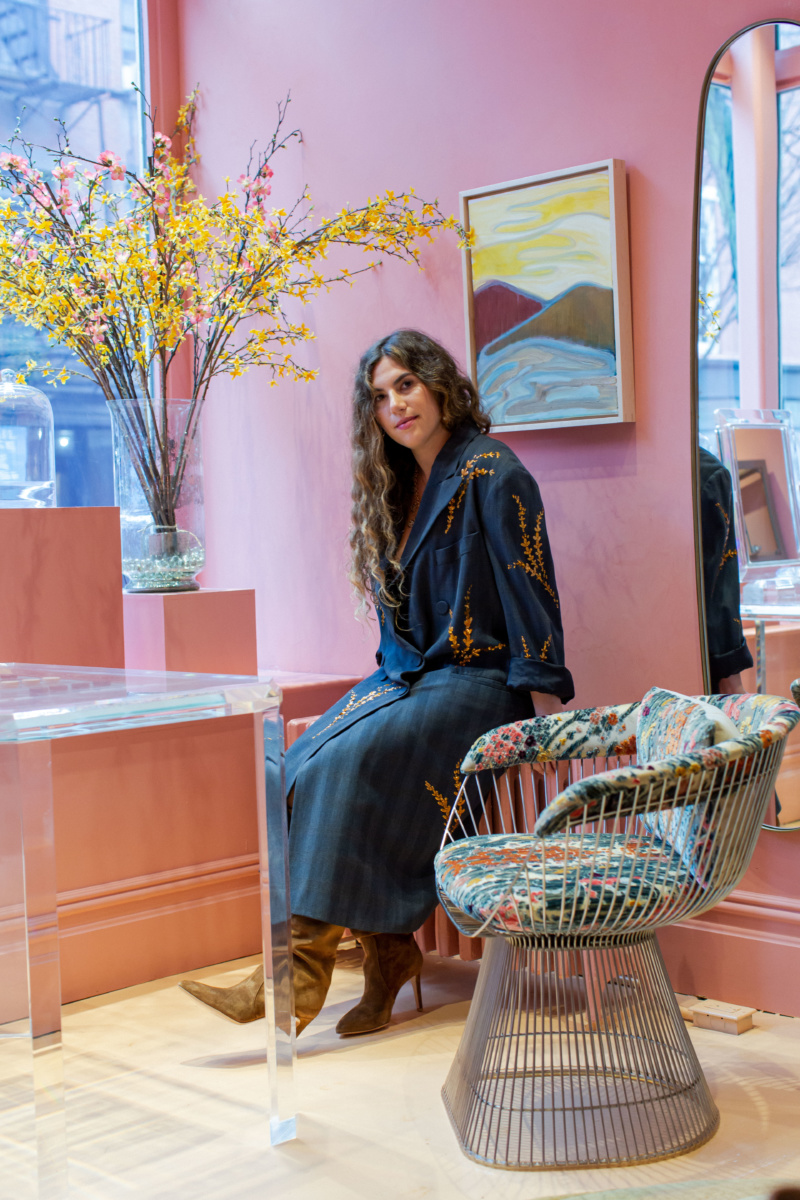 Jesse Lazowski
Art collecting snuck up on Jesse Lazowski by stowing away in her suitcase. The jewelry designer behind Marlo Laz, who during less restricted times travels the globe to collect her precious and semi-precious materials, makes a habit of tucking art pilgrimages to places like the Naoshima island sculpture garden or Niki de Saint Phalle's follies into her jam-packed schedule. "There is nowhere I won't go to see a James Turrell," she says, laughing with herself. These journeys to all corners of the world for art's sake acted as the catalyst to her own budding collection, which she is slowly putting together with the help of friend and advisor Rachel Kay.
Kay tells me Lazowski has an innate understanding of artistry and a maker's eye that is constantly developing with the more that she sees and is exposed to. They spent the past decade regularly sending each other installation imagery and jetting together to museums, galleries and fairs. Lazowski, in turn, credits their buddy system for getting her out of the passive role of observer and into the active role of facilitator. "When I get incredibly excited about something, she always pushes me to be thoughtful and answer the why," she says. "I learn about the world through art and I feel lucky I get to do that with Rachel."
When it comes to taste, she claims color often steers her gut and has since childhood. This instinct sends Lazowski towards palette-sensitive creatures like Sterling Ruby, Rebecca Morris, Sanford Biggers and Wolfgang Tillmans. She takes special pleasure in complex processes and sculptural forms thanks to her own studio wrestling matches. "I know the ache that can go into each and every little decision of making something," she says. What she is really looking for is an original point of view informed by an understanding of history. Firsthand research is essential to her eponymous jewelry line, and this studious rigor is something she admires in others' work too. She takes it as an invitation to dig into specific times and theorems.
This value for the past is something she inherited from her parents, who she is leisurely converting into cohorts in art. Last year she gifted her father a piece by Hank Willis Thomas, after an epiphany-like viewing he had while shadowing her to a Crystal Bridges opening, and now he's got the bug. Evolving alongside her peers, Lazowski hopes to become a puissant recruiter and interlocutor for the community.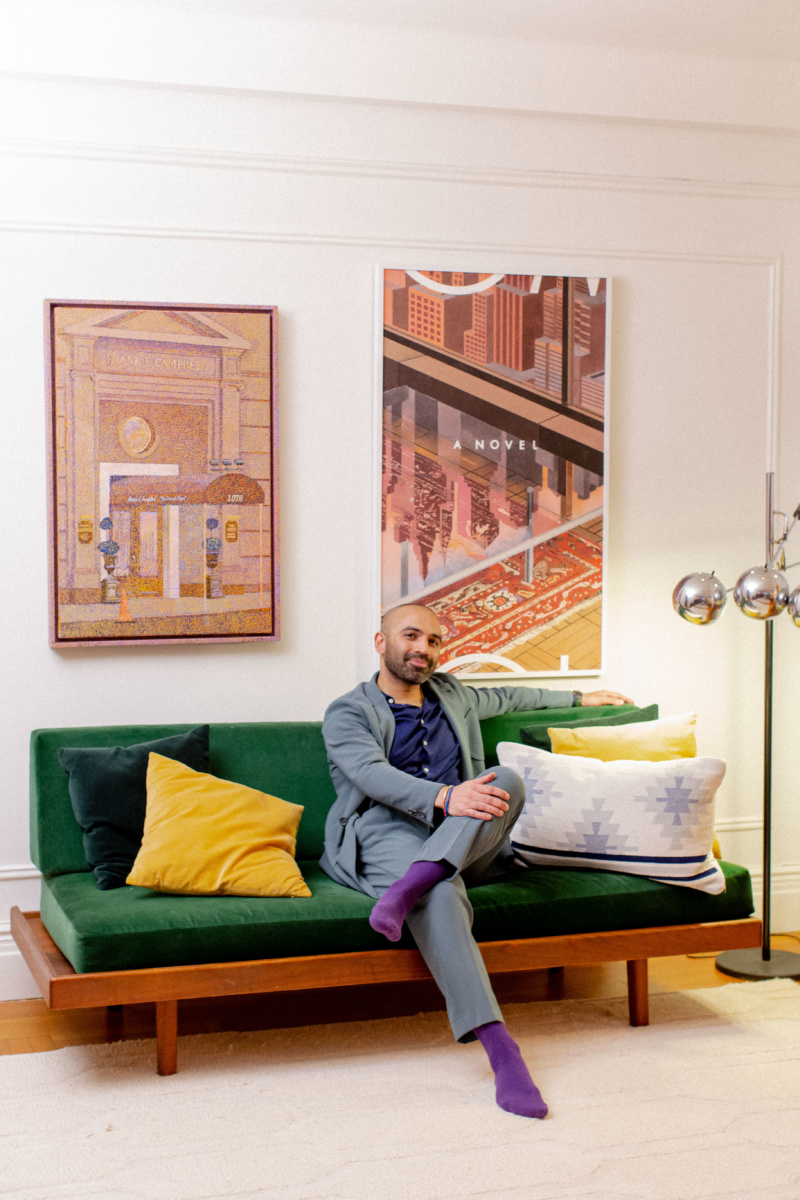 Vikram Ravikumar
Vikram Ravikumar began attending Ellie Rines's New York gallery, now called 56 Henry, back when it was still a jolly closet on 55 Gansevoort Street. The beer-warmed crowd that spilled out of the jewel-box-sized space operated as a kind of gateway drug to a larger cosmos of Downtown gallery communities, where Ravikumar, an inventor of medical devices, discovered a compatible outlet for his left-brain needs. His first purchase of a shaped canvas by Graham Collins broke the seal, transforming the Upper West Side resident from spectator to actively engaged. These days he is picking up two to three artworks a month from a constellation of personality-driven spaces like 56 Henry, Helena Anrather and Situations.
This consistent investment in the physical output of select imaginations mirrors Ravikumar's office life, where he problem solves within the medical space, creating alongside his father. The task of bringing different inventions to market gives Ravikumar an appreciation for the scrappy ingenuity of upstart gallerists who must build and shape the context around a practice so it can flourish in a wider world. "In my job, the bottom line is always about functionality and cost-effectiveness," Ravikumar explains. "In art, I found an escape from that mindset."
The entrepreneur finds himself drawn to work that examines the aesthetics of power through the lens of the outsider or perceived outsider. This translates into an admiration of material originality, humor and those that engage with the idea of passing. For example, he has two works by Cynthia Talmadge, who toys with the nostalgia of coastal elites by invoking their coded aesthetics through obsessive procedure. Her paintings are hung not far from plaster work by LaKela Brown that picks up the language of archaeology and classical sculpture but switches the subject matter to histories of Black fashion and culture.
It could be said that all of Ravikumar's ambitions move towards disruption of the establishment. A second-generation immigrant and the son of physicians with artist friends, Ravikumar remembers going to MoMA as a part of his Westchester childhood, yet this familiarity didn't save him from a chilly, albeit brief, encounter in his early twenties with an Upper East Side gallery when visiting a friend at work. "It felt like a mausoleum," he recall. "That is why I've always been attracted downtown, to where people take their programs seriously and other things less so. I like the idea of shepherding in the next generation. I think that is something I'll always do in my collecting. I don't see myself graduating from the community I've built."
Jack Siebert
Familial bonds are a recurring part of the collecting narrative, but rarely does the energy flow up. Jack Siebert is the anomaly who got his mother, Hollywood powerhouse Leslie Siebert, hooked on art. He pinpoints their start to a 2015 trip to the Rubell Museum's show "No Man's Land", during Art Basel Miami Beach: "That exhibition was foundational for us."
Their joint acquisitions since have not surprisingly skewed heavily female, with empowered, established painters like Jennifer Guidi, Luchita Hurtado and Mary Weatherford leading the charge. Their selections feel self-evident, almost impulsively mandated. So far, they have "no regrets." For example, Jack describes Guidi's giant obsessive abstractions at "No Man's Land" as a call to action, and since seeing them has focused his own attention on beauty, especially the kind without borders or a name. "Maybe abstraction is trending again," he sighs, as we discuss a recent rash of articles declaring the death of figuration's reign. "My background is fashion, so I'm used to trends, but the truth is that trends come and go, but abstraction will always have a place because it's embedded in the quest for the unique."
A former fashion buyer raised by a prescient talent scout, Siebert knows stardom can appear in any corner. He admires figurative artists like Gerald Lovell, Brian Calvin, Jenna Gribbon, Chloe Wise and Alex Foxton, and considers their vision of the world necessary for building a well-rounded collection. Furthermore, he also places special focus on supporting his peer group's evolution on both sides of the aisle, and is converting friends into collectors too. "I like being close to the artists, and sharing our commonalities of experience. Watching them grow as my own eye develops is super rewarding," he says. "Investing in young artists is also a more feasible entry point for someone my age who wants to get involved but doesn't know where to begin. Art can be an intimidating arena to enter alone."
Perhaps this is another, subtler tip: collecting is better with friends and family in tow.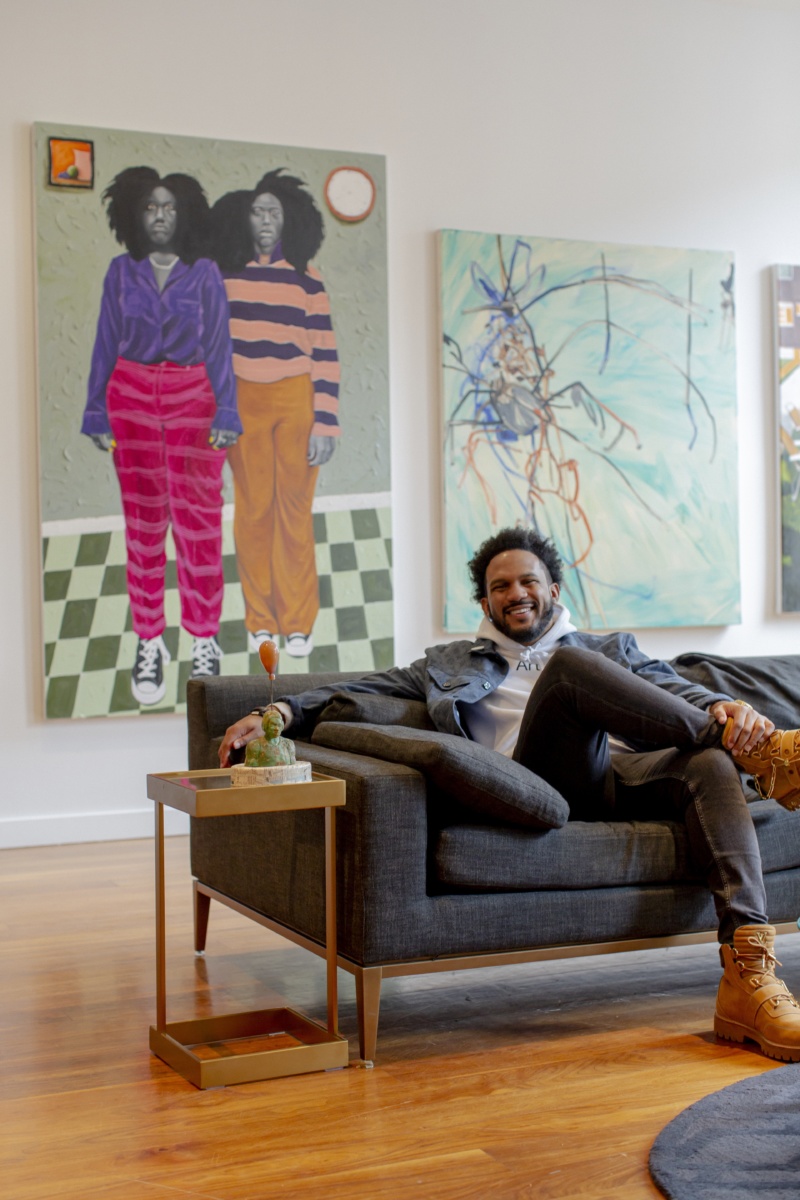 Everette Taylor
"What you've got to understand is that I started collecting at 27, so I'd show up to these galleries in joggers and streetwear, and I don't think they were used to people who looked like me being interested in fine art," Everette Taylor, now 31, says. "Swizz Beatz told me he often encountered the same experience." Taylor's breakthrough came in the form of a chance introduction via the same website he is now the CMO of Artsy.
"When you don't grow up in the contemporary-art world, you need someone to open the door. That person for me was [Chicago gallerist] Mariane Ibrahim. She was the first one who gave me access and made it possible for me to start collecting from other galleries rather than straight from the studio," he says. Their first deal together was for a work by Lina Iris Viktor, who Taylor had spotted on Instagram, and led to a fruitful friendship that the entrepreneur credits for turning him on to art-market darling Amoako Boafo ahead of the hustle.
Taylor's appetite is omnivorous. The sole rule that guides purchases is Black and Brown artists only, but other themes have bubbled up. One is female double portraits. He gravitates towards images of women sharing secrets, embracing, working alongside one another, as an homage to the closeness of his mother and her sister, who passed away. The only portrait of himself he has is by Henry Taylor, a favorite of his.
For Taylor, the most important aspect when it comes to buying is having a personal connection to both the artist and the stories that their work carries. "I can walk through my collection and almost every single piece has a personal anecdote that pops up," he says. "I think the only artist in my collection I haven't spoken to personally is Sam Gilliam."
Only a couple of years and one big career pivot in, Taylor feels the art's holistic sensibility taking over. "It's almost consumed each and every part of my life," Taylor laughs. The corroboration is splattered across every surface of his apartment, which the executive recently had to up-size to fit his burgeoning holdings. "I want to live with the work I buy," Taylor says. "Art requires care and maintenance." I ask who would be worth making more space for. His ultimatum: Noah Davis, Julie Mehretu and Stanley Whitney.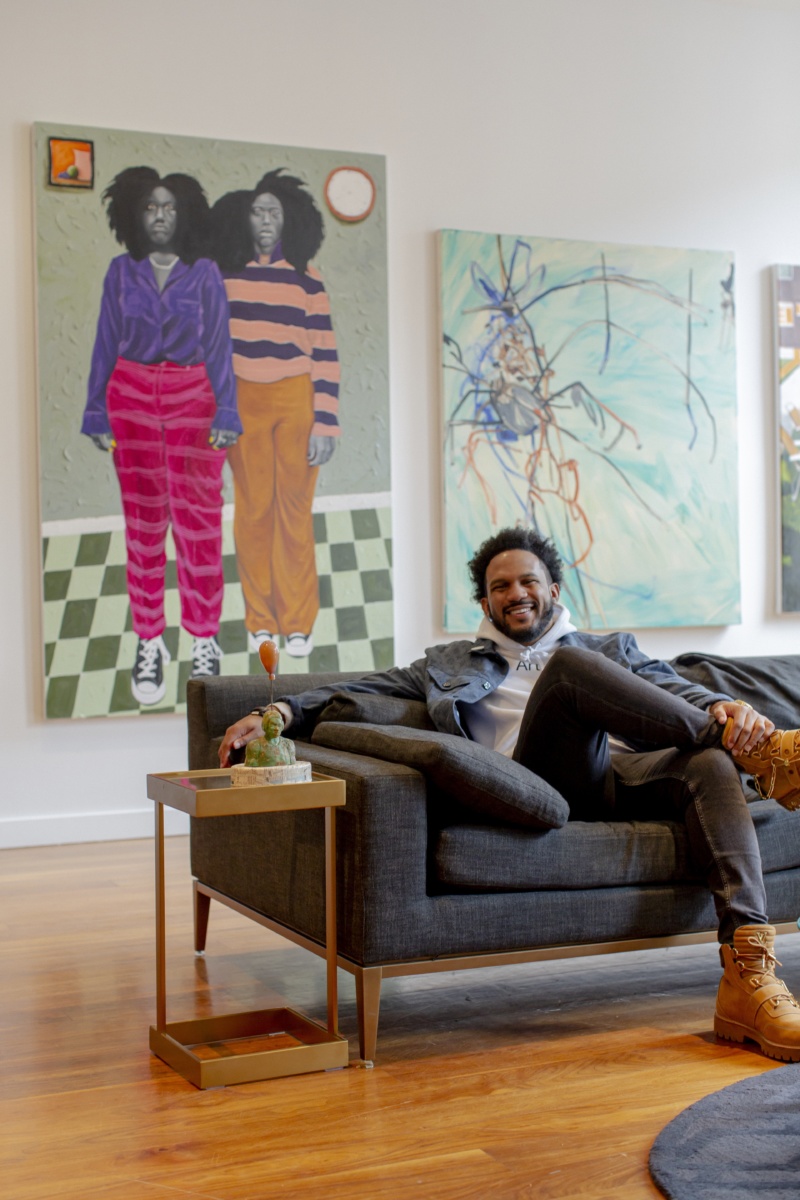 Ezra J. William
Influential fashion plate and jet-set entrepreneur Ezra J. William moved to New York with the intentions of a diplomat, but as a student spent years adjusting to the city's curvatures. Now, at age 31, Williams has recommitted his attention to expanding the social and cultural infrastructure between his native Indonesia and the West. His first efforts manifested a restaurant, Wayan, which sits in the heart of SoHo. The construction of the luxurious Balinese bistro put William in touch with local hospitality-business circles, where art kept appearing like a ghost at the door. The whisper became a shout when a viewing of Dior and I, the documentary on Raf Simons's first season with the storied fashion house, demonstrated the need for a symbiosis of his favorite disciplines. Simons's spray-paint coats blew the doors open. William saw immediately that any pathway to broader cultural exchange would need to include contemporary art. "Hospitality and fashion always felt like a little world," he smiles. "I needed to let collecting in."
Using friends and muses like Beth Redmond and Michael Xufu Huang as lodestars, William began to wade into the depths of art fairs and gallery hopping. He found himself attracted to the same idioms he admired in fashion design: subtle monochromatic palettes and attention to the details of process. In his glamorous black-and-white living room, these preferences come through like a light perfume with the pairing of a wall-swallowing light-blue abstraction by Wolfgang Tillmans and a beaded goat by Paola Pivi above the mantel, and a mirrored panel by Adam Pendleton. He points out a Genieve Figgis rendition of Édouard Manet's Le Déjeuner sur l'herbe (1863) as a thankfully early purchase. He's market conscientious, but doesn't let that be his guiding principle, nor trends, which he understands come and go thanks to his experiences in couture. "I'm interested in where this journey will take me," he says. "Keeping this in mind I have to start humble."
A recent trip to Titus Kaphar's New Haven residency program NXTHVN was top of his mind when we connected. "What's happening there is really special," he says, taking out his phone to show me the work of one fellow in residence, Allana Clarke, whose leather-like acrylic oozes appeal to his love of texture. One day, he hopes to create an institution like NXTHVN focused on cross-cultural exchange, which feels even more urgent given the current rise of anti-Asian violence in America; his plan is to take on the problem with the same nuance and sensitivity he seeks in artists.
Craving more culture? Sign up to receive the Cultured newsletter, a biweekly guide to what's new and what's next in art, architecture, design and more.