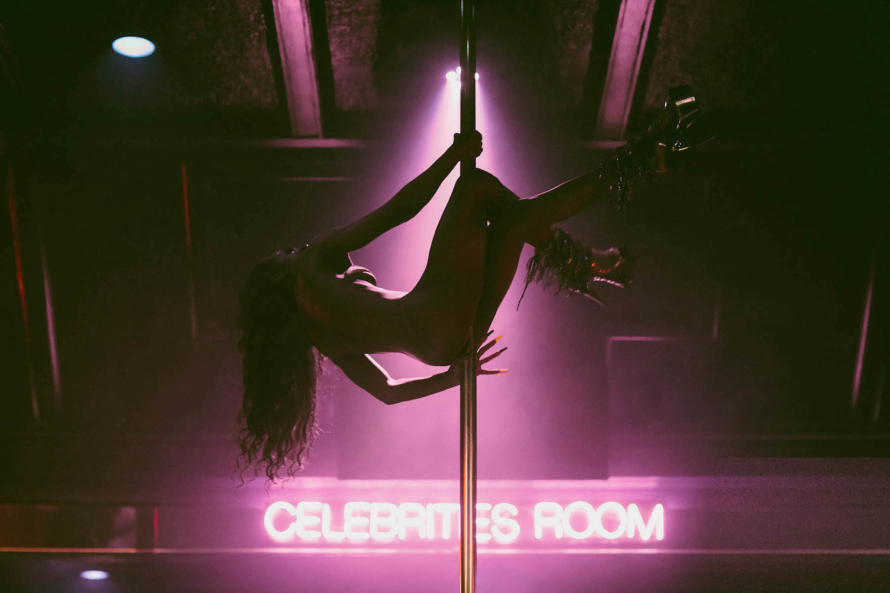 Elizabeth Fazzare: Why was this body of work an important departure in subject for you?
Adrienne Raquel: With ONYX, I wanted to challenge myself to capture a photo series from a new, more documentarian point of view. I also wanted to explore a subject matter that many people may not be fully familiar with. Southern strip clubs have been instrumental in driving culture for decades, especially within the African American community and hip hop. Yet it remains a somewhat hidden culture that we rarely see without physically being inside of a club.
I've always found strip culture to be intriguing, everything from the confidence that the dancers exude to the money to the talent and athleticism it takes to perform. It's alluring from afar, yet mysterious. Photographing this project gave me the opportunity to explore and create a series that truly lends itself to the heat of the moment from a "real-life" point of view, documenting real women. It also gave me the opportunity to show what happens on the scene of one of Houston's most infamous night clubs.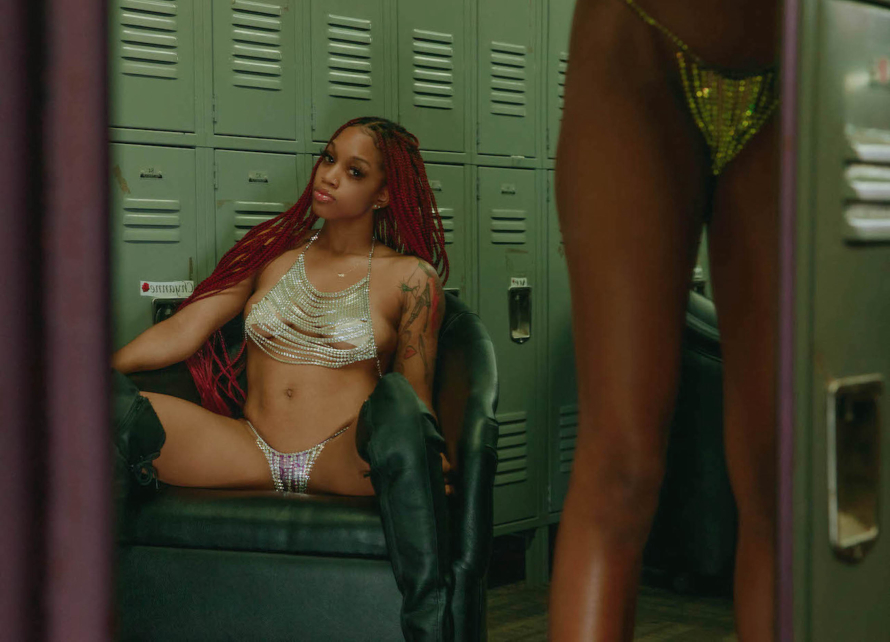 EF: How does this photography style differ from your usual?
AR: Femininity and sensuality are two themes that are ever-present in my work. My photographs revolve around the concept of womanhood, inner self and expression. I love creating images that make women feel beautiful and seen in the best light possible. My photography is rooted in fantasy—it's vibrant, sexy, glamorous, and at times, it can even be dreamy.
The imagery from ONYX embodies these same qualities. I captured this series with the signature vibrant, glossy visual style that is present in most of my work. It also heroes the women that work at Club Onyx as the central focus, which is the common thread in most of my work. I photographed ONYX with the intent of creating images that exhibit the undeniable strength, beauty and uniqueness that each woman possesses. I photographed each dancer in the heat of the moment during performances, and in more intimate moments beyond the performance stage.
EF: What themes of femininity does this body of work explore?
Nandi Howard: I think this work points to a few different levels of femininity that initially drew me to the project. First and foremost, I've always been attracted more to strip clubs than going to, let's say, an art performance. For me, stripping is art. The strength of a woman's body, the beauty she possesses — from her hair to her nails to her body to her outfit. We often see communities throwing thousands if not millions of dollars at prestigious art projects, and strip clubs bring in the same amount of dollars. I was so happy that Adrienne reached out to me, as I felt personally connected to this story being from Houston and living the life that the city provides.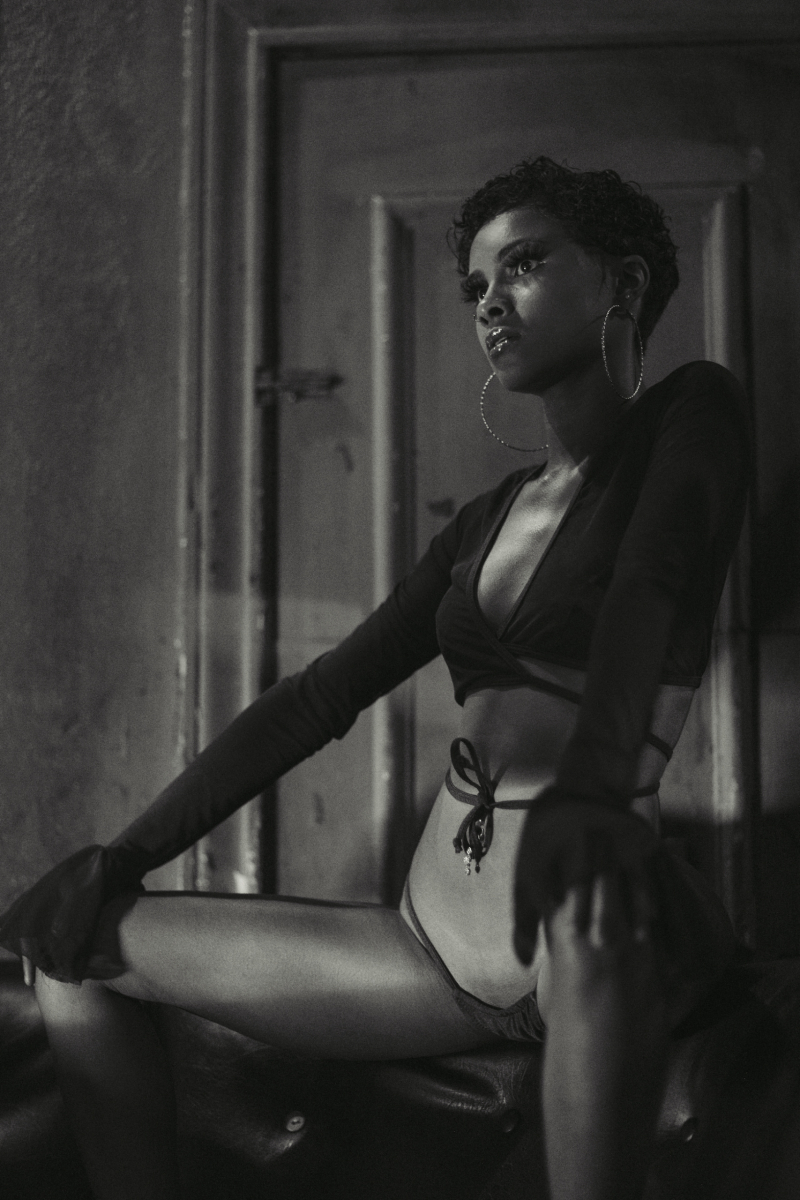 EF: What story do these images tell about Houston, the South and strip culture?
NH: These images show that the city of Houston, and in actuality all of the South, can find the strength to monetize the beauty that the community can bring. Our industry has become more sex positive, and this project is arriving right on time.
Before writing the text for this project I went home to Houston. I went out; I went to the club; I went to Onyx and to other strip clubs on the block. I had fun, and it was nice to remind myself what it was like to have fun. I wanted my writing to be positive and reflective of those experiences, leaving readers with a smile on their face. This past year has been a whirlwind, and it brought me a lot of clarity, joy and purpose to write about the beauty of Black women. I can't thank Adrienne enough.
EF: Do you hope this body of work contributes to the destigmatization of sex and sex-related work?
AR: When people view ONYX, I hope that they drop whatever preconceived notions they may have had towards the sex industry. For decades, sex workers, strip clubs and exotic dancing have been plagued by social stigmas. People pass judgments and immediately demoralize these industries. The women that work in these spaces are ostracized, objectified and minimized because of what they do, how they look and how they earn a living.
In creating ONYX, I wanted to break down these perceptions and lend a new perspective from my own female gaze, which I feel is a rarity in this type of arena. We often see sex workers portrayed and degraded through the eyes of men. As a Black female photographer, my point of view is inherently different. I wanted to show people that there's more to these careers than the debauchery, power, misogyny and money floating through the air. The women who perform on these stages are artists; they possess beauty beyond their outer appearances. These entertainers are real women with talent, hopes, dreams, vulnerabilities and aspirations, just like everyone else. These women are valuable and are worthy of being seen through a different lens.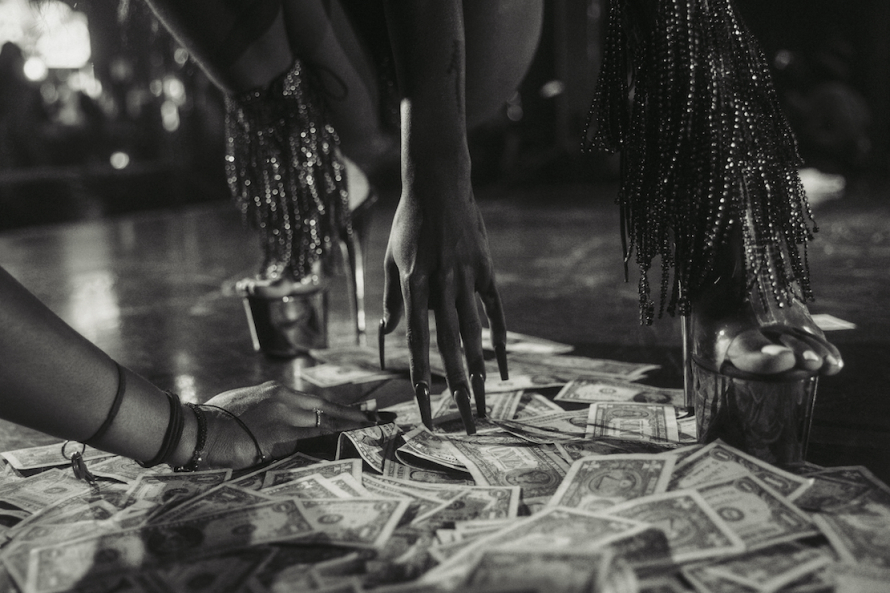 EF: What did you learn in capturing these dancers at Club Onyx?
AR: Everything is not always as it seems.
Craving more culture? Sign up to receive the Cultured newsletter, a biweekly guide to what's new and what's next in art, architecture, design and more.