With its unequivocal SoCal sheen and dreamy, light-cum-high culture pizazz, Los Angeles has emerged as the brightest, buzziest star of the Frieze franchise. For the past four days, over 120 galleries trekked to the art fair's new west coast location at the Santa Monica Airport, where the show's VIP opening day welcomed Hollywood buyers, museum curators, and art world stalwarts alongside a bevy of social media influencers and Angelenos.
Frieze Los Angeles is certainly the event where those with millions to spend have their pick of Lucio Fontanta slash paintings, in addition to celeb-artists such as Agnes Martin, Mark Bradford, Dana Shutz, and Richard Prince. Even with mounting flashes of global uncertainty, blue-chip galleries reported a steady stream of mid-six figure sales. But the fair caters to collectors from across the spectrum, too, as well-known dealers exhibited some of their up-and-coming artists that tilt on the cusp of critical recognition or whose solo exhibitions are on the horizon. Actually, this year's Frieze LA was a stellar venue for young collectors and the kind of serious, steady buyers whose acquisitions don't make headlines but who still drive the market. To that point, an especially strong class of newcomers emerged at the 2023 edition—even in spite of the barrage of splashy, household names on offer.
Kevin Umaña, Film Development of Roman Walls, 2022
Sperone Westwater
There are only a few days left to catch Kevin Umaña's impressive debut show "Wayfinding" at Sperone Westwater on Bowery in New York. The artist, who melds glazed ceramics and organic material like gem minerals and saw dust, with acrylic, oil pastel, and ink on canvas, calls his works "hybrid paintings"—and they are pure delight. "The ceramic portions of the paintings take months to dry, roll out, glaze, and fire," he explains. "But the composition of the painting is already lined up in my head or in the sketches that I make. My work is all about valuing the process over the final product." Inspired by memories of his El Salvadorian childhood, he explains that his dazzling sculptural abstractions reference photos of buses he rode or beaches he remembers fondly. "They're biomorphic and geometric with little hints of representational works in them," says Umaña, whose Film Development of Roman Walls sold quickly for $5,000 at Frieze Los Angeles.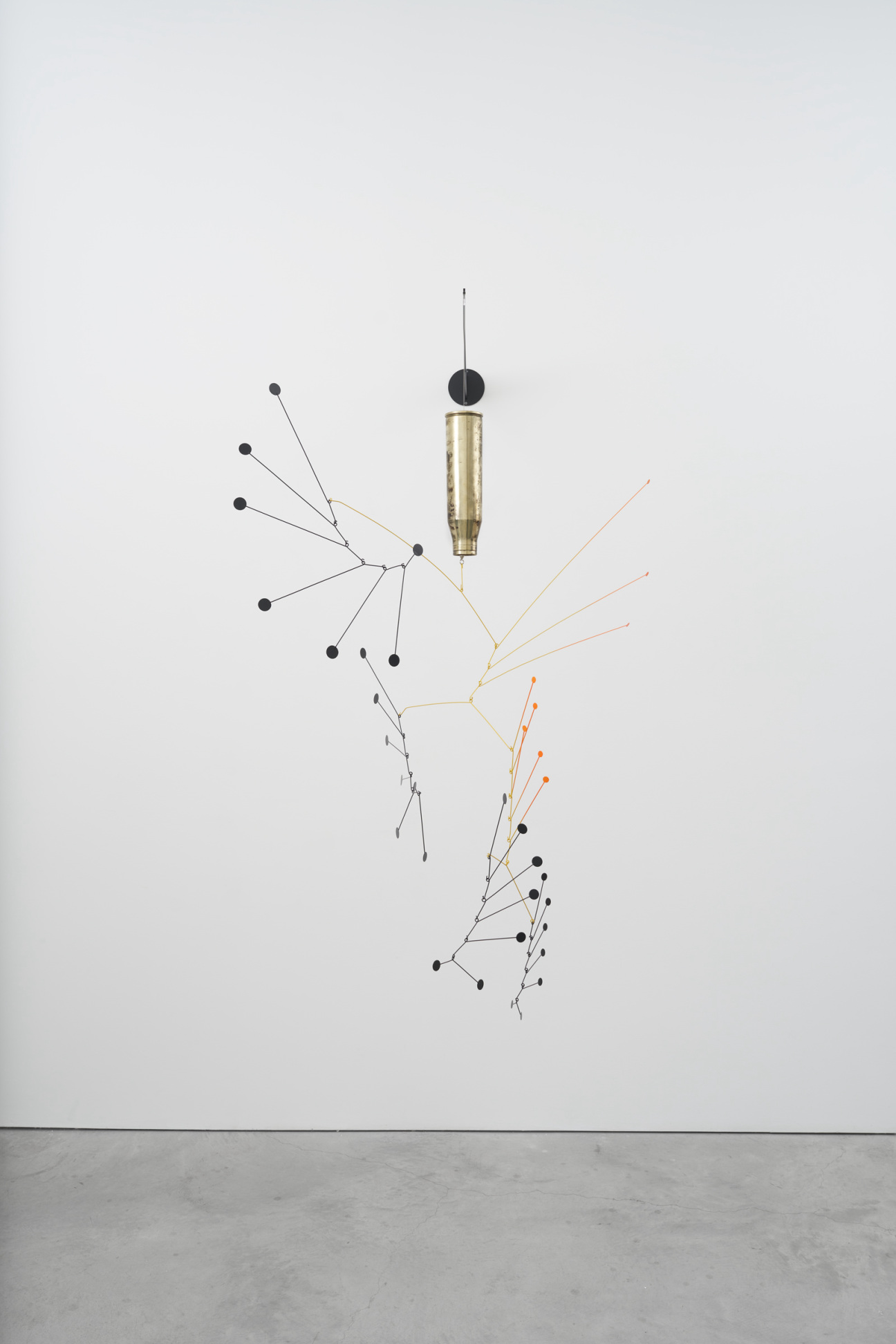 Tuan Andrew Nguyen, Rays from a Sinking Sun, 2022
James Cohan Gallery
This June, the New Museum will present Tuan Andrew Nguyen's first solo museum exhibition in the United States, highlighting the Vietnamese artist's film and video practice alongside his sculptural one. Undoubtedly, you'll be hearing much about this artist in the months ahead. Based between Saigon and Los Angeles, Nguyen's sculpture this past week stemmed from his feature-length film The Unburied Sounds of Troubled Horizon, which was shown at James Cohan Gallery last year. In it, a young woman, Nguyet, lives in a region of Vietnam still reeling from the war, and encounters Alexander Calder's work in a magazine, which mirrors her own artistic practice and ignites a journey into ideas of reincarnation. When the artist was crafting the kinetic sculpture for the film, he transformed Calder's crescent ball shapes into forms that his character harkens to a bomb raid, using brass artillery shells. Yet, his kinetic creations are intended for aesthetic healing purposes. The sculptures in this series move slightly in the wind and can be "rung" by moving the artillery shell for a poignant, resonant sound to comfort those who suffer from Post Traumatic Stress Syndrome. "For me, objects and narrative have a very deep connection with one another," says Nguyen. "When I imagined the film, I simultaneously imagined the objects, but the sculptures have a life beyond the narrative space of the film." Nguyen's Rays from a Sinking Sun, 2022 sold for $35,000 to an American museum at Frieze LA.
Greg Breda, Moving Heaven and Earth, 2023
Patron Gallery
It's no wonder that all of Greg Breda's figurative paintings sold out on the first day of the fair. The self-taught California native acted until the age of 40 before teaching himself his craft. Now Breda, who is in his 60s, uses acrylic, mylar, and paper to capture a realistic central theme against an abstracted or minimal background. There is a calming, spiritual bent to his expressive portraits of African Americans, with soulful subjects often accompanied by softly sensuous elements of nature. VIP guests took note—Patron Gallery's Focus booth was mobbed from the moment doors opened. Breda's Moving Heaven and Earth, 2023 sold for $85,000.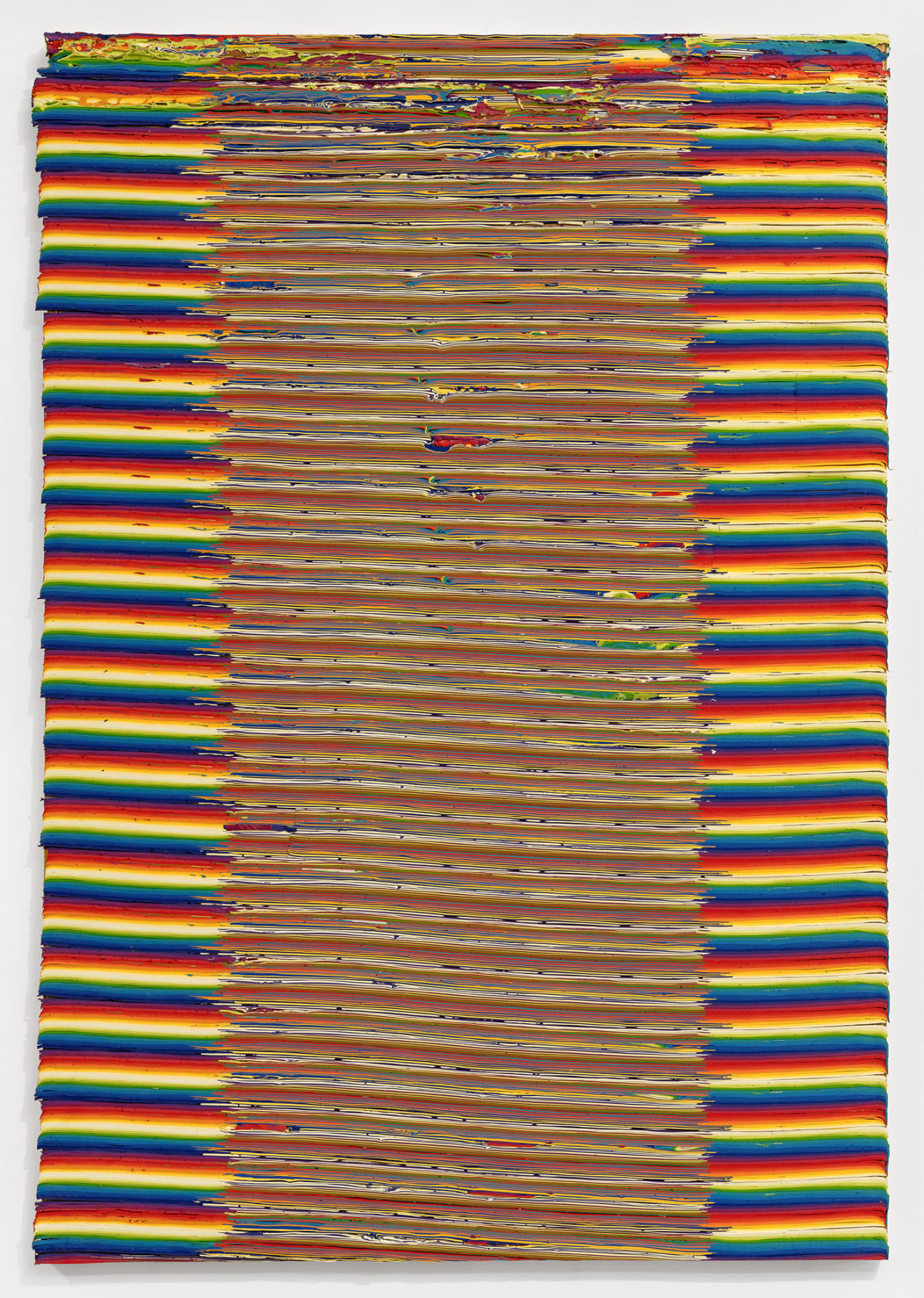 Loriel Beltrán, Contrast Sequence Expanded, 2022-2023
Lehmann Maupin
Last week's Frieze attendees were given a sneak peek look at Lehmann Maupin's latest addition, Miami-based and Venezuelan American artist Loriel Beltrán, whose first spotlight exhibition in New York opens next month as part of the gallery's "In Focus" series.
Beltrán's works are uniquely labor-intensive, pushing sculptural painting and materiality to new heights, in a proprietary process that even the most VIP guests couldn't get the gallery to divulge. With roots in Neo-Concretism, Op Art, and Latin American Modernism, Beltrán, whose Contrast Sequence Expanded, 2022-2023 sold briskly for $40,000 at Frieze, is a striking contemporary artist to watch closely in the coming year.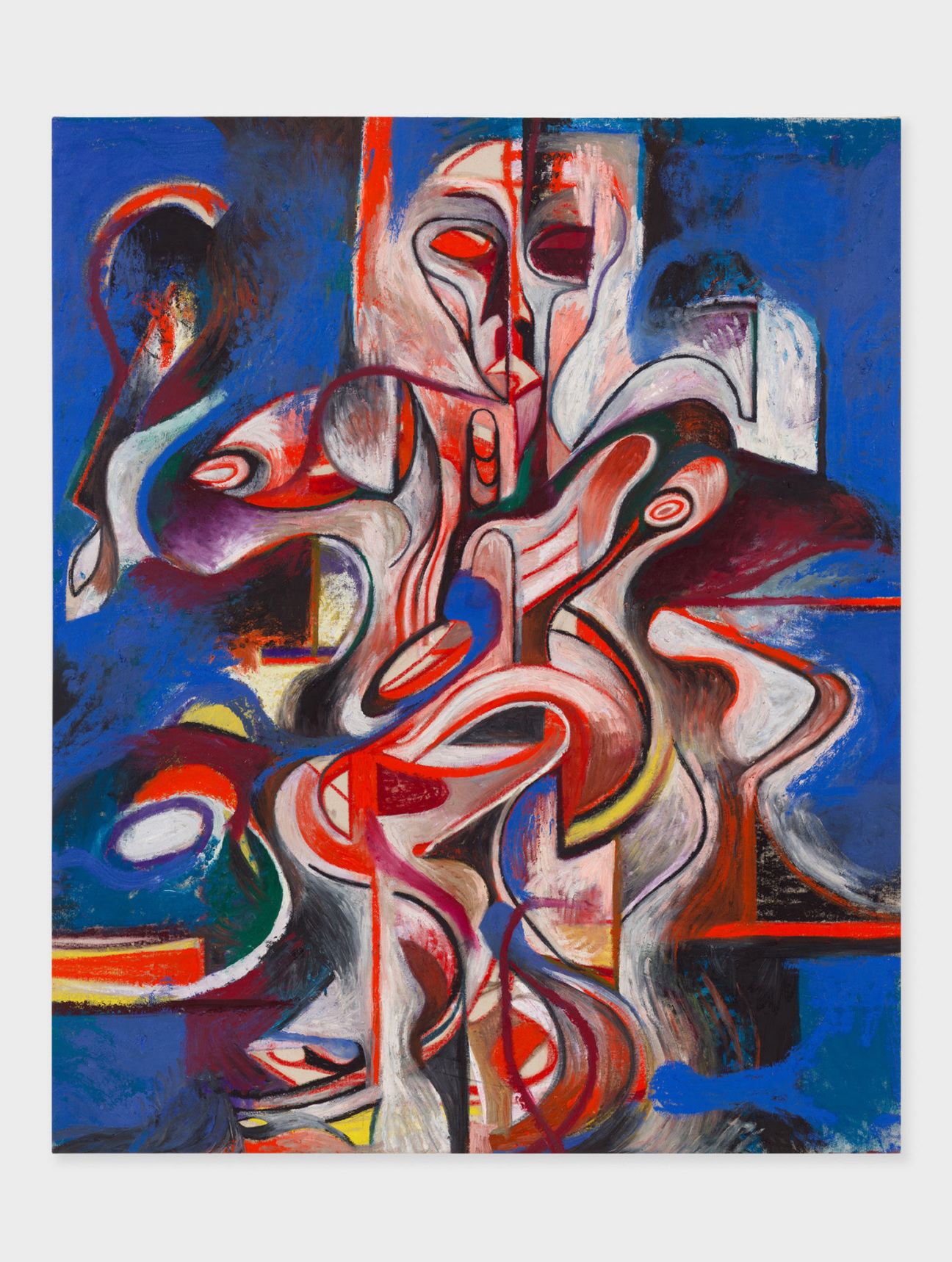 Zio Ziegler, Winged Victory, 2022
Almine Rech
Working primarily in oil-stick, which he then adds texture to through pumice and sand, Zio Ziegler's paintings nod to the monumental greats of Italian Futurism and 20th century Abstraction. Each work is a contemporary twist on Francis Bacon and the artist's own intense, suffused vision of consciousness. An interdiscipline exemplar, Zieglar also writes films and is currently working on Bad Art, which he self-describes as "the journey in a mind moments before an artist makes a painting—the instant of volition, inspiration, isolation, and reflection—all pouring into a 'reality' that becomes a work of art," exactly what a viewer would so desperately yearn to know more about standing before one of the artist's pieces. Collectors at Frieze acquired Winged Victory, 2022, a paradigm of Zielger's style, for $37,000.