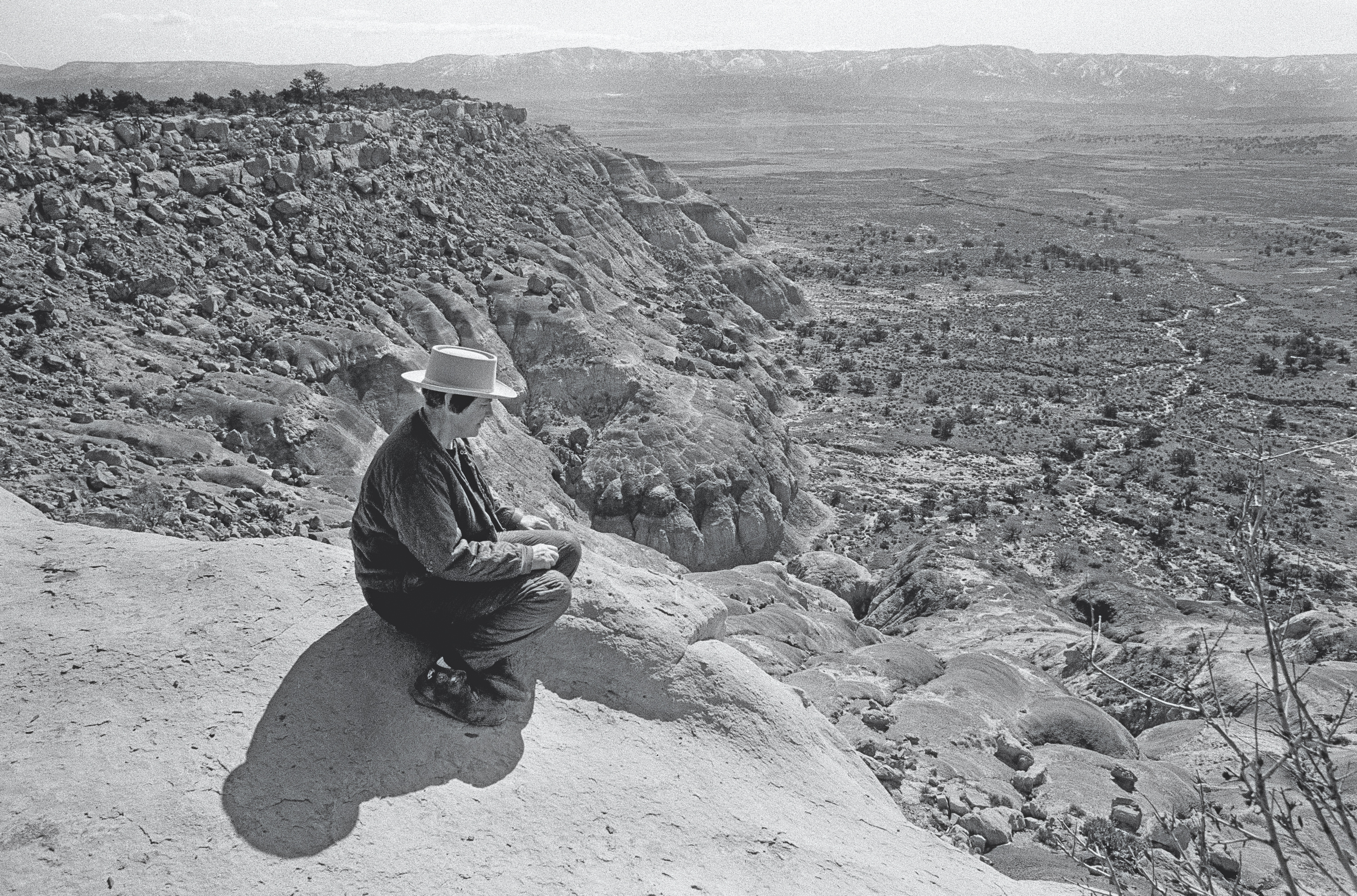 A small crowd is gathered on the third floor of the Los Angeles County Museum of Art. The door opens and LACMA's director, Michael Govan, steps out. Several uniformed people shout at the most recognizable man on the campus: "Michael! Michael!" A smile crosses his face.
"It's a security walkthrough," he says to me before turning to address the museum's guards, who will be watching over the retrospective of Agnes Martin paintings that opens the next day. "Everybody like the show? Yes? All thumbs up!"
An elderly guard beams at Govan. "We'll take care of it for you," she says.
Govan's smile continues into the gallery—the retrospective is his baby and it shows. He first met Martin when he was the director of the Dia Art Foundation, where he helped build one of the finest non-profit collections in the world from 1994 to 2006. Martin would ring up Govan in his office and he would tell her about what he was doing with the collection. "We used to have conversations and she said at one point, 'You'll be receiving some paintings,'" he says, mimicking her perfunctory speaking style. Those works were Innocent Love (1999), a series of striped works painted in the washed-out pastel color of Valentine's heart candies made specifically for Dia.
Govan and Martin maintained a friendship until she passed away in 2004. When he left his Dia post to head up LACMA in 2006, he brought with him the idea of honoring A e of his favorite artists. "I hung a painting when I first got here," he tells me as we stroll through the show before the opening. "We have a six-foot painting in the collection, but this retrospective was one of the first things, 10 years ago, that I wanted to bring to LACMA. We were going to be the co-organizers, but I didn't have the bandwidth at that time to do that, so I decided we were going to be a venue. Some of these paintings I've hung at Dia. It's like bringing a little bit of Dia here to LACMA."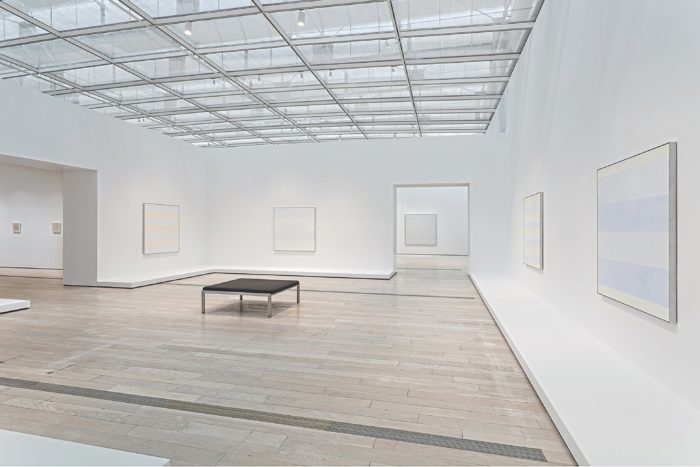 The retrospective traveled from its origin at the Tate Museum to the Kunstsammlung Nordrhein-Westfalen in Düsseldorf to L.A. (through September 11, after which it will be installed at the Guggenheim in New York), and it is exquisite—a chronological journey through the career of a singular artist whose interest lay in translating indefinable transmissions that would arrive in her head. "She's not depicting nature, but there is some intersection between the notion that nature and geometry are not discordant in the same way that a Platonic philosophy would be connected to the cosmos, which would be connected to nature," says Govan, who co-curated the LACMA show with associate curator Jennifer King. "Whereas a lot of abstract artists were interested in the human and the hand gesture in a very aggressive way, she was using the hand and eye to somehow connect and resonate in a different way with nature. A lot of people have spoken about Taoism, they've spoken about this and that, but what's true is that it's both all there and none of it's overwhelmingly there. You can't pin any of those things on her work and say, 'Oh, I see how to read it,' because her work constantly escapes any of that organization. She hated that."
Born in rural Saskatchewan, Canada, Martin was a late bloomer, developing her craft over several years between New Mexico and the Coenties Slip neighborhood of lower Manhattan. In New York, she was neighbors with Ellsworth Kelly, and championed by Barnett Newman and Ad Reinhardt. But it wasn't until her 40s that she started making work that she liked. Everything up until that point, she destroyed. Or tried to destroy. On view at LACMA are rare examples from her early period that escaped what Govan calls her "ruthless editing." Here, Govan points out, Martin was working with circles and protozoan forms rather than the grids and lines she'd later become known for. "What you notice about these pictures you might associate with O'Keeffe or Gorky or another biomorphic Abstractionist, but the palette is completely different. She comes of age in that AbEx moment, but you see her working—these are 1950s paintings—with a different point of view."
That soft color palette would make her paintings glow for the next 50 years, as she sorted through different techniques in ways to transmit her inspiration onto canvas. In 1964, she painted The Tree, one of her first masterpieces—and one with a baffling explanation. "There's the famous quote about how she was thinking about a tree and a grid comes to her," Govan says while standing in front of a grid painting. "That's where you know that nature and geometry and cosmos are all allowed together."
From On a Clear Day, Martin mostly abandons the grid in favor of stripes, which are seen in the latter half of the exhibition. "So you see the change: She's in the desert, she doesn't paint for a time, she issues this manifesto, now she's really interested in the line," says Govan. "And you see how she gessoes the surfaces of the painting in white, which gives them more reflectance, and then starts using translucent glazes. It's hard not to see how spending the time in the Southwest in the desert and the sunshine, and seeing how light functions in a different way, she could come up with that."
We pause in front of a drawing that looks remarkably ancient, a grid on parchment that could have come from an archeological dig in Mesopotamia. Across the gallery, viewable from that drawing, is a large painting glowing chalky blue and pink like a sunset or the muted tones of a wardrobe worn on a spaceship.
Just as I'm thinking this, Govan also pauses to ponder, furrowing his brow. He's thinking the same thing that I am. "They could be ancient or they could be futuristic," he says. Which is perhaps the most relevant thing about the show itself: Martin's paintings are timeless objects of the ether, hanging out on an interstellar plane until a viewer comes to stand in front of them. Then, as an afterthought, Govan says, "I think people coming here are really going to like them." He might be talking about the LACMA audience, but the look on his face—the same broad smile he's worn the entire time we've been walking through the galleries—reveals the museum director's own passion for Martin's work.