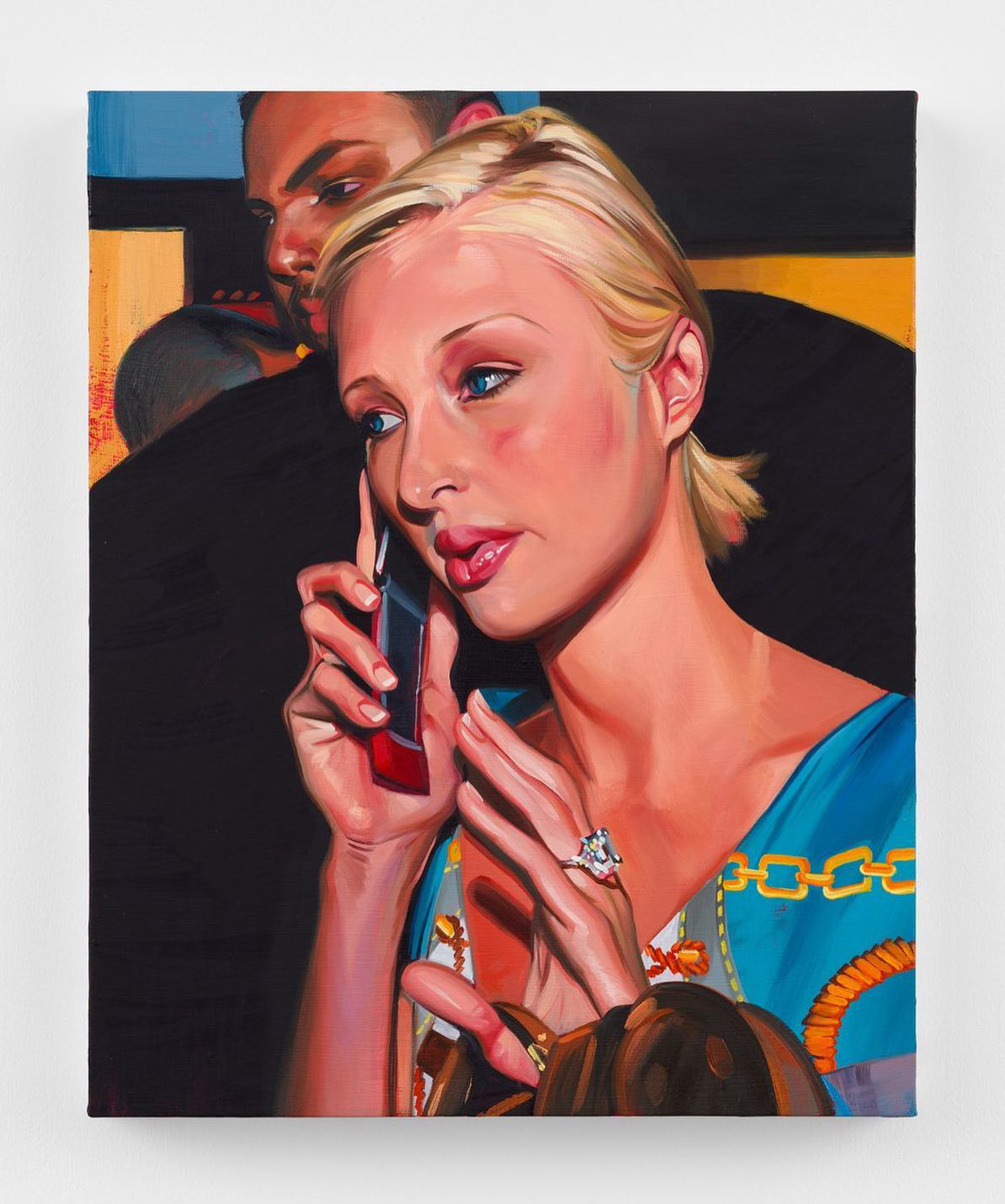 Frieze Los Angeles may be the only art fair where you don't bat an eye at the sight of Paris Hilton admiring a painting of Paris Hilton (Sam McKinnis's Paris Hilton on the Phone (with Bodyguard), 2023). For its fourth, and largest, iteration of the international art fair, Frieze Los Angeles has set up shop in two spaces at the Santa Monica Airport, the new, sprawling location promising an expanded range of representation: The East Site and Barker Hangar combined house over 120 galleries from 22 countries. Does McKinnis's portrait, the first artwork to catch my eye at Frieze, foreshadow a fair focused on vapid commodification, wry commentary, or moments of intimacy?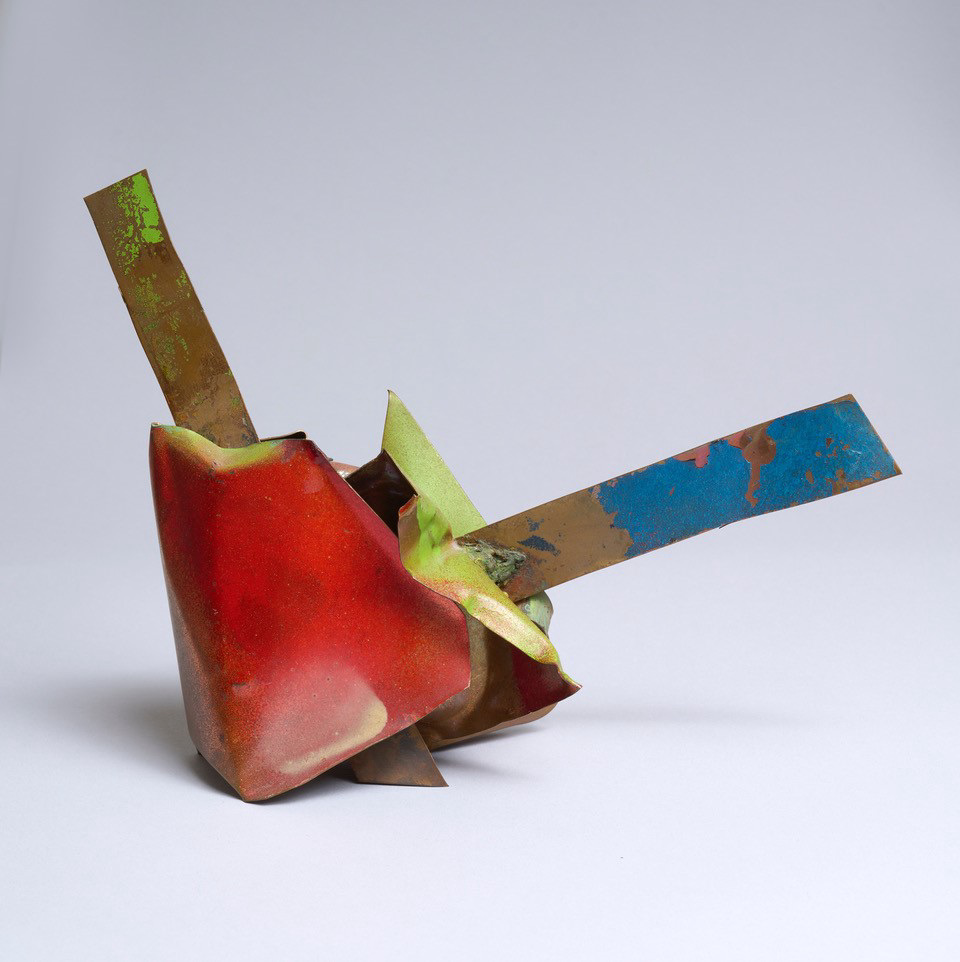 Entering this year's fair, the first thing that is evident is that minimalist abstraction has had its time in the spotlight and figurative painting is back. This goes hand in hand with the effort to extend the boundaries of representation, often manifesting in identity-based portraiture. For a sterling example, look no further than preeminent master of contemporary portraiture Kehinde Wiley, who blends Renaissance tropes with modern, Black culture. Even when paintings at Frieze LA verge on the abstract, they often do so as a departure from figuration, as in the case in Dana Schutz or Bob Thompson's gorgeous, swirling characters. Abstract sculpture, however, is very much in, as evidenced by appearances of works like Doug Aitken's mirrored wall sculptures and John Chamberlain's vibrantly painted, bent copper forms.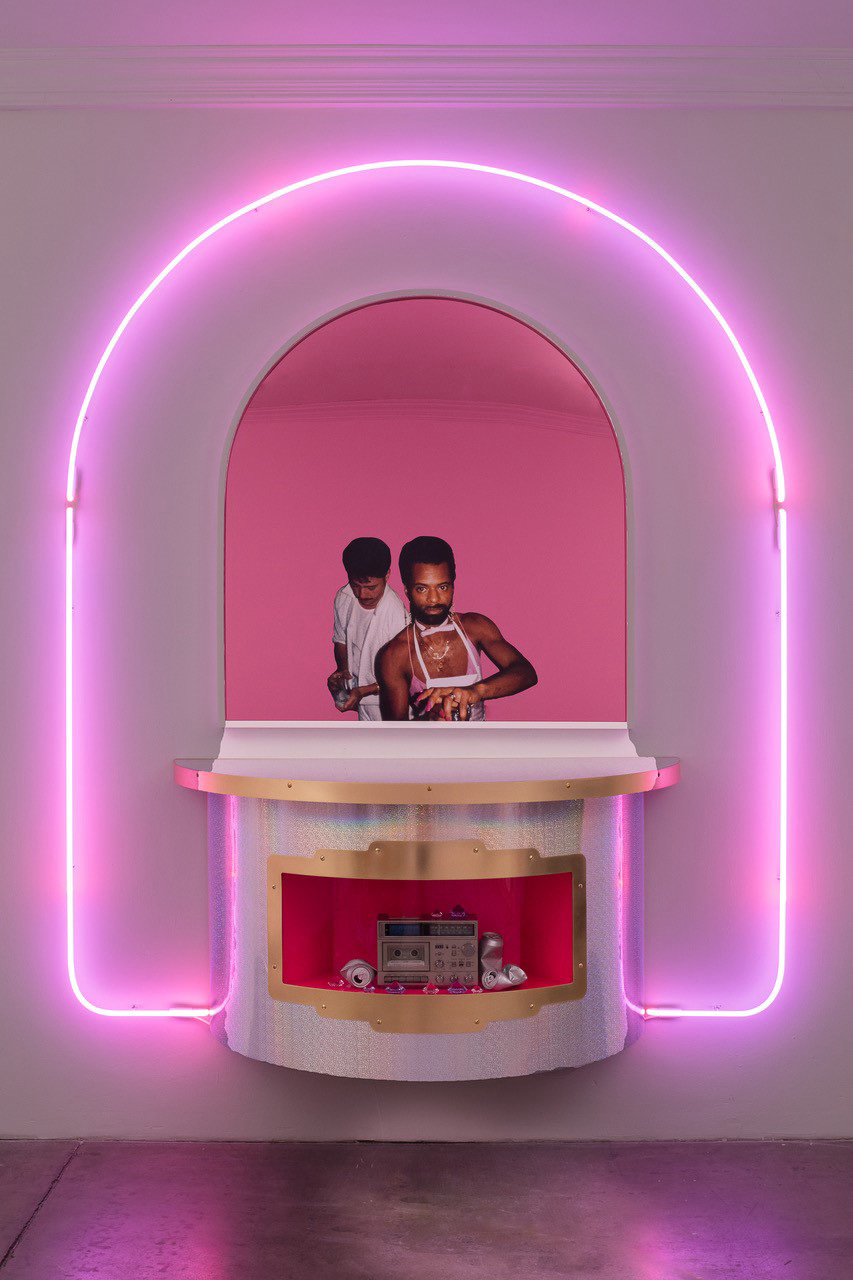 Selections in photography, video, and installation are more limited, with a few shining exceptions. Arthur Jafa's 2023 series of untitled collages brought by Gladstone Gallery function almost like photo essays, and offer a stark look at media portrayals of the Black body in pop culture, from glorifying to ghastly. Sadie Barnette's installation Mirror Bar, 2022, courtesy of Jessica Silverman, is a glittering vinyl-upholstered bar, behind which a life-sized photograph of two men mixing drinks is applied to a mirror with a purple neon frame. Where Jafa offers commentary, Barnette extends an invitation; in both cases, looking becomes an active, dynamic experience.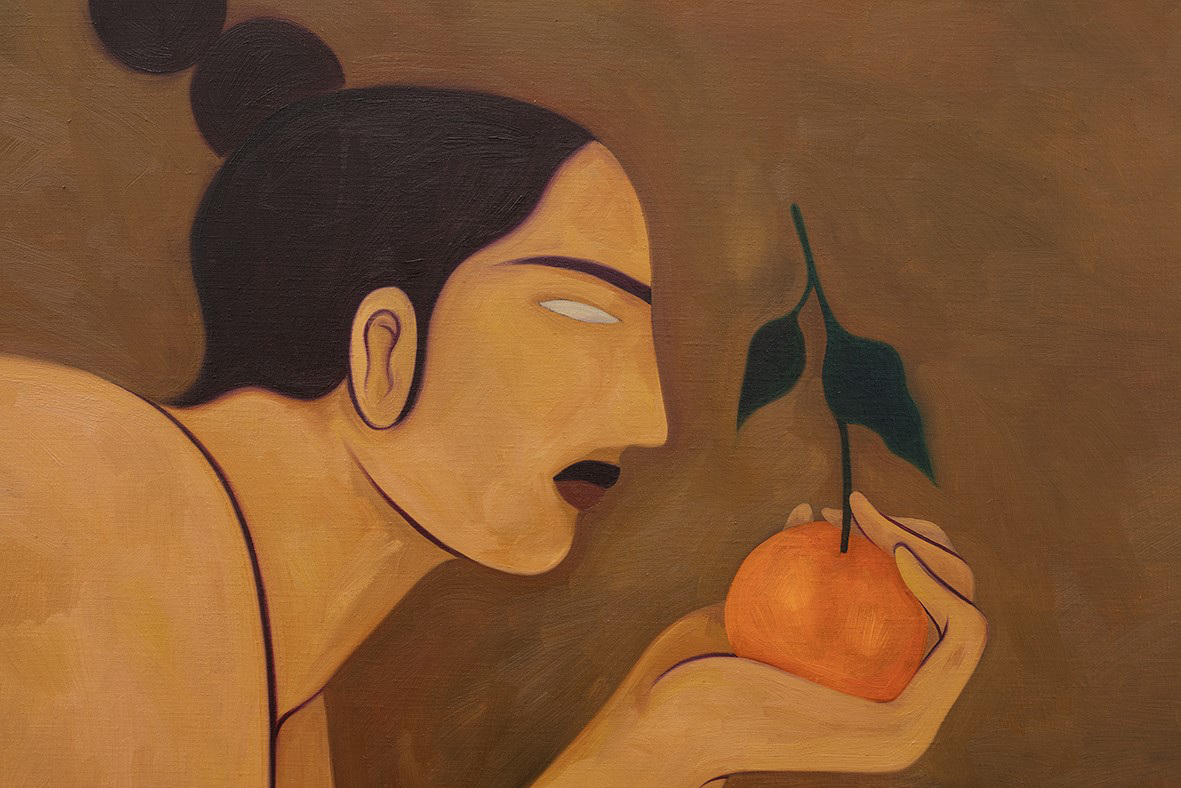 Amidst the many booths crammed with a wide range of work, this year's are at their best when galleries focus their offerings mostly on a single artist, especially those who explore intimate themes. Hilda Palafox's large-scale oil paintings, presented by Proyectos Monclova, are breathtaking both in their graphic brushwork and narrative quality. Winner of the 2023 Impact Prize, a new initiative launched in coordination with Define American and Endeavor Impact, Narsiso Martinez displays a small solo exhibition of mixed media portraits of farm workers illustrated directly on cardboard produce boxes. The story Martinez tells is one with deep roots in the history and legacy of migrant labor, especially relevant given the fair's proximity to the Central Valley.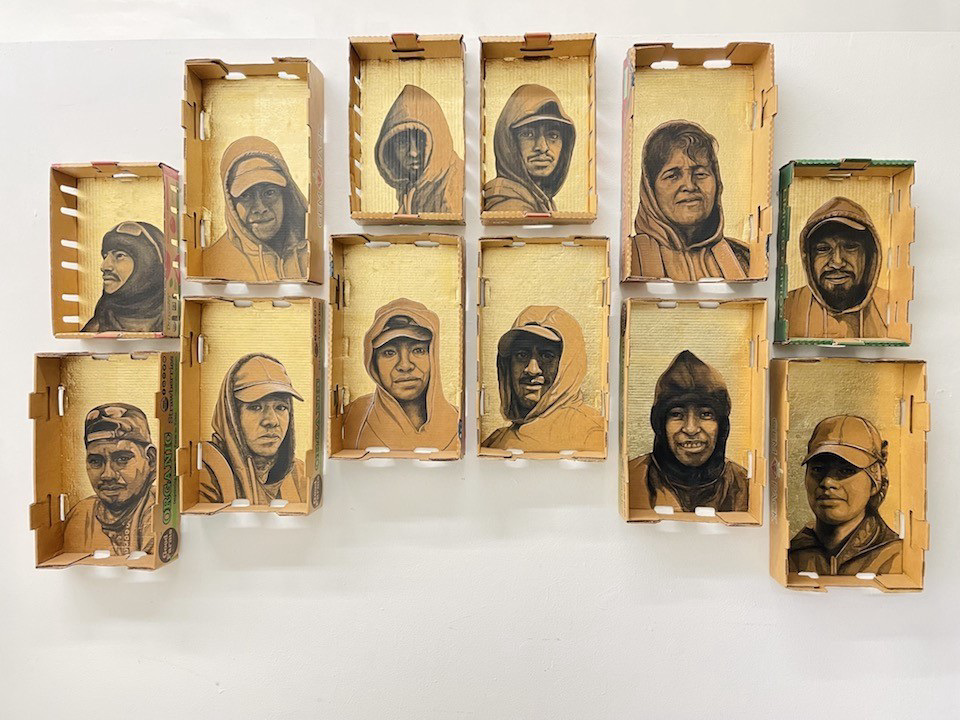 Taking up about half of the Barker Hangar, the Focus section of the fair features younger galleries from across the United States, emphasizing solo or duo shows by artists exploring themes of identity and intimacy. Camila Falquez's photographs of queer and genderfluid Black and brown folks, courtesy of Hannah Traore Gallery, are moving for their raw and unapologetic vulnerability. Milano Chow's intricate, hyper-realist graphite illustrations of Classically influenced apartment buildings, their windows revealing private scenes of the residents inside, were among the best things I saw at the whole fair. And there's almost too much to see.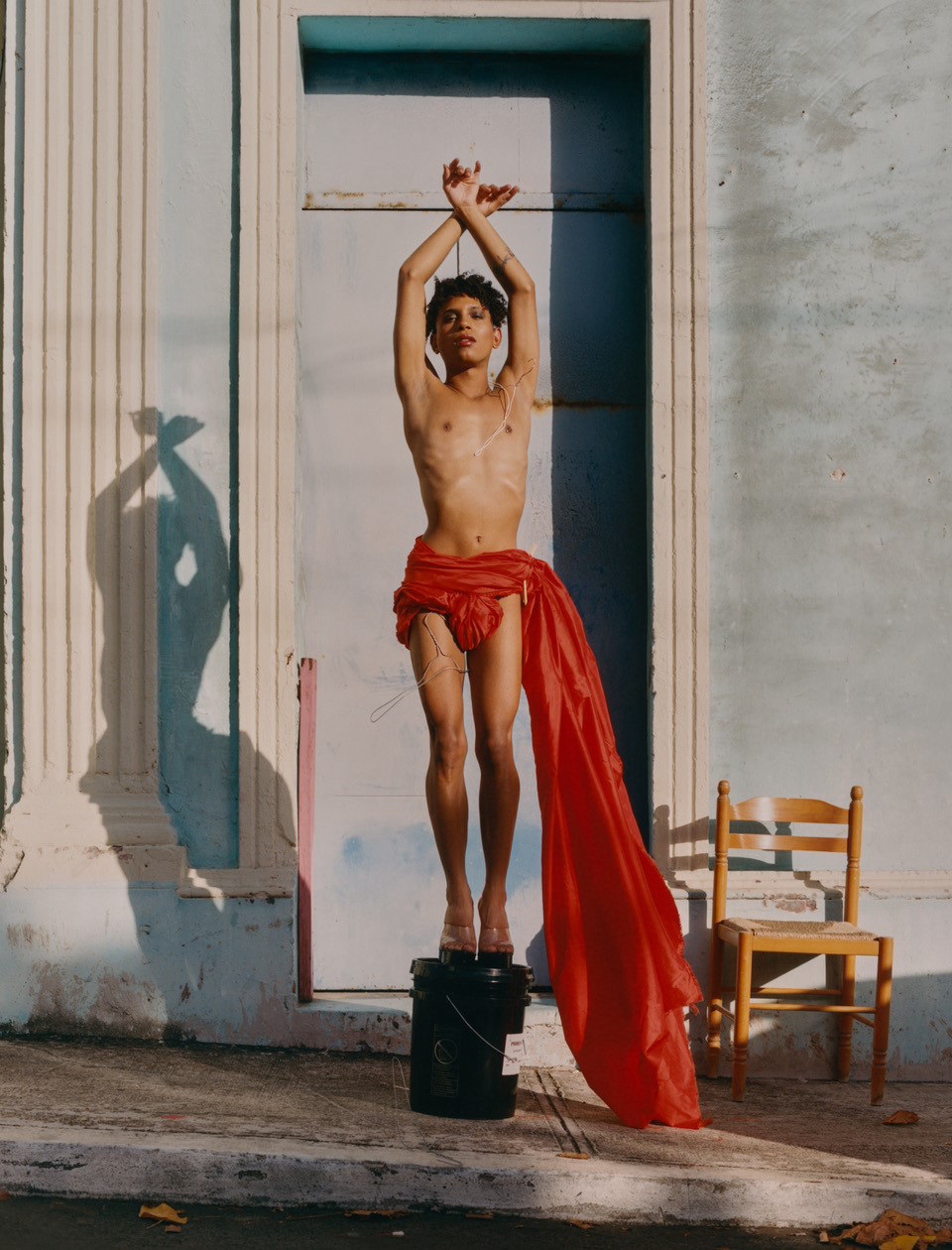 Does the staggering selection at this year's fair drown out these more poignant experiences? I wondered as I watched two women reapply their lipstick in the reflection of a metallic sculpture. This seemed like a perfect visual metaphor for how surface can supersede substance. Attempts at commentary on the commercial art market, like Nancy Spero's 1974 text painting Screw Corporate Art, or Barbara Kruger's Untitled (Value), 2013, which shows a woman staring lustily at a diamond necklace, ring hollow, while Ferrari Shephard's gorgeous, expressionistic paintings of embracing bodies are literally gold-plated.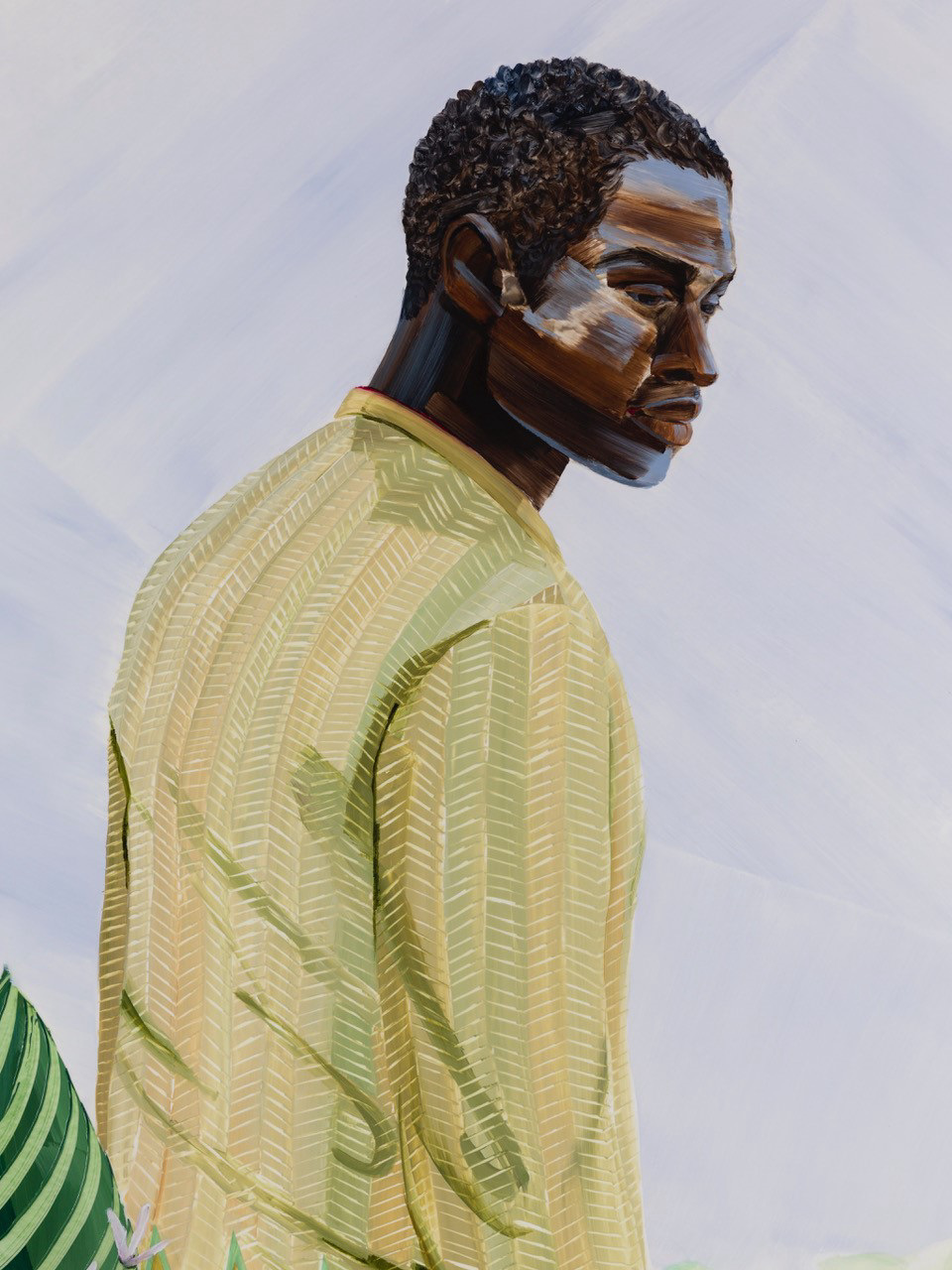 In the end, however, decadence is no substitute for sincerity, and it is the more intimate, understated artworks that cut through the noise, giving viewers the chance to experience personal, human connections made all the warmer for their glitzy surroundings. Even McKinnon's portrait of Hilton is, perhaps counterintuitively, about humanity, revealing the celebrity in an intimate moment of vulnerability. But that's the thing about Los Angeles: nothing is what it looks like.