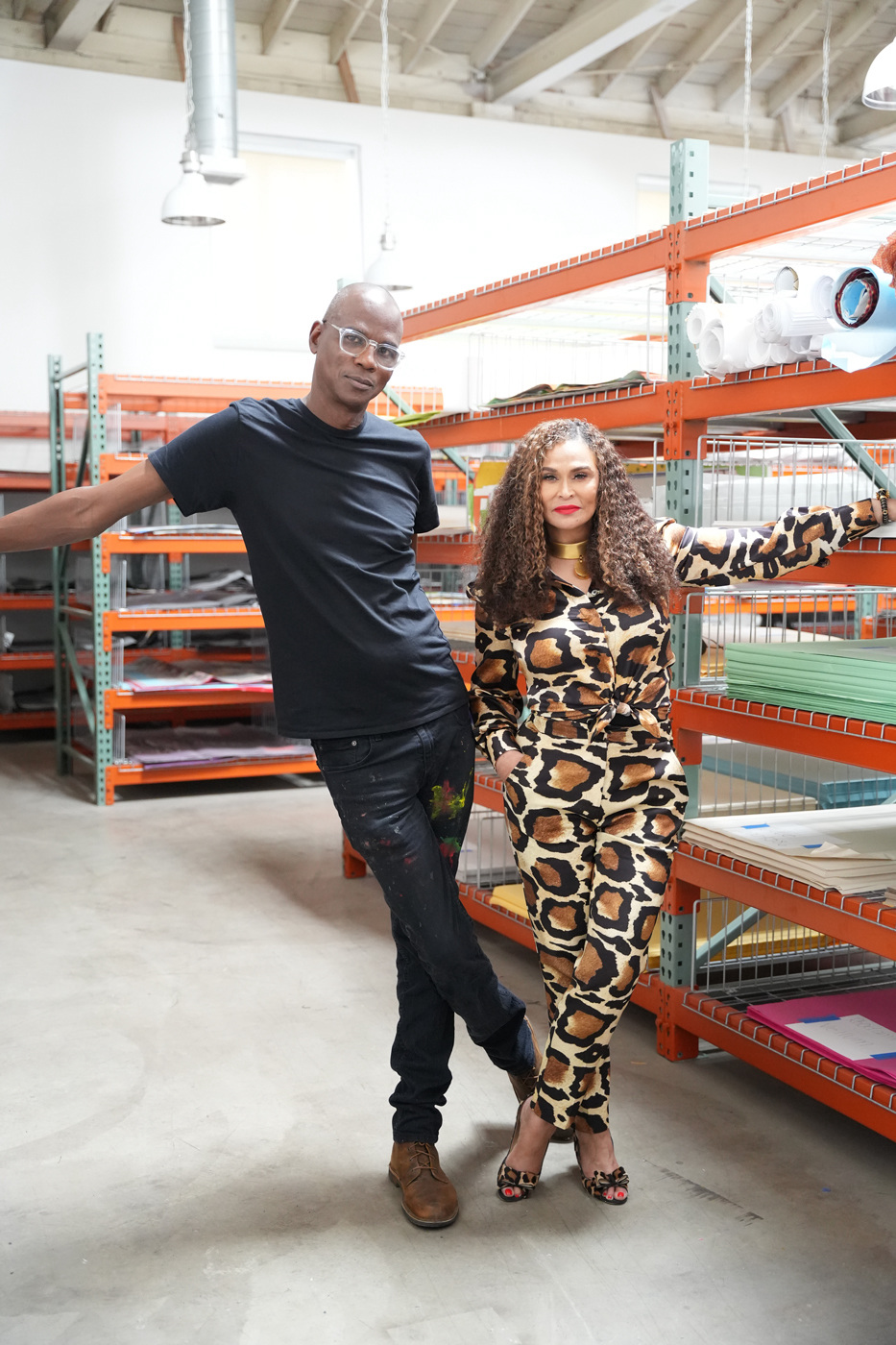 When Tina Knowles Lawson and Mark Bradford met, there was instant chemistry. But it wasn't just their shared love of art and philanthropy that sparked their connection, but something else unexpected: they both had careers at hair salons. While Bradford navigated freelance hairstyling in Los Angeles for many years, Knowles Lawson owned a successful salon in her native Houston. Black-owned beauty salons and barbershops have long been considered more than a place for hair care; they are often safe spaces for family and relationship advice, a place for local vendors to sell new merch, unofficial childcare centers, and so much more. A trip to the hair salon can be a day-long experience, and relationships between clients, hairdressers, and other waiting guests have time to grow into a level of intimacy like none other—much like the relationship between artist and collector.
While Bradford has since become a world-renowned artist, Knowles Lawson, also known among friends and colleagues as "MT," has become an ambitious art collector and philanthropist. "Within five minutes, we just knew each other. We didn't even have to go through the awkward stage," says Bradford, reflecting on their first meeting. "I talk in a very specific way which she picked up on," he continues, alluding to the particular kind of banter that has come to define hair salon conversations and confessionals. "We just kind of went into instant friendship."
I understood Bradford's sentiments about Knowles Lawson after our first few interactions. I spent a summer day at her Hollywood Hills home photographing her impressive art collection, which includes works by historic artists like Henry Ossawa Tanner, Elizabeth Catlett, and John Biggers, as well as by younger artists including Toyin Ojih Odutola, Genevieve Gaignard, Kenyatta A.C. Hinkle, and Rob Pruitt. There's also a lovely portrait by her granddaughter, Blue Ivy, daughter of Beyoncé and Jay-Z.
After spending time with the pair, I began to see many similarities, from passion to success and the fact that they both maintain close ties to their hometown communities. Bradford's nonprofit organization, Art + Practice—which he co-founded in 2014 with Eileen Harris Norton and Allan DiCastro—is based in Leimert Park on the same block where he once worked as a hairdresser. In addition to providing free public access to its museum-curated contemporary art exhibitions, the organization supports transition-age foster youth in LA through its partnership with First Place for Youth.
Similarly, Knowles Lawson stays close to her Houstonian roots while immersing herself in LA's cultural scene. She currently serves alongside her husband as co-artistic directors of WACO (Where Art Can Occur) Theater Center. "Richard and I started WACO to have a place where the dreams of artists could be manifested, and to create opportunities for young people to experience things beyond their zip code," she explains. The organization empowers artists of color and inner-city students, exposing them to all aspects of art and life that they may not otherwise have the opportunity to experience. "I had a mentor who poured into me, and brought me to see Alvin Ailey as a young person. We work to recreate that experience for the kids and the artists we serve every day."
"Tina's fundraising is about sustaining these programs which construct a kind of creative scaffolding around young artists, young people. She's really trying to develop the next generation of creative thinkers, and that takes sustainability and that takes money," says Bradford, who was the Art Icon honoree for WACO Theater Center's Wearable Art Gala 2022, which was hosted this past October and also awarded Angela Bassett the Film & TV Icon Award. "She's doing even more than she knows."
That sentiment was shared by many of the artists in this year's gala auction who donated works to support the cause: Derrick Adams, Rob Pruitt, Shinique Smith, and April Bey, among them. "Tina and Richard have created an organization that really is about sustainability," Bradford reflects, adding: "They are investing. That's what I call an architecture around young people. And that I respond to a lot."