How did you begin to build your own collection?
My husband, Adam, and I both grew up in New York City, and our parents took us to museums from an early age. While Adam pursued studio art in high school and college, I knew I had no artistic talent but an immense appreciation for it. I went to Emory and studied with inspiring professors, including Dr. James Meyer—now a curator at the National Gallery in DC—who not only helped me build my solid foundation of art history but trained my eye on how to look at art.
After college, I was lucky enough to work for Evelyn and David Lasry at Two Palms, who remain my role models both professionally and personally. Evie and David gifted me some beautiful etchings by Elizabeth Peyton, and Mel Bochner gave me a Blah Blah Blah monotype, which is still a crowd favorite in our house. In retrospect, my collection began, in large part, as a result of their generosity. After I started working at Lehmann Maupin in 2009, Adam and I became inspired to start building a collection together. As I am surrounded by art in my professional life, it was—and remains—impossible not to fall in love with the works hanging around me. I've long admired Do Ho Suh and Hernan Bas and was determined to work hard and acquire pieces that I could also live with.
What was the first piece you purchased?
The first piece I purchased was an Albers Homage to the Square print for my husband Adam for his birthday. I had just seen a small and beautiful Albers show at the Morgan Library. Adam was a studio arts minor and had studied and admired Albers, so I knew it would be very meaningful to him to own a print. I bought it from my dear friend Andrew Witkin at Witkin Krakow in Boston who specializes in Albers prints. I was 26 at the time and would send Andrew $100 checks every month to pay it off. It's still one of the most treasured works we own. I often share this story with young clients or a new client aspiring for a work that may feel out of reach. Galleries are often so willing to let new collectors pay in installments. I find it inspiring that a young collector is willing to stretch and commit to a work that would otherwise be beyond their means.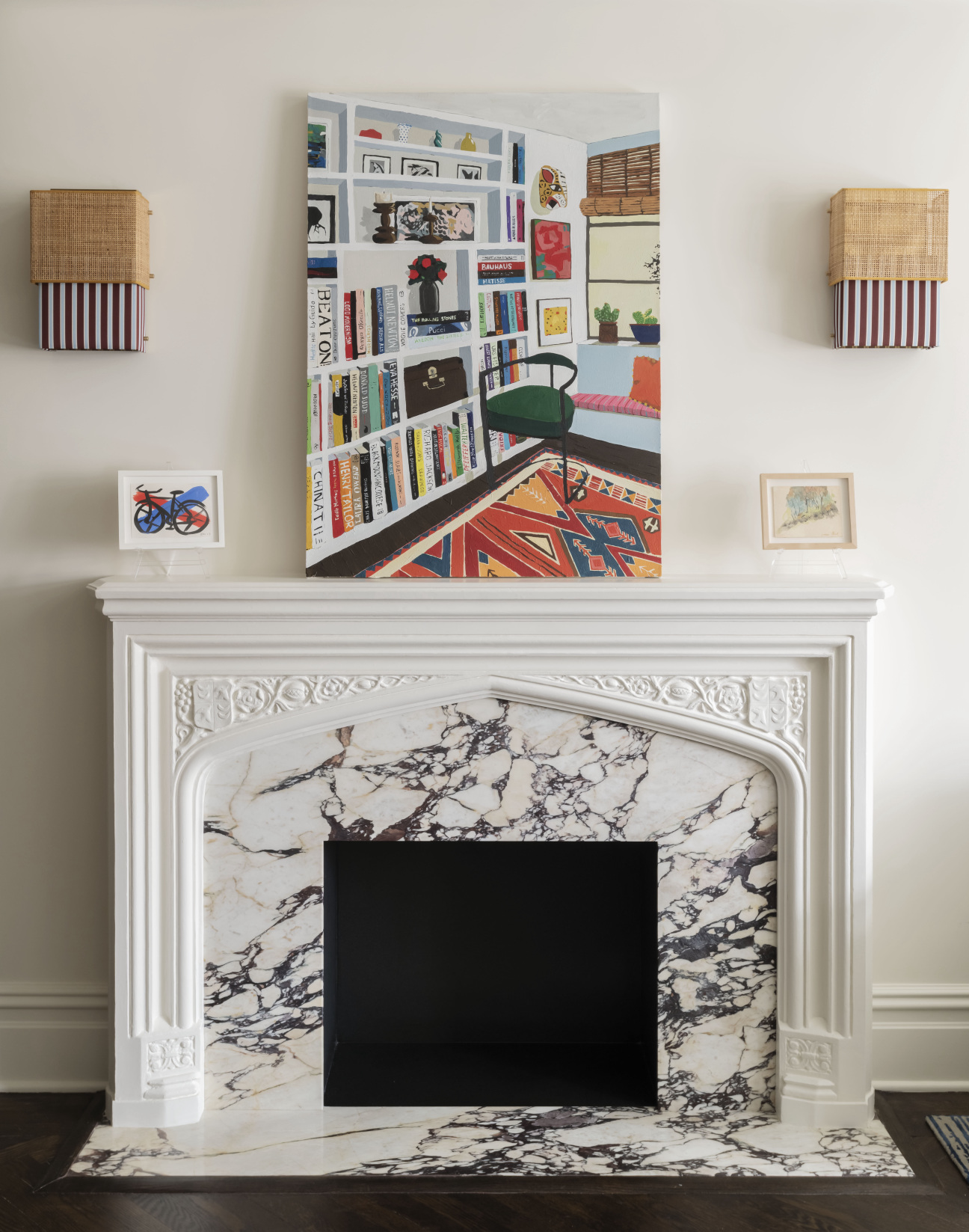 Do you have a defining theme to your collection?
We are attracted to artists who work to create their own distinct visual language and who are pushing the limits and understanding of their medium. We are endlessly fascinated by our Becky Suss work—she makes so few paintings a year, and each time manages to create distinctive worlds in her work. We have her work hanging in our living room and discover something new every time we look at it.
What designers/artists are inspiring you right now?
So many! As a mother of two small boys, I've been thinking a lot about our planet and the world my children will live in. It's something that keeps me up at night. I'm inspired by artists like Cecilia Vicuña and Tammy Nguyen who raise awareness about complex environmental issues and extinction in their practices.
I also find myself gravitating towards works of art that address the concept of "home." Throughout the pandemic, we had to adjust to a new pace of life, to new routines, and even to new spaces. I found comfort in the work of Hilary Pecis, whose complex paintings of domestic life memorialize the household items and furniture that automatically absorb some of our personality and represent who we are—as a society, as a person, as a family. She just had a beautiful show at Rachel Uffner, and I am excited to see what she does next.
What current collecting trends are on your radar, if any?
I've always been surrounded by strong women: my mom, my sisters, my colleagues—Rachel Lehmann and Carla Camacho, and artists like Liza Lou, Cecily Brown and Shirazeh Houshiary.
Having gone to an all-girls school, I was trained to be a feminist from the start. When looking at art in the past decade or so, I am proud to see more and more women featured in gallery shows, museum exhibitions, public collections, and part of the general discourse. However there is still much work to be done to reach any sort of parity in the art world.
Over the years, Adam and I have naturally gravitated towards collecting women including Erica Baum and Sam Moyer. My hope is that this is not simply a "trend" but a historical correction.
Does the marketplace help your discovery?
Absolutely! I travel constantly for fairs, museum exhibitions and biennials. So much of my discovery happens through travel. In collecting personally, I am less market conscious and more instinctive in what I like. We discovered photographer and video artist Kota Ezawa's work at the 2019 Whitney Biennial. When you first walked in, you were confronted with his animated film National Anthem, which was a series of watercolor animations which depicted different football players taking a knee the protest the treatment of Black citizens in this country—a gesture started by Colin Kapernick. It was powerful, poetic and political all at the same time. Our friend Jeff from Ryan Lee represents Kota, and we purchased a lightbox of one of the stills from the film.
In terms of discovering new artists/designers, what are your trusted methods?
One of the best ways to discover new artists and designers is to tap your network. Many of our friends, colleagues and even artists have made introductions. On the weekends, we drag our kids to museums and galleries all over the city and pound the pavement. I always have friends asking me how to start collecting and the first thing I tell them is you need to train your eye. Go out there and actually see art! In terms of design, Adam is the one truly addicted. He scours Instagram and follows a lot of designers and shops. We also were lucky enough to work with Studio DB on the renovation of our apartment. They totally broadened our horizons in terms of designers and design trends.
What is the next piece on your radar?
We are members of Whitney's Artist Council, which brings us access to studios of young artists; tours by Whitney curators; and beyond. In the fall, we toured "Greater New York" at MoMA PS1. The recurring show is known for bringing forward the most exciting talent and artwork out there. During this last edition, we fell in love with Yuji Agematsu's sculptures. As part of his practice, he goes on long, meditative walks, where he collects and catalogs detritus inside the clear wrappers of cigarette boxes—creating visual calendars of his everyday encounters. It's a systematic documentation that feels like a modern day On Kawara. His work is now hard to come by. We are now on the hunt.
As part of our collection, we own painting, photography and works on paper, but we're excited to start collecting sculpture. An artist whom I've admired for some time is Israeli sculptor, Oren Pinhassi. He is represented by my close friend Jeremy Epstein who founded Edel Assanti in London and has great taste in art. He creates almost surrealist, free-standing sculptures that resemble some of the classic elements that you would find in Guston and Giacometti's work, but take on a completely new, contemporary discourse about the body, architecture and sexuality. He's in a great moment in his career, and his future is very promising!
What is the last piece you purchased?
We purchased three beautiful drawings by Patricia Treib who is represented by Bureau. We've been following her work for a long time. Her work can look deceivingly simple but when you really examine her patterns and lines, you can see how complex her visual language is. She recently did a collaboration with Valentino for their A/W '21 collection that I loved. We're hoping to add one of her paintings to our collection next.
What is the one piece that got away?
Well, the piece that almost got away was my Do Ho Suh thread drawing. Do Ho Suh is an artist that I joined Lehmann Maupin to work with. It's true! His 2007 exhibition of the gate of his childhood home in Seoul constructed in fabric at our Lower East Side space was absolutely mesmerizing. We brought one of his thread drawings to Art Basel one year, and I was debating buying it on the first day. I had finally decided to pull the trigger, but by then, my colleague had sold it. I was so heartbroken. This helped me realize that I really wanted to own it. Three months later, the work became available again, and I jumped on it right away. I knew it was meant to be! It's a work I'll treasure forever.