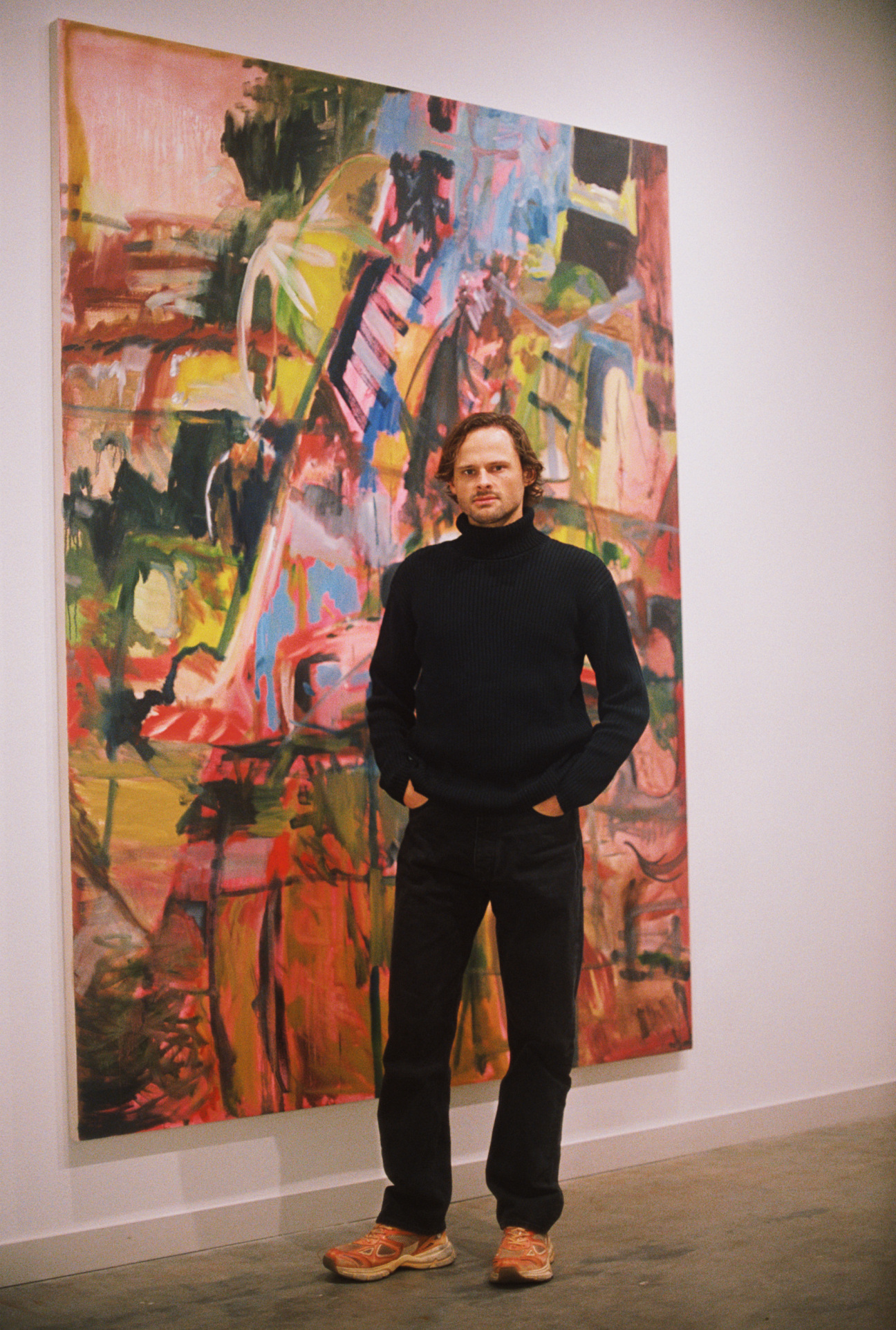 Christopher Schwartz has everything a young gallerist needs to succeed: a singular eye and an instinctive stomach. But it's not just the Los Angeles–based dealer's aptitude that makes him extraordinary at his job. Rather, it's his monastic devotion to the vocation and the thoughtful action that flows from this diligent belief. His eyes are not only sharp but beautiful. His business isn't just successful, it generates abundance for everyone involved. STARS, Schwartz's gallery, is a space that helps great artists on the periphery make their way to the center—on their own terms. It is a place to meet your potential.
"I identify as a viewer first and foremost, because that's how I learned," Schwartz says. "Having worked in the art world for over a decade now, I do have likes and dislikes, but on an ideal day, I go into an exhibition and remain really open." This perspective shapes STARS in all its dimensions and is a byproduct of Schwartz's own art odyssey—starting with an assistant job at Metro Pictures in New York after landing a cold-call interview. There, he diligently studied the catalogs of everyone from Bas Jan Ader to Louise Lawler while familiarizing himself with the lexicon of curators and critics. Eventually Gagosian poached him; he liked the purr of ambition there and the access to top-tier pieces, but he knew better than to linger in the halls of power. Within a year he moved to Reena Spaulings, rounding out his arts education with a dose of downtown niche. Heartbreak was his graduation gift, and so Schwartz headed to Los Angeles in search of that elusive "work-life balance." Instead, he found a glut of curatorial opportunities that evolved into STARS in 2021. A nod to its Hollywood Walk of Fame proximity, the gallery's name also smirks at an industry so enamored of its own image that it forgets to wonder.
A commitment to questioning is a quality Schwartz picked up from Pippa Garner, the LA–based artist and author whose cheeky interpretations of consumer products (cars that drive backwards, chain smoking vacuums, and souped-up children's high chairs) have enjoyed cult fame and the occasional burst of pop cultural idolatry for over 50 years. "Pippa is a very LA artist, so learning about her personal history was also like learning about Los Angeles's history," Schwartz says of his mentor. "Pippa just gave me access to everything. She didn't really care about any sort of art market or gallery system or whatever, and that really helped me eventually understand the role of the gallerist by asking, What can the gallery do for someone like that?" The answer came four years into their friendship, when Garner unearthed a tower of file boxes filled to the brim with years' worth of jumbled drawings, slides, and photographs. Schwartz set about digitizing the entire trove before he had a permanent space to show it. Now Garner's oeuvre, in all its exquisite parts, is traveling Europe as a retrospective, with stops at Kunstverein München and Kunsthalle Zurich. The exhibition and its accompanying catalog owe their lives to Schwartz's herculean preservation and door-opening efforts, which in their thoroughness honor the investments the artist made in her work, decade after decade, when no one was looking.
Fidelity to one's craft is a trait Schwartz shares with his artists. Like a glamorous Hollywood agent, he is on call 24/7 for them, prioritizing their visions even when it empties the kitty in the short-term. Schwartz dipped into the red to frame a suite of paintings by Takako Yamaguchi, a mid-career LA–based painter, whose work is impossible to find today for purchase— even at six figures. Cynthia Hawkins, an improvisionist abstract painter with 30 years of work to show, sold out before her exhibition at STARS even opened. For Eric-Paul Riege (whose 2023 solo show at the Hammer Museum closed in February), Schwartz devised a new model of ownership that enables the artist to sell his soft sculptures to buyers while retaining the right to change them in the future, a key element of his practice. The gallerist's strategies are never one-size-fits-all. Every decision, though harrowingly specific, serves a larger vision.
This March, STARS turns two. Despite the gallery's many achievements, Schwartz views himself more as a facilitator of success than its architect—he reserves that pedestal for his artists. "Ultimately the gallery took shape on its own, regardless of what I would want for it or any plans I could have," he says. "I try to stay out of the way, because that's usually when things are the most successful."