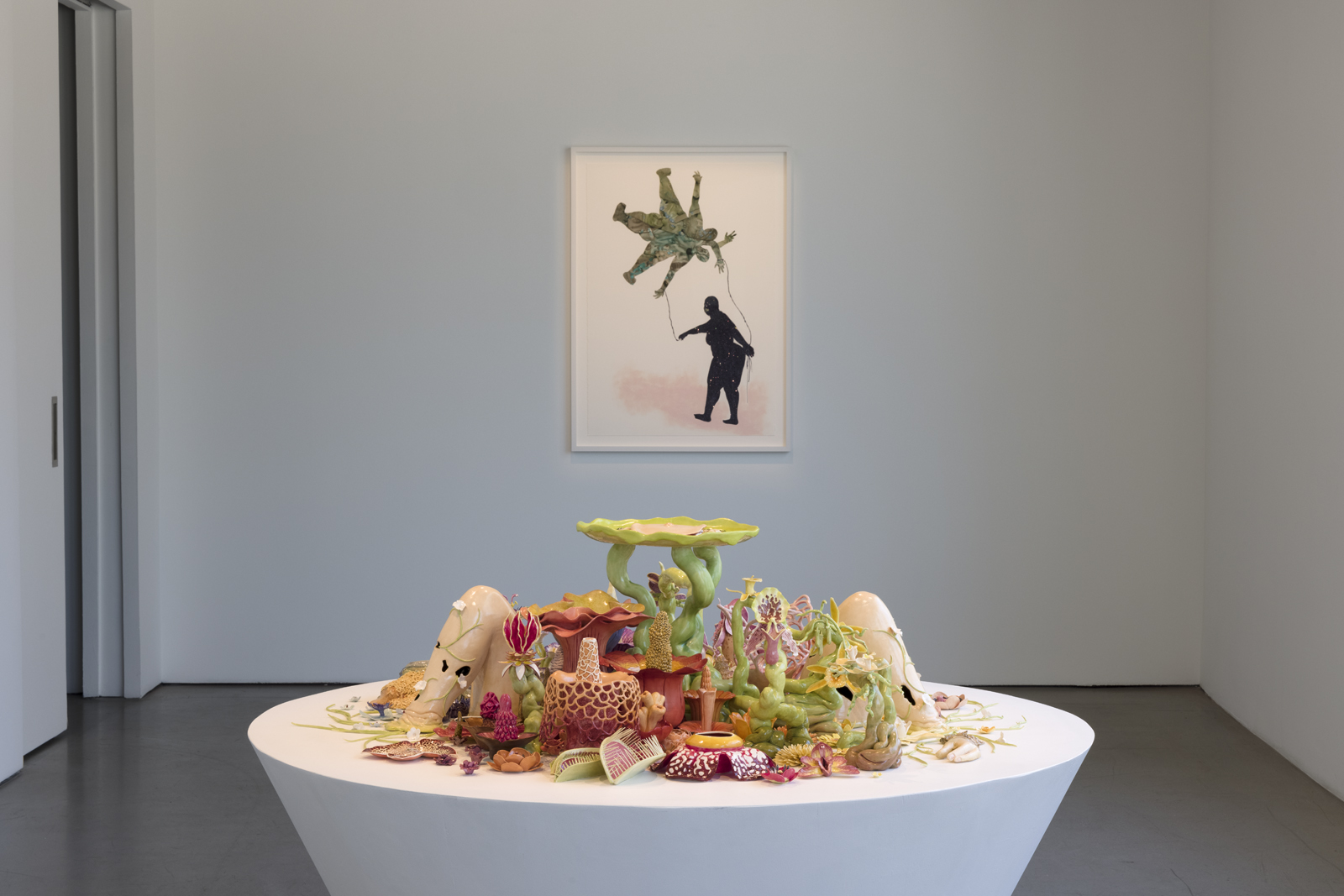 "Beyond the Looking Glass" at UTA Artist Space
Through July 31
On June 25, UTA Artist Space kicked off the summer art season with "Beyond the Looking Glass," a gorgeous group exhibition curated by gallery director Zuzanna Ciolek, featuring the work of 14 women-identifying artists who explore ideas of feminism, gaze, beauty, power, rest, nostalgia and growth, poignantly pushes back against stereotypes and expectations. Walking into the show, my eyes were immediately drawn to Genevieve Gaignard's I See You, 2021 installation of 52 mirrors also known as looking glasses, which remixes the Alice in Wonderland tale Through the Looking Glass. The artist's work orients viewers in a time and space of yesteryear with symbols of objects that signify the polarizing Black and white history in the US and her place in it as a biracial woman. Like most visitors, I could not resist stealing a quick glance at myself from every angle. I'm sure many women share my love-hate relationship with mirrors, which represent the microscope to which women are often subjected.
In conversation, Hiba Schahbaz's painting Dreaming is a beautiful display of femininity and serenity that many of us desire to achieve through self-care. And, too, Jessica Stoller's Bloom—an installation composed of several ceramic petals, pistils and other plant matter resembling the female body parts that surround a pair of open women's legs, all delicately placed on a table like a buffet of beauty and bounty—depicts the nurturing and care women often give but don't always receive. Other works by Kim Dacres and Kiki Smith play with textures both hard and soft, signifying the nuances in female identity while Gahee Park's work delights with hints of sexuality and playfulness and a refreshing perspective. Firelei Baez's Threshold is stunning in its texture and composition, and its use of the female gaze is both thought-provoking and powerful. —Dominique Clayton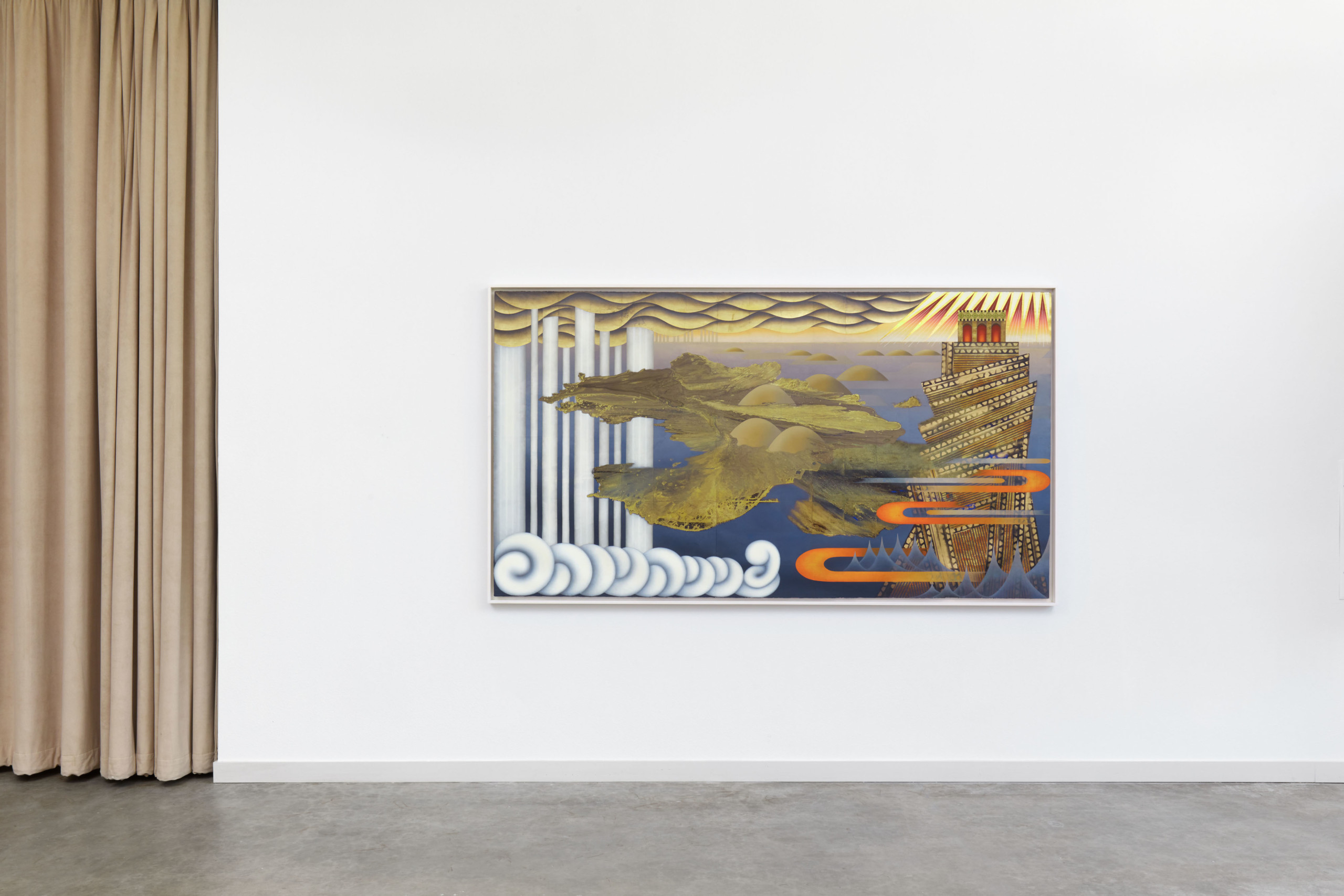 Takako Yamaguchi at Stars Gallery
Through July 3
A surprising and beautiful show of paintings that really needs to be seen in person, if not just for some confirmation that there are still pictures being made today that, despite photographing perfectly well, don't just fall apart when you are in front of them. Instead, they soar, swirl and do something genuinely strange. For one, many of Takako Yamaguchi's paintings make striking use of bronze and metal leaf, which glitters in the light like sun beaming off the iridescent scales of a fish and follows you as you pass by it. The paintings, on balance of landscapes, are compositionally intricate and dense, and likewise employ of an enormous range of techniques. Yamaguchi's painterly polyamory extends towards her forms, which too wobble between the plainly representational and the graphic or abstract, if you're lucky, sometimes before your very eyes.
Yamaguchi who was notably included in Anna Katz's necessary scholarly survey of the Pattern and Decoration movement in American art at Los Angeles's MoCA, is often seen as an under-recognized player but here seems to buck the yoke and break out on her own. Equally inspired by pictorial traditions from the East, West and beyond, the Japanese-born, 69-year-old California artist confronts us with a decade of work completed between 1998 and 2008 that celebrates and crystallizes the surging syncretism of our dissolving times. —Cultured Magazine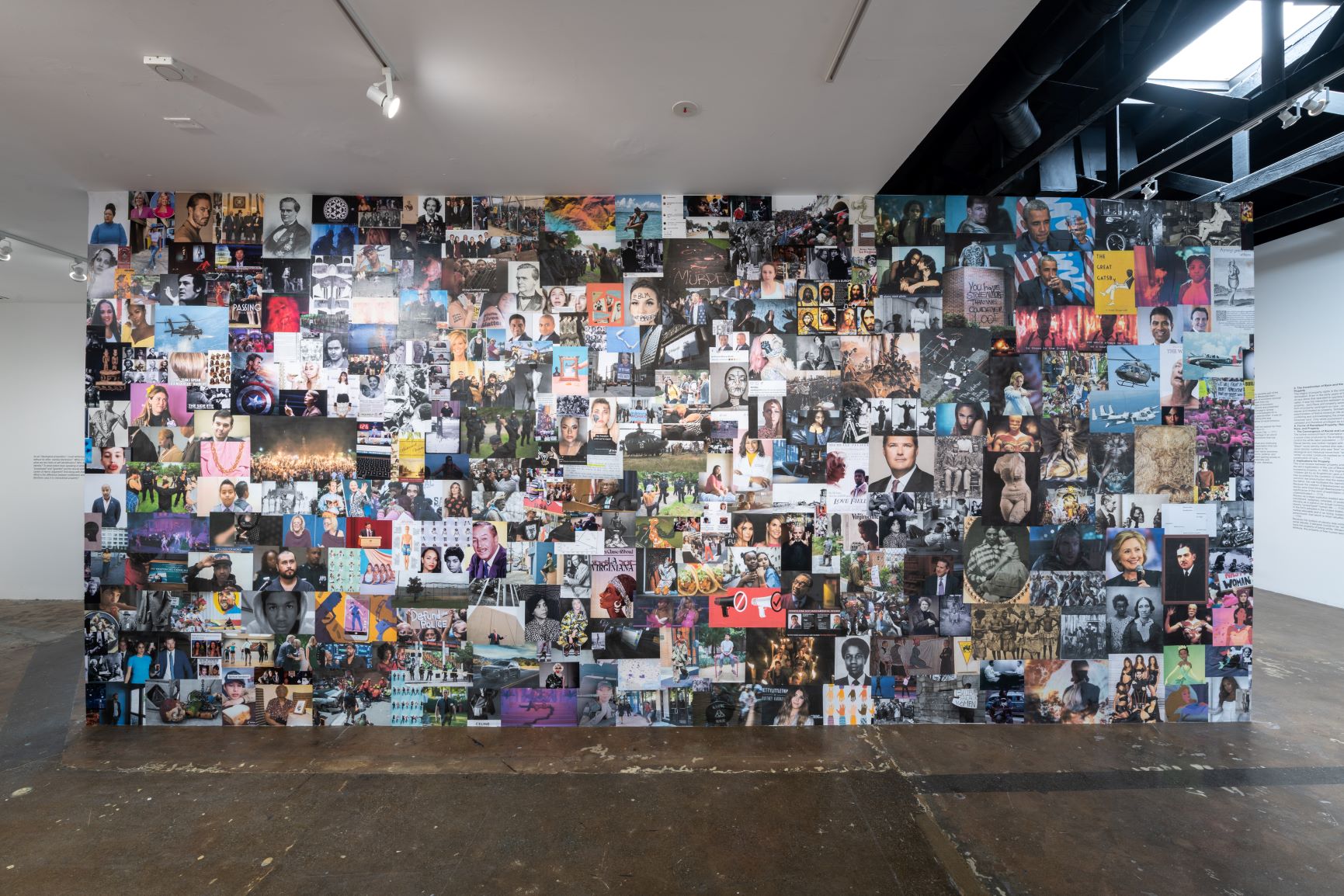 Kandis Williams, "The Absolute Right to Exclude: Reflections on the Implications of Cheryl Harris's Whiteness as Property" at LAXART
Through July 31
A glut of information and images makes up Kandis Williams's incisive exhibition at LAXART, which shows the artist, one of Los Angeles's most consistently exciting voices, operating at the peak of critical dexterity, a quality that has come to define her extended output. In 2016, Williams's began Cassandra Press, a publishing outfit known for their simply bound readers on topics at the intersection of race, sexuality, violence and representation. The project takes its name from the mythological Trojan priestess who was cursed to know the truth of what was to come, but never believed when she shared her prophecies. The show, which is credited to both Kandis Williams and Cassandra Press, displays a number of these books on a slanting shelf, one of the many subtle formal suggestions of movement in the exhibition.
LAXART's main gallery is coated in vinyl text culled from both the URLs of clickbait articles on race and gender and the legal theorist and UCLA professor Cheryl Harris's pivotal essay "Whiteness as Property." As the interplay of the two sources pulls you around the room, you find yourself circumambulating the second major work, a wall seemingly dipped on both sides into an acid bath of images drawn from all levels of culture, and each with a troubled or ambivalent relationship to its authorship and circulation. What Williams's pulls off here is rather unexpected, they achieve or physically simulate a distinctly digital experience of bombardment where meaning swings wildly in and out of view. One begins to feel the fever of the archive from which Williams works. In the past year or so, Cassandra Press has expanded to offer classes and programming that makes its research legible and accessible to a world increasingly desperate to make sense of itself. Perhaps Cassandra's curse has been lifted after all. —Cultured Magazine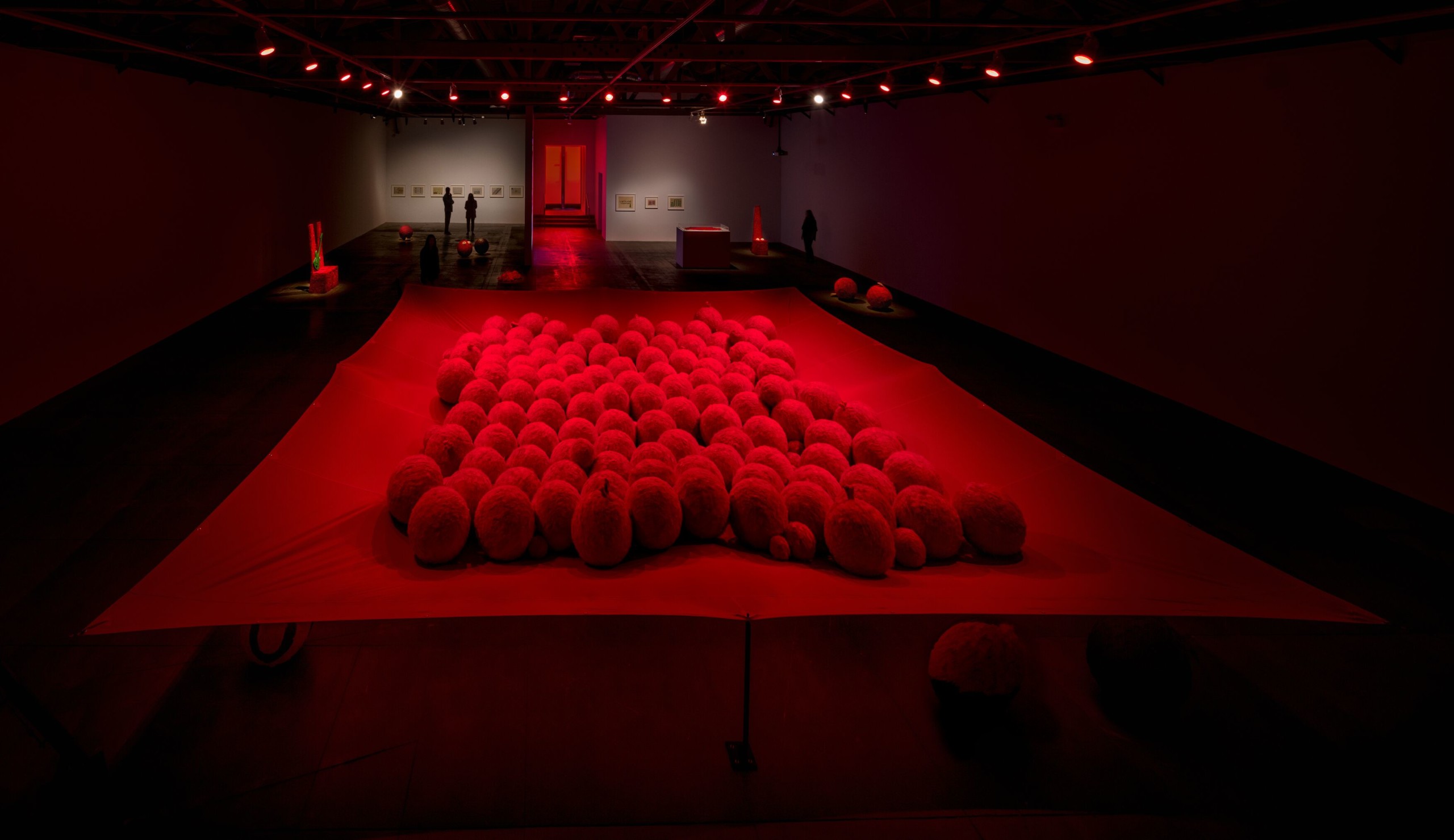 Lygia Pape "Tupinambá" at Hauser and Wirth
Through August 8
The first solo exhibition in Los Angeles of the work of the Lygia Pape, a revolutionary Brazilian artist closely affiliated with the Neo-Concrete geometric abstraction movement of the 1960s, at Hauser & Wirth, presents a little known and even less understood series of sculptures and installations Pape made in the early 2000s, just before the end of her life. Although the inclusion of one of Pape's iconic "Tieta" installations, where the artist uses gold thread to weave volumes of light into heavenly prisms, alone makes the trip downtown worth it, the main attraction is the "Tupinambá" works. Never before seen in America, they are Pape's most explicit engagement with Brazil's brutal colonial history. While Pape's earliest investigations into abstraction from the 1950s were formally inspired by Brazilian Indigenous people's cultural emphasis on and fluency with geometric forms, the introduction of framing as well as figurative and narrative elements into the "Tupinamba" series is a major departure from Pape's strict focus on the relationship between color, light, shape and the viewer. A prosthetic hand, foot and breasts protrude from perfectly spherical masses of red feather boas, blood spilling out where skin meets plumage. There are also chairs with the same deep scarlet down, two of which sport a green guitar and an enormous installation of these feathered balls cradled in a red sail, above globes covered in cockroaches.
Another version of the same work, Manto Tupinambá (Tupinambá Cloak), is represented in the exhibition solely as a drawing for the project, which itself remains unrealized. In this iteration, the entire city of Rio De Janeiro dons that Tupinambá cloak, which takes the form of an engulfing cloud of red smoke. The Tupinamabá's ritual devouring of war prisoners, a way to ceremonially absorb the energy of their captives, seems to function for Pape as a metaphor for the persistence of what she saw as a deeply Indigenous identity in modern Brazil. Pape suggests not just that modernist aesthetics come from the pillaged remains of colonized groups, but that the modern character of Brazil itself is a cannibalization of them. —Cultured Magazine
Craving more culture? Sign up to receive the Cultured newsletter, a biweekly guide to what's new and what's next in art, architecture, design and more.