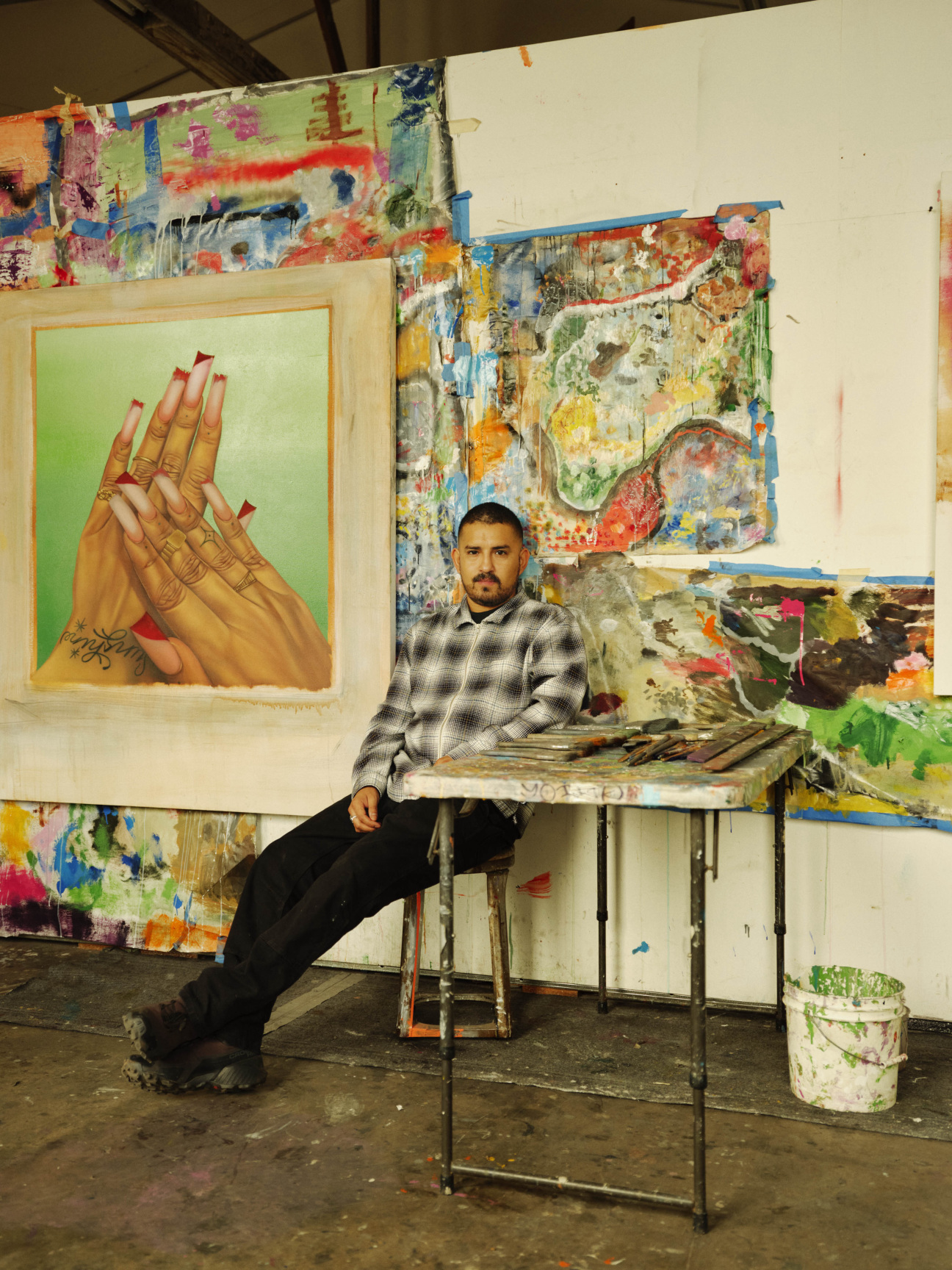 When Los Angeles native Alfonso Gonzalez Jr., 33, lived in Boyle Heights, he saw an eye-catching mural on the façade of a liquor store. "It got tagged over by a gang, then painted over again by the liquor store owner...It became all these layers," he says. The artist was already in the habit of photography—he grew up painting graffiti, and graffiti writers document their own work. Gonzalez Jr. has long been something of a flâneur, observing his city on long walks. "But since it was so close to my house, I would always say, 'Well, I'll just get a photo of it later.'" Then it was gone.
In his paintings and sculptures, LA is depicted with breathtaking realism: a bus stop bench replete with etchings; a palm tree-encircled apartment building; a cherry-red car, sans tires. Some of his work seems stripped directly from the city's palimpsests, like the aforementioned mural. In the painting SAY NO MORE FAM, there's a tag-stained brick wall, a barbershop storefront, and haircut posters; these images are layered, like a city is layered, and they honor the way its residents inscribe it. "I'm fascinated by how a wall, or a small square, can feel like a certain place...you get all these hands and layers that went into making something look the way it does, the community's relationship to public space," says Gonzalez Jr. He doesn't quite recreate scenes—he pays homage to them, playing with scale and adding jolts of humor. Aware of the erasure that comes with gentrification, he adds, "What I'm feeling is, 'This is the last time it's going to be like this.'"
Gonzalez Jr. notes that the historical canon of LA artists—many of whom he adores—is limited to "primarily white artists. But there's always been artists coming out of my community. I want to be part of the generation that understands that history, and I want to do that with the people that I believe in—my friends, the artists I care about, the artists who I don't know but want to leave the door open for." When I ask him if some of his work might be a love letter to his city, he pauses. "I never thought about that, but it's definitely a love letter. I think about the kids who are growing up now who are never going to be able to experience what it was—and that's the case for everyone. But I have so much love for my city, for the way I grew up, my environment, my culture, all these different things I've experienced."