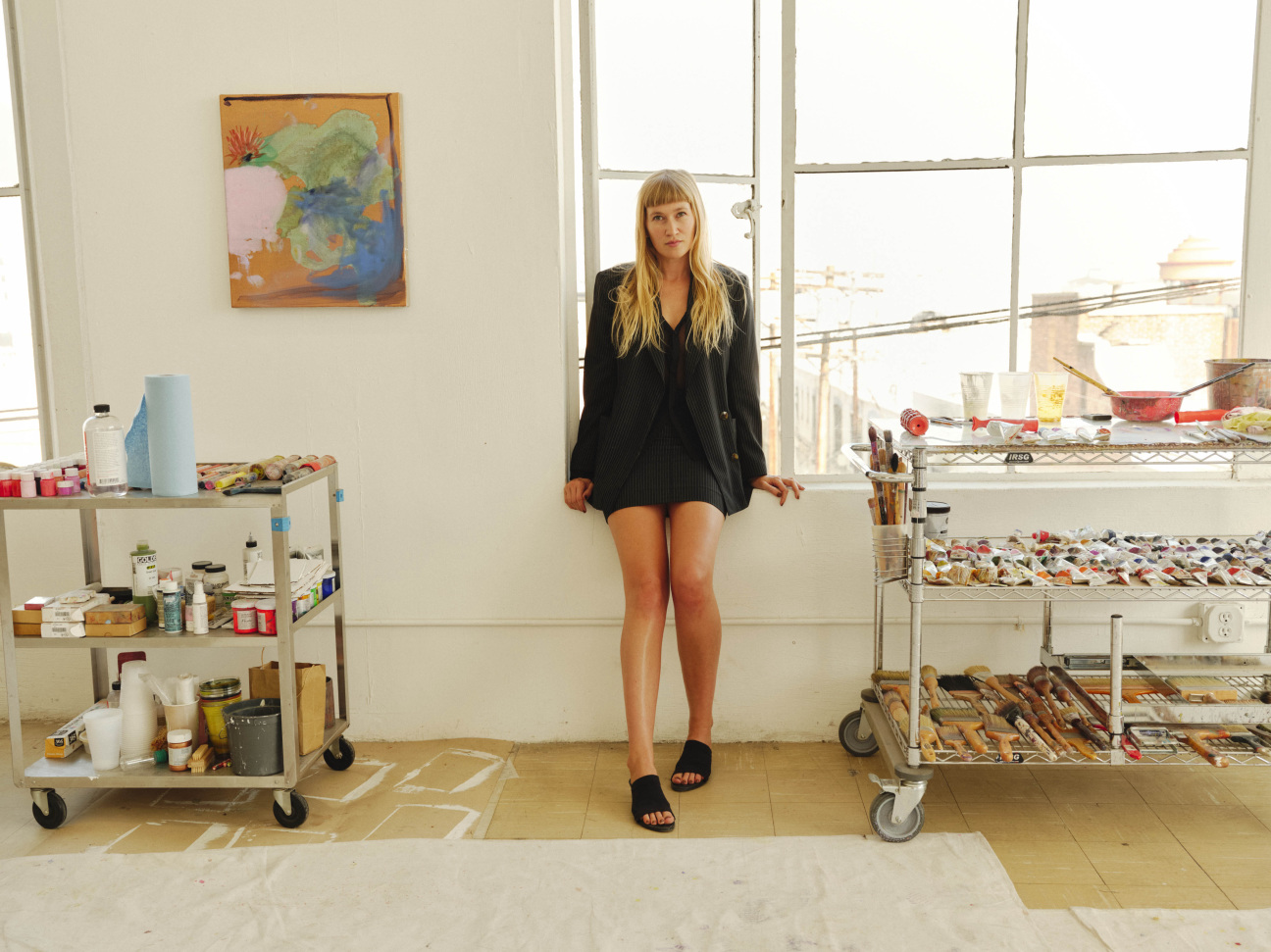 Emma McIntyre, 32, grew up in Auckland, New Zealand, and now lives in Los Angeles under big sunsets that fill the whole sky. Her paintings of color, light, and movement glow from within. In 2022 she has had solo shows of her acid landscapes, mythological scenes, and pure musical abstraction at Air de Paris ("Up Bubbles Her Amorous Breath") and Coastal Signs in Auckland ("Madonna of the Pomegranate"). Some of McIntyre's works draw you into an illusory space; others are formalist-flat. All her large paintings begin on the floor: usually she'll start with an oil ground and pour diluted oil paint onto it, or washed-out ink or acrylic, or an oxidization solution if she's making a rust work. Her processes are experimental and instinctive, her results varied and highly unpredictable. These are paintings of chaos and chance.
Next she'll usually pour on another layer and sometimes bring in other textures by brushing or wiping the paint with rags. Then she'll move her linen onto the wall for the subsequent layers, "which are usually applied in a few hours in a frenzy of brushes and rags, stamps, rollers, limbs, and whatever else is at hand. The technique at this point is improvisational; a lot of spontaneous action with various colors and brushes until the image starts to resolve itself," McIntyre explains. "Sometimes it feels like I can almost see the finished work, and the painting process is about finding it."
Some paintings are marked by prints of her naked body or the scrape of her fingernails. These are compositions rich with sensuality, pleasure, and warm flowery atmospheres, sometimes inspired by 18th-century French fêtes galantes.
"I look to some of the Rococo artists, Fragonard and Watteau in particular, for their sensual materiality and touch; erotic content conveyed not only through subject but through paint handling," she continues. "Fragonard's frothing and ebullient forms, spilling and excessive, are most effective when offset by a lacuna somewhere in the painting. Withholding and restraint, or whatever else you might call it, are important aspects of desire. I've adapted this strategy in my own work, whether through a centripetal composition with an empty center, or through areas of blankness created by opacity or the blankness of untouched gesso." Her paintings often dance around the edges, but close to their heart there is a pause, a rest, a sunny glade that pulls you right in.