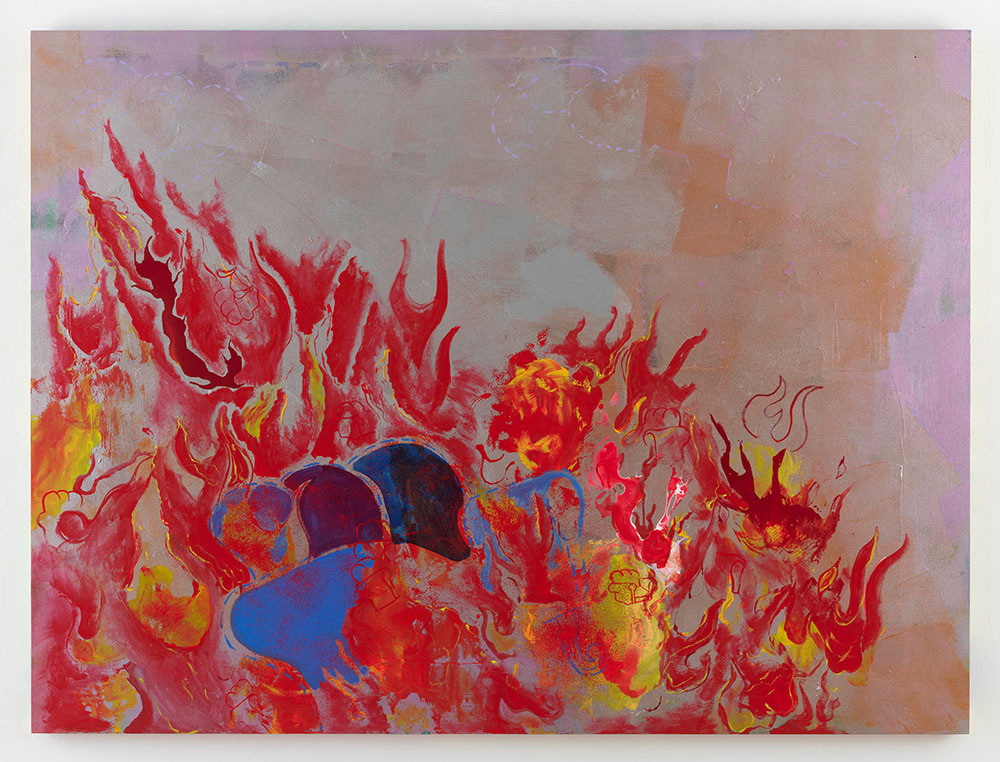 "I love to dig my left hand in big buckets of paint, take a few steps back, close my eyes while imagining I'm Randy Johnson on the mound, and then see how many curveballs of paint I can get to land on the canvas," says Walter Price. "After that I just pray." He moves his paint around the canvas when it's wet, scrapes it, and smears it. Sometimes he walks over it. Price's paintings are mysterious bursts of deep layered colors and exuberant gestures in acrylic and vinyl Flashe paint. The late New Yorker art critic Peter Schjeldahl described Price as having a "style-defying style" without any clear precedents. He's one of a kind.
Growing up in Macon, Georgia, the 33-year-old artist, chose his path early on—in second grade. "Being an artist," he reflects, "one has a choice of whether they want to please people or not. And I knew early on that I wouldn't be proficient at having good customer service." Price wasn't here to please or to make nice with everyone; he wanted to be a painter and to be free. Having decided what he wanted to do with his life, it was just a matter of figuring out how: He served four years in the Navy on the USS Whidbey Island so that he could have his art school education at Middle Georgia College and the Art Institute of Washington paid for under the G.I. Bill, after which he moved to Bed-Stuy, Brooklyn, and became a star. He now shows with Greene Naftali and The Modern Institute, while MoMA PS1, Camden Art Centre, and Aspen Art Museum have given him solo exhibitions, too.
In his paintings you'll see palm trees, cars, Black faces, American football players, furniture, fires, and scraps of paper. You'll see color planes, patches, splashes, prints, spills, footprints, cut-outs, dotted lines—a whole new world. Figuration and abstraction are smeared together, struggling to emerge from one another. Abstraction is a powerful force for Price because it prevents easy interpretation. "We all come from different perspectives," he says, "and the brain is ready to decipher things quickly—abstraction challenges this. It allows more of your story to be added on to my story." It's a way of expressing his feelings and experiences while also speaking to everyone else in different ways. It's a unifying force that brings us together but offers no clear meaning. Price is not going to explain himself to you or to me either.
There are marks in Price's paintings that can't quite be made out, let alone explained. He's mentioned before that his painting contains "very dark" elements that can't be easily deciphered. "When I use the words 'very dark,'" he elaborates, "I assume people would think of negativity. 'Very dark' also evokes a sense of mystery. I like how we thirst for these things."