Brooke Lampley powers through the auction house with the energy of a season finale episode. Though she has an unflappable poise while co-heading Sotheby's fine art division as the Chairman and Worldwide Head of Sales for Global Fine Art, behind the scenes she demands a certain accelerated pace that allows the auction house to enjoy meaningful turning points and go out on a high every year. In between Sotheby's most visible sales, she is securing rarely-seen fine art pieces from private collections and engaging guest curators to present lots to the market with fresh points of view. This November, Lampley sits squarely in the auctions, representing high-profile clients in a sea of bidders who want the best of the best.
With Lampley in her post since 2018, Sotheby's landed back-to-back record-breaking years. The most recent highlights: in 2021, it recorded a historic year in sales at $7.3 billion, and this year the company is keeping record pace as it has already sold more than $1.6 billion in Modern and Contemporary Art—up 50 percent compared to the same period in 2021.
Lampley loves the rush. "I can't live without the pace," she says. "I love experiencing art, but I also love having to make assessments, take risks, and do it all with my clients. Those judgment calls are where a lot of the challenge lies, and also the excitement in what I do."
High-velocity sales results are a key measure of success for anyone in her position, but that's not to say that Lampley isn't incredibly measured in her role. Sotheby's November sales in Modern, Contemporary, and The Now categories for fine art reflect what the business-savvy visionary has observed about present-day collectors. Nowadays, according to Lampley, her clients embrace and prefer diversification; at auction they are just as likely to buy a Mondrian painting as they are to buy a pair of last summer's Virgil Abloh–designed Nike Air Force 1 Louis Vuitton sneakers. Their cumulative taste—from art and music to handbags—paints the picture of what makes this new type of collector distinct.
"I feel like the trend of collecting in a capsule or in a particular lens is dated in a sense," Lampley says. "Serendipity is a more recent phenomenon in the market, where people are expressing themselves through a lot of different channels and signifiers."
The Now category was established last year to reflect the new ways that people engage with art. It represents a vital mix of style and media, a macrocosmic view of what is happening in the contemporary world. Artists in this category are generally those who have been practicing since 2000 and whose markets are still evolving.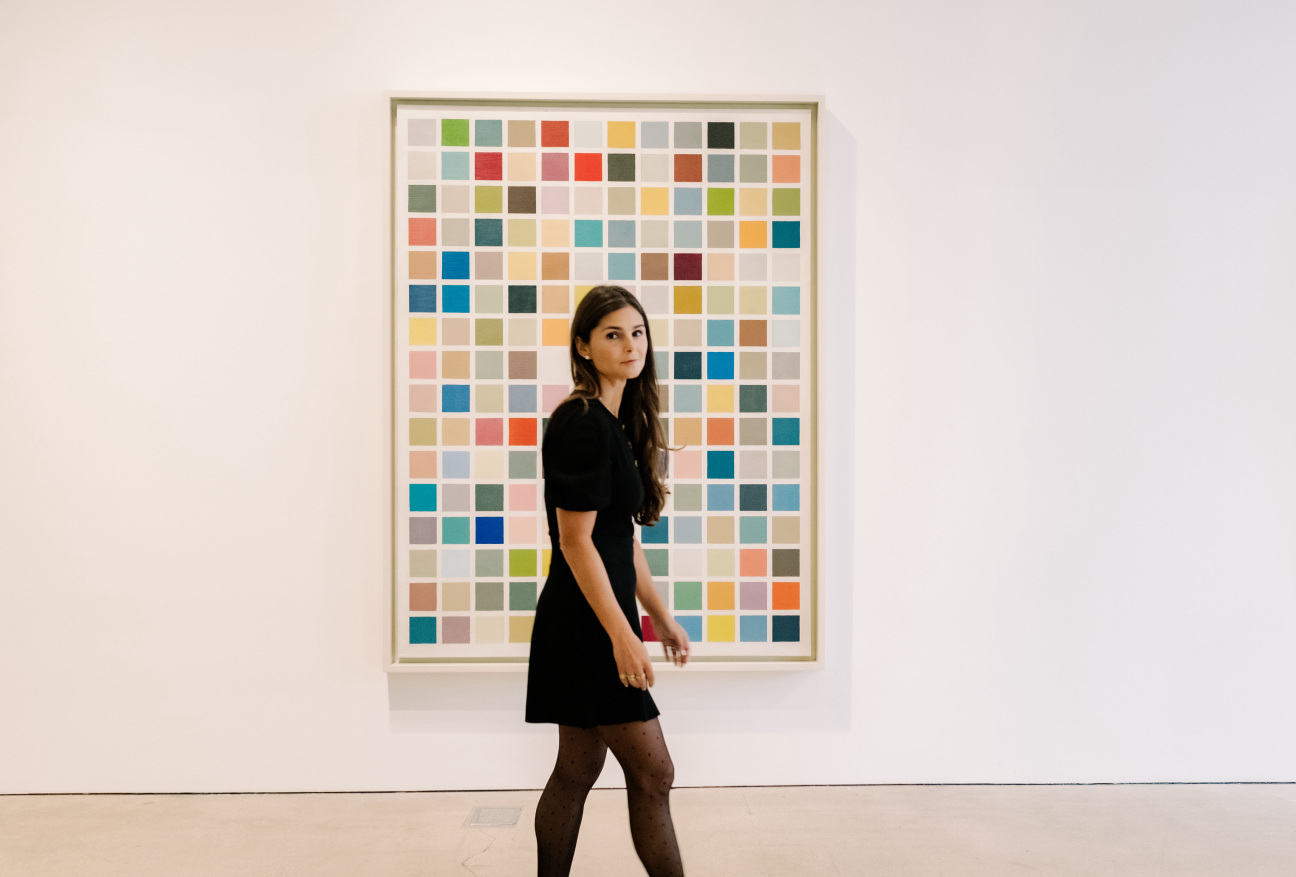 "It's an opportunity to comment and take a position in the art world," says Lampley. "I expect for this stage to be about equity, a place where we participate in and continue the crusade of rectifying the imbalance in the market for historically underrepresented minorities."
Among others, November's sale in The Now included a painting by the buzzy Anna Weyant, who is known for her engrossing portraits of porcelain-skinned women; a surprising piece by Yoshitomo Nara that strays from his signature Pop style and opts for an ethereal, patchwork quality akin to Hilma af Klint; a mesmeric narrative drawing by the immersive Toyin Ojih Odutola, who asks questions about the world through sacred experiences; and a major painting by Salman Toor, best known for his moving depictions of queer South Asian men in melting metropolis settings.
Broadening their scope has kept Lampley and her team busy in how they approach art periods predating the aughts. The reframing of their marquee Modern and Contemporary evening auctions—a result of internal discussions of how to reconsider works of the time in juxtaposition to The Now—has been well received.
The auctions were indubitably well-understood and positively responded to," says Lampley. "That was a huge success for me and the team, and really helped unify us in a common vision and goal."
Included in this November's marquee sales were works that are considered radical breakthroughs at the time of their completion. Among Lampley's favorites are the Cubist The Guitar on a Table by Pablo Picasso (which she asserts "combines the radical language of cubism with a very sunny palette inspired by his time in the south of France"), Piet Mondrian's Composition No. II from 1930 ("probably the best Mondrian to ever come to market and poised to set a new record for the artist at auction"), and an extraordinary, richly hand-painted sculpture by Alberto Giacometti, a vanguard in his discipline for his critical approach and studies of existential philosophy.
A considerable number of these works come from the contributions of former Whitney Museum president David M. Solinger and former Museum of Modern Art chairman William S. Paley. Sales from the latter collector's acquisitions will support several charitable organizations as well as a new endowment established by the Paley Foundation to support MoMA's new projects in digital media and technology and to provide for new acquisitions.
Lampley is up for the continued task of reacting and answering to tradition. She imagines a future at Sotheby's where the barriers that prevent people from experiencing art are further flattened. Aside from Sotheby's exhibitions always being open to the public, its recent foray into online bidding and global live streams further breaks the rigidity of buying art, allowing any enthusiast to be immersed in the visual experience and truly feel as if they could phone bid.
Then there is the excitement of DAOs (decentralized autonomous organizations) banding together to make art more ownable—a phenomenon that Lampley personally experienced last November.
"I was really taken by the populist idea of community ownership," she says. "At Sotheby's it was a new hurdle for us to have a DAO buyer and to process that registration for our sale, and we were proud to be able to do that. We wanted to create that access and make it possible for the DAO to participate."
Ultimately, a single bidder took home the first-edition copy of the constitution, outbidding ConstitutionDAO at a sale price of $43 million with fees.
With Lampley at the helm, it seems as if the continually-evolving Sotheby's will practically lap itself after one year. Time will tell whether it will once again come out on top in 2022, but Lampley's leadership has inarguably transformed how the general public sees the auction house. By engaging all kinds of collectors, its is more alive than ever.
Before we part, I ask Lampley what she is looking forward to after the November sales. With a laugh, she reminds me of the global scope her work encompasses.
"I can't think beyond then. Somewhere on the horizon I will have holidays with my family and that is comforting to know, but right now we've got Hong Kong, London, Paris, and then New York sales and right now in my mind I'm in all of those places."
It's a fast-paced original drama: this is Lampley's powerhouse life.