Perhaps you've stood in a gallery, looking at a piece of minimalist modern art, and overheard someone say, "My kid could do that." But is it true? Can anybody do it?
Are the paintings of Dutch abstract artist Piet Mondrian as simple as they appear, or is there more to them than initially meets the eye?
Today we are learning Mondrian's secrets, thanks to the efforts of the brilliant scholars at work in the Fondation Beyeler. In honor of his 150th birthday, conservationists are working on four of his greatest artworks, under the generous sponsorship of La Prairie, for a comprehensive Mondrian exhibition to open June 2022.
This is the second year running for La Prairie's partnership with the Piet Mondrian Conservation Project. The goal of the effort is not only to ensure that Mondrian's work is preserved for all time, but that the concurrent research being done will also be published, so that art historians as well as the general public will benefit from a greater understanding of Mondrian and his indelible impact on visual culture.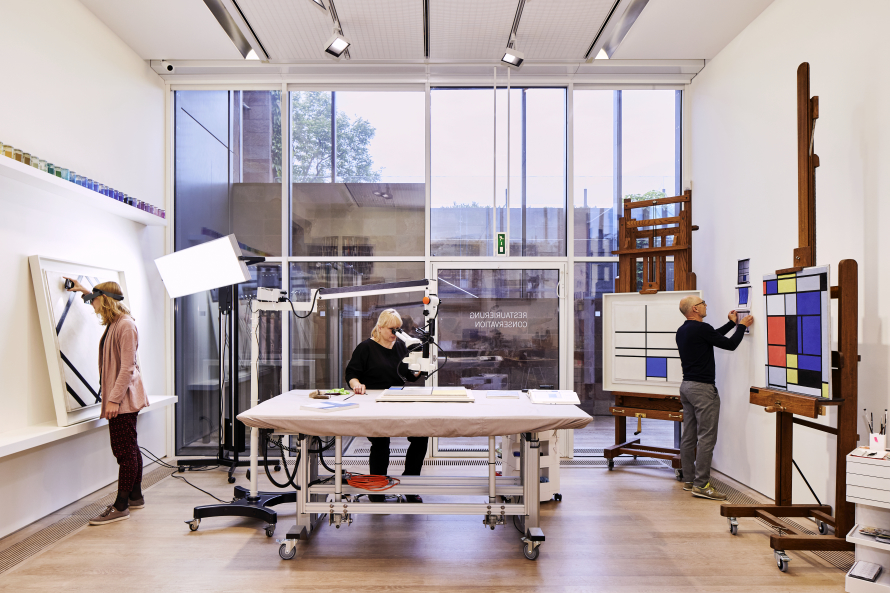 These investigations are important because Mondrian was quite secretive about his process, as I learned in a presentation by the Fondation's conservationists. By closely examining the four masterworks under restoration (Tableau No. I, Composition with Yellow and Blue, Composition with Double Line and Blue and Lozenge Composition with Eight Lines and Red (Picture No. III)) they have deciphered clues to his techniques. They have learned that Mondrian would revise his paintings over and over, sometimes for years; there are three separate dates on Tableau No. I, for example, indicating he worked on it for five years. Their use of high magnification devices has revealed how apparently simple colors are layered, and how his famous lines would change width as he changed his approach and reconceived his ideas of composition and perfection. It is inspiring to me to learn the extent of the revisions Mondrian would subject his work.
So I was happy to learn that this conservation work does not try to hide flaws or undo the effects of time on the paintings, but merely preserve them. I feel the same way about the beauty of a human face, and this is why I admire La Prairie; the company understands that true beauty comes from within. While it's a distinctly human wish to stop the hands of time, La Prairie utilizes the latest science to enhance our body's natural processes, not to artificially alter our appearance.
I left the Fondation consumed with thoughts about the timelessness of beauty and art, and filled with gratitude that passionate people are working earnestly to preserve both.