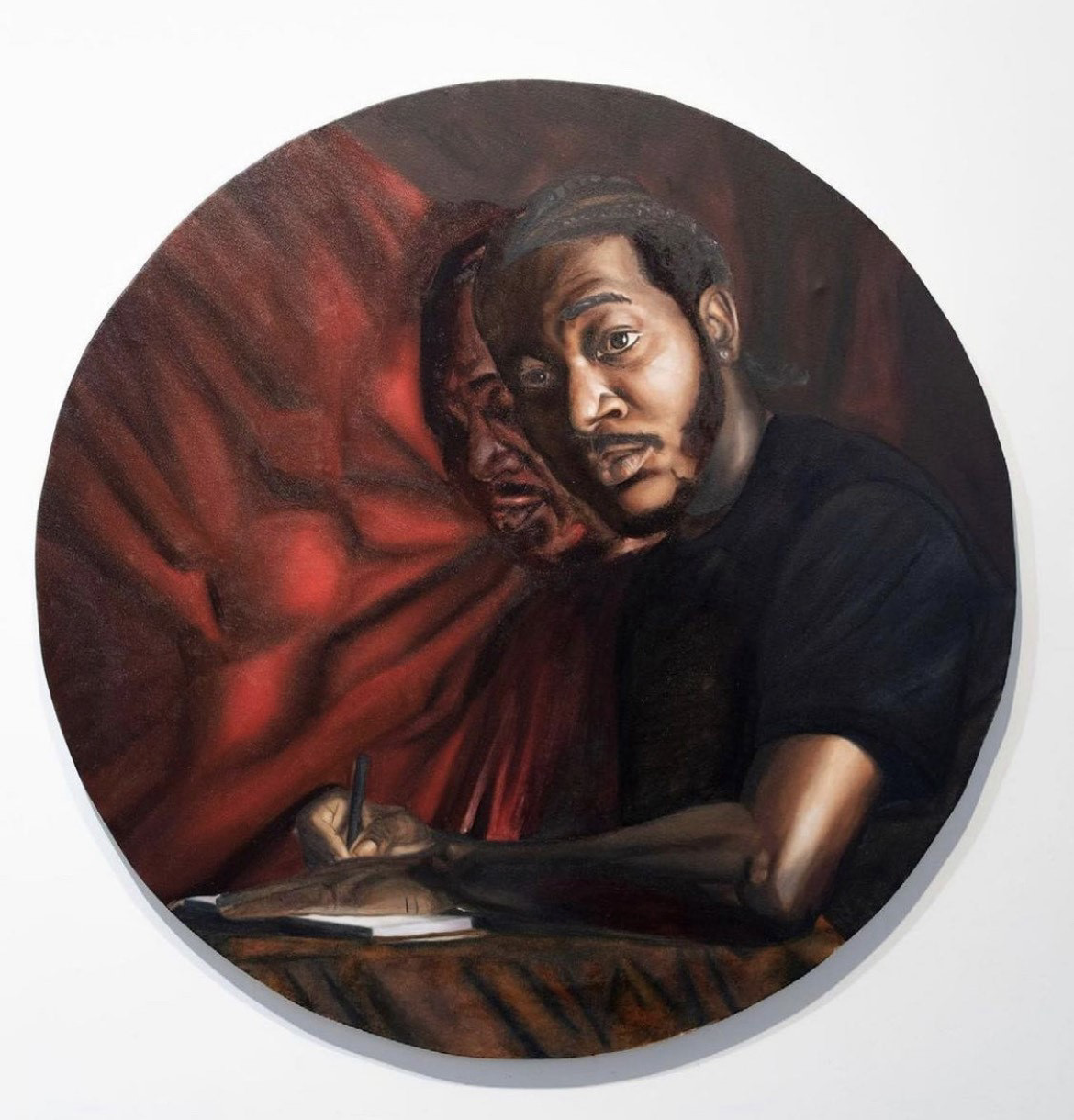 Telvin Wallace wants people—particularly Black men—to feel more comfortable with their emotions. Inspired by the Old Masters, the 25-year-old artist is a technical expert, though it's the contemporary scenes he depicts that truly enliven his subjects.
Consider the artist's Invisible Man, 2021, a 40-inch circular work inspired by Ralph Ellison's novel of the same name. A 1953 winner of the National Book Award, Ellison addresses social and intellectual issues the Black community faced in the early 20th century—from Marxism to nationalism and personal identity. Half a century later, Wallce explores the concept of "double consciousness," a term coined by W.E.B. Du Bois that refers to the struggle Black people face in staying true to their culture while simultaneously conforming to the expectations of white society. His painting, however, takes this concept a step further, examining how a young Black man might be able to access his deepest emotions without coming across as "soft." The work features a subject writing in a notebook, making eye contact with the viewer in the foreground. Its background is a rich, red backdrop where swaths of paint depicting the texture of curtains give the impression of hell or at least mental torture. Shadowing the subject—slightly behind him—is the silhouette of an older man, whose downcast eyes emphasize the duality of his very existence and suggest defeat over time. The composition is intimate yet vibrant, realistic yet ethereal, with the circle itself scaled to the size of a man in order to showcase the subject with clarity and closeness.
To generate the concept for the piece, Wallace reflected on coming across Ellison's novel in his first year living in New York, when he became aware of the different ways a Black man might be seen societally and by his peers. Confronting people with the idea of an invisible man, and leveraging the language of the Old Masters, the artist considered the subtlety of shadow, and the symbolism of drama in bringing the work to life. Ultimately, Invisible Man communicates the artist's personal interpretation of Ellis's novel (which ends with a Black man falling into a manhole) by showing a Black man of the artist's own making—a person simply minding his own business, yet confronting situations outside of his control, not unlike the manhole trap. "Who uncovered the manhole?" Wallace supposes. In other words, who is responsible for the obstacles we face and the pitfalls we stumble into? How might we overcome them, or circumvent them in the first place? The work is layered and captivating, rich in color, and a means of engaging the viewer such that they too can experience what it means to live as an invisible man.
A master of material, Wallace plans his process for every work. Born in North Carolina, the multidisciplinary artist earned his BFA from North Carolina Central University in 2019 and his MFA in painting at the New York Academy of Art in 2022. With a deep understanding of color and composition, he often considers how closely his paintings relate to similar works in history. Wallace begins each work today by first crafting its underpainting, adding his own ingenuity to the palette. This is one that, he admits, transcends that of the Old Masters, with colors beyond the traditional ivory, black, transparent, red oxide, yellow ochre, and white. This ensures he has the full value he needs to execute a painting, creating a ground layer and leveraging the Bosch technique marked by its luminous colors, dappled highlights and chalk underdrawings. Having laid down his color, the artist then lets them sit before returning to the work and only then adding in the light and shadow. Now fluent in his process, Wallace says he feels more comfortable experimenting—combining different languages to achieve his desired outcome faster.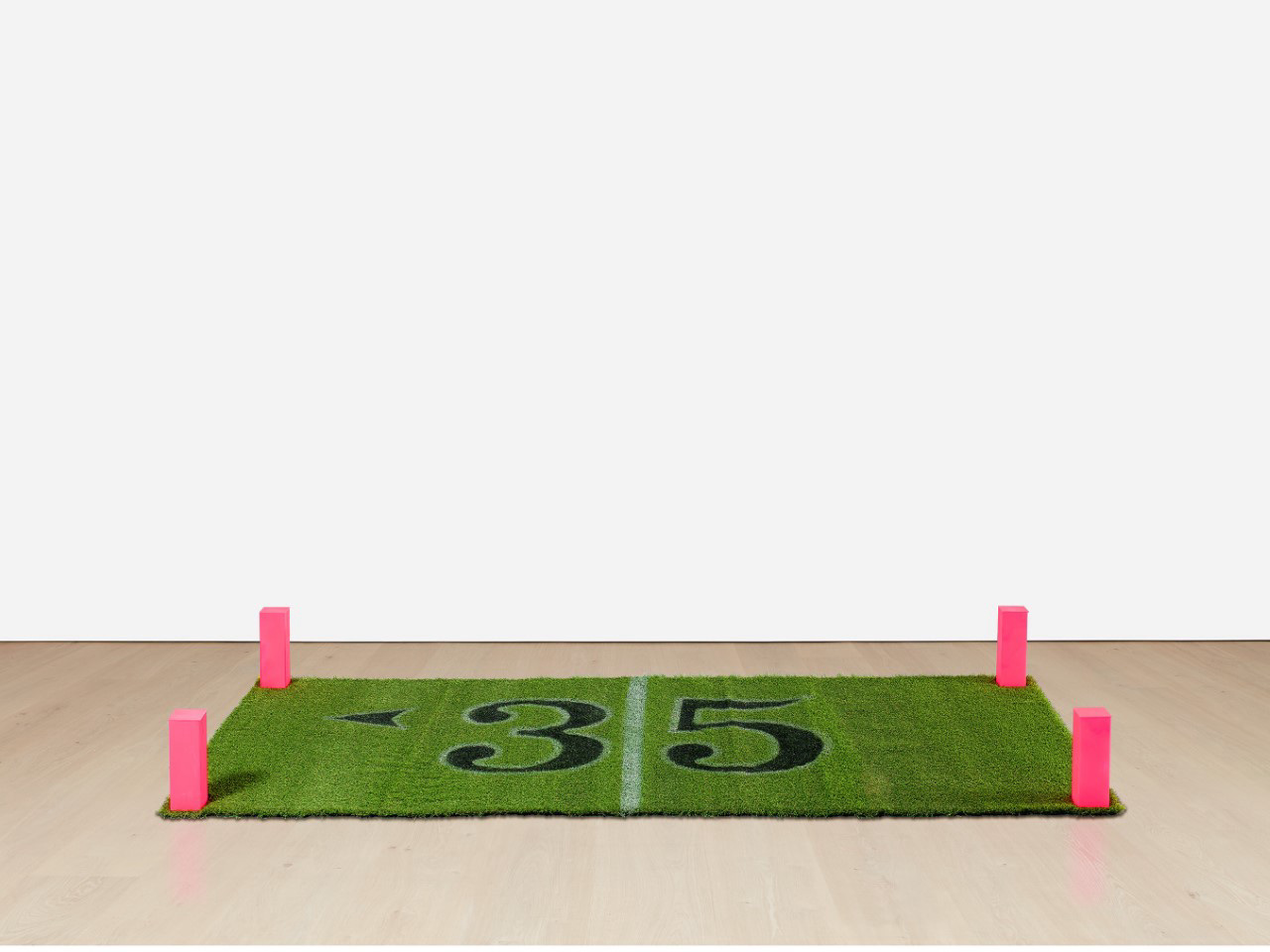 Consider What's Free, 2022, Wallace's metaphorical take on the Three-fifths Compromise, a political agreement reached in 1787 that only three out of every five male slaves would count when determining a U.S. state's total representation; female slaves were excluded entirely. A sculptural, multidisciplinary piece, an evolution of the picture plane exists within the 53.3-inch x 120-inch work. As the viewer stands before it, they approach it and then move through it—experiencing the negative space where the work would have been in the position of a Black woman, who wouldn't have factored into the Three-fifths Compromise. Wallace explains that he wanted to dissolve the dimensional quality of the work or restructure dimension in the symbolism of painting.
Wallace hopes to emphasize that there are many heavy stories of Black men today, and that we must work as a society to understand the intricacies of confronting situations—or people—that question our identity. There's a complex bond between a Black man and his environment. It comes with a deep sense of exhaustion in consistently feeling as though you must always explain yourself, or that you owe somebody an explanation for what you've been through. The softer side of a Black man, the artist explains, is allowing oneself to be vulnerable—to speak the truth in a manner that doesn't offend anyone. "A lot of the time, growing up in Black communities, particularly growing up as an athlete in my experience, your feelings don't matter," he reflects. "Or at least, you need to hold them in. If you express something that bothers you, some people might try to emasculate you."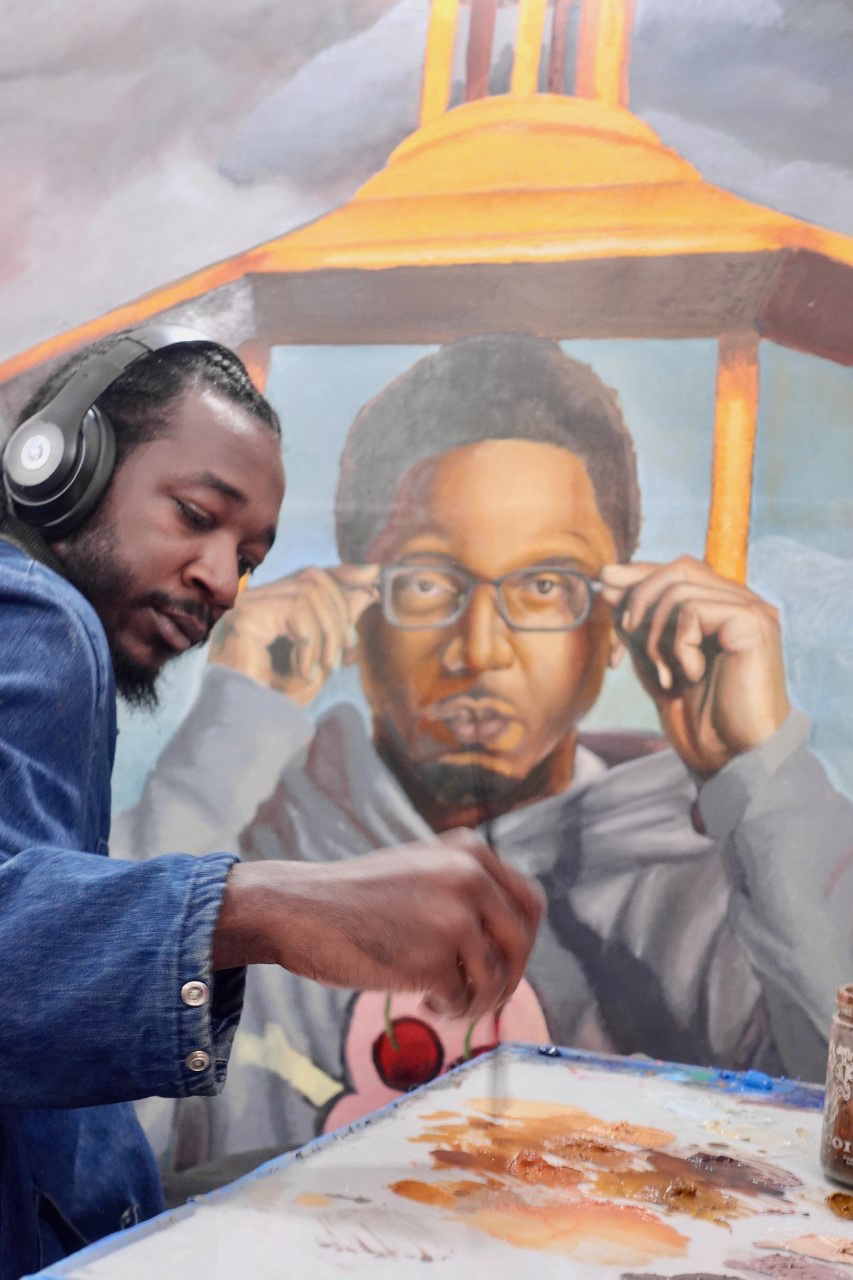 Through his work Wallace questions what it means to be perceived by other people. Asking, correspondingly, what is the true meaning of masculinity? The artist has long grappled with the discomfort of struggling to share his identity with the world, instead of letting others dictate how, or who, he should be. In Faith, 2022, Wallace turns his canvas to himself. Blending the Old Masters with contemporary cinema the 60-inch x 60-inch oil on linen work resembles a Wes Anderson film in color and setting, but is about simply going through life in an attempt to keep the faith—to balance our obligations while entering adulthood without sacrificing the things we love.
As such, Wallace contends that Black men would benefit from more dialogue surrounding identity, sharing that at one point others only saw him as just an athlete because of what he was doing. The impulse to prove otherwise—to build empathy around the challenges people face—has resulted in a powerful conversation on anxiety, mental health, and the price of acceptance.