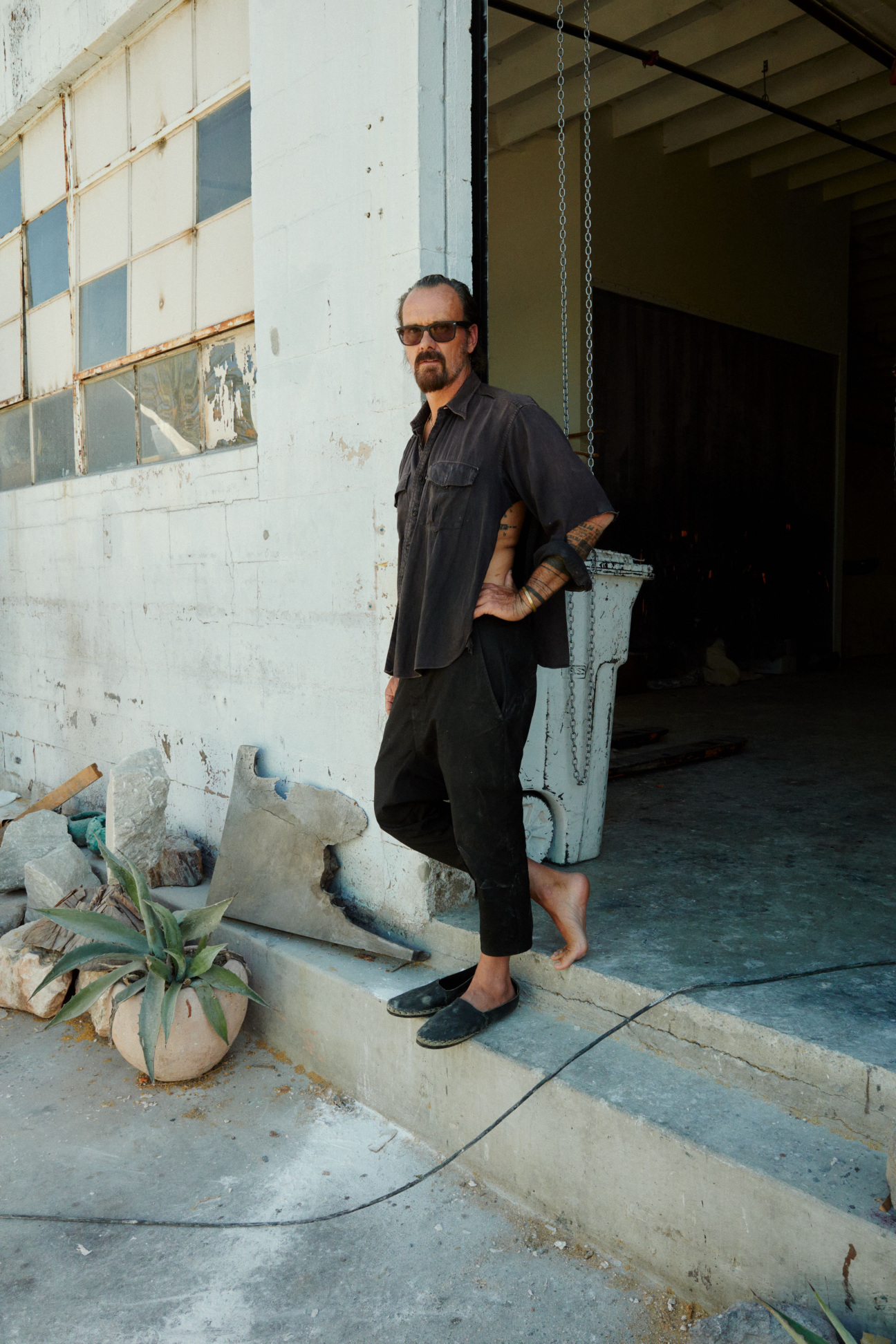 Fashion-designer-turned-artist Rogan Gregory reflects upon his shift of creative medium: "The problem is that it's almost like I'm not taking any risks, because I don't know what rules I'm breaking." He first began his career at the helm of several eco-friendly fashion brands with a focus on social responsibility, like Edun, the luxury Bono-backed label, as well as his eponymous line, Rogan. After finding success with the 2007 CFDA/Vogue Fashion Fund Award, Gregory realized his role was more business-oriented than creator, which offered him little joy. "I tried to apply my skills to managing a company, but my creativity was better realized as an artist, rather than in finance or production," he tells Cultured, recalling making the leap to becoming a full-time artist. "I really enjoy making one-of-one pieces as opposed to one of 10,000, but the only way you earn a living in fashion is to duplicate things. Managing a company in the fashion industry led to burnout, and I had no choice but to do what I should have been doing in the first place."
The pivot from fabric to utilizing clay, wood, and bronze wasn't completely foreign to Gregory. As a child he would build totem poles and geodesic domes, or tan hides with his professor father. "My dad was industrious but he was also a maker. I got a lot of my arts and crafts education from him," he explains. Moving from the Midwest to Canada to North Africa as a child, Gregory was able to absorb the influences of the various natural environments around him, and it's evident in his work, which draws upon the ways humans interact with ecological systems. "I like the idea of the life cycle. I juxtapose how far we've come as animals with the sterile existence we live in now."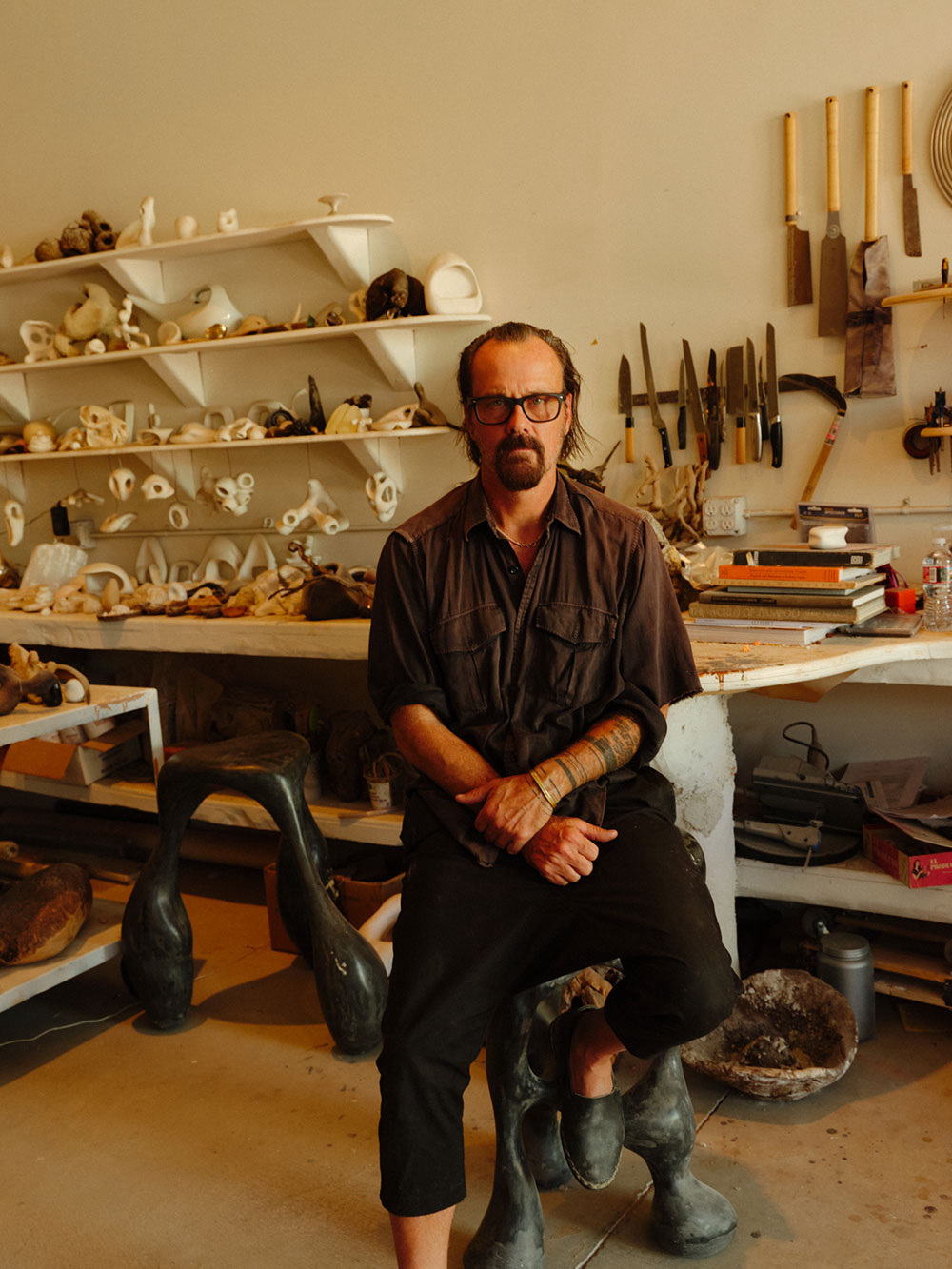 This deep-rooted fascination with our primordial existence can be best seen in two of Gregory's series of works, "Fertility Form" and "Sentient Space." The former explores sexual intercourse, fertilization of cells, and cell division, while the latter came from imagining distant planets not yet discovered and relating those lifeforms to what may exist in the depths of our oceans. The results are chairs, pendant lamps, rugs, or freeform sculptures that feature distinctively amorphous shapes. The choice to eschew harsh lines is deliberate. "I don't do symmetry or 90-degree angles, which are the foundations of modern society. It feels processed since you don't find two-by-fours in nature," he says.
For Gregory's new New York show, "Rogan Gregory: Imperfect Truth," which opens at R & Company tomorrow and runs until October 28, he is drawing from his life in Los Angeles. "I've been using a lot of materials like bronze, palm wood, and gypsum since I've been in California." While he may not be loyal to any singular medium, the same amorphous shapes remain his signature. "Drawing on familiar forms that are derived from the natural world is what I do. Even if you don't recognize exactly what my intent is, the familiarity gives a sense of sentience," he says.
There's an assuredness to Gregory's work, even if his friends and family weren't completely sold on his pivot at first. "I was at a point in my life where it was a risk to change careers completely, and I have to say there was not one person—including my wife—that thought it was a good idea," he laughs. Naturally, it all worked out but Gregory had no doubts, viewing his shift more philosophically, "People refer to me sometimes as an artist, sometimes as a designer—I live in the luxury of a nebulous purgatory. Sometimes I make things that are purely sculptural, but sometimes I make things you can sit on or things that can be lit. My father never sought conventions, and neither do I."

"Imperfect Truth" is on view at R & Company from September 9 to October 28, 2022 at 64 White Street, New York, New York 10013.