Communities of color have always been underrepresented in the art world, and for years the career of the artist has been depicted with unsalvageable intentions; "struggling" was deemed archetypal to people of color, specifically Black artists. Now times have changed, and our opinions about viability have been reconstructed. The possibility of art as a successful path has become evermore so abundantly clear. Yet, success in this space is still narrow—even gatekeeped—as the people passionate about art are still not guaranteed a fruitful future within it due to social class restraints and education biases. Black colleges and their alumni are historically overlooked, and the universal opportunities that could be granted to the students coming out of these programs are often observed but never chosen. Fortunately, curator and businessman George Wells (who is both the CFO of Barstool Sports and founder Wells Group) is determined to change the trajectory of what the art world can offer.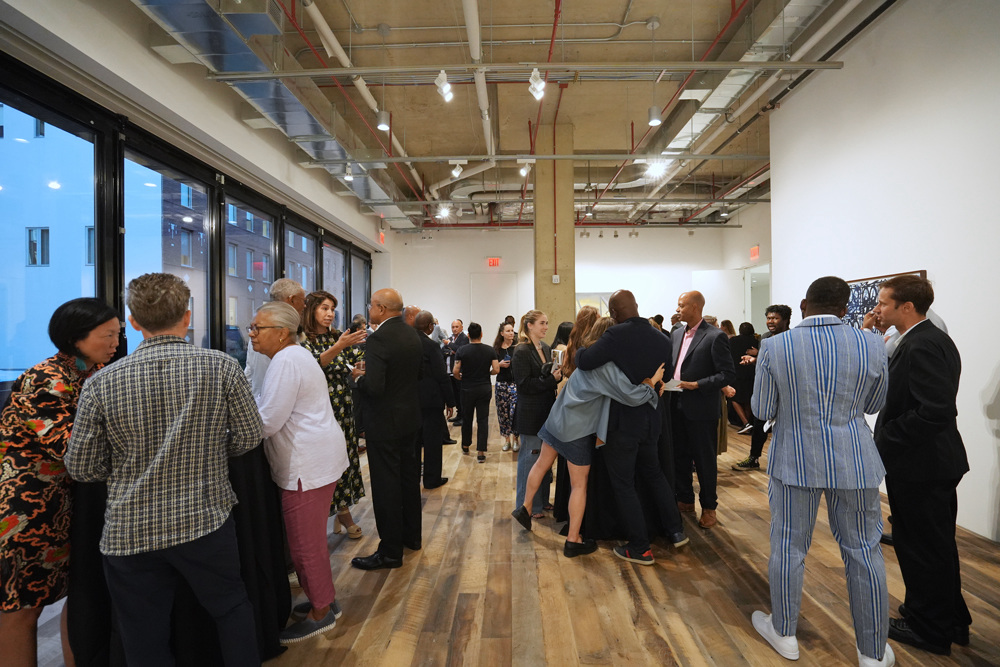 In December 2020, Wells's name flooded headlines with the announcement of a pledge of roughly $1 million worth of art works to form the first permanent art collection at Morehouse College, where he graduated from in 2000. Included in this were paintings, sculptures, prints, drawings, and photographs created by some of the most significant contemporary artists working today, such as McArthur Binion, Ivy Haldeman, Tomashi Jackson, Dominic Chambers, Rashid Johnson, Christina Quarles, Amy Sherald, Gary Simmons, and Mickalene Thomas. Now, he's expanding on the gift by joining his alma mater's $500 million fund-raising campaign "Making Men of Consequence," which he just announced at Hauser & Wirth New York last week during Armory Week. The comprehensive campaign is an effort to drive support for innovative academic initiatives and arts programs at Morehouse, to fund scholarships and services for students, to attract investments in faculty research, and to modernize the campus by constructing new buildings and improving the college's infrastructure and technology. Even more, the campaign will expand Morehouse's Martin Luther King Jr. International Chapel, adding a lecture hall and a large-scale exhibition space, a personal cause for the collector and one that he has promised to raise $1 million for specifically.
JoliAmour DuBose-Morris: What role has your professional career as a financier and entrepreneur played into your philanthropy?
George Wells: Twelve years ago, I founded Wells Group of New York, which focuses on providing interim CFO and Controller services to companies operating in consumer internet, media, and technology spaces. For over the last decade, we have worked with contemporary art clients, including Lehmann Maupin and Mickalene Thomas. The more I learned about the power of visual art and the intricacies of the art market, the more passionate I became, and in 2018, I began building my own collection. The primary goal of my 2020 gift to Morehouse College was to change how cultural institutions support, collect, and present the significant contemporary artwork of our time. As a Morehouse alum, the ethics and mission behind the college have shaped who I am as a businessman, particularly a Black businessman. Once I realized the power and possibilities of art for our community, I knew Morehouse would be a critical space to participate in reshaping today's contemporary art canon in by reimagining and recontextualizing art history through the work of Black artists. It was a deeply personal gift in so many ways, and I wanted to apply the same disruptive mindset I have used working with Silicon Valley companies to my participation in the art world, which is in the midst of a radical transformation as it relates to diversity, equity, and inclusion.
JADM: Your personal collection contains over 100 works by mostly BIPOC artists. Why was it so important to place these at an HBCU?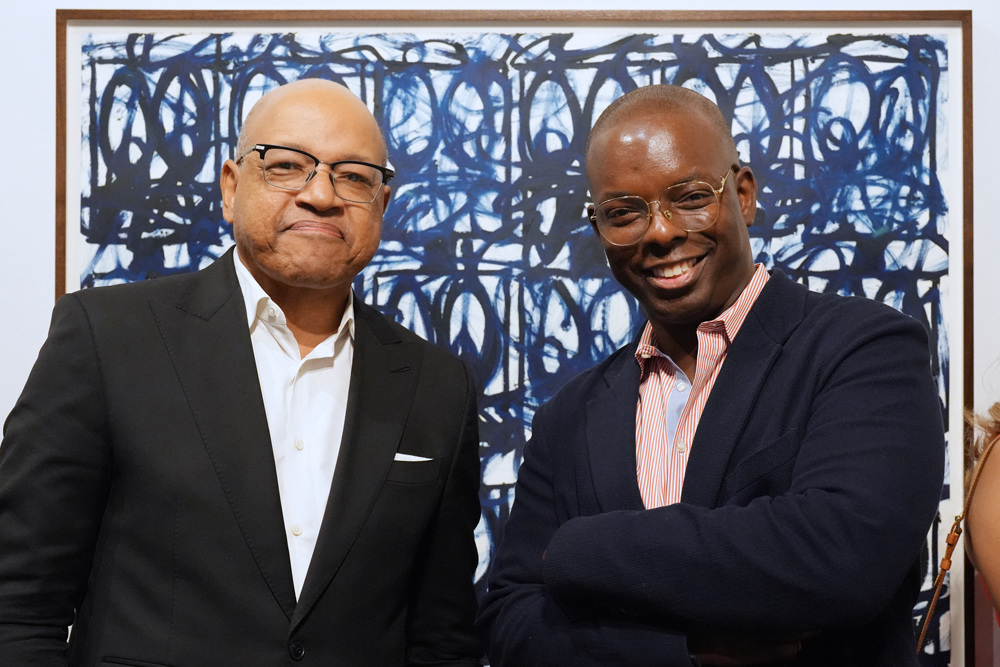 GW: My collection reflects a diverse view of the art world, featuring work by primarily Black and queer role models. My relationships with galleries like Hauser & Wirth, Lehmann Maupin, and Tilton have given me a critical edge when it comes to access, information, and insight into the Black artists who are making (and will make) the biggest impacts on Black history and culture. The decision to give a substantial selection of my collection to Morehouse felt urgent. While I love living with this work, it is of the utmost importance to make work by Black artists, representing Black history and experiences, visible within a predominantly Black community. It also furthered my larger mission to support artists of color, educational institutions, and the next generation of curators, gallery directors, and art historians, in order to promote sustained diversity in the arts.
JADM: What was the process in curating the artists for that gift?
GW: As the discourse around racial inequality had reached a feverish pitch in 2020, I was drawn to take action by bestowing a meaningful contribution, and the highly relevant portion of my art collection to this important institution. My first criteria was self-reflection. I then asked myself, "Does the artist capture the essence of who I am as a person?" I picked who I believe are the most important artists doing work today. It was important to include Black artists, queer artists, and also non-black artists. I want the collection to be as relevant at Morehouse as it would be at The Whitney Museum, Metropolitan Museum, and more in every way.
JADM: In a certain way, you are reinventing the idea of philanthropy.
GW: I have always worked within and across numerous fields. This is a skill I honed during my time at Morehouse: how to be inventive, nimble, resourceful, and to be able to think outside of the traditional boxes offered to me. I have applied these principles to my collecting and philanthropic endeavors as well, rather than accepting the models that exist that have always favored white male artists, old money, white collectors, and institutions led by white leaders. My goal is to shake things up and find alternative systems of philanthropy that favor wider diversity and span museum staff, boards, patrons, collectors, gallerists, and artists. Without a transformation of the entire institutional structure, the change we have seen over the last few years may not be sustainable. As someone who has an outside perspective but also has had a crash course in the arts, I feel I can be one of the leaders in rethinking these old and broken structures.
JADM: What effect has the promised gift had on acquisitions for Morehouse, as well as your personal collection?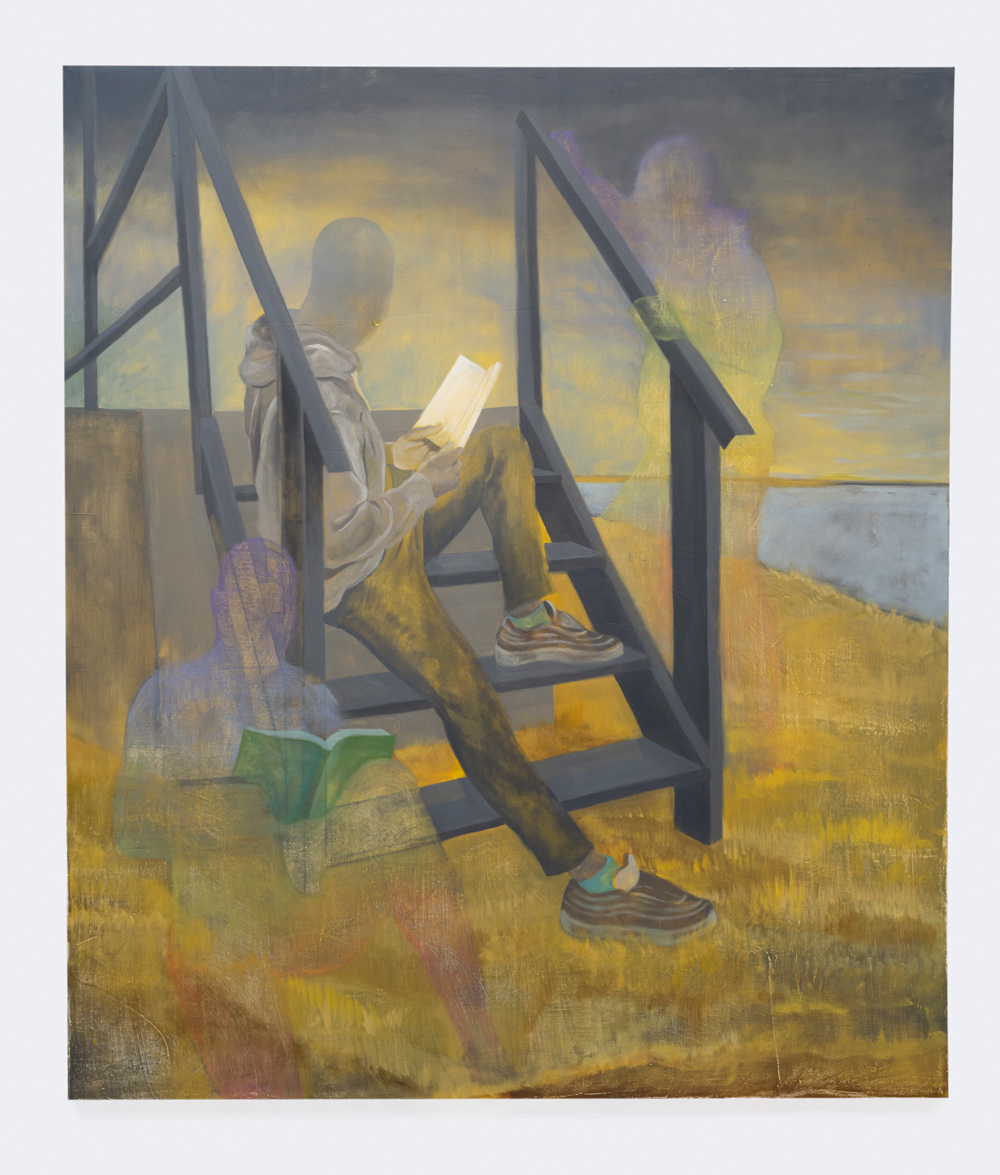 GW: My 2020 gift to Morehouse represents just one of my philanthropic endeavors aimed at the diversification of the art world through the support of artists of color, educational institutions, and the next generation of curators, gallery directors, and art historians. I feel strongly that art is archaeological in terms of it reflecting our times, and knew it would be important to bring Morehouse College into the narrative. This goes beyond a desire to share more Black stories of success, I want the collection to serve as an inspiration for young people so that they too can participate in the change they want to see in the world, including a more nuanced and expansive understanding of identity and subjectivity. It has also made me think more carefully about the overarching mission of my own personal collection, which includes work I love ... respect, but also includes work I love by artists I deeply respect but also tells a comprehensive story of Black history, joy, and excellence.
JADM: What have you learned or observed in the two years since the original gift was announced?
GW: It has become clear that participation and philanthropy of Black collectors and patrons is the only way that we will see lasting change in the art world. While the Black Lives Matter movement incited many institutions to look at their staff, boards, and collecting and exhibiting practices, I discovered that our presence in the room when structural decisions are being made is of the utmost importance.
JADM: What encouraged you to join the Steering Committee for Morehouse College's $500 million Making Men of Consequence comprehensive campaign?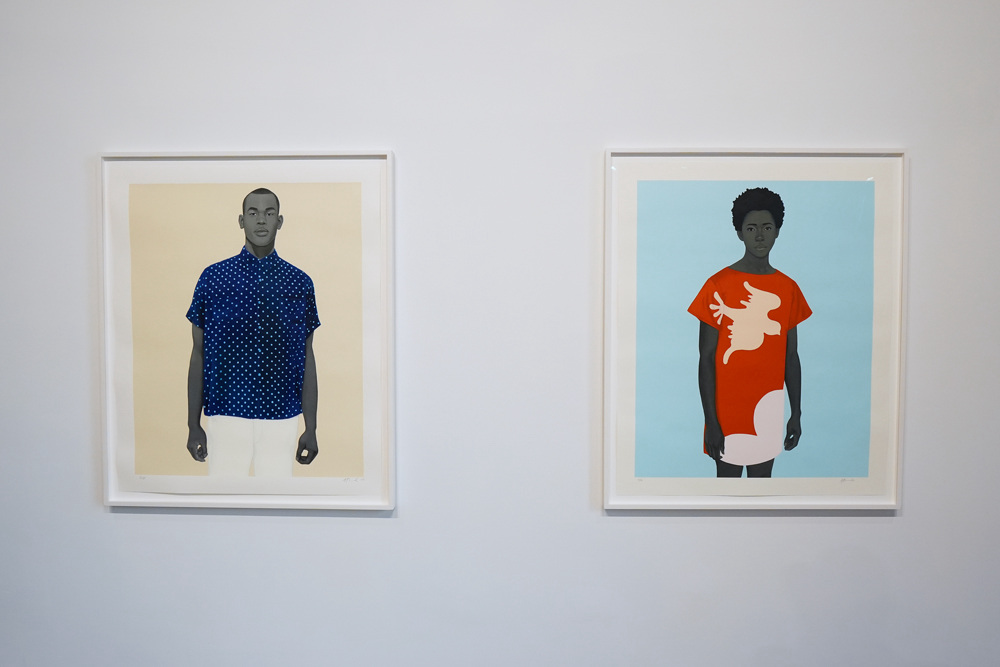 GW: I realized that my enthusiasm, skillset, and rapidly growing knowledge can produce a real (transformative) change for an institution like Morehouse. My passion for art, and my loyal support for to my alma mater have fueled my commitment to help make Morehouse a leading institution in the arts. After the 2020 gift, I soon realized this would only be the first step in a more substantial strategic plan around a collection, space, and clear narrative around how the collection ties to the history and mission of Morehouse. The $500 million campaign will be critical to supporting the college as a whole but also the future artists, art historians, curators, collectors, patrons, etc. who will participate in solidifying Black history and culture in institutions around the world. Morehouse is one of the most important cultural institutions in the Black community and has played a critical role in educating Black men, played a pivotal role in the Civil Rights Movement. With the introduction of a contemporary collection, museum, and educational program, the college is poised to be the entry pipeline for that talent and as a space for a major collection and exhibitions that can drive wider institutional practice.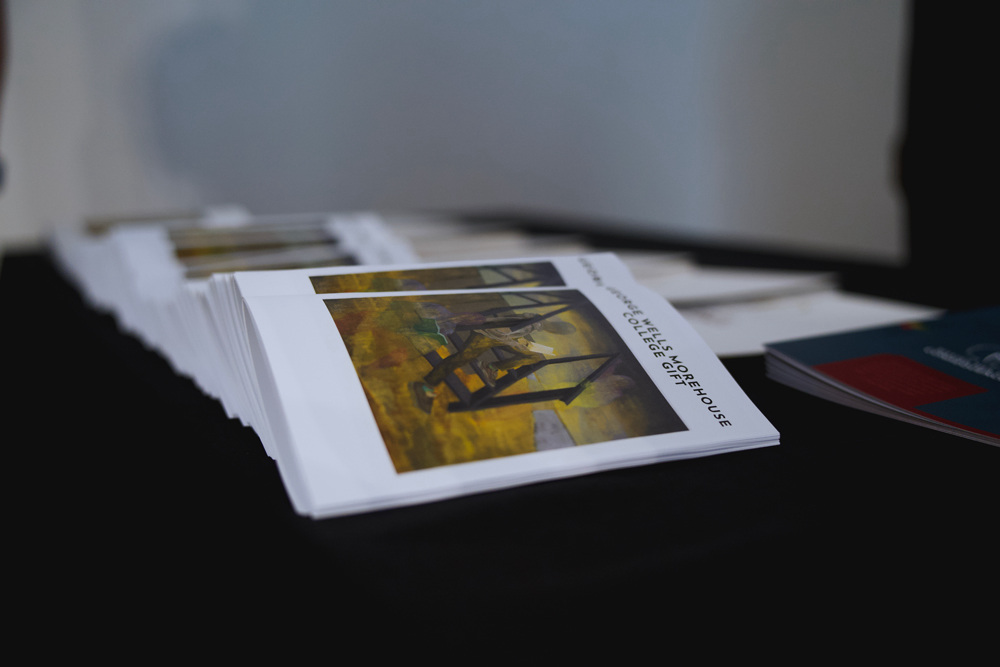 JADM: How does the expansion of Martin Luther King Jr. International Chapel and construction of a new space propel your overall initiatives forward?
GW: Until I joined the Steering Committee for the Making Men of Consequence campaign, I was not aware the College owned the King Collection, which consists of letters and other correspondence between King and well-known figures such as Presidents John F. Kennedy and Lyndon B. Johnson, writers such as Langston Huges, John Steinbeck, and Lilian Smith, and hundreds of personal notes, famous and lesser-known speeches, manuscripts, sermons, and other writings of unparalleled historical significance. MLK Jr. was a key figure in the Civil Rights Movement that led to the "Black is Beautiful" movement and has inspired generations of artists. One of the first artists I worked with, collected, and was influenced by—Mickalene Thomas—has been deeply inspired by the 1960s and '70s in America. Not only does her art work reflect her journey as a child of the '70s but also as a Black woman who has had to contend with that history. The revitalization and renovation of The King Chapel at Morehouse College will coincide with the construction of a 6,000-square-foot exhibition space where the MLK ephemera will be exhibited. Aligning the renovation of The King Chapel and the development of a prestigious gallery space that will showcase Black history, life, and culture through art will bring the full story of the struggles and triumphs of Black Americans to the forefront and elevate Morehouse College's impact in the arts globally.