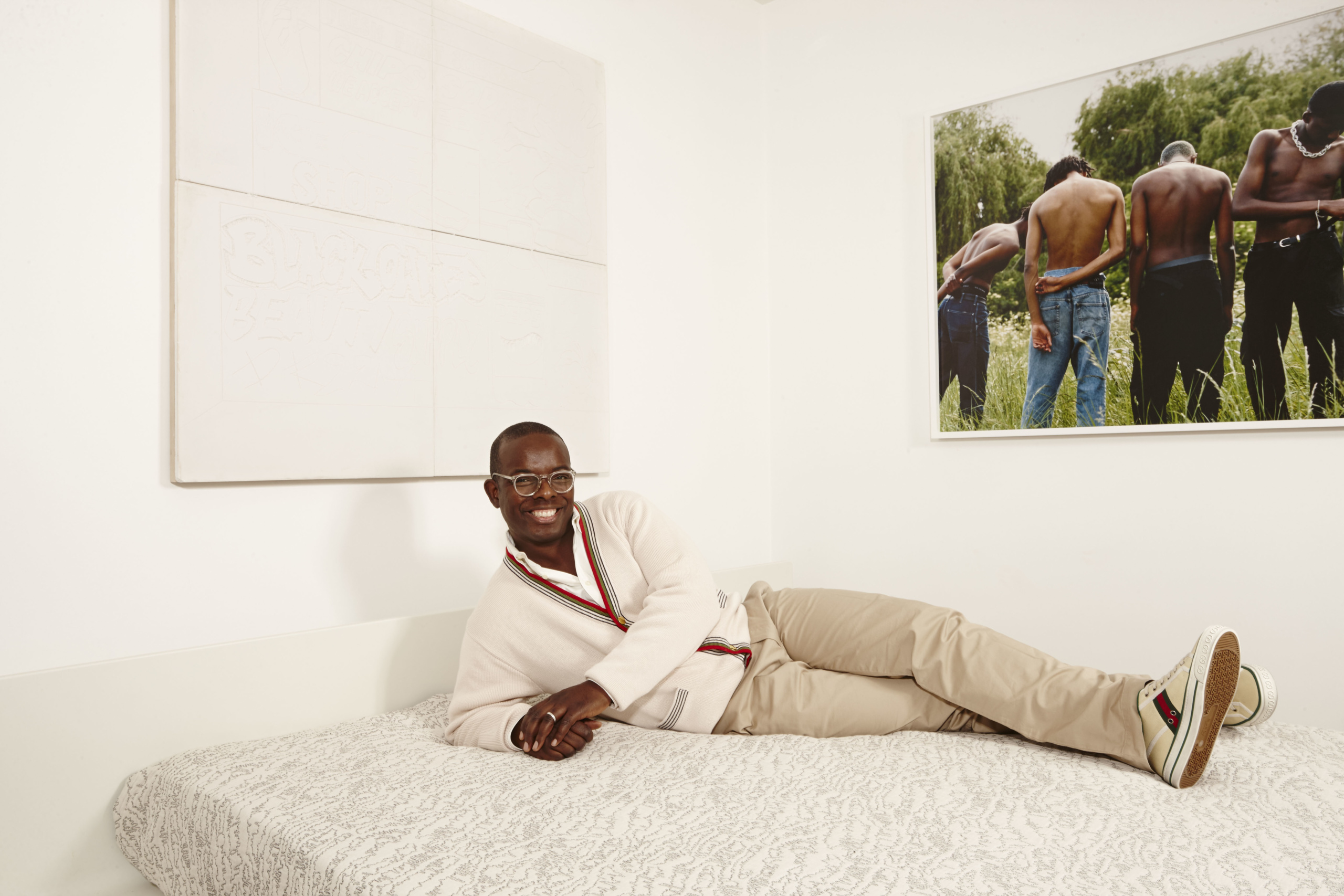 Elizabeth Fazzare: How did you begin to build your own collection?
George Wells: Following a two year engagement as acting CFO and COO of contemporary art gallery Lehmann Maupin in New York, London, Hong Kong and Seoul, I developed a deep passion for art, specifically the work of Black artists, which shaped the collection I have today. It all really started when I saw a painting of Whoopi Goldberg by Mickalene Thomas inspired by my favorite film The Color Purple. I was completely blown away by Thomas's ability to capture Whoopi's likeness but also her essence through complex layers of art history and pop culture. I realized how art has the capacity to reimagine life in a fascinating way. At that point I began to understand that my impulse to collect works by specific artists, like Thomas, was a form of self-expression.
At the same time, I quickly began to see how valuable my business acumen was in my work with living artists. I began working alongside Thomas―who at the time was represented by Lehmann Maupin―and, following my own departure from the gallery, have continued to work in collaboration with her business manager. Those two years spent working with the gallery were key in developing my passion for art and supporting artists in a more holistic way. For me, it was not just an awakening as a collector, but revealed an entirely new asset class. The more immersed I became in the art world and market, the more I questioned why such a valuable asset had been inaccessible for so long. While I think it is important to collect and hold on to works, it is important to be aware of auction results and whether the museum community has taken an interest in terms of both collecting and exhibiting the works cementing their importance in art history. The first work we purchased by an established artist was Status and the Ball Crown by Nari Ward. We have since amassed a collection comprised of over 50 works, of which 60 percent are artists of color.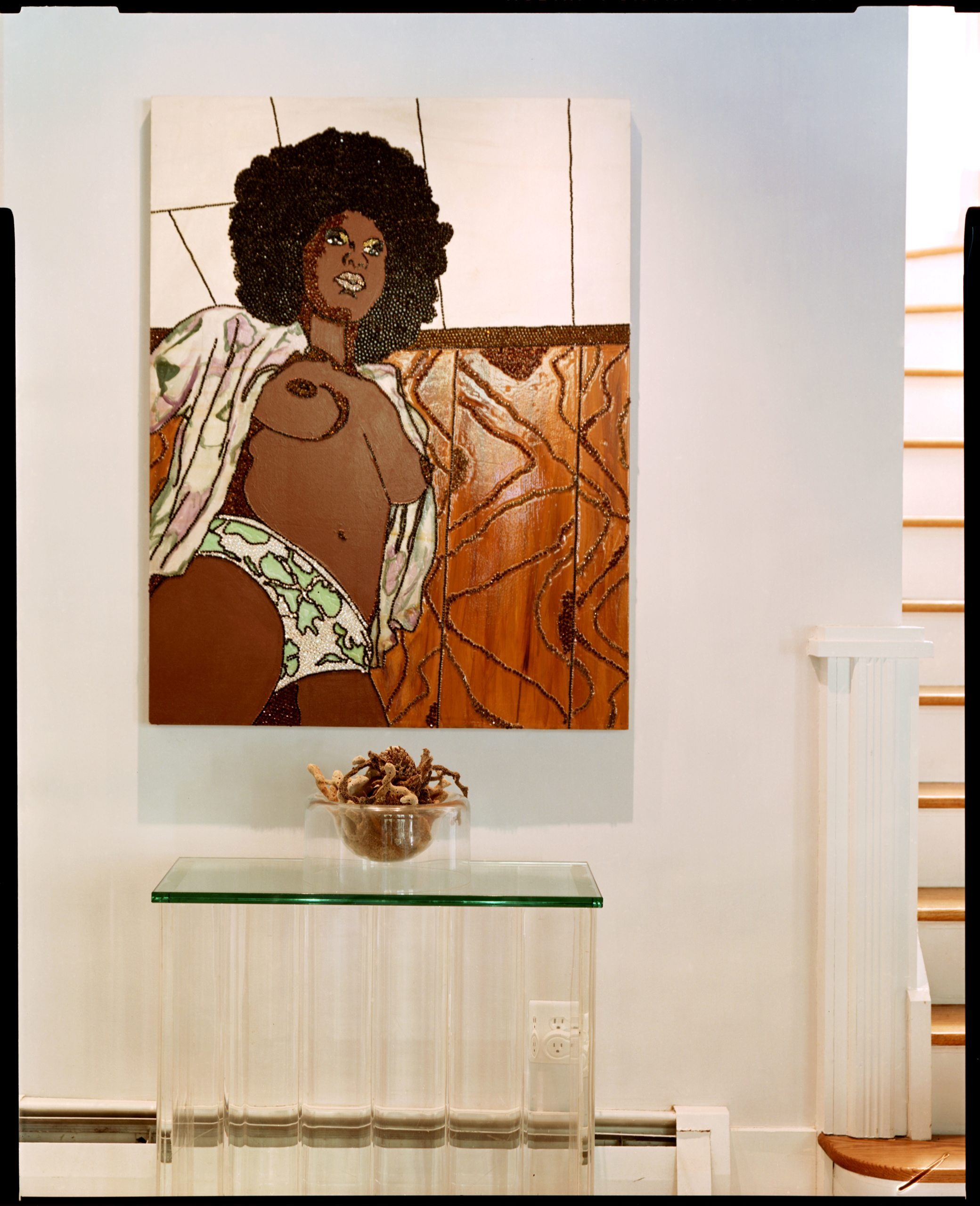 EF: What pieces inspired you to continue?
GW: Honestly, every work inspired the path to our acquisition of the next. I have had to balance collecting the work I love and am instinctively drawn to with my goal to develop a cohesive collection that reflects my husband and my individual and shared experiences. I initially started by collecting works on paper, photographs and prints by Mickalene Thomas, Rashid Johnson and Nari Ward. However, I soon realized that I wanted to expand the artists and media represented in my collection. I began to collect painting and sculpture so that each artist was represented in a more comprehensive way that did not simply highlight the most visible or popular aspect of their oeuvre but would offer a full picture of their practice. It is important that the collection reflect both our own lived experiences, and exemplify the significance of each artist within art history and image making today.
EF: What designers/artists are inspiring you right now?
GW: I am a big fan of architecture, fashion and design. I am particularly drawn to all things Bauhaus, particularly the work of Mies Van Der Rohe. I am also deeply inspired by Gucci and the constant collaboration and reinvention that has made it both timeless and contemporary. Though I know she keeps coming up, I am constantly amazed by the ambition and range of Mickalene Thomas's practice. Over the last two years I have witnessed her ability to create paintings, photograph some of the most important black figures of our time―Carrie Mae Weems, Marsha P. Johnson, Venus Williams, and Michael B. Jordan (to name a few)―and built a multi-use space at The Bass in Miami that was a bar, performance space and immersive, interactive art object. During this time, she has also created two major installations at the Baltimore Museum of Art and the Contemporary Art Center New Orleans that offered an entirely new model of exhibition making and challenged our understanding of public art space. I find that the artists and designers I am most drawn to are those that push the boundaries of their practice and that have the vision to imagine the impossible.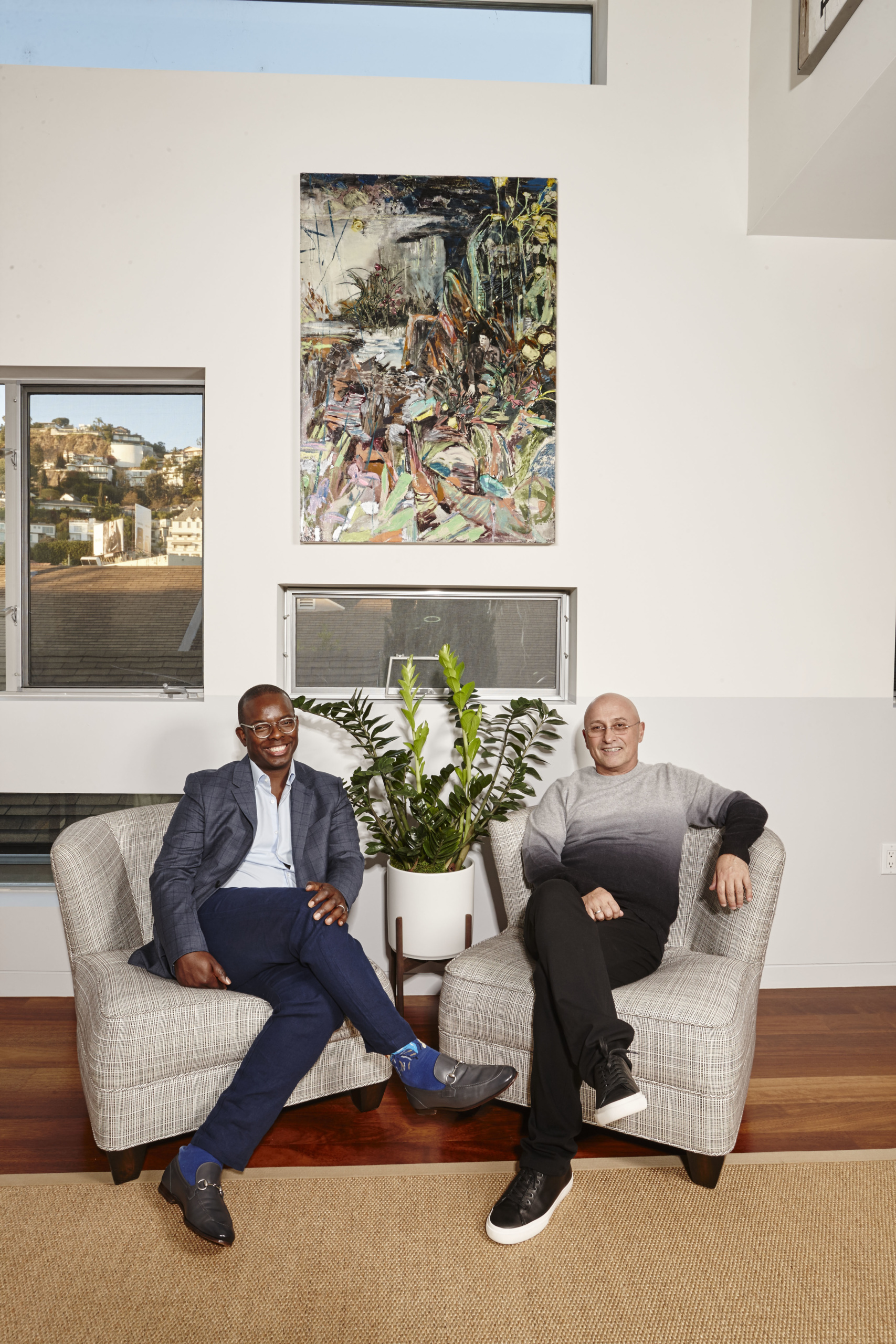 EF: Does the marketplace help your discovery process? Why or why not?
GW: Absolutely. I have attended numerous global art fairs with my close friend (who is also an art advisor) Elizabeth Margulies. Art fairs offer a unique opportunity to see thousands of work by thousands of artists in one space over the course of a few days. It is within these spaces that I have been introduced to new international artists and galleries, have seen exciting new work by artists I am already familiar with and have been able to foster existing relationships. Of course, amidst the pandemic, art fairs feel like a lifetime ago, and though the online fairs have worked to fill the void of the last 10 months, nothing can replace the ability to discover new work in an art fair nor the excitement and experience of seeing art in person. As a collector I am also keenly aware of the importance of the secondary market and auction results for artists. I often use auctions, not necessarily as a discovery method, but as a way to gain market knowledge about the artists in my collection and those I am interested in learning more about.
Last year, I joined the Whitney Museum of New York's Artists Council. While not a direct part of the market, the ability to engage in conversations with other collectors, artists, and curators has been crucial to expanding my knowledge about the variety of artists working today, particularly those that curators are paying close attention to. Ultimately, it is the art community―collectors, gallerists, artists, curators, friends and colleagues―through events, openings and Instagram that has fueled and informed my discovery process.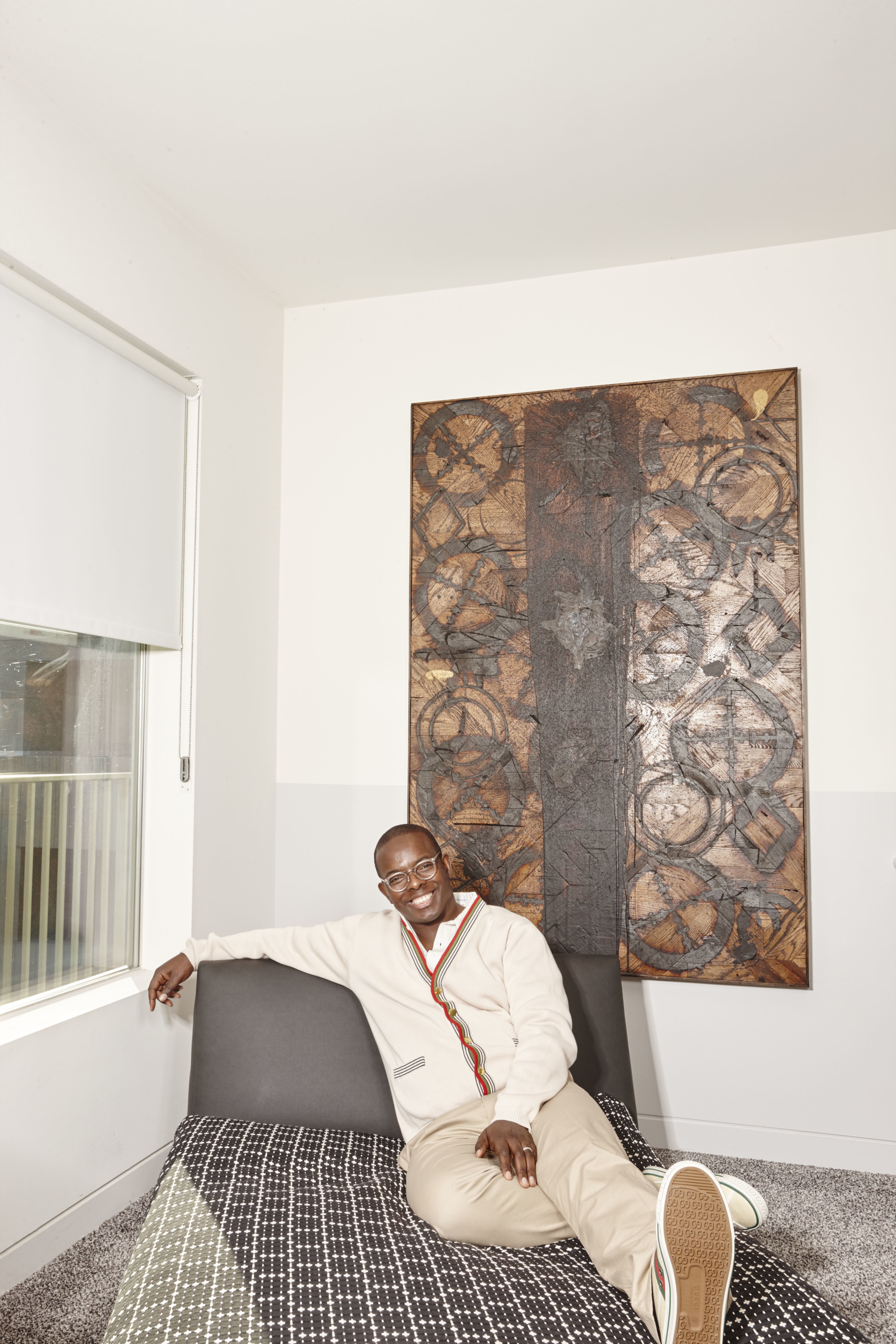 EF: What is the next piece on your radar?
GW: My 2021 wish list includes Nicolas Party and Cassi Namoda who each engage the liminal space between abstraction and pattern and figuration and identity and would add critical new voices to our collection.
EF: What is the one piece that got away?
GW: The work that immediately comes to mind is a George Condo painting from his exhibition Internal Riot, currently on view at Hauser & Wirth in New York. The series features work Condo made during quarantine that reflects the experience of prolonged social and physical isolation, portraying abstracted figures that are even more psychologically fraught due to the current circumstances. I think we can all relate to that at the moment. However, due to Condo's current market, the works are a bit out of our price range. While I would love to buy everything I feel immediately drawn to (and the art historical significance is clear), the reality is we have to collect in a smart way. We recently purchased a work on paper from Sotheby's but a painting will remain on our wish list as we keep watching and aspire to collect his work in more depth.