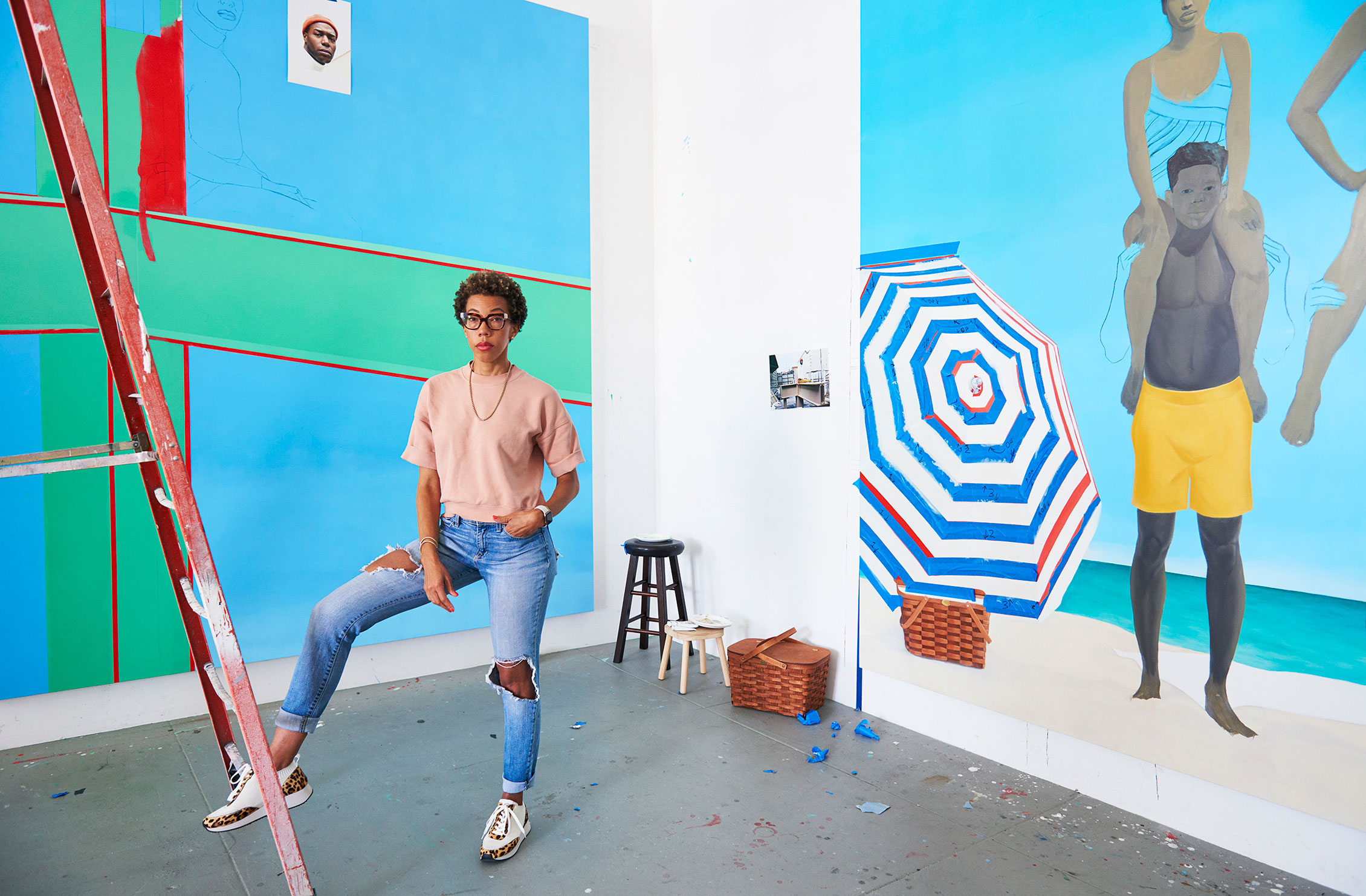 There has been a waiting list since 2015 for Amy Sherald's realist paintings of African Americans, at once dreamy and assertive in their gaze and posture. Yet the 46-year-old artist went from being known by art world insiders to being known by sixth graders after her portrait of Michelle Obama, commissioned for the National Portrait Gallery in Washington D.C., was revealed last year to both acclaim and debate.
Sitting in her capacious studio at Mana Contemporary in Jersey City, where she moved last fall from Baltimore, Sherald is adjusting to the glare of the spotlight on this new stage after being what she calls a "late bloomer" professionally. She was in overdrive with multiple paintings in process that are now on view in her season-opening show at Hauser & Wirth, her first with the powerhouse gallery. "This is the most pressurized my life has been," says Sherald. "I like to work on one painting at a time but that doesn't work anymore. My introvert has had to make some huge adjustments to the level of on-ness, but I love it here."
The most significant pivot in Sherald's new show is the expanding size of her canvases, facilitated by the scale of her studio with large doors and freight elevators. Her biggest painting to date, at 11 by 10 feet, shows a black construction worker sitting at ease on an elevated I-beam—inspired by the classic 1932 Charles Ebbets photograph of workers eating lunch while suspended on a beam during the building of Rockefeller Center. "Those kinds of moments are a big part of American history, but slavery and the labor of black people is barely spoken of when it comes to the literal building of America," she says.
This painting comes on the heels of her first breakaway from smaller canvases, Planes, Rockets, and the Spaces in Between, (2018) which was recently acquired by the Baltimore Museum of Art where it is now on view. Depicting two young African American girls watching a rocket liftoff, it also "reclaims space," she says, for black representation within such iconic American narratives.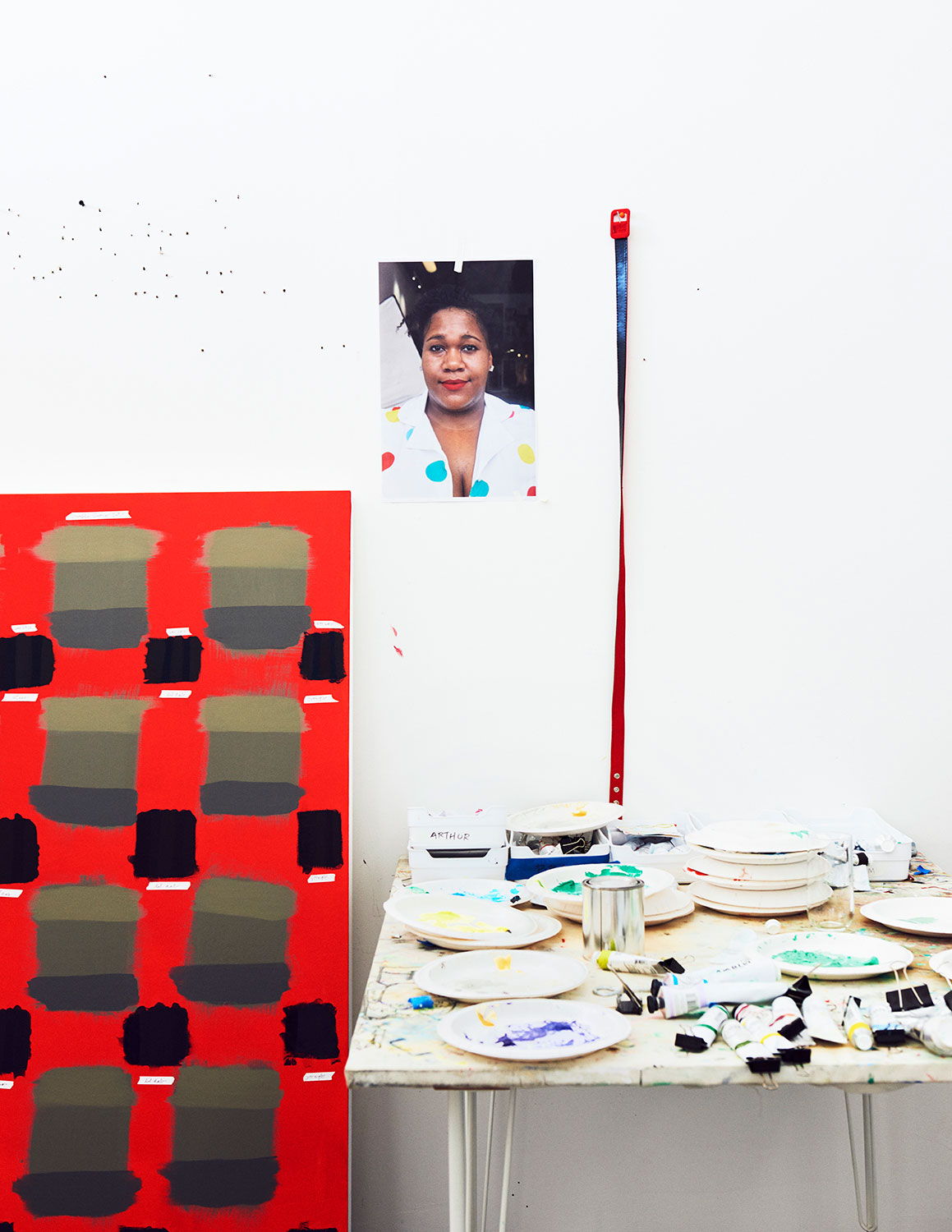 Another oversize painting for Hauser & Wirth has two young African American women straddling the shoulders of their boyfriends in a playful beach scene. "I'm really into these sweet moments that I didn't see a lot of growing up, until I discovered the photography of black Americans and got to see the grace and the dignity of how we survived despite Jim Crow and segregation," says Sherald. "When you study art history, you see blackness represented in a certain kind of way. I'm painting everyday American people and the kinds of scenes that had not been painted into the American art canon."
Consistent with her smaller paintings, often of women in fantastically patterned outfits that pop against monochrome atmospheres of luminous orange, yellow or blue, Sherald renders her subjects' skin exclusively in subtle tones of gray. "There's something about the grayness that doesn't mute the paintings but allows you to really think about the various skin tones and cultures and spaces that the African diaspora exists in," says Erin Christovale, an associate curator at the Hammer Museum who contributed a catalogue essay for Sherald's solo museum show that opened in 2018 at the Contemporary Art Museum in Saint Louis and traveled to Crystal Bridges in Bentonville, Arkansas, and the Spelman College Museum of Fine Art in Atlanta.
Sherald grew up in Columbus, Georgia, where her father was one of the first black dentists in the city. She bucked her parents' expectations to study pre-med at Columbus State University by transferring to Clark Atlanta University and getting her degree in fine art in 1997. After six years of waiting tables and making occasional self-portraits, she realized she needed a masters and got in off the wait-list at the Maryland Institute College of Art in Baltimore. It was four more years of struggle after graduating in 2004 before starting to find her subject, inspired by seeing Kara Walker's retrospective at the Whitney.
"It got me thinking about the lack of imagery of black people just being themselves, where it wasn't about teaching something or about identity necessarily," says Sherald. She long had worked in the stylistic vein of Edward Hopper and Andrew Wyeth but now with a new spectrum of faces. Sherald spotted "the embodiment of what I was looking for" in a young woman at the Walters Art Museum in Baltimore and had her model for her 2008 painting Well Prepared and Maladjusted. "She was 6'3" and had on this polka-dot outfit from a secondhand store," says Sherald, herself tall and tomboyish, with a distinct flair for fashion. "I saw my story in her." This painting, now in the collection of Lisa Gregory, set the tone for how she continues to work today. Drawn to people on the subway or while driving down the street for some unique quality about how they carry themselves, she convinces these strangers to pose for a photograph from which she'll paint. "I see something in them that I know I'm able to translate," says Sherald, who doesn't view her paintings so much as specific portraits but more conceptually as "archetypes" of black experience.
"There's a beautiful simplicity to Amy's practice, the way she confronts the subject and the directness to which she approaches them," says the artist Rashid Johnson, who owns her 2016 painting listen, you a wonder. you a city of a woman. you got geography of your own.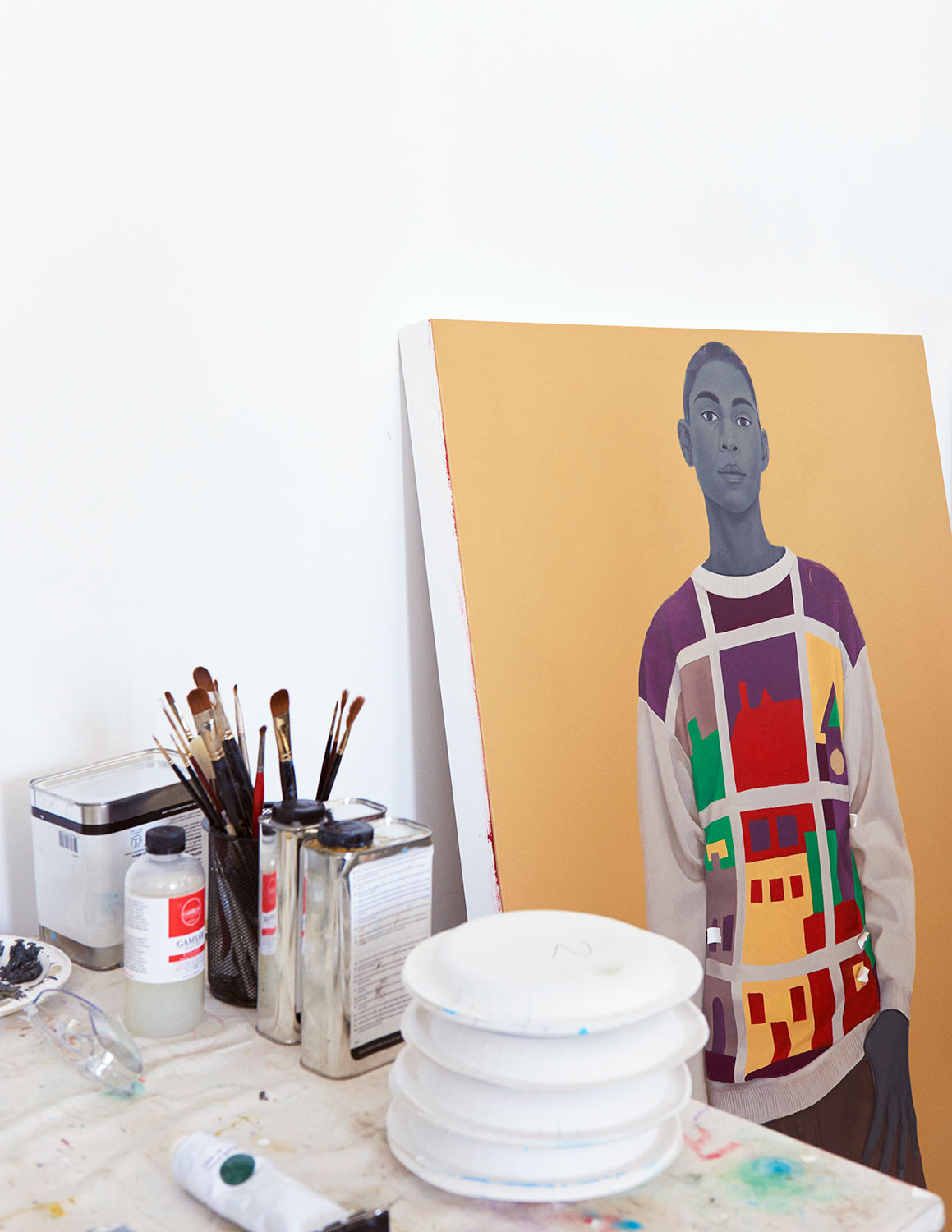 Her one true portrait is that of the only black first lady, who selected Sherald after she received first prize in the 2016 Outwin Boochever Portrait competition from National Portrait Gallery. Seated in repose, Michelle Obama stares out contemplatively from a celestial blue background, her flowing geometrically patterned dress symbolic for Sherald of both Gee's Bend quilts and abstract painting by modernists like Piet Mondrian.
Public opinion was divided between those who swooned over the portrait and others who felt it didn't look enough like the former first lady, one of the most photographed people on the planet. "If she is unknowable, I feel it's because I captured a very private and personal part of her that was not projected in the media," says Sherald, who tries to relieve her subjects of the burden of having "to perform your race," something she realized she did unconsciously growing up in order to assimilate.
Having worked almost two decades teaching art to kids, Sherald has found she's treated like a celebrity since the unveiling of her Obama painting. "When I visit schools, I'm not Michael Jordan but little girls and little boys are really excited to see me because they like to draw or paint," she says. "This idea of being a role model comes into play. Like me at their age, they had never considered it something that they could do or seen a black artist that did it."