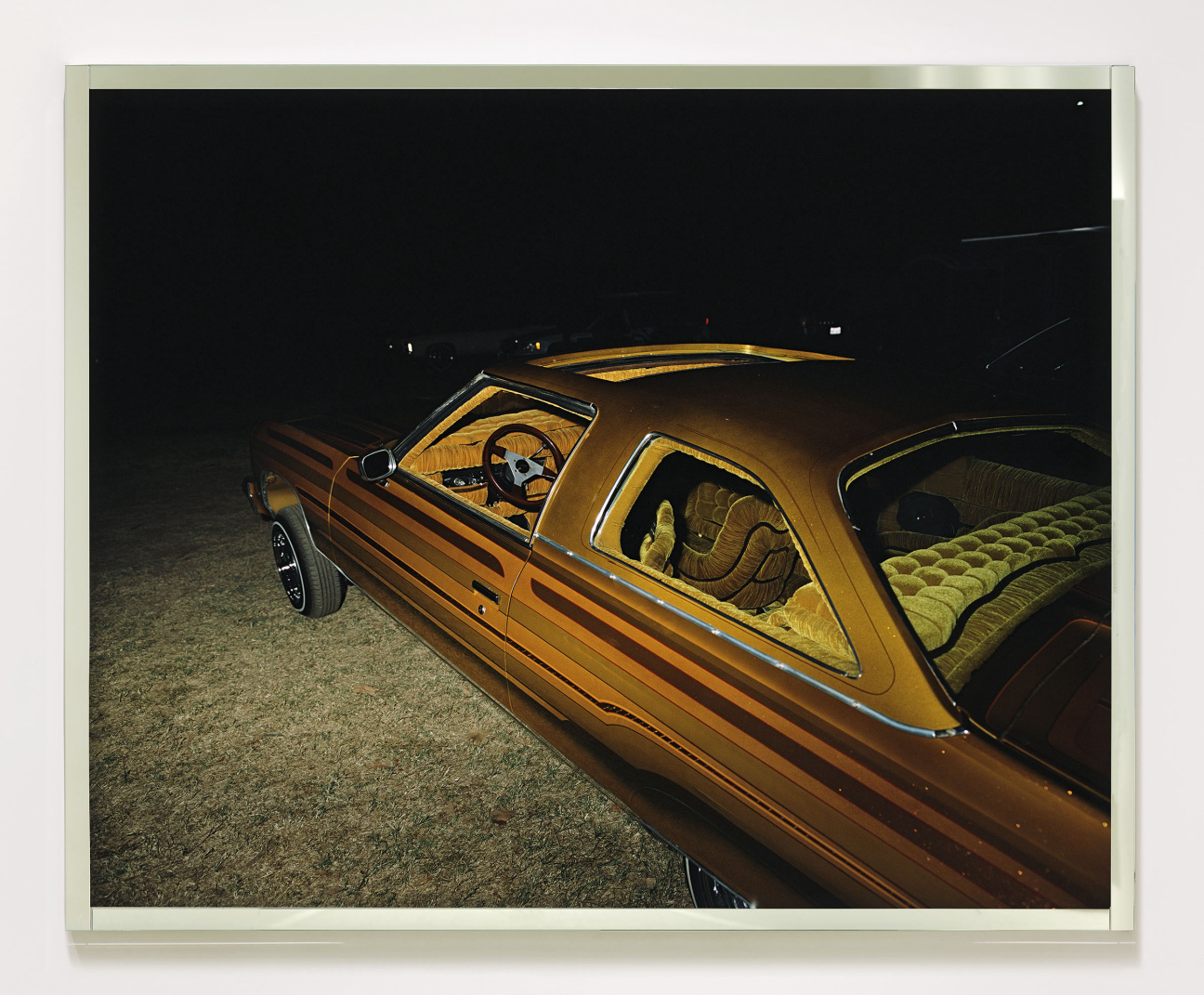 Los Angeles's gallery ecosystem seems to be in a permanent state of efflorescence (perhaps because new transplants attract more notice than decaying deadwood). But over the past year, many big names have entered the fray: Lisson, Sean Kelly, David Zwirner, James Fuentes, Shrine, Sargent's Daughters, and, later this month, Marian Goodman. (Not to mention Hauser & Wirth, which opened a second space in West Hollywood in February.)
September is "back to school" month for galleries everywhere, making this the first opening season for LA's shiny new, (even) big(ger) league art world. It may be a coincidence that the most exciting shows will feature work by female artists, but it signals that galleries here are not prioritizing macho blue-chip collector fare. Instead, they are focusing on once-overlooked figures like Juanita McNeely or Rose Wylie, both octogenarians with unusual backstories, or younger artists like Emma Webster and Analia Saban who are locally loved and respected. Finally, an exhibition by superstar Deana Lawson proves that the city can still be a place for experimentation and surprise.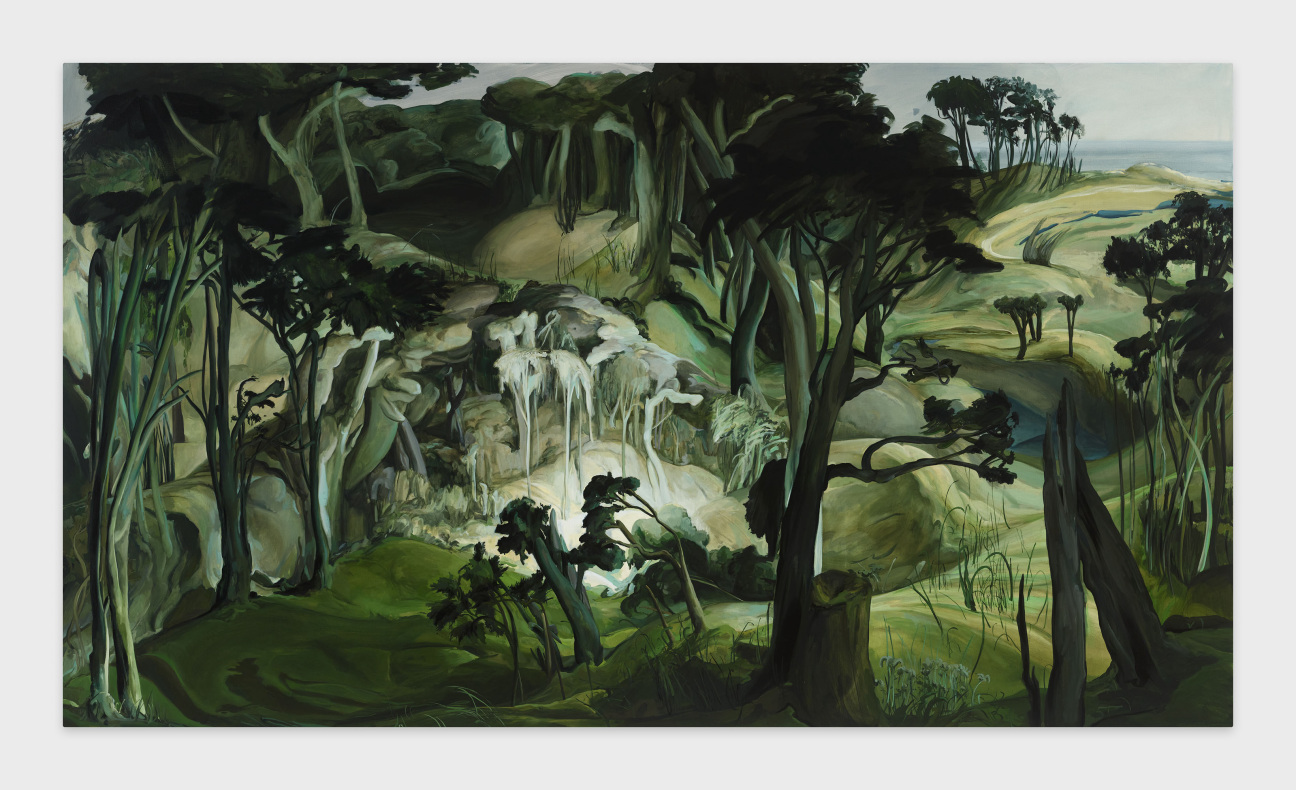 "Intermission" by Emma Webster
Jeffrey Deitch, from September 8–October 21, 2023
Los Angeles-based, British-American painter Emma Webster has recently gained attention for revitalizing traditional landscape painting, which she amps up and skews with the aid of VR technology as well as handmade dioramas and clay models.
Her first show with Jeffrey Deitch is a special project conceived specially for Deitch's 7000 Santa Monica Boulevard annex—formerly a recording studio where Elvis and Stevie Wonder once made music. Webster takes that history and runs with it, turning the gallery into a fully realized black-box theater, complete with theatrical lights, a mixing desk, and an array of flight cases.
Center stage is Webster's magnificent oil painting Virtual Vedute. Flanking it, at either side, are theatrical 'flats'—panels painted with trees and foliage that give the stage a sense of shadowy depth. Visitors can wander backstage, where reference material is taped on the walls alongside (fake) call sheets and rehearsal schedules. (Don't miss the additional knockout paintings hanging there, or Webster's witty 'green room.')
Webster has often made the point that landscape painting is a fiction—pure theater. But with "Intermission," she explores the limits of what that fiction might include. Here, her paintings feel like the realest parts of the mise-en-scene.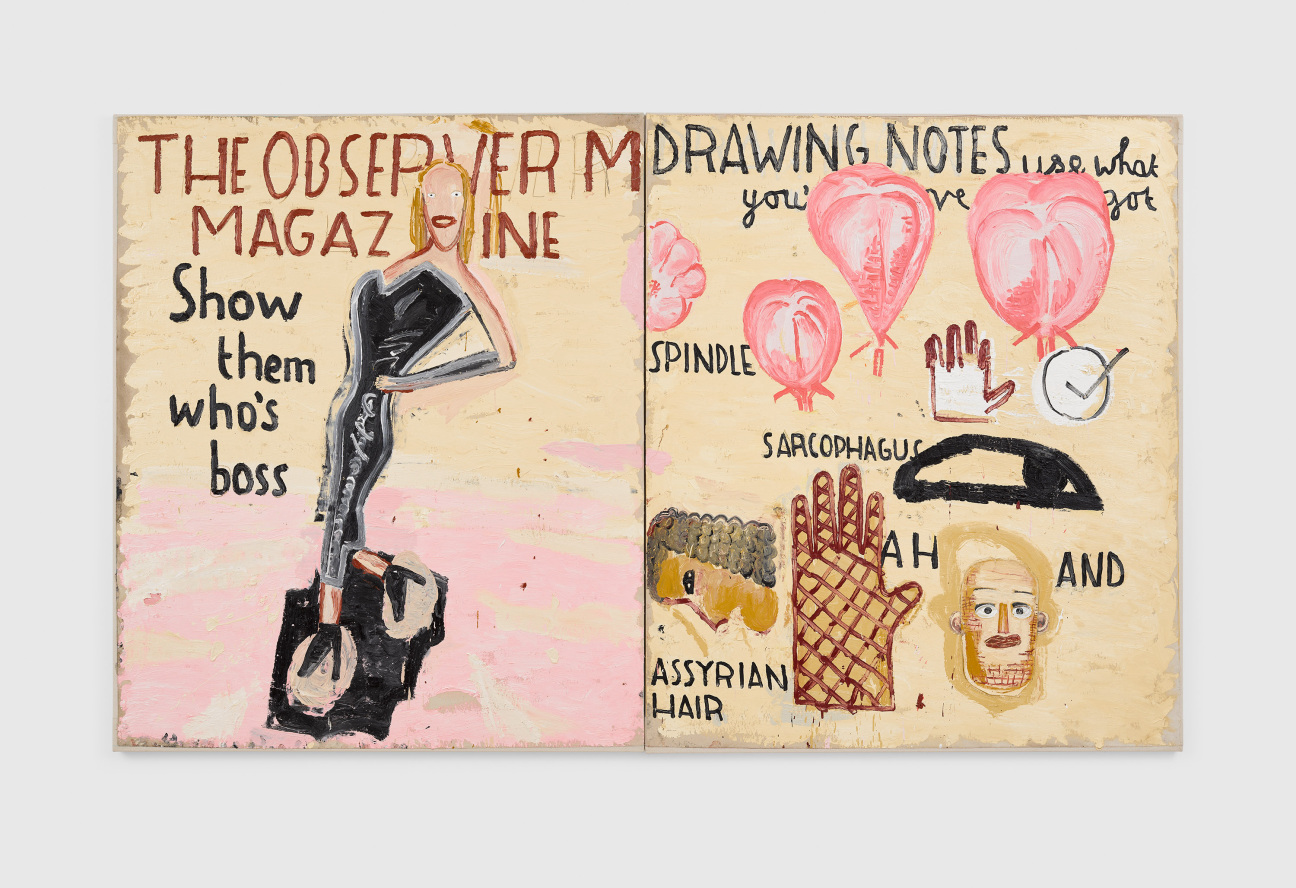 "CLOSE, not too close" by Rose Wylie
David Zwirner, from September 8—October 14, 2023
The black painted letters on British artist Rose Wylie's canvas Spindle and Cover Girl, 2022, read: "DRAWING NOTES." Then, underneath: "use what you've got." It's a fitting maxim for Wylie, who picks like an excited magpie from the flotsam and jetsam of popular culture that washes into her purview. Elsewhere on the same painting is a female figure in a tight black dress, partly copied from the cover of the Observer's magazine. (Wylie subsequently learned that the woman is Christine Quinn, antiheroine of the reality show Selling Sunset.)
Her exhibition, "CLOSE, not too close," is Wylie's first solo in Los Angeles, at the age of 89. (She went back to art school when her children left home, but did not start showing widely until her late 70s.) Alongside works combining incongruous snippets of pop media, it includes paintings of Wylie's cottage in Kent, and its unkempt garden.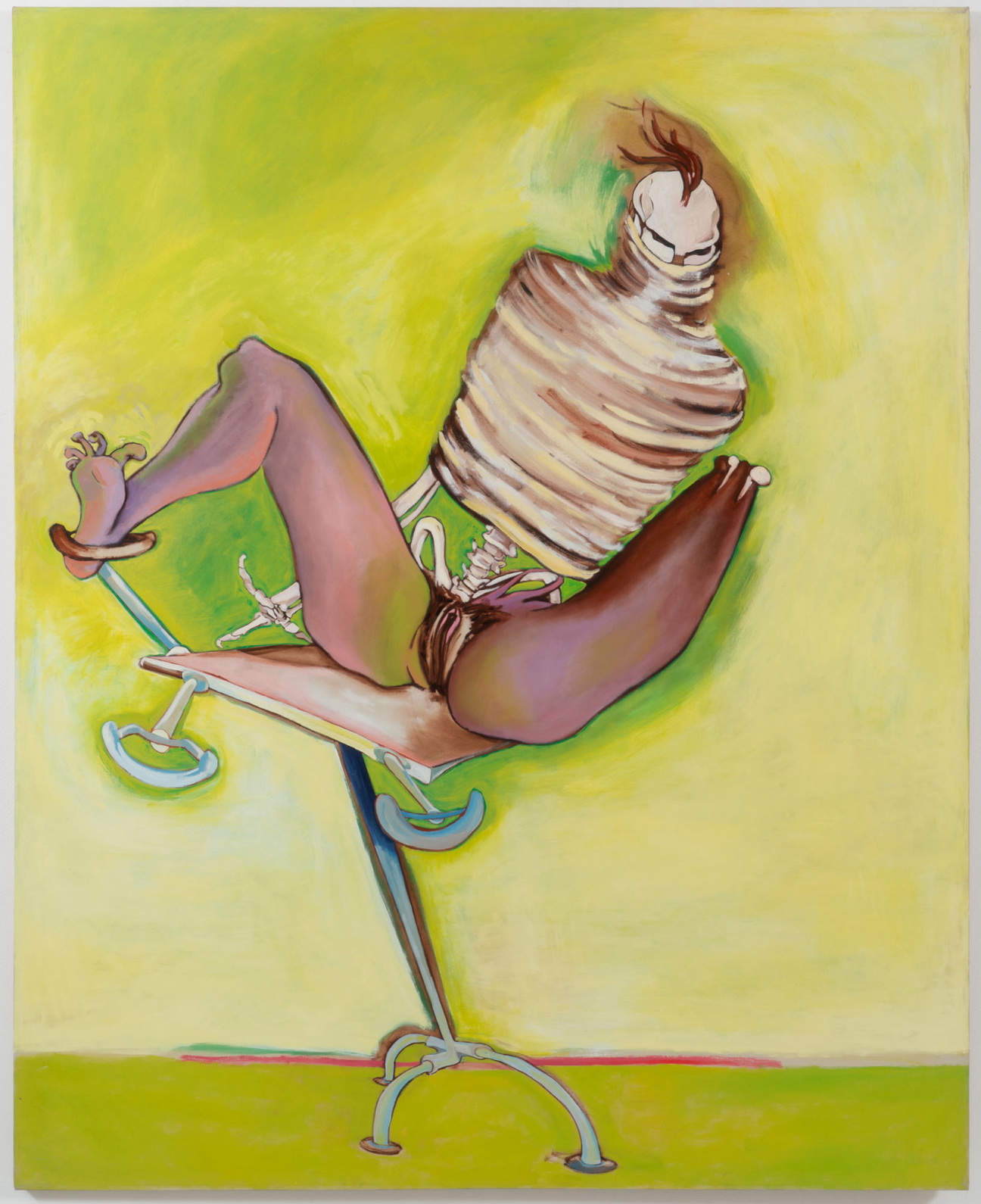 "Moving Through" by Juanita McNeely
James Fuentes, from September 8—October 14, 2023
In 1967, 31-year-old Juanita McNeely moved to New York from Illinois and became quickly immersed in the Women's Movement. Rejecting then-dominant Abstraction, McNeely made paintings that were—and continue to be—explicitly, painfully figurative, and rooted fundamentally in her experience of her own often-ailing body.
At James Fuentes, McNeely (now 87) will present three epic multi-panel paintings, completed between 1975 and 1977. In all of them, naked female bodies appear spread-eagled, like rats pinned to a dissecting table. In the earliest, Moving Through, 1975, one panel features a figure in medical stirrups, half her body reduced to a skeleton—a reference perhaps to the illegal abortion McNeely had in the 1960s while also fighting cancer. In the same painting, a rare male figure is depicted as a howling ape, crouched as if poised to attack.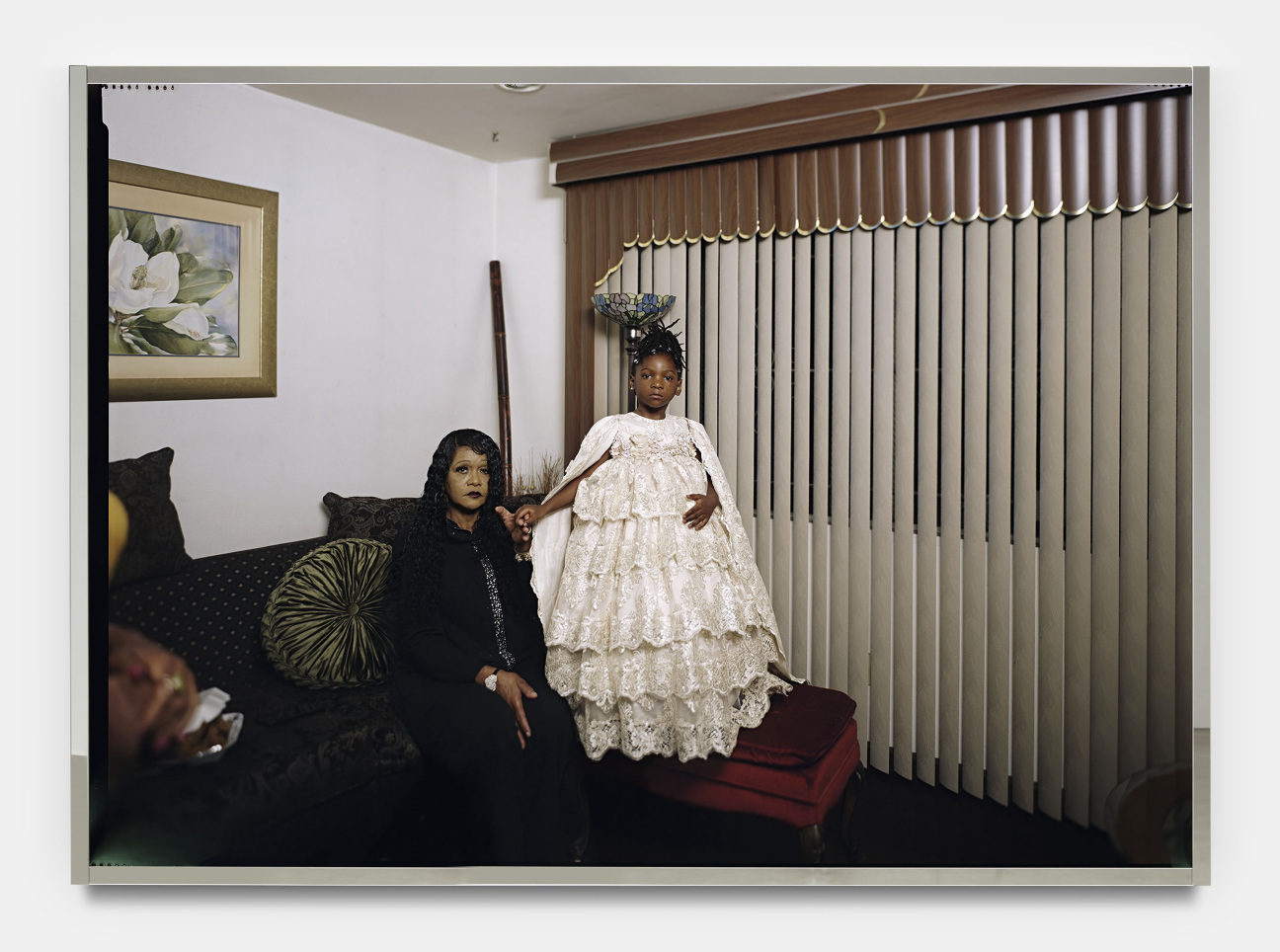 "Mind's Eye" by Deana Lawson
David Kordansky Gallery, from September 9—October 21, 2023
Last autumn, photographer Deana Lawson commissioned a Cessna airplane to fly her over a solar farm in the Mojave Desert which she'd spotted the previous year on a commercial flight to New York. One of the resulting photographs, Ivanpah, 2023, is included in "Mind's Eye," Lawson's exhibition at David Kordansky Gallery.
The aerial landscape is not typical of the garlanded photographer's work, which tends towards semi-staged portraits of Black subjects in their homes. In a text accompanying the exhibition, however, Lawson relates Ivanpah to her photograph Cardeidra, 2023, which centers on a woman on a couch, defiantly giving us the finger. To one side, a mirror reflects the photographer and her lights, echoing the way the sun glints off the mirrors of the solar farm.
Lawson describes these pictures as "conduits into understanding wider interests and themes of geo-mythology and memory, ancestral presence, the physicality of photography and its aberrations, self-possession, and the body that doesn't seek authorization from westernized materialism."
Also in "Mind's Eye" is Lawson's first foray into sculptural installation: a parade of miniature crystal elephants in dialogue with a photograph featuring a woman and a little girl, regally dressed in a splendid lace gown.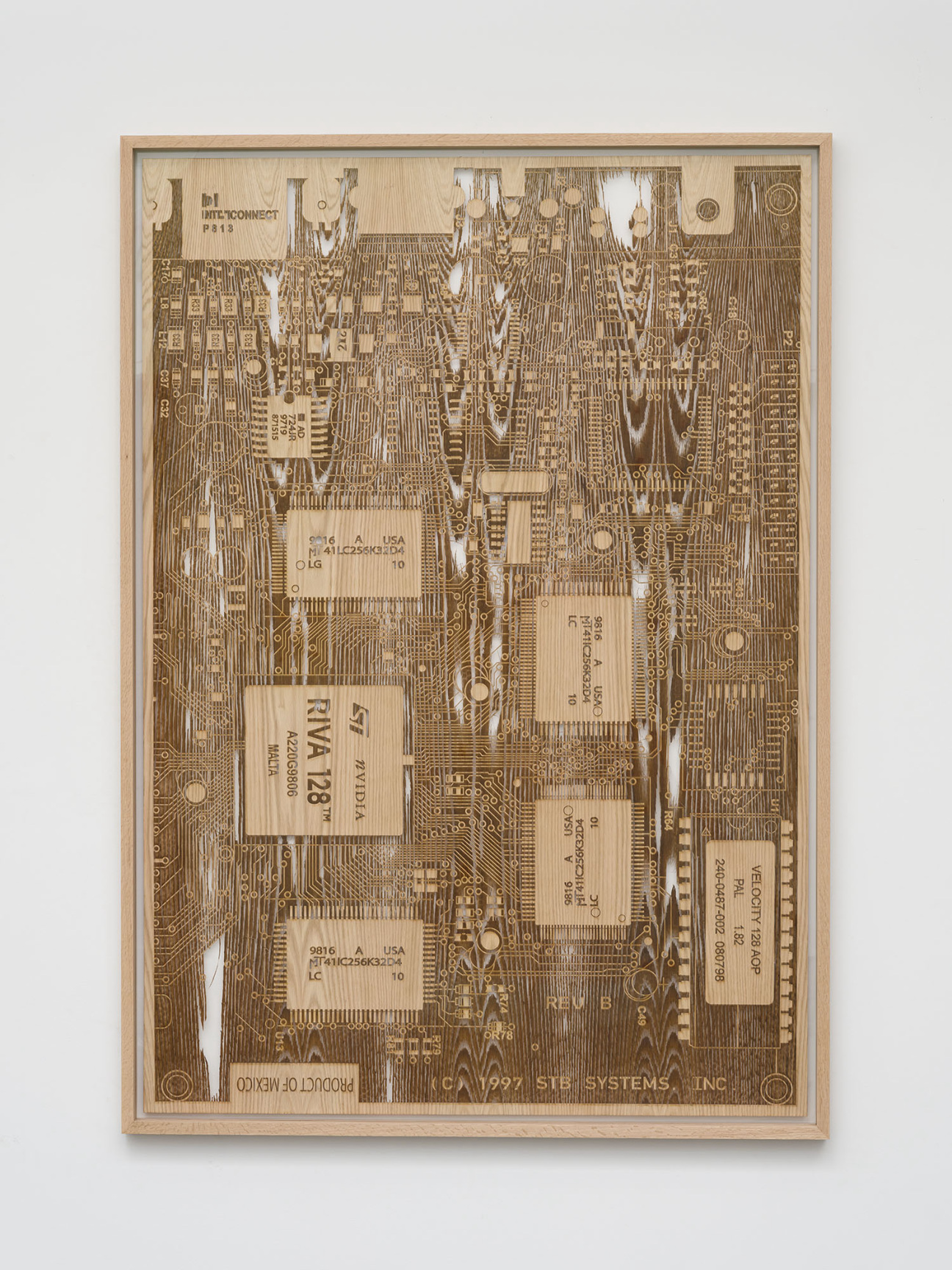 "Synthetic Self" by Analia Saban
Sprüth Magers and Tanya Bonakdar, from September 15—October 28, 2023
With the LA opening of so many New York gallery annexes, some artists—Analia Saban among them—find themselves in the unusual position of having dual representation in this city. Saban, who is represented by both Sprüth Magers and Tanya Bonakdar Gallery, has pulled off the impressive feat of persuading them to collaborate on her latest presentation.
The result is "Synthetic Self," an exhibition of new work whose title wittily alludes to Saban's role in bringing her galleries together. More literally, it points to ideas of artificiality and technological alienation that are at play in her work, which uses circuit boards, processor cooling racks, and informational flowcharts as its subject matter. Saban has always been an innovator in her use of materials; "Synthetic Self" is a feast of craft media, from jacquard tapestries to laser-etched mahogany to digitally-routed marble.