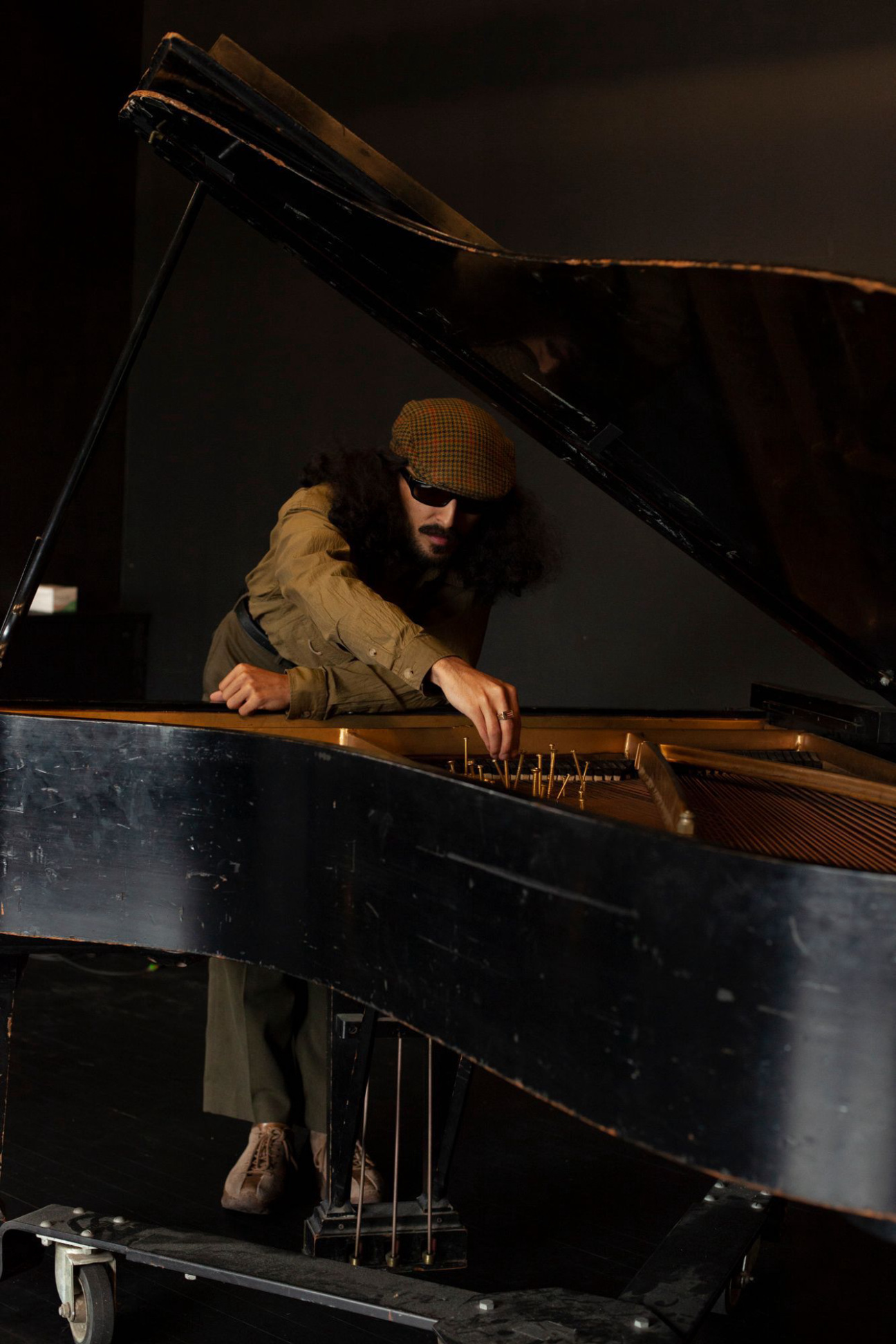 "Let's hit the streets," says Gio Escobar, the enigmatic frontman of the music collective Standing on the Corner. It is a warm day, past 70 degrees, and he suggests that we take a walk outside his acupuncture offices in the East Village, the Taíno Needle Science Institute, currently operating out of Performance Space New York. He lives in Crown Heights, the neighborhood that raised him, but the acupuncture center—smack-dab in the middle of downtown Manhattan—is where he spends his days.
It makes sense that Escobar, a musician whose power stems from his ability to combine the sounds of the African diaspora into singular musical pieces, is enamored with an integrative medicine practice that has been around since the Ming Dynasty—it seems to have brought tranquility to a number of Black activists of the past. "I recommend trying it," he tells me, but I'm an acupuncture virgin. This is my first time even seeing a clinic.
Escobar fell in love with the practice after learning that George Jackson and Mutulu Shakur, two of his revolutionary idols, practiced it. "Their unbreakable love for their people inspired me. I feel indebted to them to do my part for my community, to help my brothers and sisters," says Escobar. The idea to open the acupuncture space, which will be accessible to the public through June 30, materialized after several attempts to lead music workshops at Rikers Island, the infamous New York prison complex. "It is important to fight for every single person," he says. "I am an artist, and I have several ways to use those tools. Acupuncture is one of those ways."
My anxiety around our meeting is about more than just needles. For those at the creative heart of alternative music, Standing on the Corner—a loose group of musicians that orbit around Escobar—is known for making some of the most compelling, genre-irreverent music of our moment. Escobar formed Standing on the Corner in 2016, and took its name from Children of the Corn, the notorious Harlem supergroup formed of rappers Big L, Killa Kam, Bloodshed, Herb McGruff, and Murda Mase. "They were style-forward cats. It was the outfits and the fashion when it came to those guys, for me," says Escobar as we walk down the block, cigarettes in hand. Everything seems to go right when two native New Yorkers are together.
Before we left the acupuncture center, Escobar showed me the piano in the space. In a few weeks, it will be transported to MoMA PS1 in Queens for the opening of "Seven Prepared Pianos for the Seven African Powers," a durational, sonic multimedia installation that nods to the African sensibilities that surround Standing on the Corner's music. The centerpiece is a large installation that brings together spiritual aesthetics and specialized instruments. It is made of seven custom-built pianos, and Escobar's composition will be played on all of them. Cameras will be installed in each instrument and projected onto a large screen, allowing viewers to experience its complexity in real time.
"Think of it as a carousel," he tells me with excitement. "Not because it's turning, but because there are so many elements in this piece. Each stage houses its own piano." The composition is titled "Bembé Secreto"—or "secret party"— and is half music, half historical practice, connecting the sounds of Standing on the Corner to the diasporic African and Puerto Rican communities that Escobar hails from.
As a New York collective, Standing on the Corner's music is eclectic—eclectically Black. It is free-form and jazz-leaning, fueled by manipulated vocals and fearless improvisation. Each album draws from a mix of genres: funk, hip hop, soul, jazz, indie rock. Above all, the music is refreshingly unprescribed and experimental. "Anything I put out in the world is never intended to be different," says Escobar. "I just want to figure out the best way to express A-B-C."
But Escobar's music is different—fearlessly political, reflecting the scope of African music both traditional and contemporary, and resisting industry-imposed constraints. "Side X," the opening track off their 2017 album, Red Burns, opens with a simple, weary line about the murder of Eric Garner at the hands of the NYPD: "The inability to breathe is what this album is about." Compared to more self-righteous, hectoring groups like Public Enemy or Black Star, Standing on the Corner presents an alternative to weaving activism into music: They're genuine progressives, in touch with the dialogues around gender, sexuality, and policing.
In many ways, we are where we're from—and Escobar's neighborhood has given him a lot to work with. As a kid, he lived in Williamsburg and Crown Heights, but made his bones in the latter neighborhood, where he felt at home among the African American population. He grew up on a steady diet of G-Unit and the Diplomats, and some of their style and swagger injected itself directly into the soul of an artistically inclined young man. As a result, Escobar and his collaborators reflect the multiculturalism of their home city: he is Puerto Rican, multi-instrumentalist Nate Cox and drummer Savannah Harris are Black, former member and saxophone player Caleb Giles is also Black. They represent neighborhoods in Brooklyn and Harlem where communities of color melded together harmoniously before the Bill de Blasio and Eric Adams eras—and the influx of white renters and classist transplants—uprooted them.
Rather than conform to the demands of a Eurocentric musical canon that has become the industry standard, Escobar focuses his efforts on eroding the barriers that divide world music genres that surround him—because pop is not the stuff he grew up with, and because there comes a time for every artist of color when they reach their limit stomaching the whistling whiteness of a media machine dead set on planting its flag on Black and Brown people.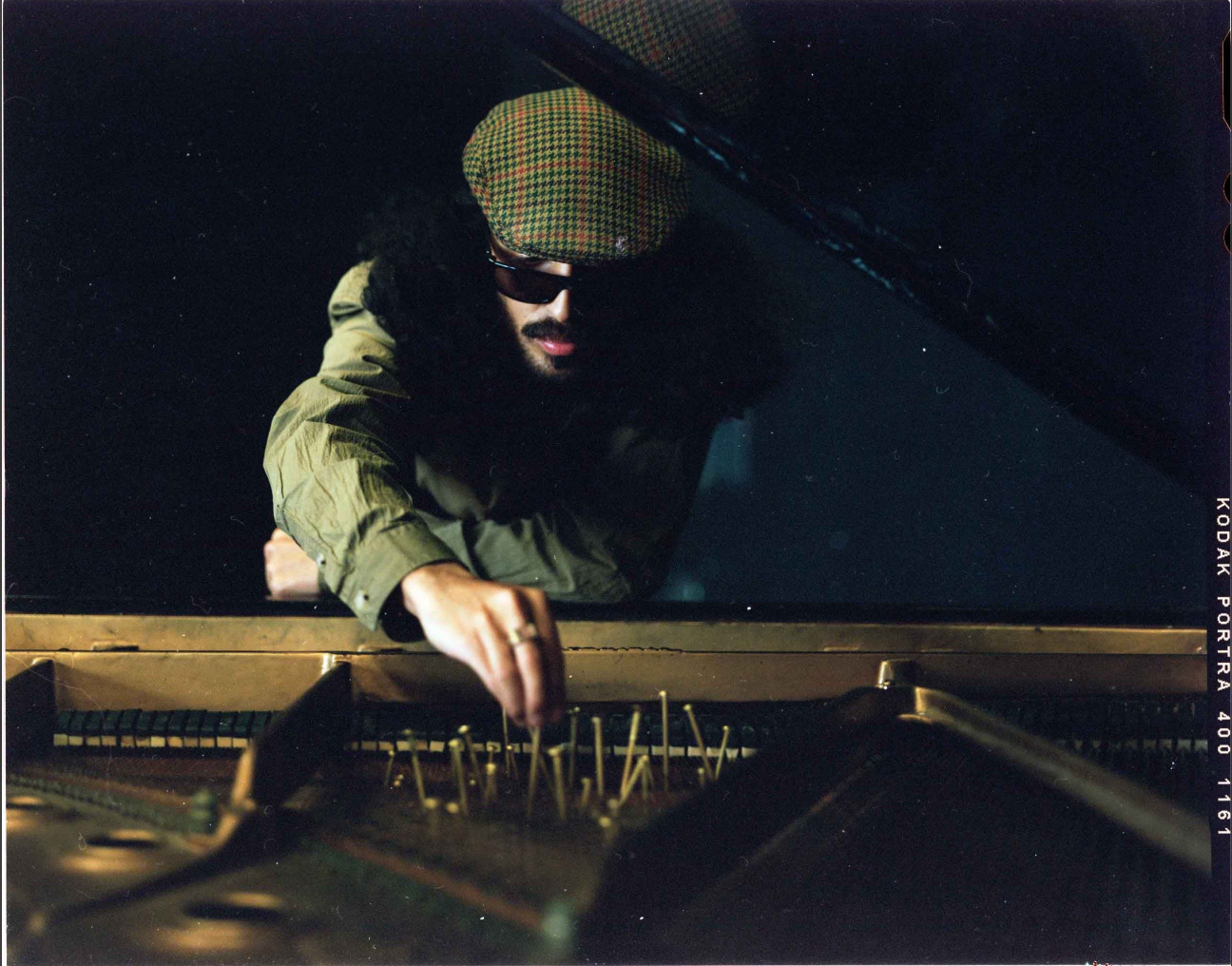 "No disrespect to anyone who makes that music," he says, "but I choose to only discuss the canon that I grew up with in my community: the African canon." When I ask Escobar how it felt to see the number of Puerto Rican and Black people in Crown Heights dwindle as he got older, he appears more reserved. "I sometimes think gentrification is almost cliché," says Escobar. "Everything has a reaction. So, when things get bad, that can create something new and creative. We've got to make our micro-communities."
Escobar is anxious to perform in a white cube setting in the city that he grew up in; it would be any New York kid's dream to play in the same borough that raised the likes of Nas and Prodigy. But for Escobar, this sense of local pride is also a global one: Moving through Brooklyn's pockets of Caribbeans and Puerto Ricans often feels, to him, like taking a trip to the homeland. The chaotic harmony of these places—their bodegas and street corners—is what consumes and fuels his work. Just don't expect him to sell you on it. "I'm not presenting this to anyone," he asserts. "If you know, you know."