What once seemed like an easy task—grabbing ingredients from your neighborhood market to cook dinner—today feels like a nearly impossible feat. There are dozens of different echelons of milks, oils, and grains; filets being cut in every direction imaginable; and cookware being made from seemingly every element on the periodic table. With this overwhelming number of options, deciding what gourmet products to spend your money on can sometimes feel daunting. Who better to take advice from than the people who are working with these ingredients and instruments day in and day out?
Courtney Storer, chef and culinary producer of The Bear
"[Splurge on] vinegars and oils. I tend to spend the most on those because they do complement things very naturally no matter what budget you're on. I grew up getting stuff from Aldi and not the best produce, but you'd be surprised. You can make anything taste great with seasoning and a nice vinegar or a good oil. My other splurge has been really great anchovies or cheese to compliment a nice, simple salad.
[Save on] things like grains that are really healthy. Looking at quinoa, farro, or different kinds of rice blends and stuff like that, you can get very affordably at Trader Joe's, or Whole Foods even, if you buy things in bulk and then just take care of them and use them little by little. And, like I said, produce. Obviously, everyone wants to get things from the farmer's market, but that might not be accessible for everyone, and it's not always accessible affordably. In Chicago, I never went to a farmer's market. You can go to any sort of market and get produce that you can afford and then make it great with technique."
Sam Sifton, the New York Times assistant managing editor, and founding editor of the paper's Cooking platform
"I buy organic dairy products and the cheapest seltzers available. I splurge on cheese and have a fondness for cheap vinegar. I like my fish wild-caught, but I cook commodity pork. It's a kind of math, or a balancing act.
I start every kitchen session with a cutting board, chef's knife, and a dish towel. Those will take me far. But I love a bench scraper, too, and my set of big stainless bowls. I use those a ton. Tongs, too, and a big spoon. As for the other end of the spectrum? I know I have one of those Italian pasta machines somewhere. I don't think I've used it in over a decade."
Andy Baraghani, chef and author of the James Beard award-winning cookbook, The Cook You Want to Be
"Good vinegar is underrated. Good quality rice is underrated. Good shoyu, good soy sauce. I'm very particular about what soy sauce I'm using because it makes a world of a difference. I use Gold Mine Natural Food Co."
Deb Perelman, chef and OG food blogger behind The Smitten Kitchen
"I tend to splurge a little bit on pots and pans. I feel like that's kind of basic, but I've been cooking for a while and I just want one that I can give to my grandkids. I get so frustrated buying something that dies three years later. Of course, I'm a person who contributes to a landfill, but I'd like to not have my own personal kitchenware landfill named after me.
I use completely basic butter, but when I'm putting butter on something I want very good butter. I think it's totally worth it to keep a good butter around. I love this salted butter—and this is not sponsored, I'm paying an arm and a leg for it— called Isigny Sainte-Mère. If you like to bake and you like chocolate, I think good cocoa powder is a worthwhile thing to buy, because I feel like there really is a difference in the flavor. I try to buy it in larger amounts and then share it with friends, or just make sure it's being stored in a dry, cool place so it can last a couple of years."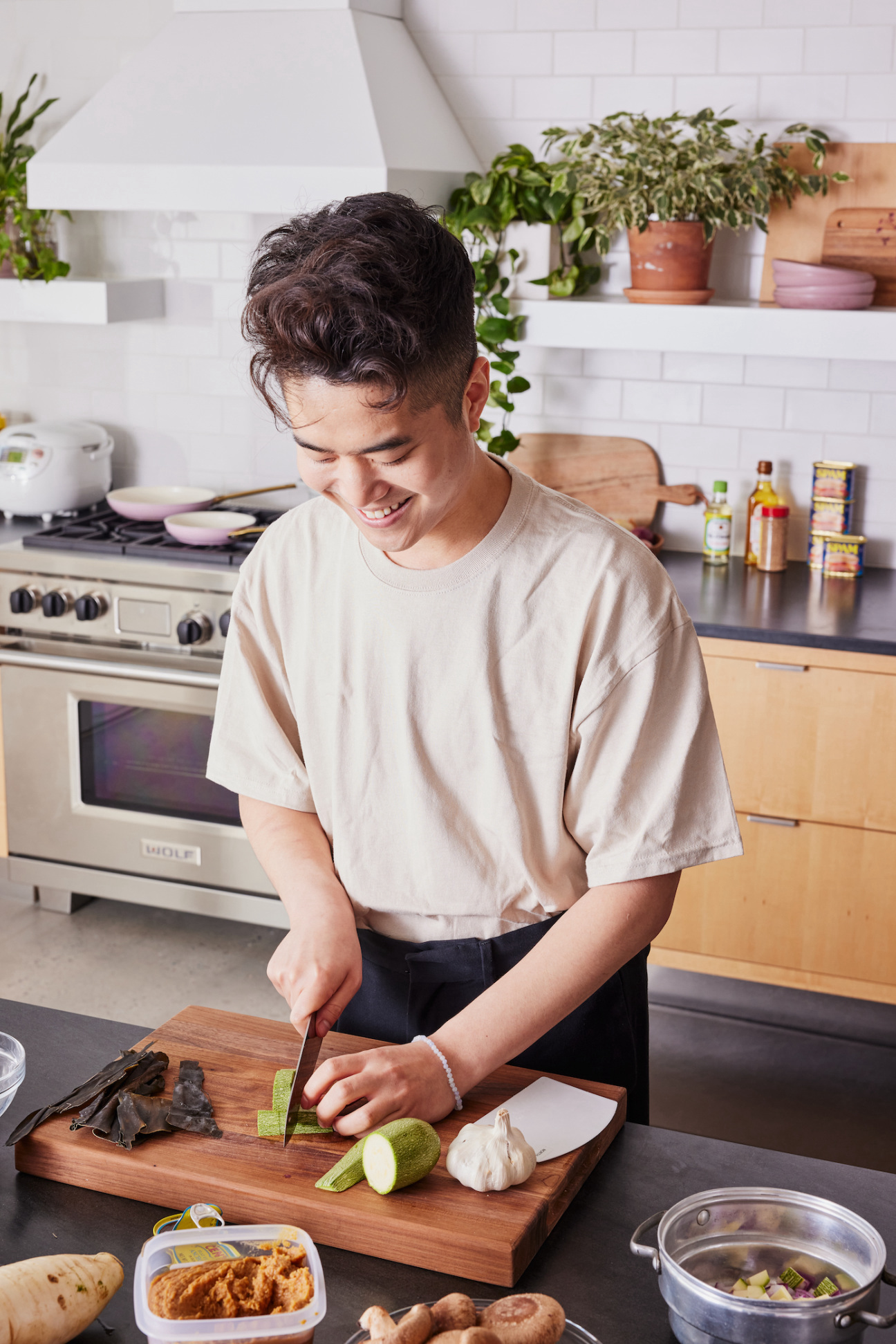 Eric Kim, New York Times Cooking recipe developer and author of Korean American: Food That Tastes Like Home
"For fish sauce, I have to get the Three Crabs brand. It's the one that my mom always cooked with—it's a little pricier, but worth it. One thing that I am not very snooty about is drinking pre-ground hazelnut coffee from Dunkin' Donuts. It's nostalgic, but it also doesn't taste that fake. And while we're here, Hellmann's Mayonnaise is the best mayonnaise."