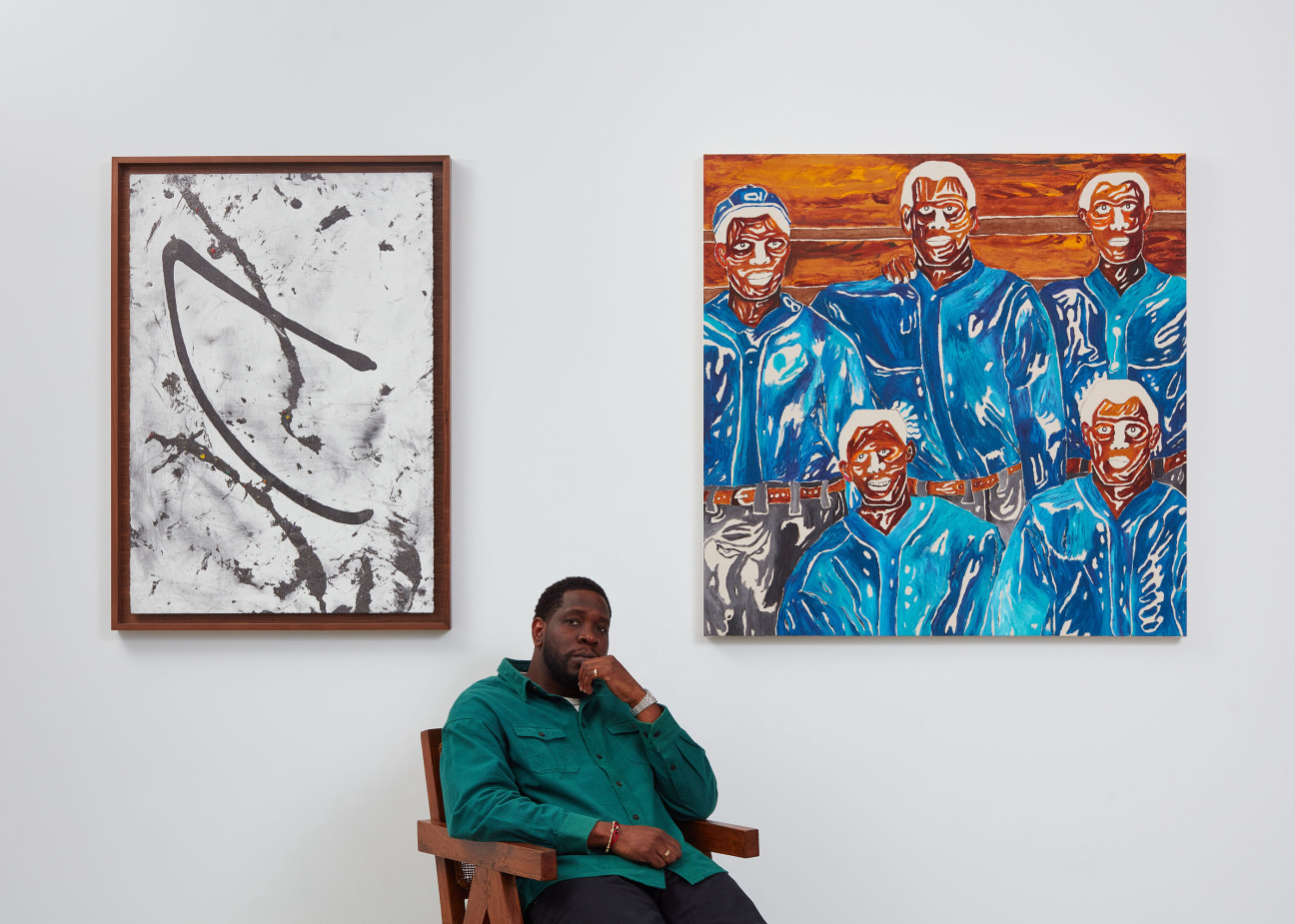 Easy Otabor
Last September, Isimeme "Easy" Otabor bought a home for his birthday. He's a devotee to the West Loop, though he regularly makes the short trek to the River Fulton District, where he runs Anthony Gallery, the upstart bringing new blood and enthusiasm to the Chicago arts scene. Otabor got his start in fashion as an alum of Chicago native Virgil Abloh's RSVP Gallery and founder of Infinite Archives. Last year, he organized a group show at Theaster Gates's Stony Island Arts Bank, featuring George Condo, Kaws, Barbara Kruger, and more. This year, he's bringing the rising artist Henry Swanson to EXPO CHICAGO with a solo booth at Anthony Gallery's outpost.
CULTURED: How is Chicago's art scene bit different from those in other cities?
Easy Otabor: Chicago is a little bit older and more mature. There are a lot of OG collectors that are just behind closed doors. In New York and LA, you see a bit more young people, you see the up-and-coming art collectors. Whereas in Chicago, it's more of a "if you know you know" kind of thing. That's my biggest thing with Anthony Gallery, trying to create more bridges, more access points, where we can see more new collectors.
CULTURED: Do you remember what first got you interested in collecting?
Otabor: Kaws was probably the first person. He was a great access point and still is. One time, I went to his retrospective show in Atlanta at the High Museum. It was the first time when I traveled somewhere to go to a museum show. My friends thought I was crazy, like "You're going to Atlanta just to go to a museum?" I think I saw Kerry James Marshall for the first time at the High Museum and all these other artists that I probably wouldn't have known about if I didn't go. It was just a rabbit hole for me.
CULTURED: How would you characterize your collection as a whole?
Otabor: To be honest, my collection is all over the place, which I love. I have a Kaws, but I also have Barbara Kruger, Sayre Gomez, Chase Hall, and Sterling Ruby. I have friends all over the world, and I want to collect in that way too: where I'm representing all walks of life. I guess that's the aim: diversity and representing my friend groups and my circles.
CULTURED: How does your fashion experience spill into your artistic interests?
Otabor: I started in sneakers; I used to be the kind of person that if I liked a sneaker, I would get three of them: one to keep, one to sell, and then one to wear. I guess it transformed into art collecting as well. I have six of Sayre Gomez's pieces, because I just really like him as an artist and I want to make sure that if I have multiple homes—or as I expand and I get older—I can still represent him in other facets of my life. That's how I got cool with Sterling Ruby. I was working at the RSVP Gallery when he did the collaboration with Raf Simons, and we did a crazy photoshoot. That was a bridge for a lot of people who didn't know who Sterling was at the time and vice versa. There will always be a place for fashion and art collaborations.
CULTURED: How do you go about discovering new artists or new works?
Otabor: Sometimes I get lucky; sometimes it's friends of friends. We all share and we have group texts, and Instagram of course makes things a whole lot easier now. I go off of energy. So, I love when I meet a great human being and then that makes the artwork even better. We are all human beings first, so I try to remember that before the art comes into play. It can be amazing art but maybe the artist or the person isn't. I'm not saying it's bad or good, it's just if it doesn't align with what I like, then it usually won't matter how good or amazing the art is if it doesn't match the person.
CULTURED: Who are you particularly excited about?
Otabor: Andrew Park. He is amazing, and I actually have a show coming up with him soon in Chicago, right before the summer. This other artist Henry Swanson. He is just a painter's painter. I'm also really hyped on Michael C. Thorpe. He is onto something and can't wait for more of the world to see his work. Also Lauren Halsey, though I think she's well on her way. I'll say Aya Brown, too, she's probably one of the most talented [people]. I don't know how to explain it. She paints these vivid memories.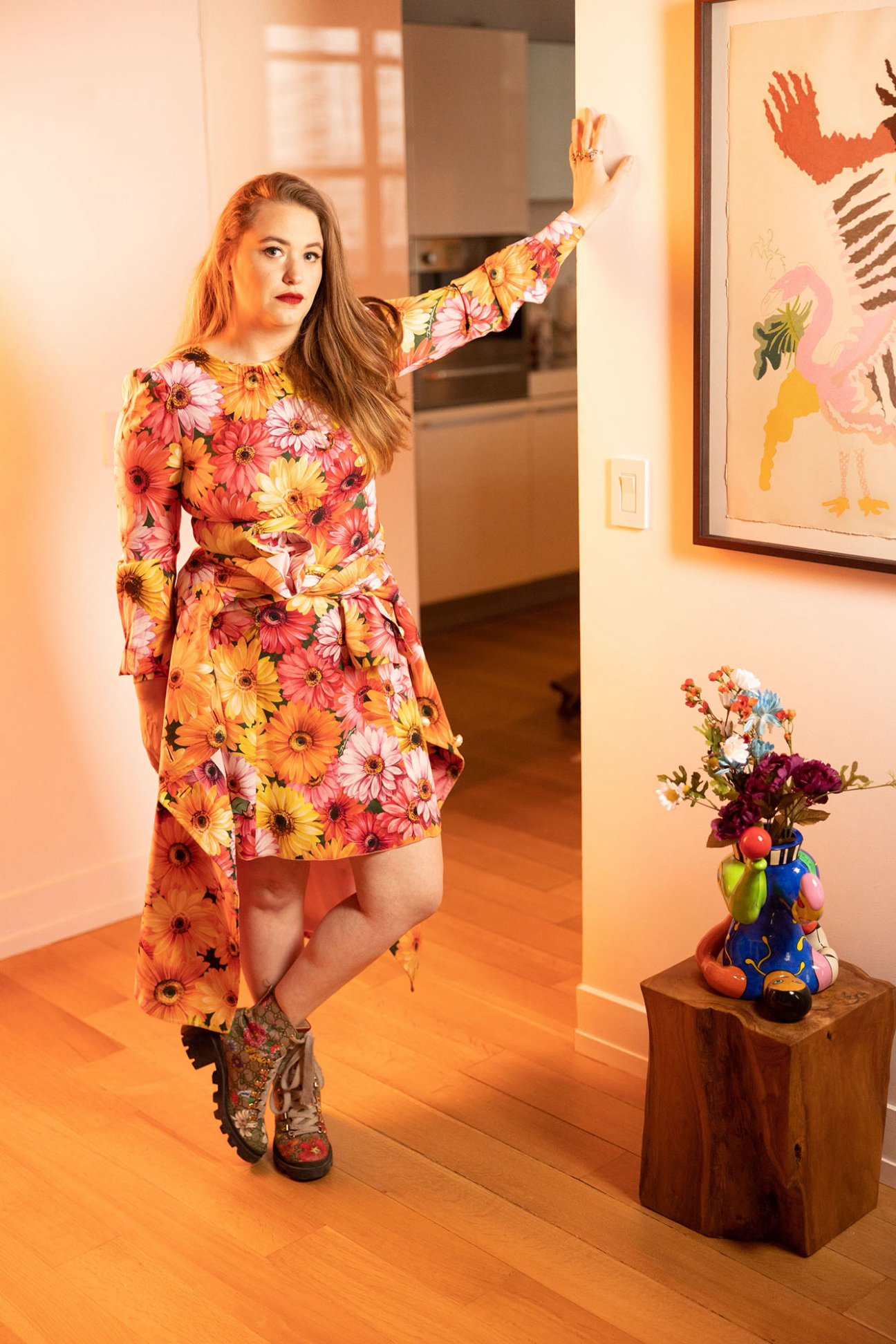 Abby Pucker
Abby Pucker knows her city. The Chicago native and Walter Payton College Prep alum grew up in Lincoln Park and now lives on the Near North Side in an old Montgomery Ward building. Early on in her career, Pucker bounced between New York and LA, before starting Gertie, an engagement platform for the city's arts and culture scene, and Art In Common, a nonprofit that runs exhibitions outside of traditional viewing spaces. Through both projects, Pucker shows her commitment to investing back into the place she grew up, and during EXPO CHICAGO, Art In Common will be running its "Boil, Toil, and Trouble" exhibition in Fulton Market, a group showing that features Chicago artists like Armani Howard and Erol Scott Harris alongside leading contemporary figures including Marina Abramović and Radcliffe Bailey.
CULTURED: How do you describe the Chicago social scene?
Abby Pucker: I could talk about that forever. Chicago is the place that has always been a center of innovation and of building things, building tangible things. It has always been a place of industry, trade, and retail. No one's waiting on a system here; everyone is doing it with the resources they have, and they're not waiting for someone to tell them they can.
CULTURED: How did you begin collecting?
Pucker: I grew up around art. My grandfather has a gallery in Boston that he's had for over 50 years. The first version of it was a subterranean space on Newbury and it was carpeted; it was not a white cube by any means. My grandmother wouldn't call herself a collector, but she has a Clyfford Still and a Morris Louis. I kind of grew up around masterpieces—but never around the culture of collecting. My grandfather would never say that he's a gallerist or represents artists; he works with artists, helps build their careers. It was always a very different way of talking about it. I realized how cool it was that you can really have an impact on someone's career, life, practice, or whatever by starting to buy works from them.
CULTURED: How would you characterize your collection?
Pucker: I see it very much as a way to invest in a person, and a person's growth. I have been specifically focused on looking at Chicago artists. It's super important to me that we grow the ecosystem of collectors here that don't feel like they have to go to New York, LA, or London to build a great collection.
CULTURED: How do you find new artists or new people that you're interested in?
Pucker: A lot of it is through friends or word of mouth. The School of the Art Institute is an incredible resource in Chicago that I have been working with for Gertie, a platform for people to discover and engage with the arts and culture space in Chicago. Instagram is also another great platform, but it's so not curated.
CULTURED: Are there any artists in particular that you're excited about right now?
Pucker: Yvette Mayorga, I love her dearly as a human, but also I love her work. She is a fucking badass. Her work is so pink, and glittery, and fun. Astrid Terrazas is awesome, and I love her work. Erin M. Riley is another artist and I have a piece from her in my collection. There's also Armani Howard in Chicago who's in our show "Boil, Toil, and Trouble." I'm biased because he's like the best human being on the planet, but I also think he's incredibly talented. I would love to shout out Lucca Colombelli. He just opened his new location of Povos gallery. He's such a breath of fresh air, and someone who I think is gonna be really important to building the future of the arts and culture ecosystem here in Chicago.
CULTURED: In your personal collection, what tends to draw the most attention from visitors?
Pucker: Isabelle Albuquerque, who is one of my absolute favorites, as a person and artist. I have a work of hers in my collection that is a real eye catcher. It's a fawn laying [on her side].
CULTURED: And how are you feeling ahead of EXPO CHICAGO this year?
Pucker: It just feels really good and exciting, like coming home, you know what I mean? The whole thing feels like it's about celebrating the city, which is everything that I'm trying to do.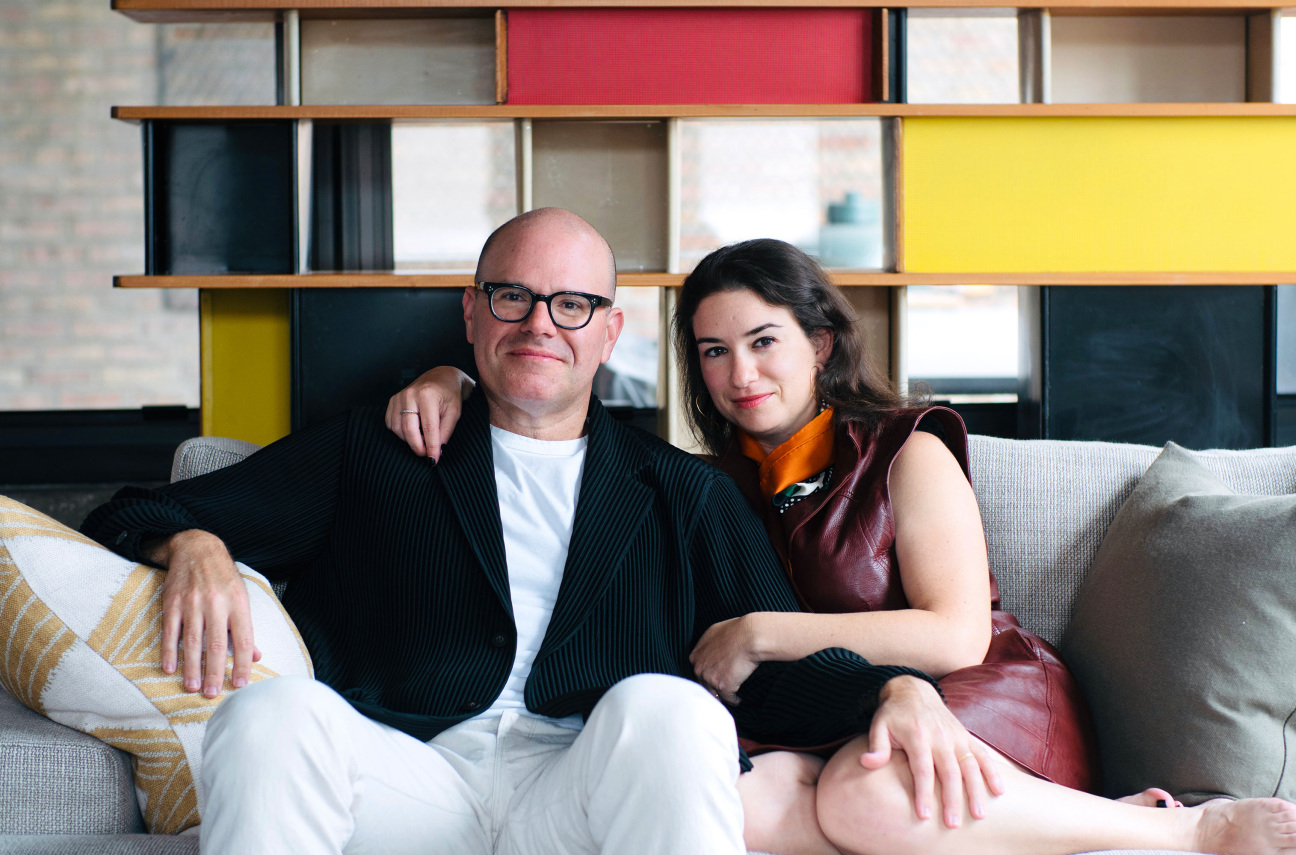 Megan Green Rogers and Joshua D. Rogers
After stints in New York, Megan Green Rogers and Joshua D. Rogers work and live in Chicago's West Loop, an industrial zone turned must-visit destination for restaurants, galleries, and boutiques. Raised Downtown, Megan, a curator and content producer, settled close to her roots while Joshua, the founder and CEO of Arete Wealth Management, traveled over from the East Coast, having grown up in the Virginia suburbs outside DC. The two have been busy building a home together in the city which, when you're both collectors, means finding a way to merge two distinct bodies of work with disparate and pronounced points of view.
CULTURED: What do you think makes the Chicago art scene distinct?
Megan Green Rogers: Authenticity. The character has much in common with the city's midwestern values of hard work, humility, and community, which feels like a contrast to New York and LA.
CULTURED: Where does the story of your personal art collection begin?
Joshua D. Rogers: I followed my grandfather's tours when he was a docent at the National Gallery in DC, and was then further enhanced by Dr. Herbert L. Kessler's art history class at Johns Hopkins University. When I lived in New York in the late '90s, Michael Shaw, host of the "Conversation Art Podcast," exposed me to young artists' studios in Williamsburg and the Lower East Side and I began collecting their work.
Megan: I was very fortunate to have grown up with parents who collected Pop and Postwar American. They were heavily influenced by their dear friend and Chicago legend Stefan Edlis, who inspired them to start collecting in the '80s. Upon moving to New York after graduating college, I began to get heavily involved in the art scene, joining museum groups like the American Friends of Israel Museum.
CULTURED: What do you tend to look for in new acquisitions?
Joshua: We have recently been merging our collections, which has gone surprisingly smoothly. We both collected Katherine Bernhardt and Paul Heyer prior to meeting. Historically, Megan's collection was more thematic around connections to popular music, while I collected art by artists who had a strong connection to the city of Chicago.
CULTURED: Do you remember the first piece you purchased?
Megan: My parents gave me a Jenny Holzer "truism" LED that I wrote my college admissions essay about. I said that the piece made me feel "comfortably uncomfortable." It's still in our living room today.
Joshua: Mine was a painting by Michael Shaw of fictional cereal boxes; the materials were a mix of acrylic and Fruity Pebbles glued to the canvas. I love that work, but I lost it in my first divorce.
CULTURED: Which artists are you currently most excited about and why?
Megan: Jamian Juliano-Villani, who is full of punk rock grit. We recently acquired a painting by her, and our newest piece is always our favorite.