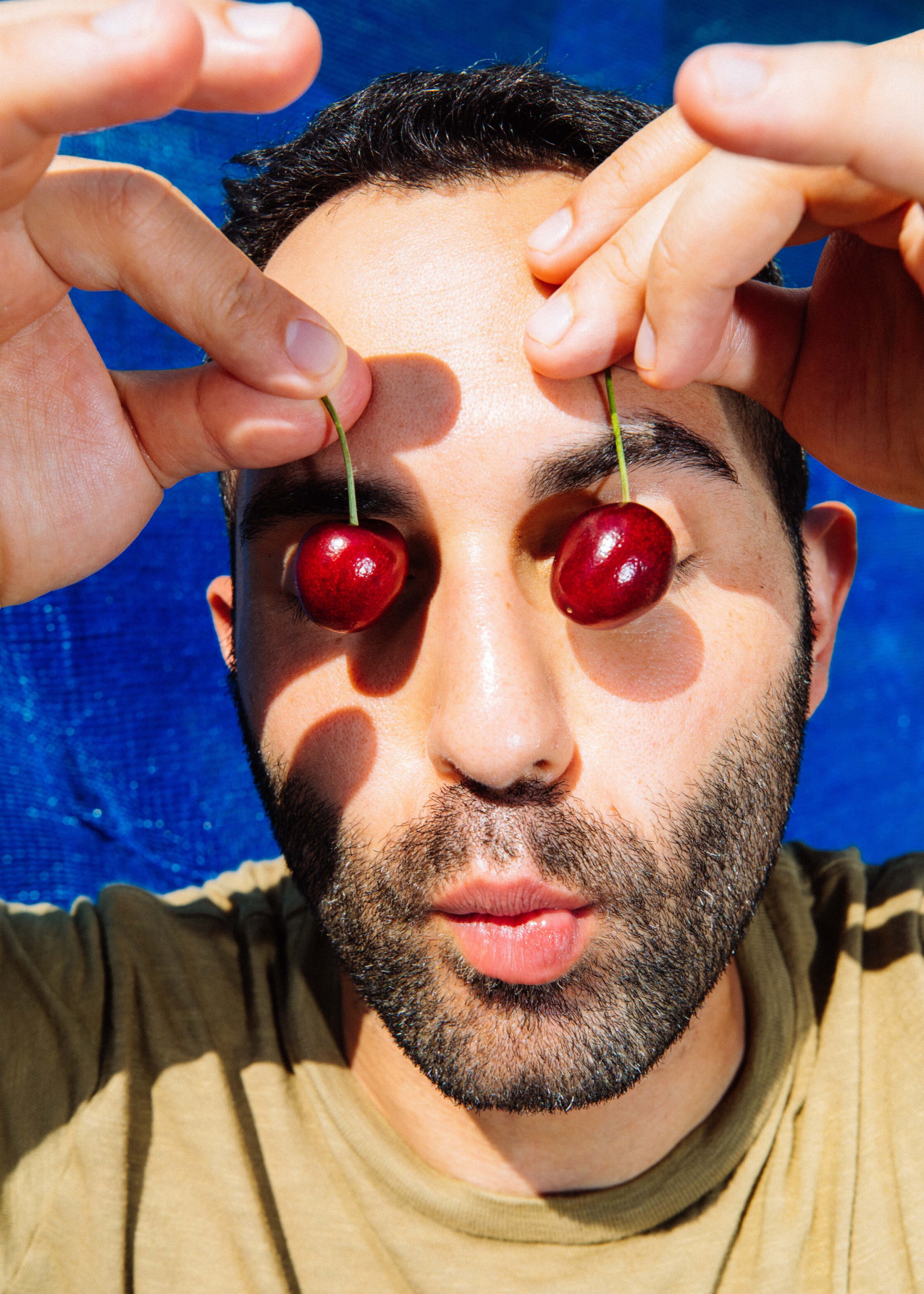 Andy Baraghani is hungry for food that brings people together. The celebrity chef and former Bon Appetit editor has been immersed in the culinary world since he was a teenager, when he spent long afternoons peeling onions as an intern at Chez Panisse. Since then, he has worked at Estela in New York, developed recipes for top food magazines, and refined his distinctive approach as a roving chef. Last year, Baraghani published his first book, The Cook You Want to Be, which draws on his Persian heritage and colorful career to offer home cooks a bevy of surprising recipes. The book was recently nominated for a 2023 James Beard Foundation Book Award. Ahead of the ceremony, Baraghani tells CULTURED about a newfound family heirloom, the best soundtrack for making strawberry shortcake, and the travel guide he is about to release.
CULTURED: How does it feel to celebrate your book's one-year anniversary with a James Beard Foundation Book Award nomination?
Baraghani: Oh, my God. There have been so many wonderful things that have happened this past year and if only one of those things happened, I would have been so happy. I'm just overwhelmed, eternally grateful, and I am always tired.
CULTURED: What are you going to wear to the awards ceremony in Chicago?
Baraghani: I have a vision, and I don't know if I will be able to execute it, but I want either a soft camel linen brown suit or a monochromatic separate shirt and trousers—maybe a sage green or a really pale blue. I'm like, Hermès? Dior? Please help me!
CULTURED: You're a native Californian, but you are such an essential voice in the New York culinary and fashion scenes. What is the vibe of the summer going to be food-wise in the city?
Baraghani: I can't stand trends, but I will say I'm for the kind of over-the-top thing that we're seeing right now, both on social media and at events—this kind of food that feels celebratory. It's not specific ingredients or items, it's more this happy shock and excitement. I also feel like we're seeing a bread renaissance or an overall baking renaissance in New York. I'm friends with one of the founders of the zine Cake Zine, and I just love what they're doing. And I want to keep seeing hyper-regional foods on menus across New York City. So it's not just so much just a mix of cultures and cuisines, but a specific region of a country.
CULTURED: Which restaurants do you feel are doing that right now?
Baraghani: Szechuan Mountain House, Masalawala & Sons, and Lula Mae.
CULTURED: What food trends do you want to see go away?
Baraghani: I still want to see QR codes go away. A menu is a design element for a restaurant, and I really miss that. We already spend enough time on our phones, why would we want to spend more time on them at a restaurant?
CULTURED: I hope the restaurant gods hear you. I know you have a huge love of estate sales and flea markets. What is the most special kitchen tool you've acquired recently?
Baraghani: I have these 3.5-inch Christofle knives that were given to me by my partner, and it was the first gift he gave me. But the thing that was just given to me like two days ago, as I'm visiting my parents, was this huge brass mortar and pestle from Iran that is over 90 years old. It's my great grandmother's. And while I'm really happy to receive it, I'm just recovering from the shock of realizing that my mom had this in her home for 16 years and never thought to give it to me. But that's for a therapy session later.
CULTURED: What is the dish that represents where you're at in your life right now?
Baraghani: Something that I did for an event for New York Design Week was these mushroom onigiri with shiso inside and toasted nori. I'm thinking about what is bringing me comfort at this moment and that feels fun and playful and not fussy.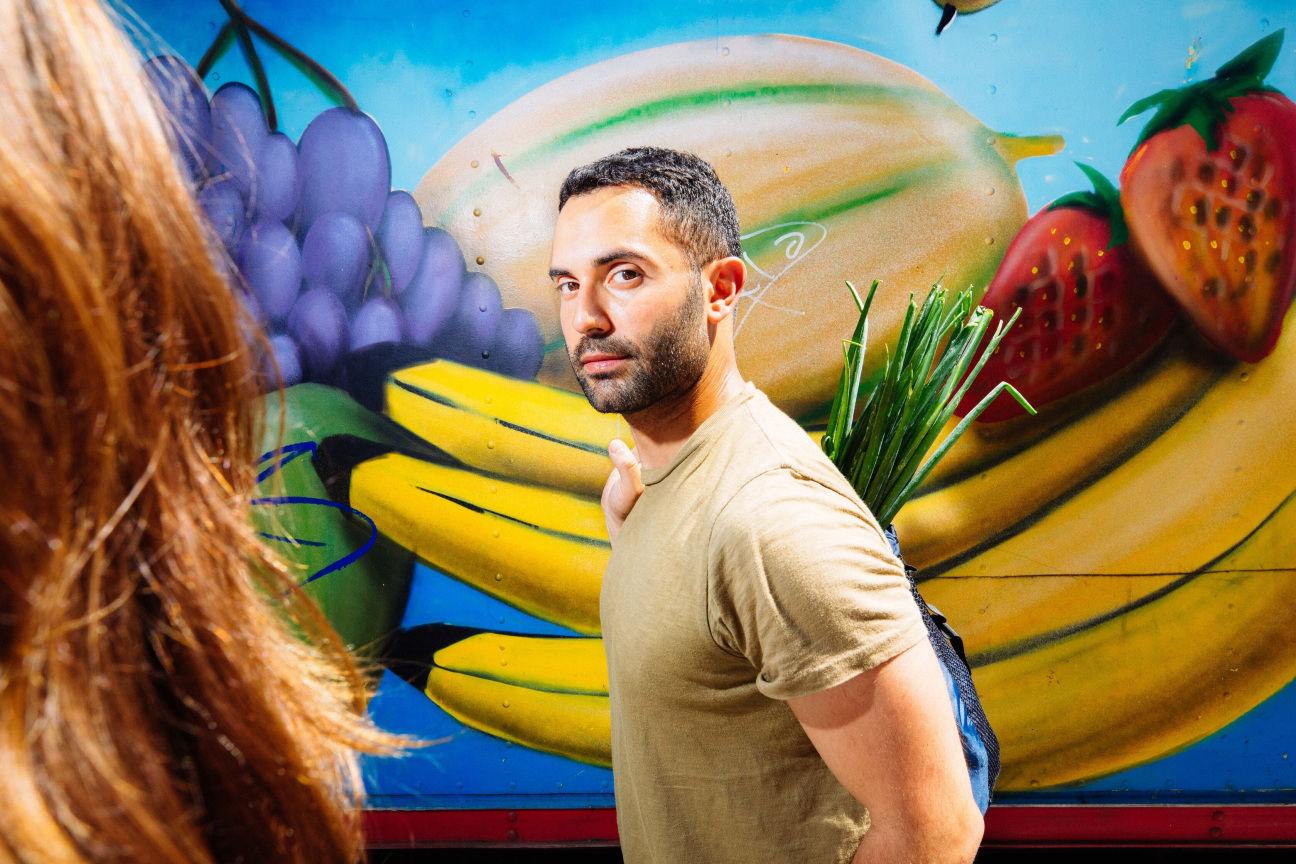 CULTURED: If you're hosting a dinner party, who do your first three invites go to?
Baraghani: My partner Keith Pollock, Amy Sedaris, Parker Posey.
CULTURED: Underrated ingredients?
Baraghani: There are so many. Good vinegar is underrated. Good quality rice is underrated. Good shoyu, good soy sauce. I'm very particular about what soy sauce I'm using because it makes a world of a difference.
CULTURED: Do you have a brand that you recommend?
Baraghani: I use Gold Mine Natural Food Co.
CULTURED: Do you have a favorite song-food combo?
Baraghani: Generally I'm putting on Diana Ross, Aretha Franklin, or Ella Fitzgerald. That goes with any food that I make. But I was recently making strawberry shortcakes and in the background I was playing the Beyonce/Madonna Queens remix. It's Beyonce's "BREAK MY SOUL" remixed with Madonna's Vogue. I don't know if they go together, but the song is fruity and I was making something fruity.
CULTURED: As a New Yorker, what is your classic bodega order?
Baraghani: Oh, that's easy. I do the turkey bacon with egg whites and cheese and extra pepper on a roll.
CULTURED: What is next for you this summer?
Baraghani: I will be starting on my next book eventually, probably in the fall. Prior to book two, I will be launching something that will provide city guides for all over the world, recipes, and product recommendations. The things that I get asked about the most are recipes and where I'm traveling. Travel is such a huge aspect of my life and also my work, so it's a way to be able to share suggestions with the people who follow me.