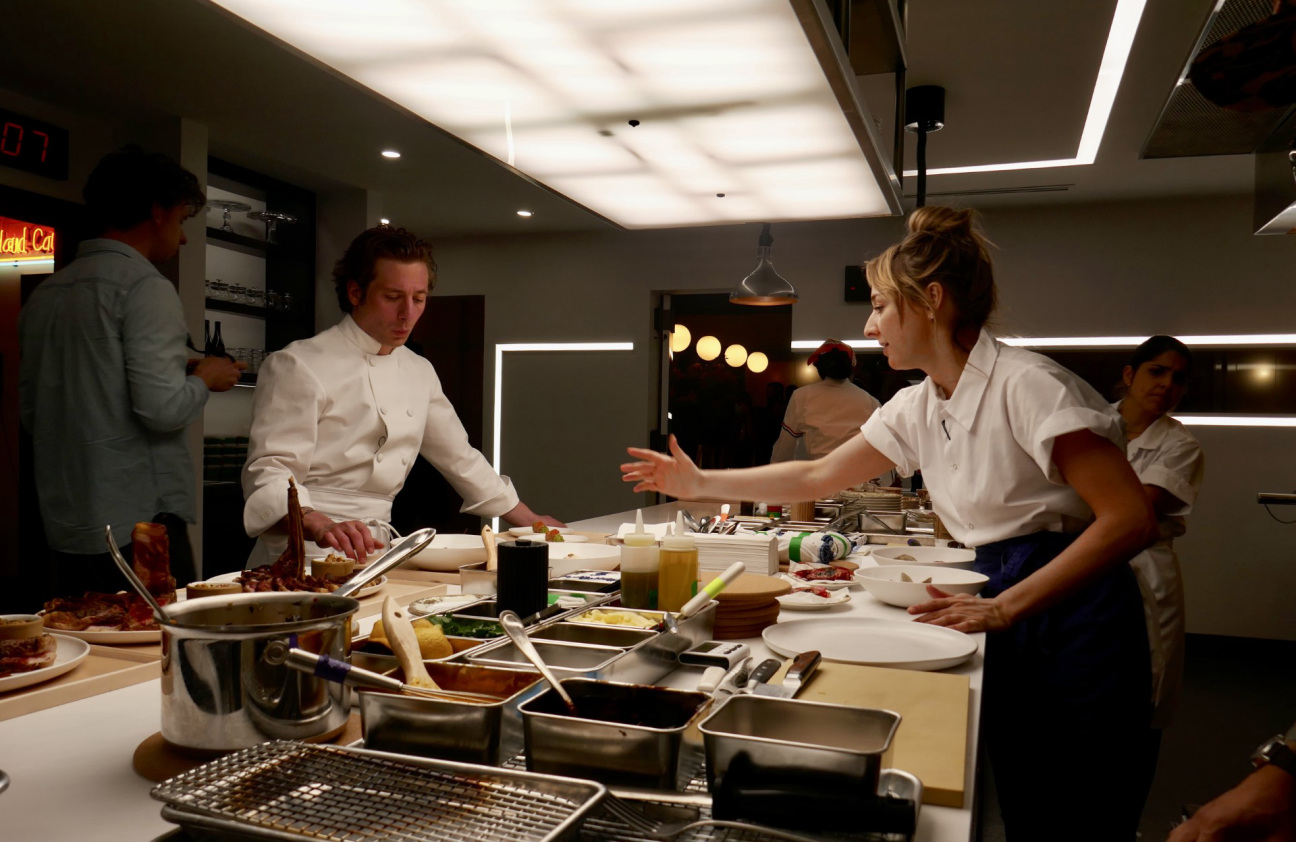 The Bear's frenetic cadence is punctuated with shouting, rapid knife work, buns that need to be cooked to a fine crisp, potential drug deals in the alley, and equipment that works 75 percent of the time. Behind the scenes of FX's hit drama, whose second season was released yesterday, there's culinary producer Courtney Storer. She's responsible for keeping the kitchen and crew of the fictional Original Beef of Chicagoland tethered to the reality of working in a restaurant. Storer would know, she grew up on the North Side of Chicago and has worked in restaurants since she was a teenager, serving up dishes reminiscent of what the show's main chefs—Carmy, played by Jeremy Allen White; Sydney, played by Ayo Edebiri; and Marcus, played by Lionel Boyce—have put on the menu. Off set, Storer is also an active chef who runs a catering business, Coco's to Go-Go, and has dropped a few hints about opening her own spot. Here, she reveals what it's like working behind-the-scenes on a TV show, and offers a peek into her home kitchen.
CULTURED: You're working on The Bear with your brother, Christopher Storer, the show's creator. How did that come to be?
Storer: Chris has been working on The Bear for many years. This was a project that was first written as a movie, and it's taken on a new life form as he's done so many different projects in food. I came in as a consultant early on just to work with the writers. I came in season one as an onsite culinary producer. It was my job to bring authenticity to the show and work with the actors, especially Ayo.
I spent a lot of time with her just teaching her how I move in the space, how I carry things. It's very different than a lot of the men. We really wanted to get that right and illustrate what it's like to come into a kitchen and feel uncomfortable at first and grow into that transition where you take up a power position as a sous chef or a head chef. So I came in and grew with the project. I started doing one thing and then was taking on a lot more responsibility and jumping in a lot more. In season two, I was involved all the way through, months before, training the actors on how to cook.
CULTURED: What it's like working with a sibling on set?
Storer: Chris and I work really well together. This was the first time that we really partnered up in this way and joined forces, and it was honestly amazing and cathartic. We kind of grew up in a very dysfunctional family with divorce and addiction issues, and mental health issues. We were the products of this kind of broken family and had to learn as adults how to be there for each other in a different way and show up for each other professionally.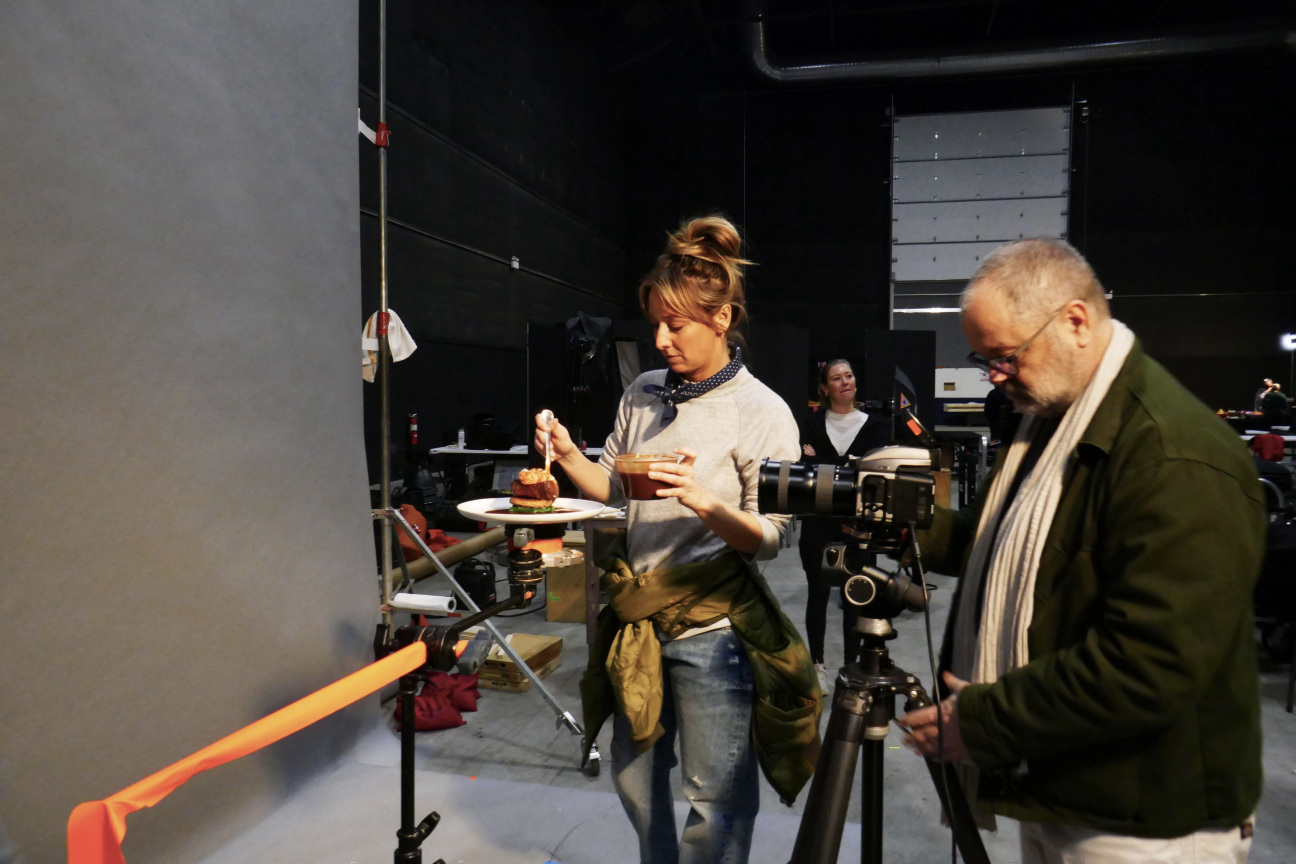 CULTURED: Having been raised in Chicago, does The Original Beef of Chicagoland seem like a pretty good representation of the types of places you went to?
Storer: You know, I started working in restaurants when I was 15. I worked at Sunny's, which is a family-owned restaurant, and then I worked at Natalino's through college and into my professional years, a place that was owned by the people who own Mr. Beef [the restaurant that served as inspiration for The Bear]. Of course, when you are a part of family-owned restaurants, you see all that's at stake and how hard it is to run a small business, especially in the food sector. It's really hard to make ends meet sometimes, and yet it's so fun and passionate being a part of restaurants. But it's intense, and when you're working with family, that's also intense. What was cool about working for the family that owned Mr. Beef is I felt like a cousin of theirs, which is where you get that concept of "cousin" and family.
CULTURED: I imagine it's a bit strange coming up with a character and then imagining what they would serve or what they would be interested in.
Storer: Well, Mr. Beef has a very similar menu to what we did in The Original Beef of Chicagoland. You've got the classic Italian beef sandwich, which is a Chicago staple, sausage and peppers, you've got the fried pizza pocket thing, you've got fried ravioli. We wanted to show that Carmy came in and shook it up a little bit, so we added the house salad and the roasted chicken. And we wanted to have a spaghetti that was talked about, potentially a risotto. These things bring a different kind of process into the kitchen, especially if you're doing it to-go, and could a restaurant like that, with the team that they have, execute an elevated menu? We wanted to keep it simple, but still challenging to where you could see the attempt to get better, but then the struggle of how hard it is to get there. You'll see in season two that it really evolves even further.
CULTURED: Were there any actors on set who are secret chefs, who really picked it up, or was it a little bit of a challenge?
Storer: I mean, in season one, I would say that Ayo and Jeremy got in the mix big time, and Lionel as well. Liza [Colón-Zayas], who plays Tina, definitely got into cooking a lot more. What we try to do is get the actors into an actual kitchen so they can stage just like real chefs do, so they can see and feel what it's like energetically. Being a chef, it's not just holding a knife and chopping, it's adrenaline, and balance, and multitasking that goes way beyond knife skills. You're on heat and fire, ovens, fryers, hot, dangerous things, sharp objects, so you move a little bit differently.
CULTURED: Is there a dish that represents where you are in your life right now?
Storer: I've been playing around with doughs a lot. I've been working with Panzerotti, which is a fried Italian pizza dough, and I've been adding bolognese into it or Italian sausage and potato, really working on Italian street food in this new way, reinventing it. Right now, that's been really passionate for me, and fun, looking through these old cookbooks, being inspired by The Bear, and applying it to the food. I'm able to bring it to a bigger audience. Not just on the screen, but I cook for a living, so I want to be able to nurture people outside of the show and let people taste the stuff that I'm actually making.
CULTURED: What's an underrated ingredient right now?
Storer: Simplicity is underrated. Lemon juice is underrated. Seasoning something really well is underrated. I know firsthand as a chef that I've complicated things in my own brain when I'm listening to other people. I'm like, "Oh, I need to reinvent chicken parmesan." Chicken parmesan is great as chicken parmesan. We don't need to reinvent it; just make a really good one.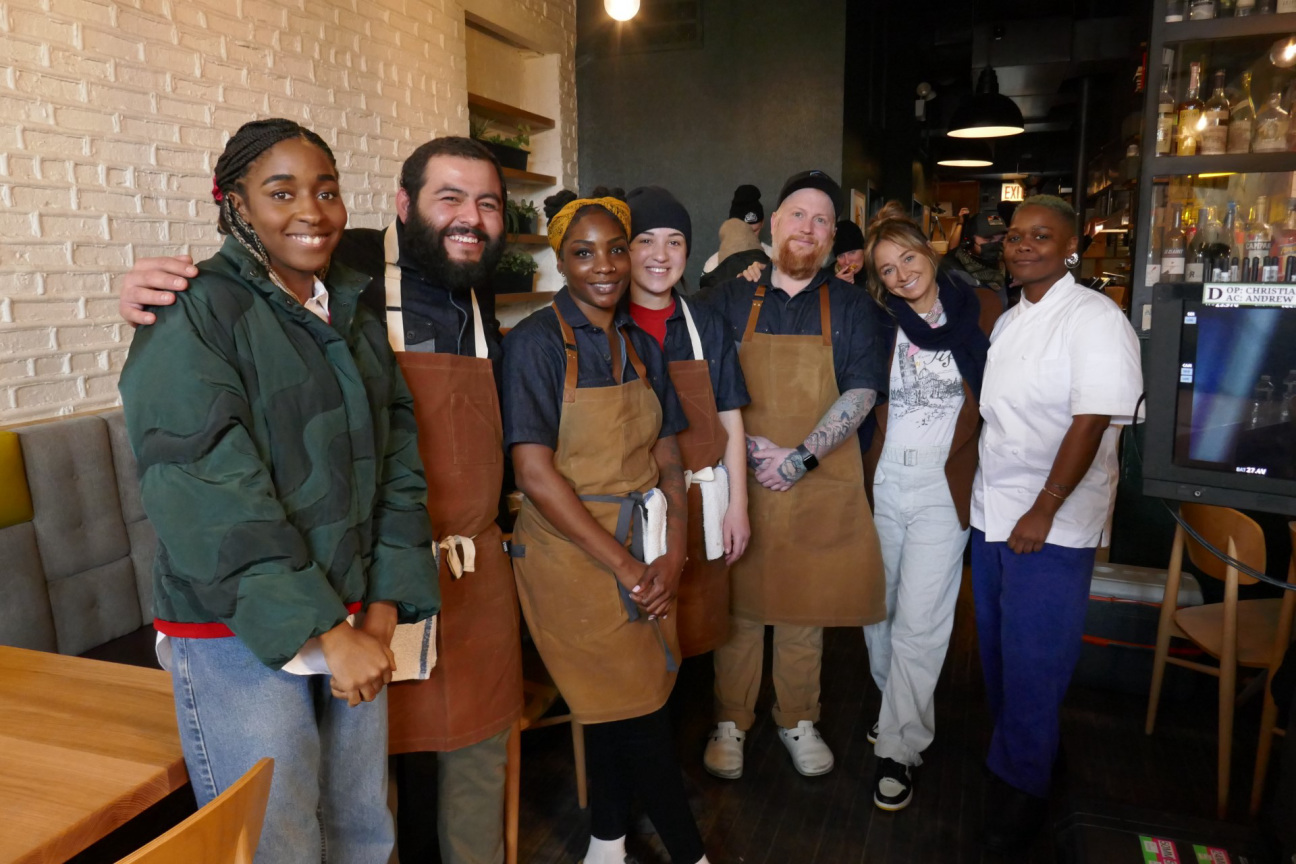 CULTURED: What do you listen to while you're cooking? Do you have a go-to playlist?
Storer: I've always listened to R&B and hip hop. I listen to old Destiny's Child and Kelly Rowland and Beyoncé. The reason I listen to those strong women is because it motivates me. It pumps me up, and it has in kitchens where I've needed some strength. I know that might sound silly, but I sometimes worked in environments where I was the only woman or only girl. I gravitated towards listening to Megan Thee Stallion and all these people singing about body positivity and being strong and stuff like that. I also love old Italian B-sides of Frank Sinatra and the classics of Nancy Sinatra and even some Italian artists that were popular in the '60s and '70s. I love listening to instrumentals. I was so used to listening to really loud music in kitchens. Chefs would put on metal and rock, and I'd just be like "Damn."So in my personal life, I've gone a little bit slower.
CULTURED: Is there something in the kitchen that you tend to splurge on?
Storer: Vinegars and oils. I tend to spend the most on those kinds of things because they do complement things very naturally no matter what budget you're on. I grew up getting stuff from Aldi and not the best produce, but you'd be surprised. You can make anything taste great with seasoning and a nice vinegar or a good oil. I also think my splurge has been really great anchovies or cheese to compliment a nice, simple salad.
CULTURED: Is there something you tend to save on, that you think is good at any price point?
Storer: There are things like grains that are really healthy. Looking at quinoa, or farro, or different kinds of like rice blends and stuff like that, you can get that very affordably at Trader Joe's, or Whole Foods even, if you buy things in bulk and then just take care of them and use them little by little. And, like I said, produce. Obviously, everyone wants to get things from the farmer's market, but that might not be accessible for everyone, and it's not always accessible affordably. In Chicago, I never went to a farmer's market. You can go to any sort of market and get produce that you can afford and then make it great with technique.
CULTURED: Is there a kitchen etiquette rule that you will always defend?
Storer: If you're on time, you're late. I always appreciate someone getting to work early. I believe that setting the tone is so important for your day, and when you're able to be prepared, you perform better. I always found that I would give myself a window of mental preparation before I came to work in a kitchen because it's so intense. My other one is taking care of your knives and sharpening them.
CULTURED: And what would your last meal be?
Storer: I love bolognese with freshly made pasta, a really good pecorino cheese, and a nice glass of red wine.